Footwear
How Jasmine Solano Wears Timberland Field Boots to Keep the Party Going
The DJ talks traveling and turning up — both in comfort and style.
How Jasmine Solano Wears Timberland Field Boots to Keep the Party Going
The DJ talks traveling and turning up — both in comfort and style.
Though Timberland is held near and dear to the heart of New York City, there's nowhere the footwear can't go. The brand might find itself hiking along a rocky trail, kick-pushing a skateboard in a downtown park, uptown on an urban dirt bike — or in Jasmine Solano's case, around the world on tour. The Philly-born DJ has called New York her home base for nearly 10 years, but with a filled calendar of gigs she's constantly on the move. Between traveling, standing on her feet to spin and encouraging sweat-inducing dancing during her sets as one-half of Electric Punanny with Melo-X, comfort is a priority  — her Timberland Field Boots always keep up. The Anti-Fatigue footbed is cushioned, which means Jasmine can keep the party going, wherever it may be. See how her boots bridge music and style above, then read the interview to get to know more about her below.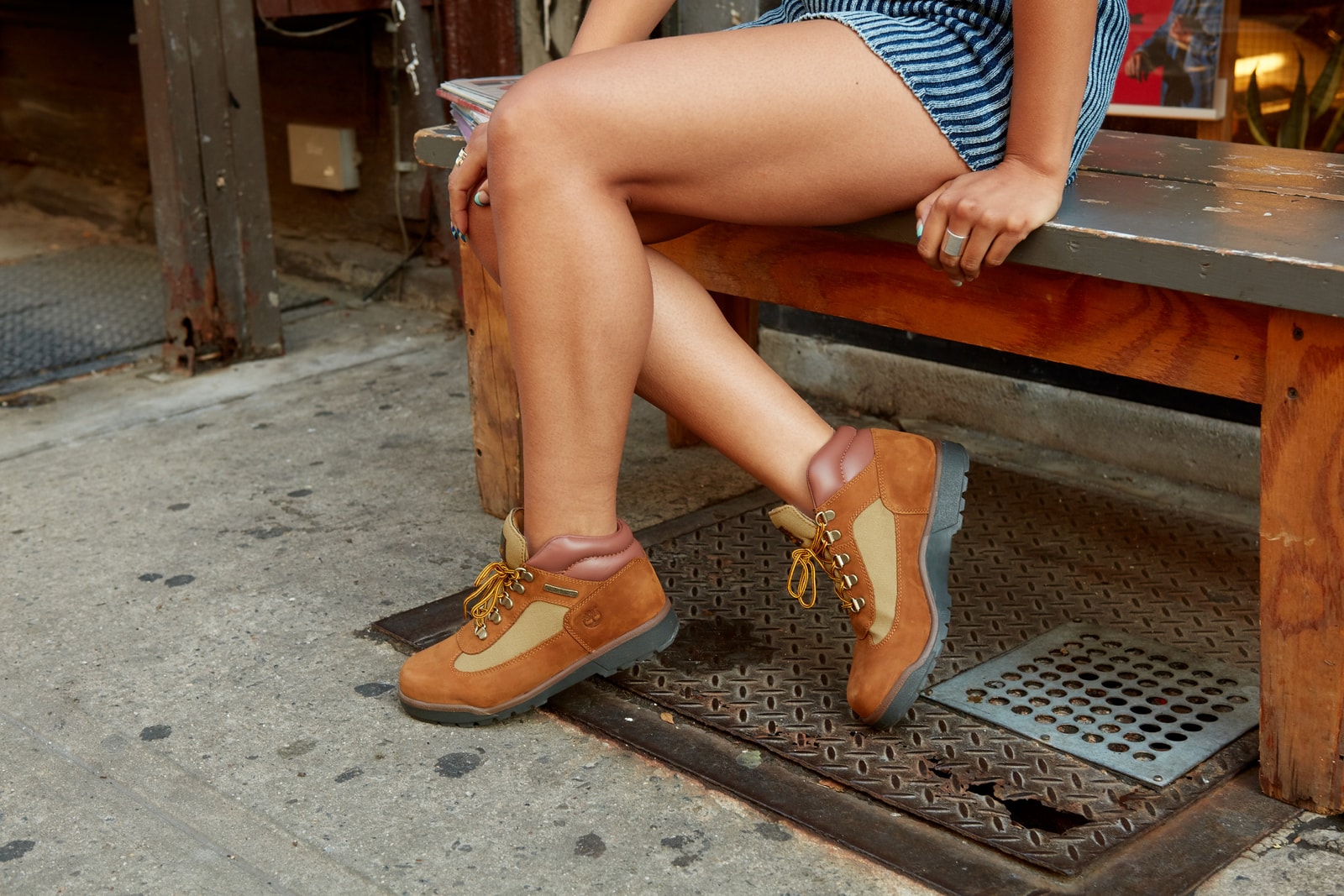 How do you discover new artists and music?
There's always a mix when it comes to discovering new music. There's "digging" for music  — online and still at record stores occasionally. Seeing new artists perform everywhere from random shows to huge festivals. And of course, my friends. When you're a music head and most of your friends are too, 90 percent of the conversation is about music.
Where would you say has the best music scene?
This is an impossible question! For example, Berlin has the best club scene. London has the best underground and grime scene. Tokyo is on another level. And in the U.S., we've got all these amazing artists out of Virginia. New York City even though it's changed so much, still rules the culture clash. Each city has its own unique contribution.
Since you're often traveling for work, what are some of your wardrobe staples you never leave behind?
When I wear my Field Boots, I could be in any situation and be super comfortable…and my Urbanears headphones.
How do you describe your personal style?
Island chic.
How has being from Philly influenced your fashion and music tastes?
I had a very eclectic music upbringing in Philly. For one I was raised on classic soul, Wilson Pickett & Aretha Franklin. As I got older I began sneaking into the dance clubs in Philly, they were playing techno. I also was in a breakdancing crew and danced hip hop. But then I'd listen to Zap Mama and Nick Drake by a bonfire with my hippie friends. Philly shaped my range for love of all types of music.
And what about being based in Brooklyn?
Brooklyn was where it all came together. The city matched my drive, my need for stimulation culturally, and for the wide array of music… everywhere.
For those who have never attended an Electric Punanny party, can you sum up the experience and vibes as far as atmosphere or music goes?
Picture walking out a party completely drenched in sweat head to toe — even your underwear is soaked! Because you just danced for four hours to the best basement dancehall/grime/soca party you've ever been to.
Where does the synergy between you and MeLo-X come from?
We've been a music duo as Electric Punanny for over eight years now. We naturally came together so long ago because we had the same tastes and mission, musically. Now to see how far we've come and grown, it's amazing. We are family.
As someone who's had a healthy career as a DJ, do you have any thoughts on this recent trend of "Aux Cord" DJs?
Quality and integrity are everything. Especially in the true DJ world. Everyone who's thinking about calling themselves a DJ should watch Netflix's The Get Down. There was always a code of respect in the DJ community, respect for the craft. We've lost that a little due to technology advancing. But the real DJs still honor it. If you want to play tunes at an event, that's great! Just be mindful of which circles you call yourself a DJ in.
In between your gigs and parties, what do you listen to when you need to recharge?
I listen to a lot of jazz. Helps me to zone out, relax. And of course neo-soul. To keep my spirit positive.
---
Share this article