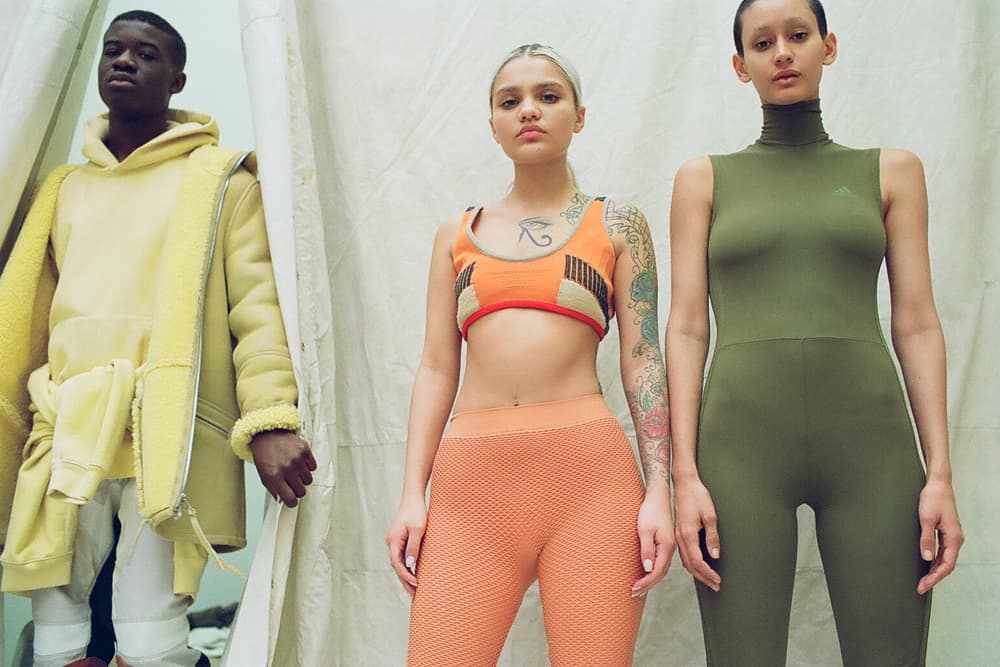 YEEZY Season 3: Here's the Complete Price List
Dropping November 4.
Last October Kanye West's Season 3 opus that was an album release party-cum-presentation hit the stage running. The designer is now ready to launch the collection on November 4.
The drop was teased by label president Pete Fox and West released the boot range just two weeks prior. Similar to typical YEEZY pricing, shearling outerwear runs up to $1800 USD and lower-end T-shirts clock in between $195 to $250 USD.
Check out YEEZY Season 3 price list below and head here to see the Season 4 price list.
YEEZY Season 3
Item – Approximate Retail Price

MEN'S/WOMEN'S TOPS
Nylon And Polar Fleece Pullover – $475 USD
Relaxed Fit Hoodie – $375 USD
Fleece Hoodie – $325 USD
Camo Hoodie – $395 USD
Zip-Up Hoodie – $375 USD
Crewneck Sweatshirt – $275 USD
Hoodie – $375 USD
Crewneck With Rib – $325 USD
Plated Jersey Crewneck – $325 USD
Heavy Knit Tee – $195 USD
Raglan Knit – $250 USD
College Slub Knit – $175 USD
Rugby Knit Tee – $325 USD
Thermal Long Sleeve – $275 USD
Crop Sleeve Raglan – $250 USD
Moto Long Sleeve – $295 USD
Two-Tone Hoodie Off White – $375 USD
Destroyed Crop Military Rib Sweater With Patches – $750 USD
Destroyed Military Rib Sweater – $1,800 USD
Oversized Teddy Boucle Sweater – $1,100 USD
Destroyed Crop Boucle Sweater – $750 USD

MEN'S/WOMEN'S BOTTOMS
Velcro Cargo Pant – $325 USD
Workwear Pant – $350 USD
Cotton Moto Jogger Pant – $350 USD
Nylon Jogger – $295 USD
Fleece Jogger – $375 USD
Tyvek Jogger – $325 USD
Two-Tone Sport Mesh Leggings – $250 USD
Men's Sweatpant – $250 USD
Women's Tyvek Jogger – $275 USD

MEN'S/WOMEN'S OUTERWEAR
Shearling Flight Coat – $1,500 USD
Cropped Shearling Flight Coat – $1,150 USD
Hooded Shearling – $1,800 USD
Cropped Hooded Shearling – $1,150 USD
Two-Tone Shearling Coat – $1,150 USD
Suede Leather Trench – $1,200 USD
Waxed Cotton Anorak – $1,200 USD
Waxed Cotton Down Parka – $1,250 USD
Puffer Bomber – $650 USD
Waxed Anorak – $695 USD
Printed Anorak – $695 USD
Nylon Packable Windbreaker – $410 USD

WOMEN'S DRESSES
Destroyed Highneck Boucle Mini Dress – $1,150 USD
Destroyed Boucle Mini Skirt – $560 USD

WOMEN'S INTIMATES
Athletic Long Bodysuit – $325 USD
Graphic Bra Top Earth Light – $395 USD
Graphic Crop Top – $475 USD
Crew Neck – $550 USD
Crop Mock Neck – $550 USD
High Neck Mini Dress – $895 USD
Sleeveless Bodysuit – $495 USD
Seamless Athletic Knit Legging – $550 USD
Athletic Rib Knit Bodysuit – $895 USD

MEN'S/WOMEN'S FOOTWEAR
Iconic Tall Suede Boot – $895 USD
Thick Knit High Boot – $1,250 USD
Mesh Ankle Boot – $995 USD
PVC Ankle Boot – $995 USD
Sock Knit Boot Tall – $1,250 USD
Graphic Sock Knit Boot Tall – $1,095 USD
Women's Military Sock Boot – $725 USD
Women's Military Boot – $645 USD
Men's Military Boot – $645 USD