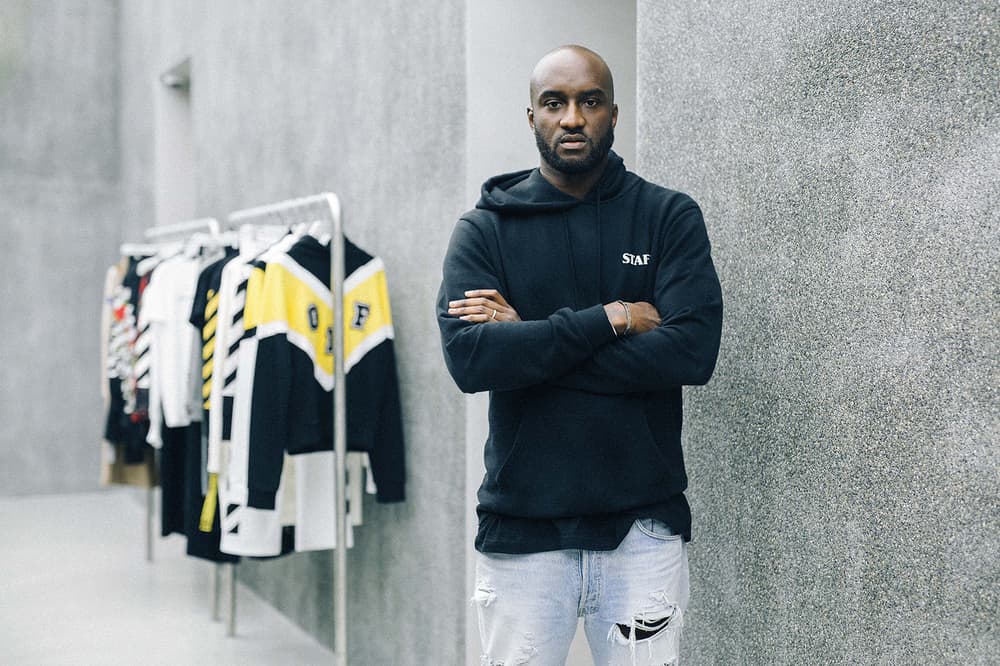 Fashion
Virgil Abloh Says His Team Doesn't Even Wear OFF-WHITE
The designer chats with 'Nylon' about what fashion means to him.
Virgil Abloh Says His Team Doesn't Even Wear OFF-WHITE
The designer chats with 'Nylon' about what fashion means to him.
By now, you've probably heard about Virgil Abloh. Famously known as the man behind one of today's most coveted streetwear brands, OFF-WHITE, the designer is also dubbed as the "creative director" or "right-hand man" of Kanye West. From impressive stage designs to memorable album covers, Abloh has been closely involved in the rapper's creative work. In a recent interview with Nylon, the street cultural icon discusses everything from his views on fashion and social media, to partnerships with fast-fashion brands and of course, Kanye West. Surprisingly, the designer points out that he himself and his team hardly ever wear pieces from OFF-WHITE.
Read an excerpt of the interview below, and head over here to view the full feature.
On whether fashion is a superficial pursuit:
I've been doing a lot of theorizing about fashion. I think fashion is supposed to be superficial. That's what it is. Fashion designers, the term is like artists, but we're taking everyday objects and representing them with an imaginative quality. Fashion is, in a large part, made to show people how to dress. If there wasn't fashion, we would just wear whatever.

On whether what we wear defines whom we are:
As soon as you put on one garment, it speaks to your personality. People's innate idea of curation, which is just putting things next to each other, if it was money or pennies or whatever's in your pocket, that would say something about you. The inherent idea that clothes are what represents you gives us a palette to either be superficial or very curatorial with taste. It's an art form. I think my personal work is to make [sure] the everyday things have a design or an opinion attached to it or done with a specific point of view. My entry point is streetwear. Streetwear is a realistic thing.

On the accessibility of his clothes:
It's not even about accessible or inaccessible. I often say, "OFF-WHITE is not about buying the clothes." That's the trick, we're not fixated. My team doesn't wear OFF-WHITE. I randomly have two things, I usually don't even have it on myself. It's more about a tribe. You see tribes of people, but actually, that's the opposite of what I want. I would never put clothes on somebody. It's something that you have to see and want and then it's yours.

On partnerships with fast-fashion brands:
A lot of people ask to make something affordable, and I think what H&M and Zara have done has skewed people's brains on what something costs to make. Like a Ferrari's cost, you're like, "Dude it's so expensive." But the way that it's made, if someone cares about cars they're making, it's better than a mass-produced product. So it's like people think a T-shirt should cost $9 … I don't simply want to make something cheaper so somebody can afford it. I'd rather it be more expensive and coveted than something cheap, worn one time, and then it ends up in Salvation Army.

On breaking the barriers that Kanye West always talks about:
The barriers are crazy. Once you get into that level of trying to understand it, that's when I tap out. I just want to make something. We love that we've sort of thrown the curtains wide open. We don't even deserve that. I wouldn't even give myself that much credit. It's like the kids, the fanbase, the people that are here, look at their outfits. We're just in tune.
Photographer

Mellowedhigh/Hypebeast