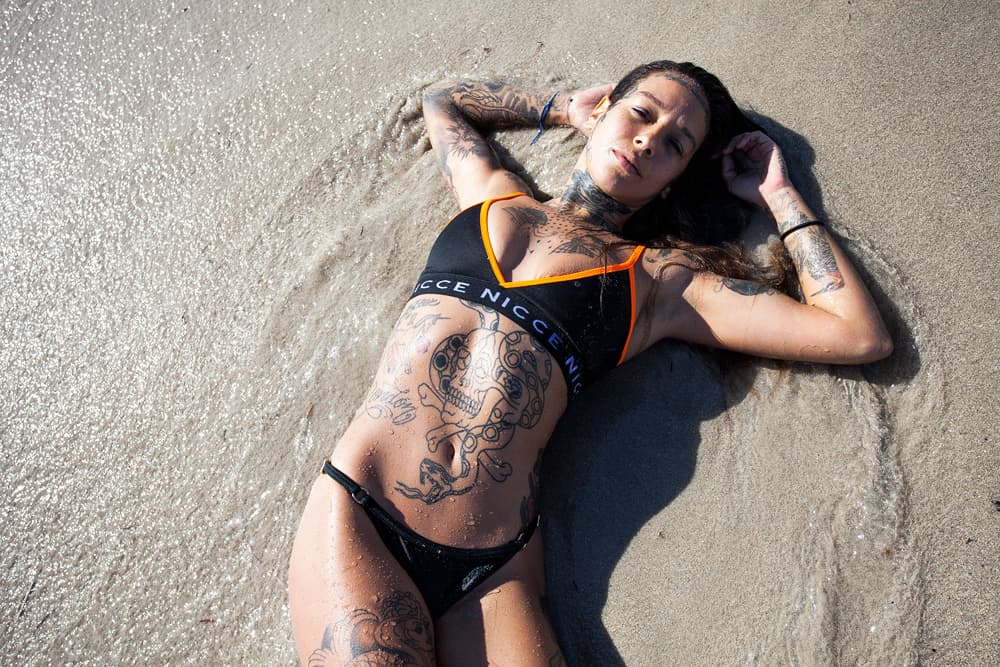 Fashion
Miami's Own Marilyn: Getting to Know Marilyn Rondon and Her World of Art
'Caliente Chica' chats with us about mental health, being apart of Khloe Kardashian's #goodsquad and more.
Miami's Own Marilyn: Getting to Know Marilyn Rondon and Her World of Art
'Caliente Chica' chats with us about mental health, being apart of Khloe Kardashian's #goodsquad and more.
In this one-on-one, Marilyn Rondon or 'Caliente Chica' as you may know her as, shares with us what it's like growing up as an artist, her creative process, and how the power of social media has helped create numerous opportunities for her and her work. With murals throughout the country, a children's book on the shelves and another on the way, Marilyn Rondon is putting on for female artists everywhere and contributing her originality and vulnerability to the culture. Read on to learn more about how she received her nickname, her publication Dat Ass Zine, and what we can expect to see from the artist in the upcoming new year.
1 of 2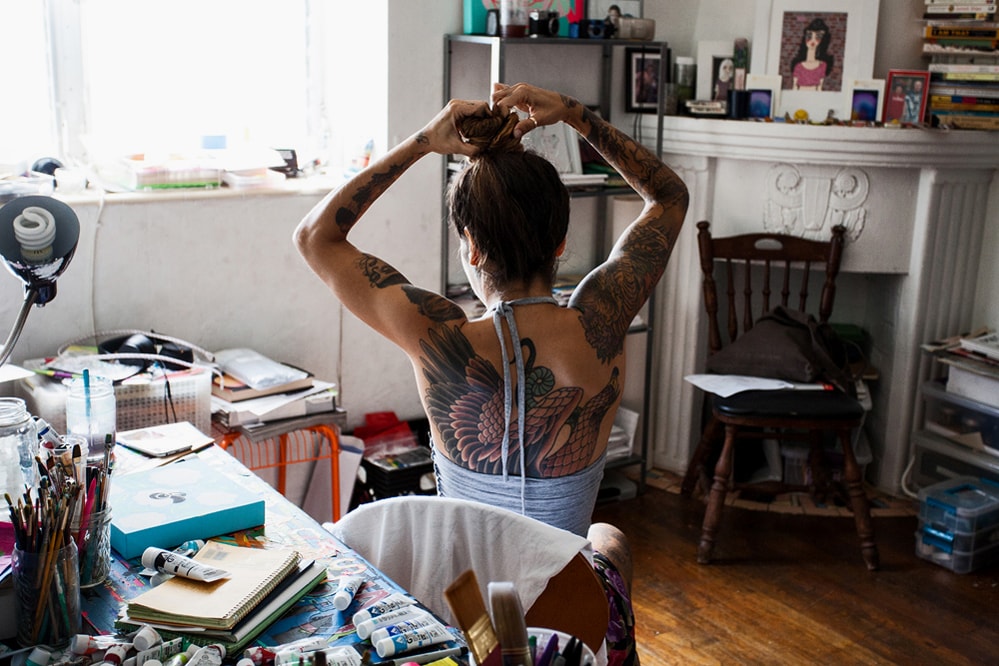 2 of 2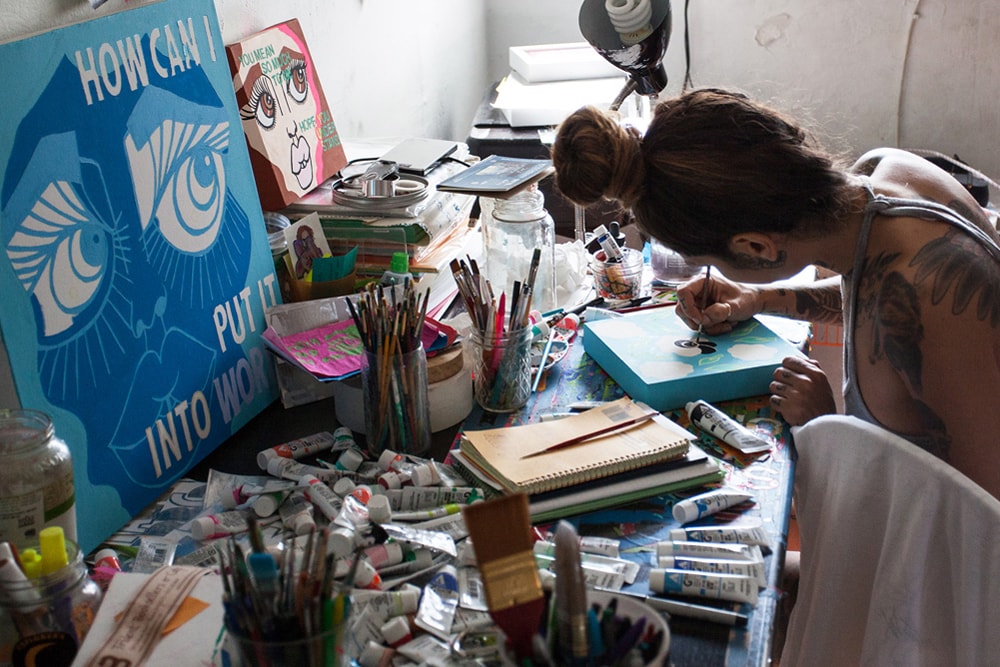 Most people know you by your Internet persona 'Caliente Chica.' How did that name come about?
I've been waiting for someone to ask me this question! The name came about summer of 2014 — I was getting over an ex, and in a passing conversation mentioned to my friend that all I wanted at the time was a thug to have a baby with. After further thinking about my heart's desire, I thought I should conduct an experiment and posted a Craigslist ad in search of my Prince Charming. I received over 100 emails, and in one of the emails I had some dude say to me, "lol, u funny as fuck, why u gotta be that calientechica?" I thought it was the funniest thing anyone's ever asked me so I made it my IG name. The emails I received were also turned into an art installation, which has actually been one of my biggest career highlights — everyone always tells me that's their favorite work of mine.
How long have you been working as an artist and model?
I've been making art since I was a wee bit tiny. My parents caught onto my interest in art by the second grade and enrolled me in magnet art classes. I fell out of that, then back into it. Then I started to take myself seriously as an artist around 2012, and that's when I started sharing it on social platforms. Modelling was something I always fantasized about but felt I would never really pursue. I, however, was shot for my first print publication (Inked magazine, 2010) and after that, I've come across some rad modelling opportunities but I find it that my height and tattoos restrict me — putting me into the "tattoo model" category, something so fetishized that I try to steer away from it.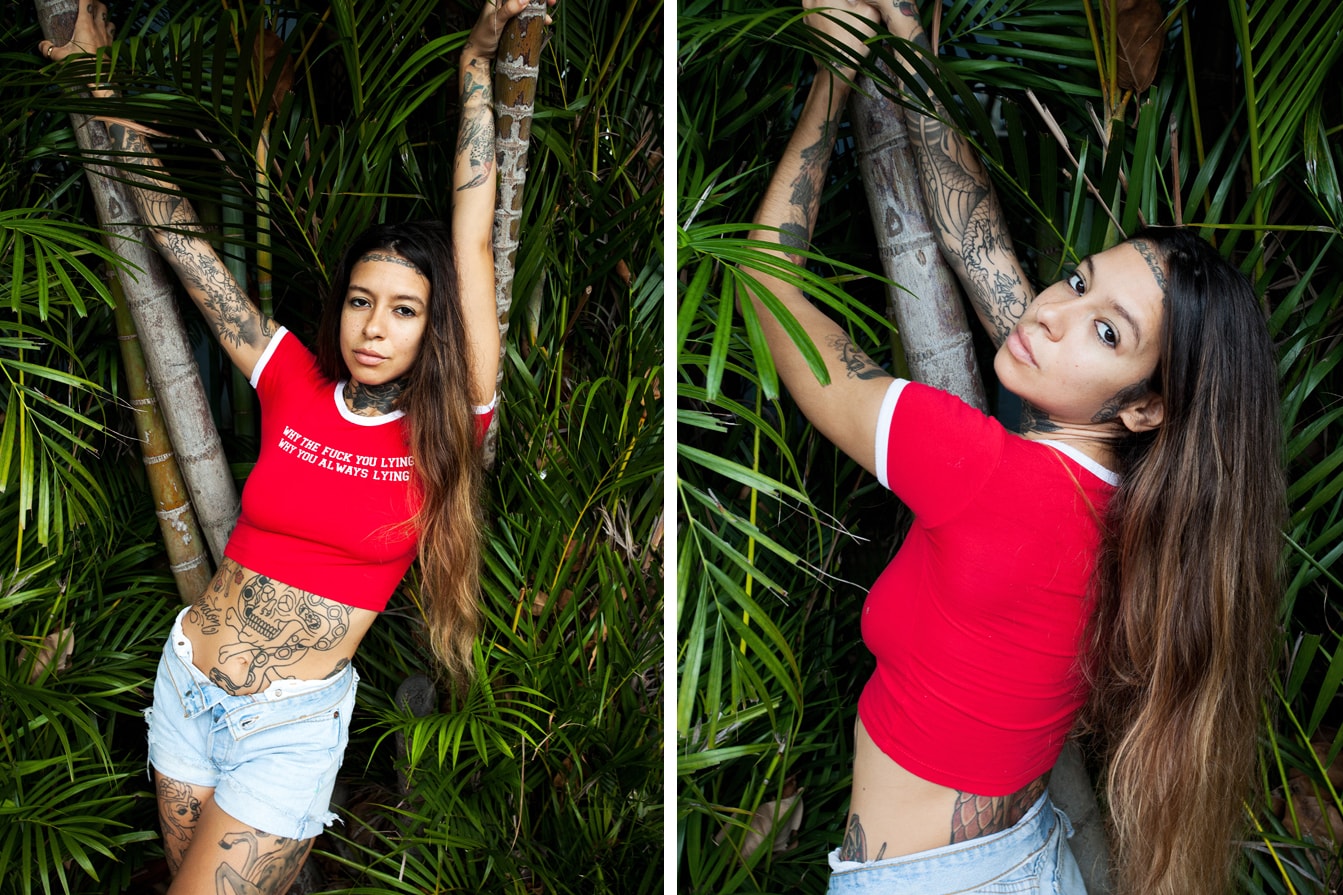 Living in Miami by way of NY, does your upbringing influence your art and if so, how?
For sure. A lot of my art is about my life — it's mostly self-reflective or documentation. My photography, especially, I think shows my perspective, the life I've made for myself within my limitations. I feel my upbringing helped with discipline, which is a huge part of the process as well. It's my job to be my own boss, which means I have to force myself to do a lot of shit constantly. It can be exhausting, but it's my passion. I'll take that over forcing myself to work shitty bar jobs mopping up puke to get by, which I've done my fair share of.
What has it been like being a female artist in a primarily male- dominated art scene?
It's been pretty chill thus far. I don't know if it's my gender or my work ethic, but I feel extremely fortunate to have had such an incredible four years of constant support of my work. Everything I put out I give 1000% and to be recognized is huge, especially so early in my career, which also terrifies me — I want longevity. So regardless of my birth gender, to continue to make art for the rest of my life would be a sweet privilege.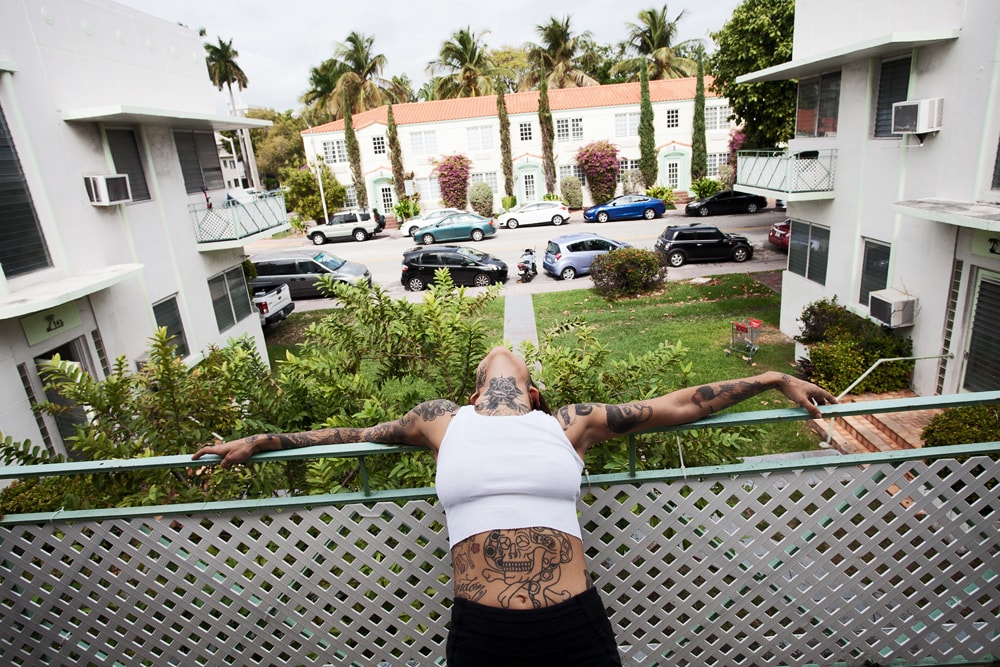 What are the main challenges you've overcome thus far being a female artist?
One of the hardest things I've overcome being an artist is allowing myself to be just that, and examining myself outside of myself. I go through phases of not wanting to create/hating my work/hating myself. Then I go deep into self pity, self loathing — it's a disgusting process. Usually I fall into a gnarly dark phase before I'm lifted to make new works. I go through this cycle, I've noticed, seasonally — so I just let it happen. I'm diagnosed bipolar II, so I'm either briefly manic or extremely depressed. My moods are also what create my work though, so it's just a constant — taking care of my mental health has been the biggest challenge to producing more work. Even if it means going through dry periods and days of excessive sleep/crying/listening to Spooky Black and wanting to die.
You published your first book — how does your writing process differ from your painting process?
Well, the book was also fully illustrated by me so it's hard to say. I usually incorporate text in my paintings, so it was pretty simple to do the same with my book — the only thing that was slightly different from my other works was making the story cohesive/make sense.
One of the hardest things I've overcome being an artist is allowing myself to be just that, and examining myself outside of myself.
You walked your first NYFW show last season. What was that like and will we be seeing more of you modelling?
I really hope so! I really do enjoy modelling because it gives me an opportunity to step outside of myself and be a character in someone else's vision. Walking my first show was really anxious — my phone was dead the entire time, which made me be really present. All the sounds and colors and energy, it was so beautiful to see it all come together and see all of the models in their outfits — it was rad and inspiring as hell. I really enjoyed it and hope to walk more shows in the future, would be a dream.
As an artist, it's frustrating when people try to put you in a box. What are some other mediums you like to create with?
I've always been interested in acting but since I have such a specific look, that obviously limits me — but it's definitely something I would like to get into. It's like I'm me, which is cool, but the idea of playing a different character and being a part of a narrative, that's always been something I've wanted to be a part of. In the 5th grade, I remember being in an acting/drama class and I enjoyed it because it made it easy for me to not take myself too seriously, which is the inner me — deep inside I'm a goof, and I love that actors get to tap into that goofy self. The idea of being a villain in anything also seems hella fun! I've been in a few music videos so far, so who knows…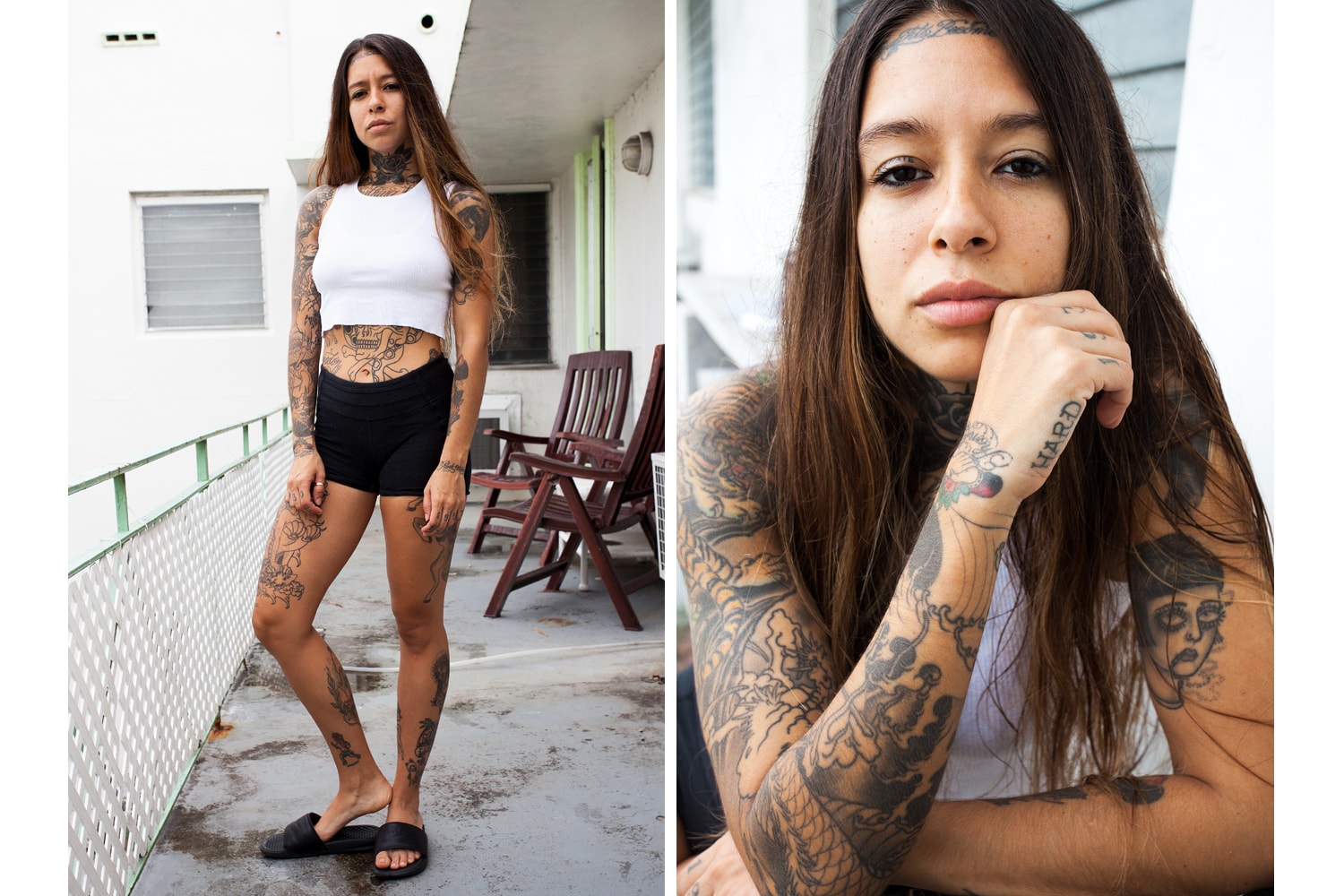 The power of social media has brought a huge awareness to female artists and creatives. How has it affected you and your art directly?
It's affected me in the most amazing way, and also on bad days it's affected me negatively as well. Thanks to Instagram, I was cast as one of Khloe Kardashian's #goodsquad models for her denim line that celebrates women of all shapes, sizes and ethnicities. Thanks to Instagram I've also been able to share my works, and have been recognized by publications worldwide for doing what I love most. I've met some incredible artists through Instagram as well that I'm now really close to. It makes it easier for an introvert like myself to connect to likeminded creatives — I'm mainly locked up in my apartment making art or reading, and IG has pushed my career tremendously. I'm really thankful for that, but still wish they'd change their community guidelines.
With the new year around the corner, what can we expect to see from you in 2017? Any projects you're excited to put out/share?
Yes! I'm excited to announce I am publishing the 6th volume of my magazine Dat Ass Zine that is shot entirely by me. The next issue will be the fitness issue, where I will be highlighting some of my biggest fitness inspirations. The models will have a platform to share their stories on how they got to where they are today, share a bit about their fitness plans, diet and hopefully inspire more women to go through the most important route in life: the healthy, self-love route. I plan on releasing the zine in Los Angeles during the LA Art Book Fair in late January/early February. I am also going to be traveling to Portland for the first time for a solo show of new painting works I've yet to share on social media. And hopefully more modelling.
Photographer

Ira Chernova / @irachernova
Share this article