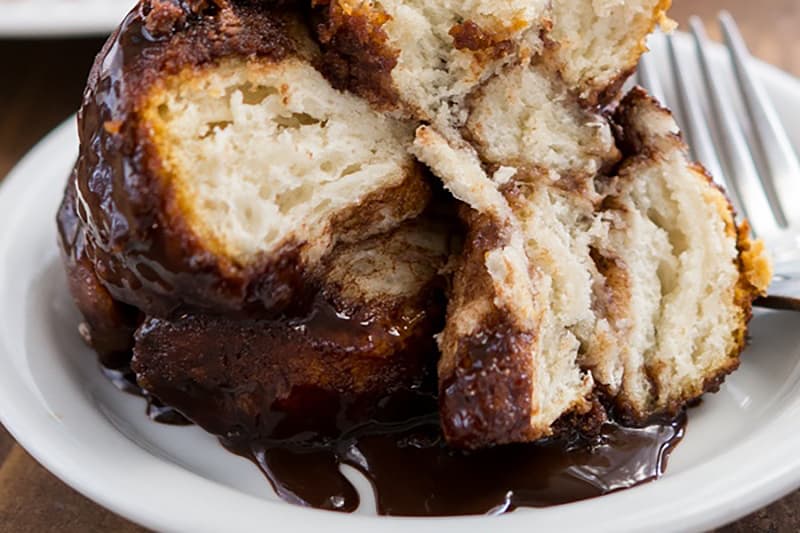 Food
Bask in the Glory of This Simple Chocolate Monkey Bread Recipe
Chocolate makes everything better.
Bask in the Glory of This Simple Chocolate Monkey Bread Recipe
Chocolate makes everything better.
If you're looking for something subtle and sensible in a pastry recipe, move along — this is anything but. Monkey Bread, or otherwise known as sticky bread or pinch-me cake, is a common American pastry served as early as breakfast or at late as brunch, but once you throw in some delectables like peanut butter, cinnamon or chocolate (like in this example), it becomes something completely different that'll be craved all day. The recipe is fairly simply, involving supermarket-found canned biscuits, cocoa powder, common kitchen ingredients and lots and lots of chocolate. Give it a try and enjoy your mornings again.
INGREDIENTS:

2 cans (8-count each) Pillsbury Grands Biscuits
1/3 cup granulated sugar
3 tablespoons unsweetened cocoa powder, divided
1/2 cup unsalted butter, melted
3/4 cup brown sugar, packed
1/4 teaspoon salt, optional
1/2 cup chocolate chips

DIRECTIONS:

1. Preheat oven to 350°F. Spray a 12-cup fluted bundt pan with nonstick cooking spray (I like using the kind with flour in it).
2. Open the cans of biscuits and slice each biscuit into 6 pieces. Place the granulated sugar and 1 tablespoon of cocoa powder in a large gallon size ziploc bag. Add the biscuit pieces, seal the bag, and shake to coat.
3. Mix melted butter, brown sugar, salt (if using) and remaining 2 tablespoons of cocoa in a small bowl.
4. Place half the coated biscuit pieces in the prepared pan. Top with half the chocolate chips and half the butter mixture. Repeat a second layer of biscuits, chocolate chips, and butter mixture.
5. Bake for about 30-40 minutes until the top is very brown and the center isn't too jiggly. The top will get crusty so you'll want to take it out when it's still a little jiggly in the center so the top doesn't burn.
6. Let cool in the pan for about 5 minutes. Place a serving plate over the pan and invert the pan, tap the top a few times and pray that the whole thing comes out in one piece. If it doesn't, just stick the pieces back together, no one will know!
Note: do not let this cool completely in the pan or it becomes like a rock and it will be very hard to clean your pan!
7. Serve as an indulgent breakfast or dessert. For extra chocolate flavor, top with chocolate sauce.
Share this article