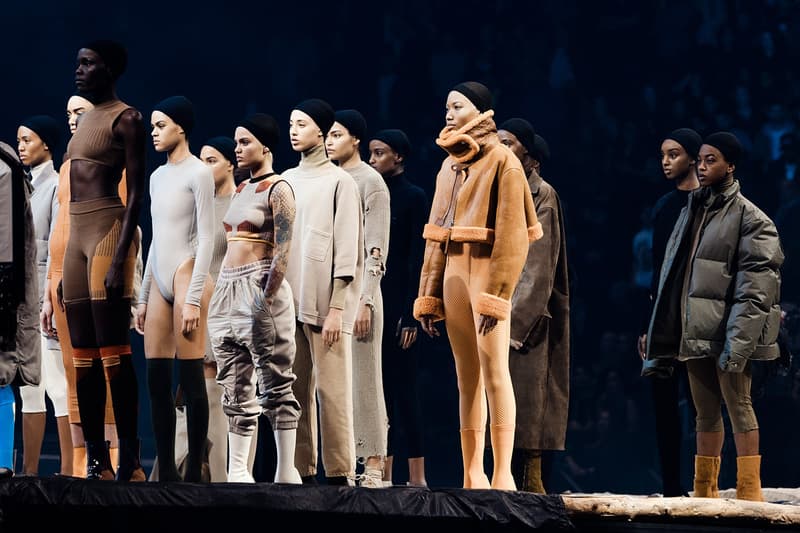 Here's What Fashion Critics Have To Say About 'Yeezy Season 3'
"He pulled it off," but…
After weeks of mystery and intrigue, changed album titles, adjusted track lists and numerous tweets, Kanye West debuted his third Yeezy collection for adidas and his seventh solo album, The Life of Pablo, at the Madison Square Garden yesterday afternoon. Today, fashion critics have started to share their opinions on the clothes, the album and the presentation itself, and although most agree that Yeezy has "pulled it off,", it appears that most critics agree that there's still some room for opportunity.
While Business of Fashion's Tim Blanks saw a positive development in the clothes, the event itself, however, appeared to have some missed opportunities.
"Given the scale of the venue, a conventional fashion presentation would have been lost. And also, the clothes that Kanye is making with Adidas are an evolutionary sportswear proposition. There was more colour than before, and a new graphic element that emphasised the articulation of the garments, but his formula for women remained secondskin athleticism, with oversize outerwear (desirable, that).[...]

The kids wearing the new collection were elevated on two platforms above the hundreds of others in desert-toned clothes from older seasons, but as the hour wore on, the population on the platforms became more and more porous. They started to look like rafts, floating in a sea of people, a ragged lost tribe for whom there was no room. Above them were poised the Jenner/Kardashian klan, glittering in white shiny outfits from the Yeezy x Balmain collab, and fuzzy in huge Yeezy shearlings. There could not have been a more graphic statement about haves and have-nots in an increasingly polarised society. And it's not an image that is likely to be repeated in any other fashion show any time soon.
Robin Givhan from The Washington Post had a similar view.
There were slim leggings and body-conscious tops, along with cropped shearlings, giant sweatshirts and skinny knit dresses. The shoes are the big sellers and there were desert boots as well as snug-fitting, booty-style heels. And it was all shown in a warm palette of saffron, cayenne and coco. Fine. Wearable. Nice job.

It was frustrating not to be able to see the clothes up close. But this show was never about fabric and tailoring. And the distance — the fact that one could only see the group and not the individuals — was a reminder of how the culture sees so many of the world's disadvantaged, disaffected and downtrodden. They are not singular individuals; they are a problem, an issue, a talking point, a political football.
The Cut's Cathy Horyn was critical of the seating arrangements.
Note that Wintour was seated in the Kardashian section. Frankly, this was a mistake: She needed to be seated with her own people, where her power is clear and separate. Instead, she looked diminished, like a Kardashian accessory.

It's quite a different approach compared to her past reviews, where she's called out the "mind-lock" Kanye has on the fashion world and the fact that he "can't be taken seriously as a designer." Maybe Kanye really has carved out a spot for himself in fashion, and it only took a 20,000-person show-slash-album-release in Madison Square Garden to get there.
After all, Kanye put it best as he chose following, selfless words towards the end of the show:
"People do come to Madison Square Garden to see me play one-on-no-one.[...] I feel a lot of times I get misunderstood just as an artist. No one can tell you what field to stay in. I just want to bring as much beauty to the world as possible."
Source: Racked
Share this article