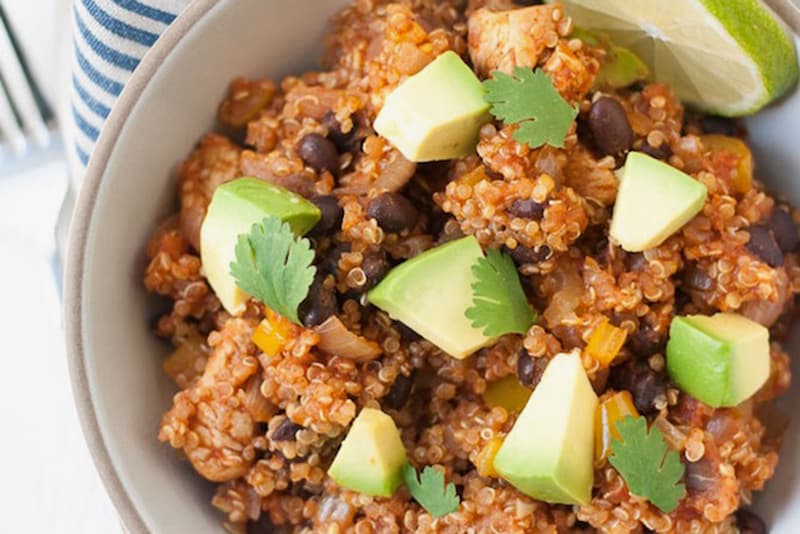 You Have to Try This Easy Mexican-Inspired Spiced Quinoa
A healthy meal with a kick.
For those constantly on the go, it might seem impossible at times to put together a wholesome meal that is both healthy and delicious. Well we have the answer to your problems: a Mexican-inspired spiced quinoa that is easy to make. Incorporating delicious ingredients such as cilantro and avocado with a kick of chilli, this meal is ready to eat in 30 minutes. You can find the full recipe below.
In one pot, make delicious spiced Mexican quinoa and serve with avocado and cilantro over a salad, in a tortilla, or on its own.

Makes 4 to 6 servings

Ingredients
2 tablespoons olive oil
1 onion, diced
2 boneless, skinless chicken breasts, cubed
2 garlic cloves, minced
1 bell pepper, small diced
1 can black beans, rinsed and drained
1 (14.5) can diced tomatoes (not drained)
1 teaspoon chile powder
½ teaspoon cumin
½ teaspoon salt
¼ teaspoon pepper
1 cup quinoa
2 cups chicken stock
Garnish
Diced avocado
Chopped cilantro
Lime

Instructions
In a large pan, heat the olive oil over medium/high heat. Add the onion and cook for 1 minute. Add the chicken, garlic, and a pinch of salt and pepper. Cook for 5-7 minutes until chicken is no longer pink. Add the garlic, peppers, black beans, tomatoes, chile powder, cumin, salt and pepper and stir.
Add the quinoa and chicken stock and stir to combine. Bring to a boil, then lower the heat, cover, and simmer for about 15-20 minutes. Remove from heat, fluff with a fork and serve with desired toppings. Adding a big squeeze of fresh lime will really help bring out all the flavors!

Notes
You can easily make this dish vegetarian by leaving out the chicken, and using vegetable stock instead of chicken stock.
Share this article