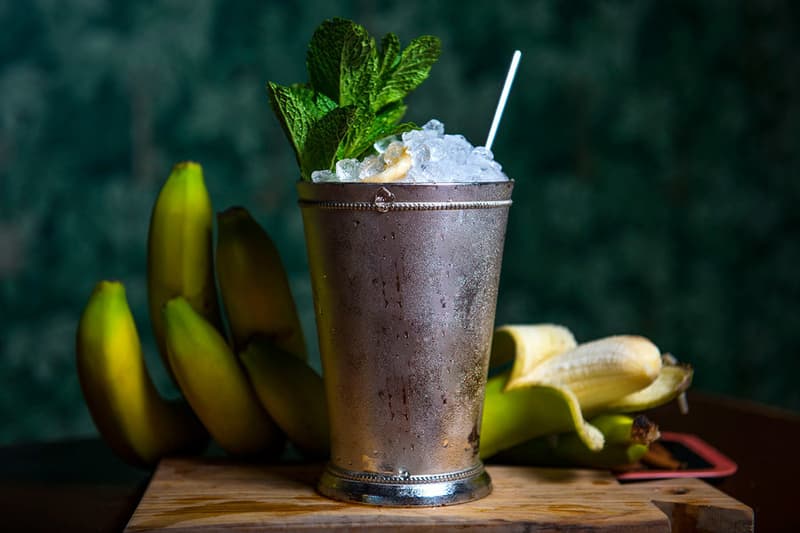 Food
The Mint Julep Is Revamped with a Miami Twist
Inspired by string bikinis and endless beach parties.
The Mint Julep Is Revamped with a Miami Twist
Inspired by string bikinis and endless beach parties.
Mint julep, the classic Southern cocktail that seems to be a staple of horse races and hazy summer porches, has more or less remain untouched by the remixing hand of mixologists. However, over at Miami Beach's Sweet Liberty Drinks & Supply Co., owner and bartender John Lermayer has reimagined the classic concoction with a distinct beach vibe. Bringing to mind string bikinis and endless beach parties, Lermayer describes his revamped mint julep as "a modern cocktail with a respectful nod to the classics." Not one to hold back on the booze, his recipe contains the equivalent of about three drinks, so he recommends this one as a treat to share. Fused with tons of banana flavoring (and bourbon), this frosty cocktail is bound to be a hit at your next party. Check out the recipe below.
Big Banana Julep
By John Lermayer

Ingredients

2 oz Appleton Estate Signature, sous vide with banana
1 ½ oz Old Grand-Dad Bottled in Bond bourbon
1 oz salted banana syrup
1 wad mint

Instructions

1. Build cocktail "julep"-style, starting with a healthy wad of fresh mint, one ounce of Bourbon, and one ounce of our homemade banana rum.

2. Heavily muddle the drink with a small amount of crushed ice. Repeat process with more mint, one ounce of bourbon, and another ounce of banana rum.

3. Top cocktail with crushed ice and garnish with mint sprig, a banana tip, and a drizzle of spiced rum.

To make sous vide rum: slow cook the rum with bananas, black salt, and vanilla bean for eight hours at 53 degrees Fahrenheit.
Share this article