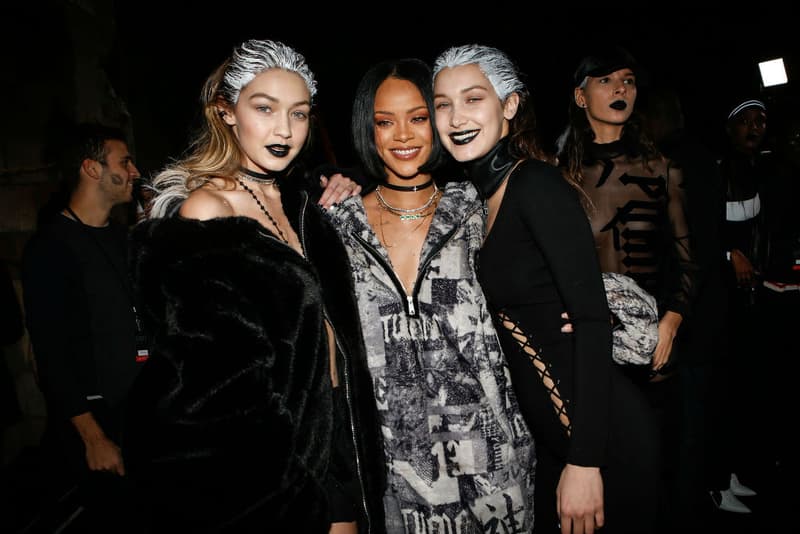 Fashion
Rihanna Surpasses Kanye West As Most-Talked-About Designer On Twitter
She's also the most-talked-about model.
Rihanna Surpasses Kanye West As Most-Talked-About Designer On Twitter
She's also the most-talked-about model.
Although Kanye West caused major headlines with his glorious launch of Yeezy Season 3 and the premiere listening party for his latest opus, The Life of Pablo, it wasn't enough to top Rihanna and her stunning first fashion show for Puma as the most-talked-about designer on Twitter. The Silicon Valley giant unveiled the list of brands and designers that have been caused the most traction around the New York Fashion Week earlier this month. Besides Kanye, Rih Rih was followed by the likes of Tommy Hilfiger, Coach, and former Project Runway contestant Malan Breton.
As if this would haven't been enough, the Bajan beauty also took the top position when it comes to the most-talked-about models — ahead of the likes of Gigi Hadid, Kendall Jenner, Lady Gaga, and Kylie Jenn.
As far as the brands are concerned, Michael Kors, Forever 21, and Calvin Klein are sitting on top whereas MAC, Sephora, and Maybelline take over the top positions for beauty. With the data being limited to images tagged with #NYFW, most-liked celebrities images were usual suspects likes Kim Kardashian, Rihanna, and Kris Jenner leading the way.
Source: Racked
---
Share this article