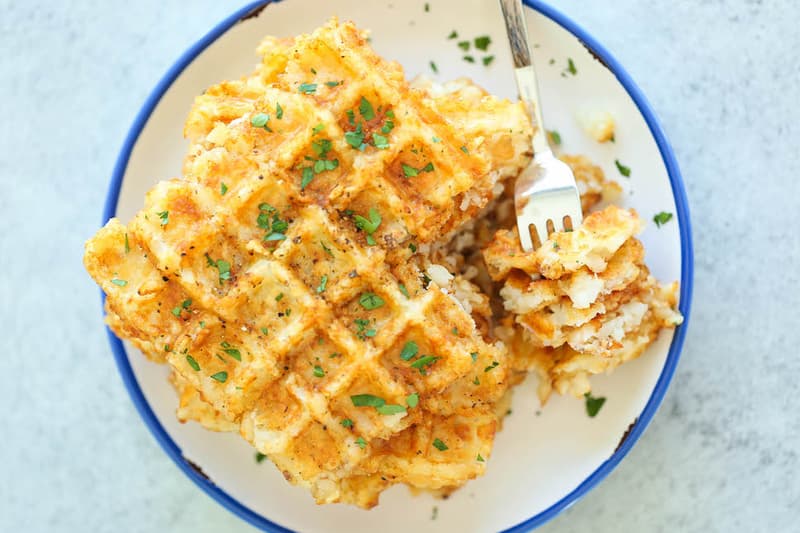 Tater Tot Waffles Are a Real Thing
And best of all, they're incredibly easy to make.
What's better than a huge pile of tater tots? Tater tots in waffle form, of course. Yes, with a little bit of finesse and "outside of the box" thinking, you can change ordinary tater tots into waffles and ultimately something so much more. The beauty of this recipe is its simplicity and ability towards modification — treat each waffle with a separate sauce (Sriracha and Ranch are good starts), mash in some seasoning or even throw in some bacon bits for a wide variety of waffles to serve a larger group. Check out the incredibly easy recipe below and remember to experiment.
Tater Tot Waffles

INGREDIENTS

2 tablespoons unsalted butter, melted

1 (32-ounce) bag frozen tater tots, thawed

1 tablespoon cajun seasoning

Kosher salt and freshly ground black pepper, to taste

2 tablespoons chopped fresh parsley leaves

DIRECTIONS:

Preheat a waffle iron to medium-high heat. Lightly brush the top and bottom of the waffle iron with melted butter.
Working in batches, spread tater tots in an even layer into the waffle iron; season with cajun seasoning, salt and pepper, to taste. Close, pressing down firmly to flatten, and cook until golden brown and crisp, about 5-6 minutes, or until desired crispness is reached. Repeat with remaining tater tots, adding more butter as needed.
Serve immediately, garnished with parsley, if desired.
Share this article