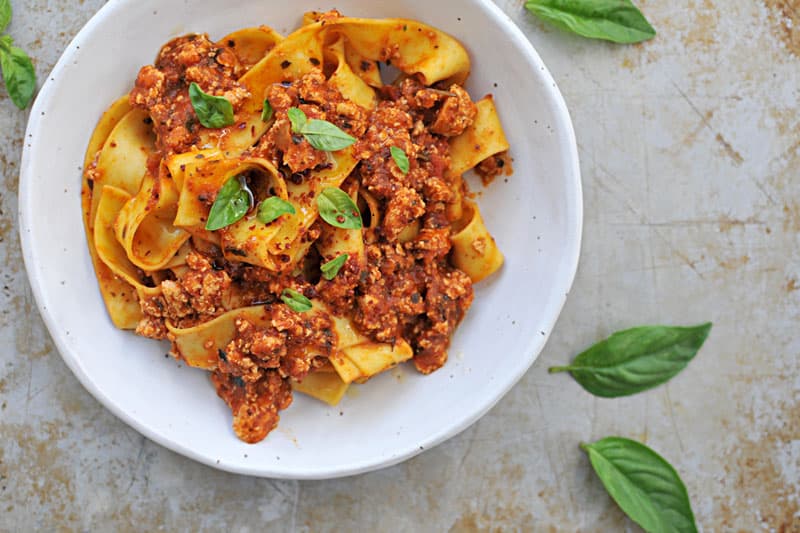 Food
This Vegetarian Bolognese Is the Perfect Hearty Meal for Your Day Off
Because vegetarians are people too.
This Vegetarian Bolognese Is the Perfect Hearty Meal for Your Day Off
Because vegetarians are people too.
The classic Italian Bolognese pasta dish is perhaps one of the most on-demand comfort dishes, a rich tomato sauce finished with a decadent gloss of butter. Flawlessly incorporated amongst a generous helping of ground beef or perhaps bits of spiced sausage, the glorious sauce is draped across a beautiful bed of pasta. However, if you're a vegetarian craving a meatless option (or perhaps a meat lover who is just looking for a lighter, simpler alternative), then this recipe is for you. Substituting meat with crumbled tofu, flavorful spices, marinara sauce and vibrant herbs, this "fauxlognese" is so mouth-watering that you might just forget it's entirely vegetarian. Whether you plan to enjoy this on the weekend or hope to whip this up during the week, this recipe is ready in 15 minutes and will definitely have you begging for more. Check out the full recipe below.
Makes 4 servings

Ingredients

1 14 oz package tofu, frozen solid and thawed completely (see note)
3 T olive oil, plus extra for serving
1 tsp ground fennel seed
1 tsp garlic powder
½ tsp salt
pinch of crushed aleppo pepper or other red chile pepper flakes
freshly cracked black pepper
1 jar marinara sauce (or equivalent homemade)
handful fresh basil leaves
hot pasta for serving (about ½ a pound or so, I like papardelle or orechiette)

Instructions

1. Slice frozen and thawed tofu into four large slabs and press each slab between two plates to extract as much liquid as possible. Crumble drained tofu.

2. In a large skillet or dutch oven, heat oil over med-high flame. Add crumbled tofu, fennel, garlic powder, salt, red pepper flakes and plenty of cracked black pepper and sauté, stirring frequently, until tofu is browned in places, about 5 mins.

3. Add marinara and cook until warmed through. Serve over hot pasta with a generous drizzle of olive oil, fresh basil and more crushed red pepper over the top. Enjoy!

Notes

I love this meal for weeknights, in particular, since the sauce comes together in about the time it takes to boil a pot of pasta — so long as you've frozen and thawed the tofu in advance. Doing so changes the texture of the tofu completely and allows you to extract an extraordinary amount of liquid before browning it for the sauce.
Share this article