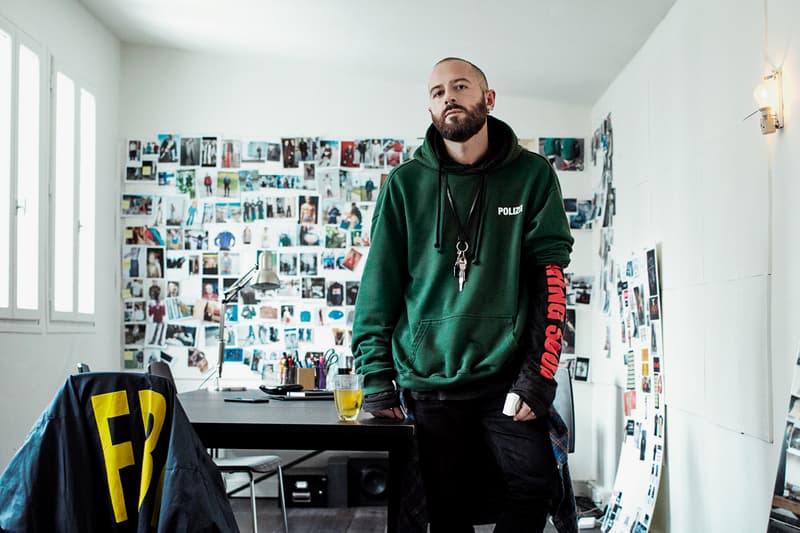 Fashion
VETEMENTS Is Launching a Men's Collection
Find out when the new menswear line will be shown and also Demna Gvasalia's thoughts on the broken fashion system.
VETEMENTS Is Launching a Men's Collection
Find out when the new menswear line will be shown and also Demna Gvasalia's thoughts on the broken fashion system.
Earlier this week, VETEMENTS announced that it would be joining Tom Ford in rejecting the fashion show system. In efforts to remedy the growing problem of a structure that moves too fast and demands too much from its designers, both Tom Ford and Burberry both divulged that they would endeavor to make serious strides forward in "aligning their shows with retail availability." Exploring this new direction, VETEMENTS' Demna Gvasalia recently sat down with The Business of Fashion's Imran Amed about his plans moving forward. In addition to a discussion about the designer's new role as the artist director of luxury fashion house Balenciaga (replacing Alexander Wang), Gvasalia also remarks that VETEMENTS has plans to introduce a men's collection. Check out excerpts from the interview below, and head over to The Business of Fashion to read the full piece.
Let's talk about that moment, when Vetements was first seeded.
It was conceived basically between me and a couple of my friends. We would meet and share our opinions about the industry and what was going on, and what we agreed on and didn't agree on. The pre-collection, the collection, all the things that we had to do. We thought the same way and shared [something] aesthetically as well, so we thought, why don't we put something together in our spare time?

You expressed a shared sense of frustration with the industry among the wider Vetements team. What types of things were you talking about?
Well, basically the frustration was with the cycle. The creative cycle that didn't really coincide at all with the production side, and the demands and the number of pieces that we had to make. The pieces became kind of soulless, you know, because they had to be made, but didn't really have a reason to be. That was the most frustrating part for me. You need to have a jersey top because that's what the market requests — I can't do a jersey top at that very moment, you know?

Our idea was to make things that we really felt confident about and wanted to see people wear. I wasn't doing that in any of my previous professional experiences.

What do you think of the fashion system today?
What is not working is the fact that there is no relationship between the creative vision and the commercial vision. I think they are very separated, yet they are very dependent on each other, because the commercial vision needs to pay for the creative vision's existence, in a way.

This dependency creates an unbalanced relationship because the market dictates what creativity needs to do, in order to sell. It tells you we need so and so, five trousers, and 10 dresses — we need this and that. All of this information comes from commercial teams and merchandising. It's like you have a blank sheet or a collection plan you have to fill out every six months that was given to you by some commercial person, who based their research on previous seasons or on competitor brands that have nothing to do with you.

The whole system just doesn't work anymore. This whole vicious circle turns and turns at a very fast speed and kills both the creativity and the business. Most of them survive on making bags and perfume at the end of the day. Ready-to-wear, which is the platform and the base of fashion, is really in the shadow today, with a few exceptions.

On introducing a new model where he shows between men's and women's couture.
This season we are doing it as usual and we're going to show in the beginning of March. We are introducing a men's collection as well. Due to our aesthetic that has a very masculine origin, we have a lot of male customers that buy our clothes, which are not really made for male customers. We are fitting on girls, we've never fitted clothes on guys before. At the end of the day, we decided to do it at the same time as women. So we are going to have a show that is half/half women and menswear. But we are going to show it in March and then the next season will be a big challenge for us, which is a traditional season, and the challenge will be to make the collection in three months to meet our target to do a show in June.

Balenciaga, on the other hand, is one of the most prestigious houses in the world, but it's part of the old system that you seem to be rejecting. How are you splitting your time between the two?
At the end of the day I have never felt so creatively calm as I do since I started to do both jobs. It's basically about structuring yourself and surrounding yourself with the right people that you can trust and delegate. That's how it's happening for now and I am quite happy with the way it goes.
Photographer

Willy Vanderperre/Bof