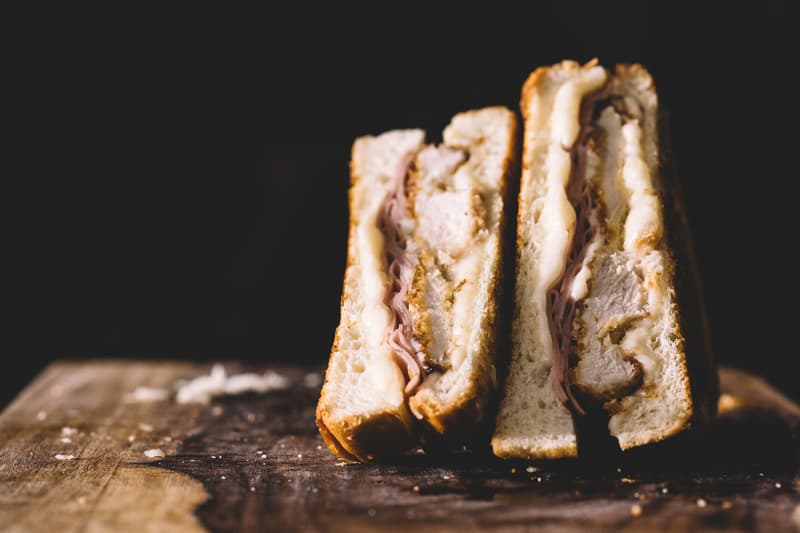 A Grilled Cheese Recipe for Grown-Ups
Chicken, cheese and ham — oh my.
There are plenty of things we cherish about childhood — like naptime, for example — but high up on that list is indulging in a good grilled cheese. Bread plus ooey, gooey, melty cheese makes for a simple staple that always hits the spot. And sometimes life calls for a two-minute meal. Truthfully, adulting can be tough, but the recipe below is a grown-up version of the kiddy classic featuring crispy breaded chicken and savory ham. It's as easy as it gets.
Chicken Cordon Bleu Grilled Cheese

INGREDIENTS
1 egg
1/2 cup panko
Salt and pepper
1/2 chicken breast, pounded thin
1/4 cup flour
Oil to fry chicken
2 slices bread of choice
1/2 cup shredded swiss cheese
5-6 thin slices ham

DIRECTIONS

Lightly beat the egg in a bowl and set aside. Place the panko in a bowl and set aside. Season the chicken with salt and pepper and then sprinkle on the flour. Toss to coat. Dip into the egg and then the panko making sure it is evenly coated.
Heat up a generous of oil in a large frying pan over medium high heat. Fry the chicken until golden brown and crispy, about 3-5 minutes per side. Remove from the pan and set aside.
Wipe down the pan, leaving a bit of oil behind (not too much!). Lay down one slice of bread and top with half of the cheese. Place the chicken on top, then the ham slices, and the remaining cheese and slice of bread. Grill, over medium-low heat until golden brown and cheese start to melt. Flip carefully and grill until golden and everything is melty. Enjoy!
Share this article