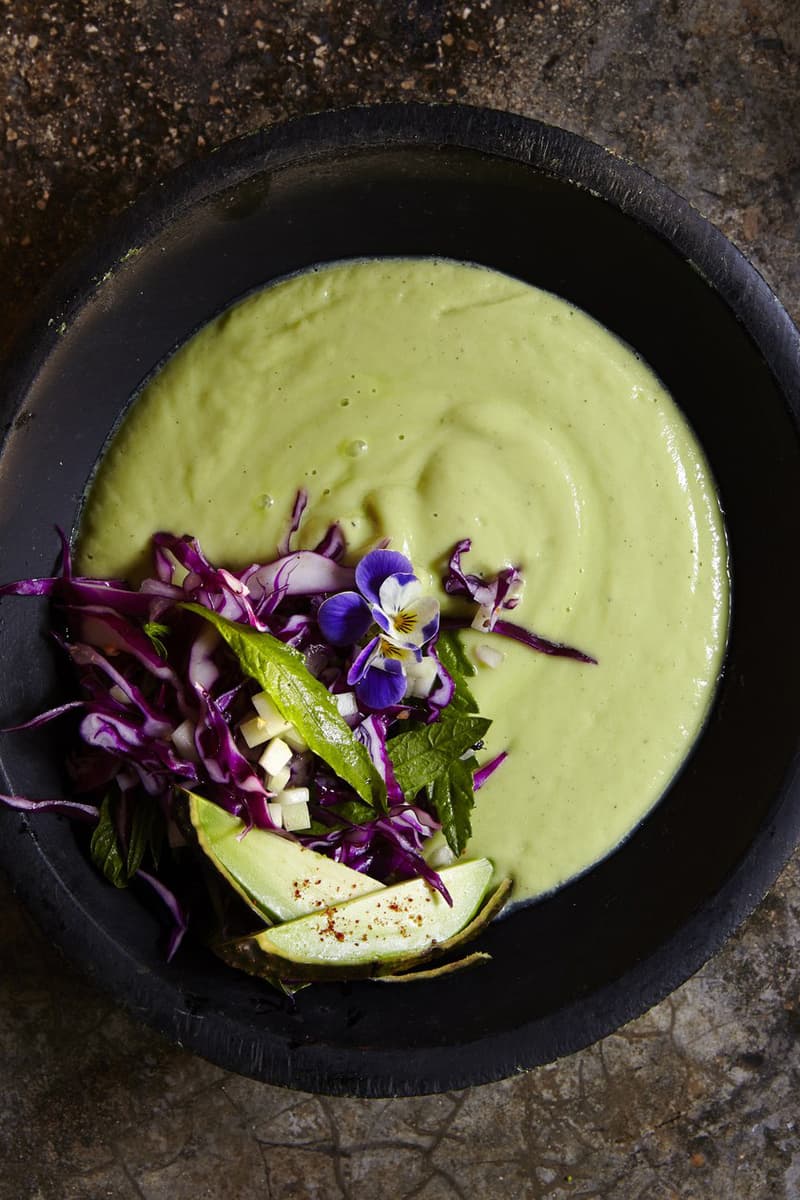 Take Your Taste Buds on a Trip With This Chilled Avocado Soup
Next stop: Mexico.
No plans for spring break just yet? Don't trip — with this recipe courtesy of Chef Eric Werner of the Hartwood restaurant in Tulum, Mexico, you'll be able to bring the taste of the Caribbean coast into your kitchen. If you're an avocado lover, you're used to putting your favorite fruit onto things like salad or toast. Ahead, however, you'll see a new spin on the superfood used as a base for a chilled soup. Also infused with lime and Mexican herbs, the soup recipe — accompanied by recipes for a salad and vinaigrette — will have you feeling sunny in no time.
CHILLED AVOCADO SOUP WITH EPAZOTE

Serves 6

Soup

4 large ripe Hass avocados, halved, peeled, and pitted, plus extra slices for garnish
¼ cup fresh lime juice (from 2 to 3 limes)
1½ teaspoons kosher salt, or to taste
3 cups vegetable stock

Salad

2 cups thinly sliced red cabbage
½ habanero, seeded and minced, or to taste
¼ cup fresh epazote leaves (or tarragon leaves or fennel fronds)
¼ cup small cubes of seeded cucumber
¼ cup minced red onion
¼ cup julienned radishes
2 tablespoons lime and honey vinaigrette (recipe below)

DIRECTIONS
1. Combine the avocados, lime juice, salt, and vegetable stock in a blender and blend on high speed until creamy, slowly adding more stock if necessary, until the mixture is the consistency of a cream soup. Taste and add more salt if needed. Transfer to a bowl and refrigerate until just chilled. (Serve the soup quickly so it maintains its color.)

2. Meanwhile, make the salad: Combine the cabbage, habanero, epazote leaves, cucumber, red onion, and radishes in a bowl and toss well. (If you want it spicier, use the whole habanero; if you want it really spicy, keep the seeds in.) Add the vinaigrette and toss again.

3. To serve, ladle the soup into bowls and place a large spoonful of salad on top of each bowl. Garnish with avocado slices.

LIME AND HONEY VINAIGRETTE

Makes about 1 cup

¼ cup fresh lime juice (from 2 to 3 limes), or to taste
¾ cup olive oil
2 tablespoons honey, or to taste
1 teaspoon kosher salt, or to taste

DIRECTIONS
Whisk all the ingredients in a small bowl until emulsified, then taste—everything should be in balance: the acid of the lime, the sweetness of the honey, the salinity of the salt. If anything is too faint, add more of whatever is missing. The vinaigrette will keep for up to a week in the refrigerator; whisk again before serving to re-emulsify it.
Share this article