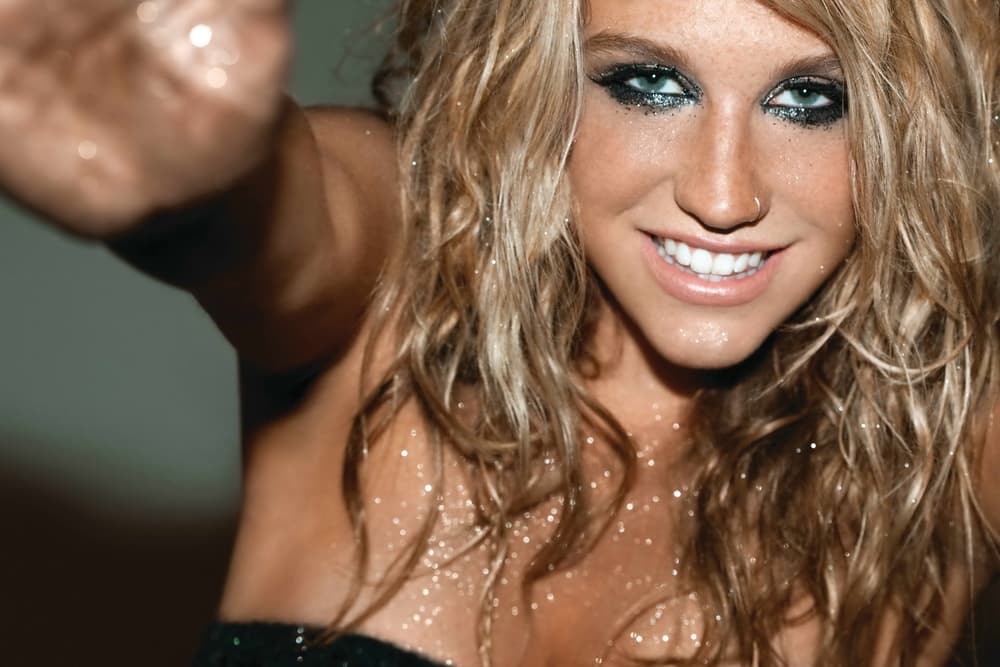 Music
Why We Support Kesha, and Why You Should Too
What Kesha's case says about patriarchy, feminism and rape culture in the music industry and beyond.
Why We Support Kesha, and Why You Should Too
What Kesha's case says about patriarchy, feminism and rape culture in the music industry and beyond.
The year is 2009. An unknown singer named Kesha lends her unmistakable voice to the hook on a Flo Rida song called "Round Round," produced by one of pop's proverbial Goldfingers, Dr. Luke. The single goes to number one, giving Flo Rida his second number one hit, and Dr. Luke his first separate from his frequent collaborator Max Martin. It's technically Kesha's first number one hit too, and though her hook was the most memorable part of the song, Dr. Luke didn't give her a songwriting credit, meaning that she earned nothing from the hit. The success of "Round Round" sets the sad, unfair stage for Kesha's career thus far, one where even the highest of highs have been marred by darkness, and where happy-go-lucky hits have hidden painful secrets.
Over the next five years Kesha would clock a handful of top ten hits—including "Tik Tok," "We R Who We R" and "Die Young"—all made in collaboration with Dr. Luke. Their relationship was one of those special producer-singer/songwriter pairings that only happens once every few years and they were seemingly unstoppable in their command of the pop charts. But as is often the case with great success came great criticism, and the backlash against Kesha came fast and came hard. People said she couldn't sing, that she represented the downfall of pop music and that she was a talentless product of the record label-manufacturing machine. But the haters missed some interesting and important things Kesha was doing: she never shied from doing her part to turn the gender roles that are so pervasive in the entertainment industry completely on their head with her in-your-face lyrics. Lots of female pop stars were singing about men, but none were calling them a "booty call" and warning them not to get "attached when I call you up trying to get some ass." As she said in her autobiography My Crazy Beautiful Life, "I decided that I wanted to talk about men the way men talk about women. I wanted to level the playing field. I'm a young, responsibly woman who can work and party as hard as any man. So, if I want to talk about drinking and sex, I'm going to do it."
Between 2010 and 2014, the gossip magazines were especially brutal in their treatment of Kesha, and took a liking to publishing photos of the singer and criticizing her weight and appearance. She would eventually go to rehab for an eating disorder, but that was only the tip of the iceberg of trauma that Kesha had been hiding from the world: in October 2014, Kesha filed the bombshell charges against Dr. Luke that alleged he "sexually, physically, verbally, and emotionally abused [her] to the point where [she] almost lost her life" and that he did so in order to "destroy her self-confidence, self-image, and self-worth so that he could maintain complete control over her life and career."
It's 2016, and the last few years have been crucial in moving feminism to the forefront of our collective mind. The case for gender equality is being made in arenas everywhere, from sports to entertainment to politics and beyond, with many notable public figures, both men and women, stepping up and declaring themselves feminists and demanding equal and fair treatment for all in policy-designated spheres such as politics, healthcare, education and the workplace. But Kesha's case is a clear representation of how institutionally validated rape culture is—and also how systematically entrenched victim-blaming is—all over the world: We already know that many women who have been raped rarely go to the police or even tell their friends as evidence is always scarce, they don't realize that what's happened is criminal, or they don't think they'll be believed. And even the tiny percentage that do end up reporting the crime are likely to have every piece of their character scrutinized and picked apart in the ensuing legal process, and the handling of their alleged abuse criticized also.
This is one of the cornerstones of rape culture: normalizing sexual violence by placing blame on the victims and turning attention away from the perpetrators. This happened in the recent Bill Cosby case, where many criticized the length of time it took for the victims to come forward (some so long in fact, that the alleged crimes fall outside the statutes of limitations for legal proceedings) despite Cosby's own admission that he engaged in "casual sex, involving use of Quaaludes." This happened in the case of Jian Ghomeshi, the Canadian broadcaster and radio host who is currently on trial for four counts of sexual assault. His widely-publicized trial has been more about attacking the credibility of his accusers than uncovering the truth. And this has happened to Kesha, both in the courtroom and the media, and by both the legal system and her record label. Sony has issued a series of troubling statements including the assertion that their "interest is in [Kesha's] success…(and) in Dr. Luke's success" and "they are not in the least bit mutually exclusive." And then there was Judge Shirley Kornreich's opinion that "There has been no showing of irreparable harm." How about the psychological damage Kesha has had to endure, and the physical manifestations of that damage, such as her public battle with eating disorders? Is that not considered "harmful" enough?
One of the cornerstones of rape culture include normalizing sexual violence by placing blame on the victims and turning attention away from the perpetrators.
The charges alone are horrific but perhaps the most complicated circumstance, and one that sets Kesha's apart from many cases of abuse, is the fact Kesha must remain contractually bound to Sony and Kemosabe (Dr. Luke's label) and in turn contractually bound to her abuser himself. It's an impossible thing to wrap your head around for most of us: She must make six more albums with, and for, the man who allegedly drugged her with GHB and raped her; the man who would reportedly tell her over and over that she was neither pretty or talented, that she was lucky to have him and call her names like a "fat fucking refrigerator;" and the man who then threatened her and her family in an effort to keep her silent about his abuses. That type of treatment wouldn't be tolerated in a conventional workplace, and speaks volumes about the systematic patriarchy that still rules the music industry. It's worthy to note that there have been other high profile cases lately of artists being released from record contracts without major incident: perhaps the most relevant is Zayn Malik leaving One Direction and being let out of his Sony contract before signing a solo deal with RCA just a few months later. The fact that Malik could get out of his contract based on (mostly vague) reasons that were rumoured to have to do with creative differences and stress, and yet Kesha's reasons of sexual violence are being denied as valid presents a pretty ridiculous double standard.
It's often said in abuse cases that there is nothing more the perpetrator wants than to silence their victim, and Kesha certainly has been. Her request for an injunction that would allow her to record outside Dr. Luke's reach contained the following heartbreaking plea: "I know I cannot work with Dr. Luke. I physically cannot. I don't feel safe in any way." Regardless of a contract, should it not be the most simple of human rights for someone to feel safe, protected from harm, and live life out of the grips of their abuser? Sony is quick to point out that Kesha is free to make music with other producers, but the current hierarchy is set up in such a way that Dr. Luke still conveniently (and unsurprisingly) profits regardless. While she's at a standstill when it comes to making and releasing new music, he has gone on to continue to work with other artists and make millions of dollars in the process. While stories about record labels forcibly compromising an artist's creative freedom are nothing new, in Kesha's case the concept of "freedom" as a whole has truly been turned on its head. It shines a harsh spotlight on the ethical validity of "signing" a human being to any sort of corporation, hence the #FreeKesha support hashtag that has picked up steam on social media.
Many other celebrities have joined the #FreeKesha movement in varying ways: Taylor Swift donated $250,000 to Kesha to use for whatever she needs during this trying time; Lena Dunham published a supportive piece in her newsletter, Lenny, that was subsequently shared by Reese Witherspoon and Anne Hathaway, to name a few; Adele (also a Sony artist) took a moment as she accepted the BRIT Award for Best Female Solo Artist to publicly acknowledge her support; and ahead of Sunday's Academy Awards, Lady Gaga dedicated her performance of "'Till It Happens To You"—which was recorded for use in the 2015 documentary film about campus rape, The Hunting Ground—to Kesha, and promised to "stand by u until you are free to live a HAPPY life. Everyone deserves that." While many female artists are rallying behind the cause, so far the presence of male artists publicly supporting Kesha has been minimal, but a few are stepping up to the plate as well. Producer Zedd who worked on the Selena Gomez smash "I Want You To Know," tweeted his sympathies and said he would be "happy to produce a song" for her if she wants his help, and Jack Antonoff, the lead guitarist for Fun. who has also worked with Taylor Swift, also tweeted that he would be happy to work with Kesha so she didn't have to work with Dr. Luke, who he called a "creep."
What institutionalized patriarchy promises is that men will always be protected—especially when there is monetary interest—and that women will forever have to fight for their fundamental human rights, and fight against those which aim to silence them.
In support of her case, Kesha's legal team submitted to the courts an affidavit from Jim Urie, former president and CEO of Universal Music Group Distribution, that outlines the lasting effect of all of this on Kesha's career, without even taking into account the personal healing she still has to tackle. It's Urie's professional opinion that "no mainstream distribution company will invest the money necessary to distribute songs for an artist who has fallen from the public eye, as is happening to Kesha at this very moment." He said that she needs to resume recording immediately, and have her work promoted, marked and distributed or else "her career is effectively over. " The situation is a clear example of many fundamental issues in the music industry: Kesha's career remains in jeopardy of ending altogether, while Dr. Luke continues to work, produce songs and make himself and his parent company Sony money. What institutionalized patriarchy promises is that men will always be protected—especially when there is monetary interest—and that women will forever have to fight for their fundamental human rights and fight against those which aim to silence them. Kesha has a long road ahead of her, but instead of focusing on the odds stacked against her, we choose to remember that this is a woman who once told Seventeen of her album title Warrior, "I remember every person who told me I couldn't do something or that I was ugly or too fat…You can be a victim and let that eat your soul, or you can say, 'You're going on my list and I'm going to prove you wrong!'" We're with you, Kesha, and we know you'll keep fighting as you always have.