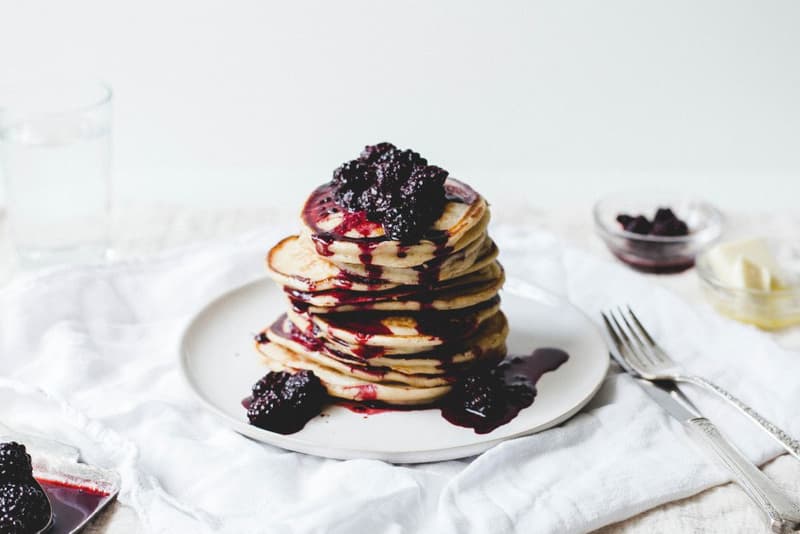 Food
Nothing Beats Perfect Lemon Ricotta Pancakes with Blackberry Syrup in the Morning
This is how you win at brunch.
Nothing Beats Perfect Lemon Ricotta Pancakes with Blackberry Syrup in the Morning
This is how you win at brunch.
Lemon and blackberry is possibly one of the best combination of flavors for a spring morning. And when you put them into a pancake recipe with ricotta, BAM! You get a refreshing start to your day with the sweet and tangy taste of these irresistible pancakes. You might be thinking, it's impossible to find the perfect lemon-to-ricotta-to-blackberry ratio – you need to have the right amount of everything for the perfect balance. Well, your prayers have been heard. This recipe is the answer to it all, providing the golden ratio to make faultless lemon ricotta pancakes with blackberry sauce. Try out the recipe and see for yourself.
Lemon Ricotta Pancakes
INGREDIENTS
1 1/4 All-purpose Cup Flour
1 1/4 Teaspoon Baking Powder
1 Teaspoon Nutmeg
1 Teaspoon Cinnamon
2 Teaspoons Raw Sugar
1/4 Teaspoon Sea Salt
1 1/2 Lemons (Juiced)
2/3 Cup Skim Milk Ricotta Cheese
2 Eggs
1/4 Cup Buttermilk
1 Cup Low-fat Milk
Cooking Spray for pan

DIRECTIONS

In a large mixing bowl combine flour, baking powder, nutmeg, cinnamon, sugar, and salt.
In a separate bowl combine eggs, milk, buttermilk, lemon juice, and ricotta cheese.
Add the wet mix to the dry mix and whisk until batter is even.
Heat a griddle or skillet on medium heat and spray pan with cooking spray.
Take about 1/2 cup of batter and add to pan cooking the pancake for 1-1/2 minutes.
After pancake is done on one side flip to the other side to cook.
Repeat until pancakes are done and serve hot with butter.
Blackberry Syrup
INGREDIENTS
2 Cups Blackberries
1 Lemon Juiced
1 Tablespoon Sugar
1/4 Cup Water

DIRECTIONS

Add blackberries to a hot skillet with lemon juice, sugar, and water.
Cook berries down to juice for 7-10 minutes and serve over pancakes.