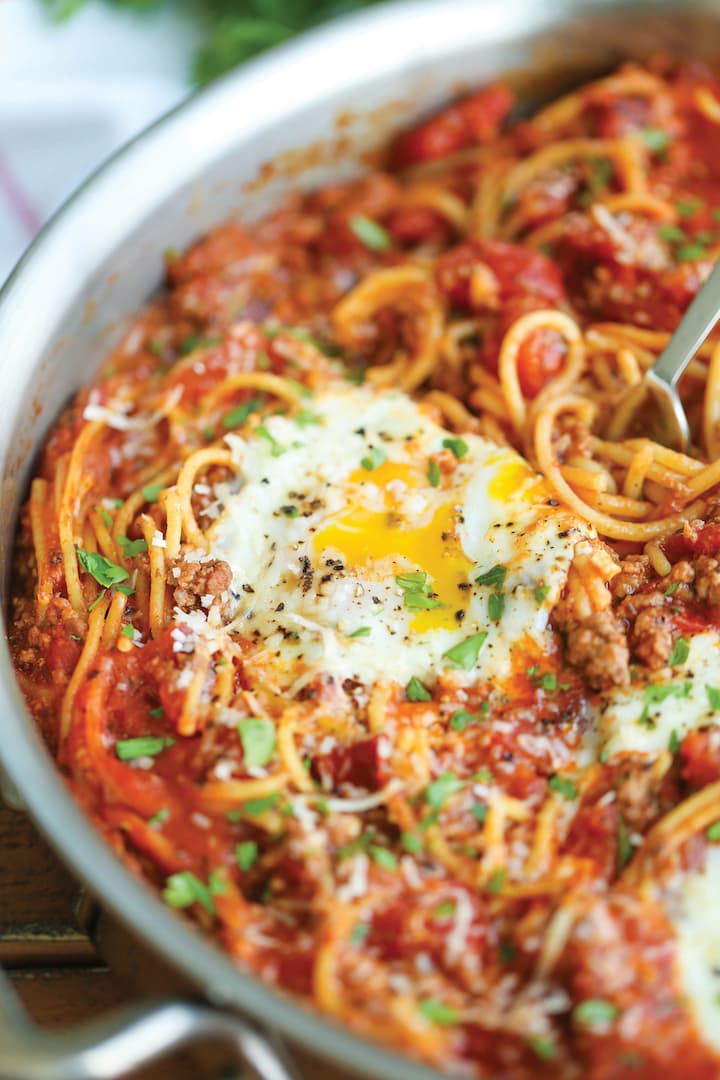 One-Pot Spaghetti With Eggs: Your Hasty Meal Hack
Lazy dinner is served.
There's nothing like a good homemade meal, but thinking about all the dishes left to clean after cooking is reason enough to order in sometimes. We now present you with a recipe that will save you from dish duty: one-pot spaghetti. Your favorite noodle dish simplified, just throw all the hearty ingredients together into one dish on the stove, crack a couple of eggs on top (because everything is better when topped with an oozing, running egg), and pop it in the oven for a few. Then, pour yourself a glass of wine because dinner is served.
INGREDIENTS:
1 tablespoon olive oil
2 cloves garlic, minced
1 onion, diced
1 (24-ounce) jar pasta sauce
2 cups chicken broth
1/2 teaspoon crushed red pepper flakes
10 ounces uncooked spaghetti
Kosher salt and freshly ground black pepper, to taste
4 large eggs
1/4 cup shredded mozzarella cheese
1/4 cup freshly grated Parmesan cheese
2 tablespoons chopped fresh parsley leaves

DIRECTIONS:

Preheat oven to 400 degrees F.
Heat olive oil in a large oven-proof skillet over medium high heat. Add garlic and onion to the skillet, and cook, stirring often, until onions have become translucent, about 3-4 minutes.
Stir in pasta sauce, chicken broth, red pepper flakes and spaghetti; season with salt and pepper, to taste.
Bring to a boil; reduce heat and simmer, stirring occasionally, until pasta is cooked through, about 18-20 minutes.
Create 4 small wells with the back of a spoon. Gently crack eggs and slide it into each well, keeping the yolk intact. Sprinkle with cheeses; season with salt and pepper, to taste.
Place into oven and bake until the egg whites have set but the yolks are still runny, about 7-9 minutes.
Serve immediately, garnished with parsley, if desired.