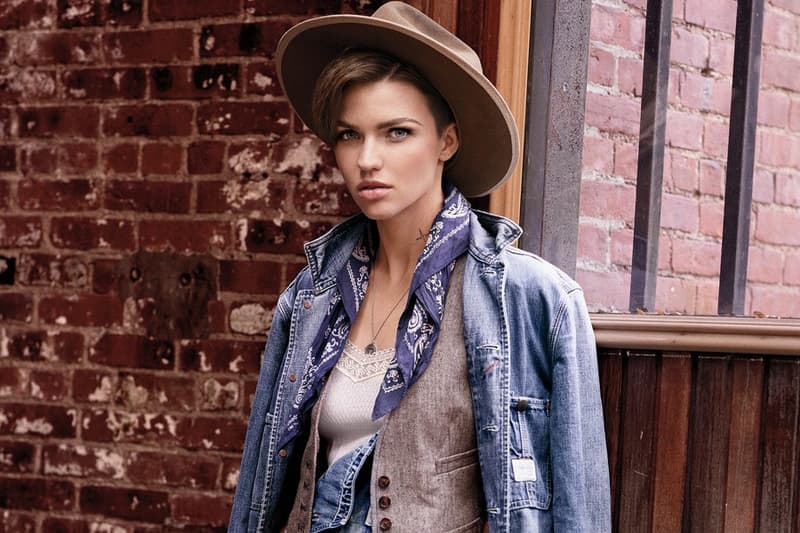 Fashion
Ruby Rose Explains Why Gender Fluidity in Fashion Is Breaking Down Barriers
"The reason this is important isn't for people my age and older; it's really about the younger generation."
Ruby Rose Explains Why Gender Fluidity in Fashion Is Breaking Down Barriers
"The reason this is important isn't for people my age and older; it's really about the younger generation."
As the new face in Denim & Supply Ralph Lauren's new campaign, Ruby Rose not only modeled for the brand, but also worked with the stylist to pick out her own looks to reflect her personal androgynous style. Ruby is known for being a gender-fluid model, rocking both feminine and masculine looks. Yet, the Orange Is The New Black star claimed in her interview with Refinery29 that she used to be less confident of her dressing style because of the stigma revolving around androgynous dressing (which also includes men choosing to dress more femininely).
But now, gender fluidity is getting more attention and barriers are slowly breaking down – to which Ruby gives her full support. She expressed that this is especially important for the younger generation, an age where the kids are trying to "find identity and normalcy somewhere." The more that gender fluidity becomes accepted, the more it is possible for youths to express themselves more freely with their styles. You can read an excerpt from the interview below or head over to Refinery29 to read the full feature.
How has clothing helped reinforce your sexual identity? 

I've always been a tomboy, and been gender-fluid; I have days where I dress more femininely, and then there are days where I'll dress with a masculine vibe. It's what I've always done, but now I can understand why I'm doing it more. Before, [when I'd dress androgynously] people on the street would say, 'Oh, you're dressed like a dude!' — I would get confused, and it would kind of get to me. We're now breaking down those barriers; that includes brands like Ralph Lauren Denim & Supply allowing a female spokesperson to dress the way [I do] — androgynously.

Dressing the way I dress, and the androgynous look, doesn't really have to do with sexuality — a lot of heterosexual women dress androgynously, and straight guys can dress femininely. Those boundaries in fashion are slowly being broken down; regardless of who you are, it's about dressing for what you want to express. I'm allowing myself to dress how I want to, based on my identity, not based on how people want or think I should dress. That has made me happy, true to myself, and confident.

What are your thoughts on gender fluidity becoming a major conversation in the fashion industry these days?

I think it's great. In some fashion campaigns, [gender fluidity] has been done before, but now boundaries are being broken down in a much bigger way. Whether it's in fashion or film, there's a big social impact: Jenji Kohan did a really massive thing by casting a transgender woman [Laverne Cox] to play a transgender woman in Orange Is the New Black. Transparent definitely sparked a conversation, too. Then, there are different celebrities that have come out as gender-fluid.
Share this article