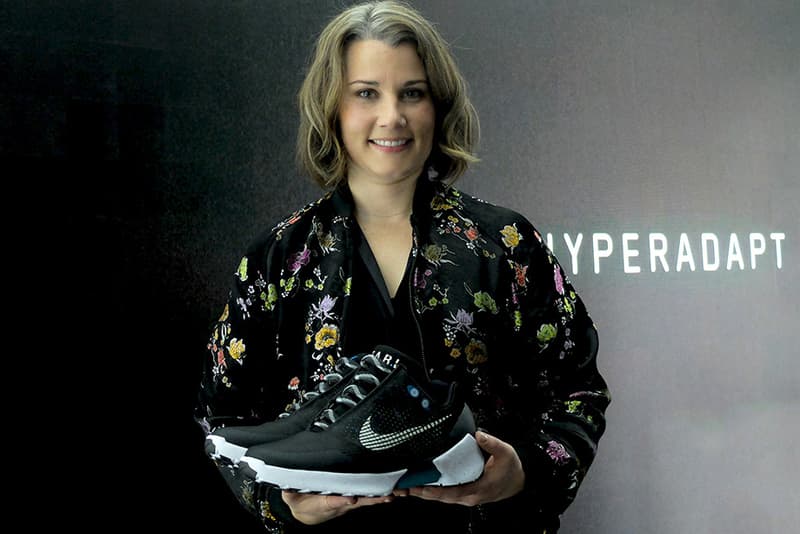 Footwear
Tiffany Beers Talks What Went Into Developing Nike's HyperAdapt 1.0
The future of footwear is here.
Tiffany Beers Talks What Went Into Developing Nike's HyperAdapt 1.0
The future of footwear is here.
Nike's Senior Innovator Tiffany Beers was first approached by Tinker Hatfield to work on the Nike MAG, and since then she's been tasked with paving the future of footwear — her latest project being the Nike HyperAdapt 1.0 that was unveiled just this week. Beers was on hand at the Nike Innovation for Everybody event in New York City, where she provided insight into what went into a decade's worth of work to develop the first-ever self-lacing shoe. See what she has to say about the groundbreaking technology below, and read the rest of her interview over at Sneakernews.
Let's rewind roughly a decade: Tinker Hatfield approaches you for your help on a specific project – that project being the Nike Mag. All that leads to this, the HyperAdapt 1.0. So what came first? Was it the Mag, or the idea of creating a completely new self-lacing shoe?

It was always the vision of the self-lacing shoe. Back when Tinker originally asked me about this, we tried it, we couldn't quite get it to work. So we had to wait for some technology developments and things like that. We came back to it, kept working on just lighting the Mag, and came back to it after we launched the Mag in 2011. After that launch, we came back it hard. The technology was now there, we had the right fit system, we had Flywire now, and we also just focused more effort on testing with athletes and building more and more ambition behind it.

What sort of feedback have you received?

They love it. Overall a comfortable shoe even without the E.A.R.L. system, but they love the ability to be able to adjust it. Think of it like, you're running and it starts raining. Like just being able to adjust the fit and the lacing at the touch of button, you can imagine that in the future, it'll be digitally controlled. For example, it could maybe be on your wrist and you're running up a hill and you need to tighten the laces, you can do it remotely. The reality is that athletes need multiple phases in their products. So for a while, we weren't there yet, but the HyperAdapt 1.0 is the first step into the future.
Share this article