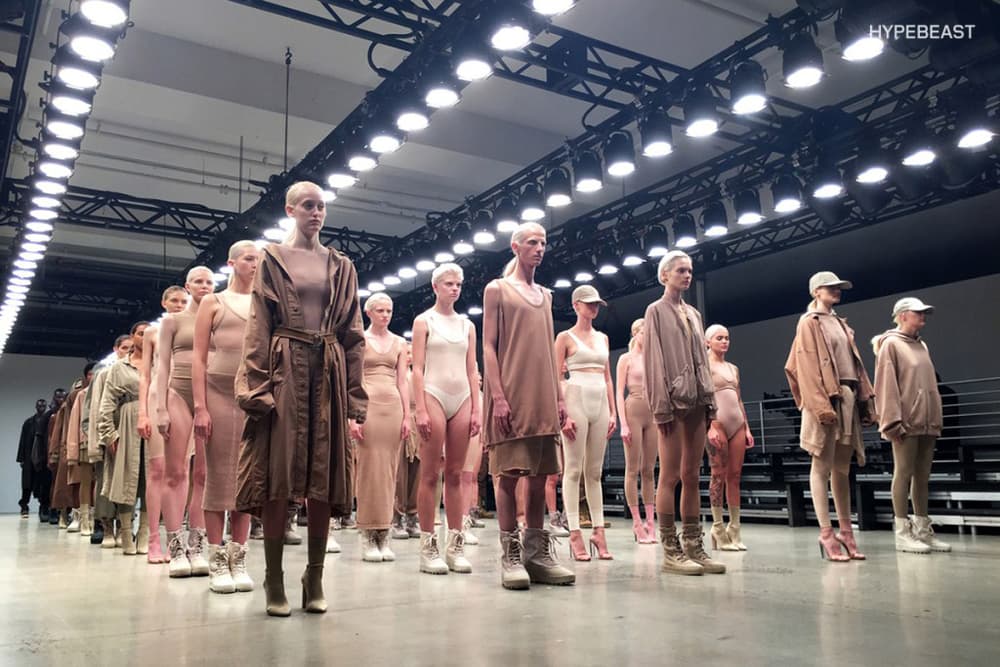 Fashion
Vanessa Beecroft Opens Up About Kanye West
"I am protected by Kanye's talent. I become black. I am no longer Vanessa Beecroft, and I am free to do whatever I want."
Vanessa Beecroft Opens Up About Kanye West
"I am protected by Kanye's talent. I become black. I am no longer Vanessa Beecroft, and I am free to do whatever I want."
Italian-born performance artist Vanessa Beecroft is, without a doubt, one of Kanye West's most trusted collaborators. Her work for the G.O.O.D. Music head honcho extends from Yeezy Season presentations back to the debut of West's 2008 808s & Heartbreak album. Make no mistake, the partnership exists in tandem — art may be Beecroft's craft, but West knows his pop culture. Here, Vanessa Beecroft opens up, "Kanye, to me, is the most political, experimental and fundamentally humanitarian of all."
Courtesy of W Magazine, read the full interview below.
How did you and Kanye first meet?
I met Kanye in October 2008 in L.A. He had reached out to my studio but I didn't know who he was since I don't follow pop culture. At the time, he explained, he was presenting his album 808, an album that came out of a moment of suffering – the loss of his mother, of his lover and the trust of a group audience. I was experiencing a similar moment in my personal life and, due to the fact that Kanye is an African American male, [and because] he respected art and he was in a moment of crisis, I decided to follow him. On the same day I met Kanye I also met my husband.

How do you approach Kanye's shows? What sort of instruction does he give you?
Kanye is extremely respectful and humble towards others' creativity. I never felt as if I received instructions but rather a brief, a verbal visualization of thoughts. A daydreaming type of confession and aspiration. During these briefings, ideas, memories, stories, dreams, fantasies and visuals are presented. I usually listen and allow these ideas to enter my head. Then, after spending some time with them, I select what I can hold on to, in order to build a symbolic image. Sometimes I stay close to the original, sometimes I don't. I am given carte blanche. Since the very beginning, my husband Federico Spadoni helps me in this process.

What were the challenges of working in a space as large as Madison Square Garden for Yeezy 3?
I was actually surprised on how small MSG was compared to what I expected. I found an "outdoor" inspiration image from a Rwandan genocide refugee camp that didn't have any physical limitation. We tried to fill all the space there was with people.
I am no longer Vanessa Beecroft, and I am free to do whatever I want because Kanye allows it.

What do you like about working with Kanye over creating your own work for galleries and dealers?
When I work with Kanye I am liberated by the fact of being a female, what is considered a white person. I am free from the schemes of the art world, I gain another audience. I am protected by Kanye's talent. I become black. I am no longer Vanessa Beecroft, and I am free to do whatever I want because Kanye allows it.

A lot of what you've explored in your presentations—poverty and feminism, for example—seem at odds with West's persona. How do you deal with that juxtaposition?
I think Kanye's social work is presented in a new form. Kanye doesn't follow the traditional standards of political work. However, by being extremely sensitive to the zeitgeist, Kanye, to me, is the most political, experimental and fundamentally humanitarian of all. Not by explicitly donating, supporting or consoling the poor, but by living, in his own body, the change in a way that is not easy. He embodies the persona that makes his life a project and he is truthful to his lyrics. Kanye is a poet. There is no discrimination while working with Kanye. The only discrimination is [against] the demagogic, the old, the politically correct, even in the art form.

Between Kanye and Tod's, you were on the fashion calendar twice this season. Does that surprise you or have you always been interested in fashion?
Fashion deals with humans and embellishes them or locates them socially. I am interested in using the body as a vehicle of communication and clothes as formal elements with political and poetical content.
Share this article