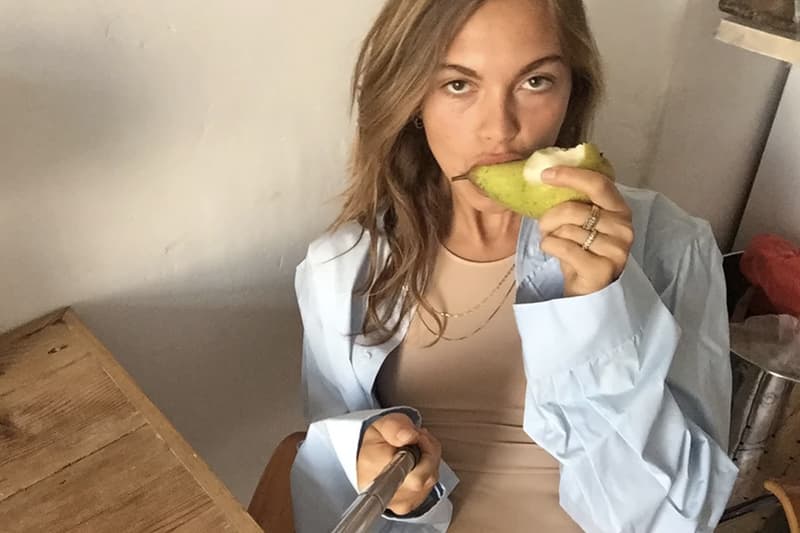 A Selfie Stick Lesson From Model Veneda Budny
Model presents her self-directed photoshoot.
Copenhagen-born model Veneda Budny is our kind of girl — her wardrobe favors girls wearing menswear, touting lots of New Balance, Palace and Supreme. Plus, she knows her selfies, so SSENSE gave Budny an assignment to Self Stick her moments in SSENSE-wear. The model-cum-DJ sent back 92 photos, with a selection available online. Peep through and watch the selfie-master in action.
Also catch an excerpt below and read the entire "text-message" interview about the shoot on SSENSE.
Were you surprised by being approached?
Yes, for sure. I've always been a tomboy, I always wore baggy clothing and never really looked at myself as having model potential. I never thought of it as being something realistic.

It seems likes you mix a lot of men's clothing into your style.
It's super important.
I love how I can create something beautiful and feminine with masculine pieces. Mostly I use male jackets, suits, t-shirts, and shirts. I like their cuts much more than the female pieces. Even male sneakers, the selection is much better than for women.

Are you into sneakers??
I used to be a big sneaker fan, not anymore to be honest with you. I gave away and sold a big part of my collection. I think I've grown up, haha.

What brands do you like?
Reebok Classics, New Balance Performance, adidas Campus, Asics runners, and of course Prada sport sneakers.

What was it like shooting yourself for a change?
I was super excited. I've never done anything similar before. I like being challenged within my occupation, but what I liked the most was that I could create something very personal, without having any specific directions.

You definitely have good selfie game.
I think my job is the main reason why I've learned to take good selfies, you get to know your best angles. I've been posing in front of the camera for so many years.
1. Good light, muy importante. 2. Don't have the iPhone too close to your face, I always have my phone pretty far. 3. Take the picture more from above than down, your chin and face will always look big this way.