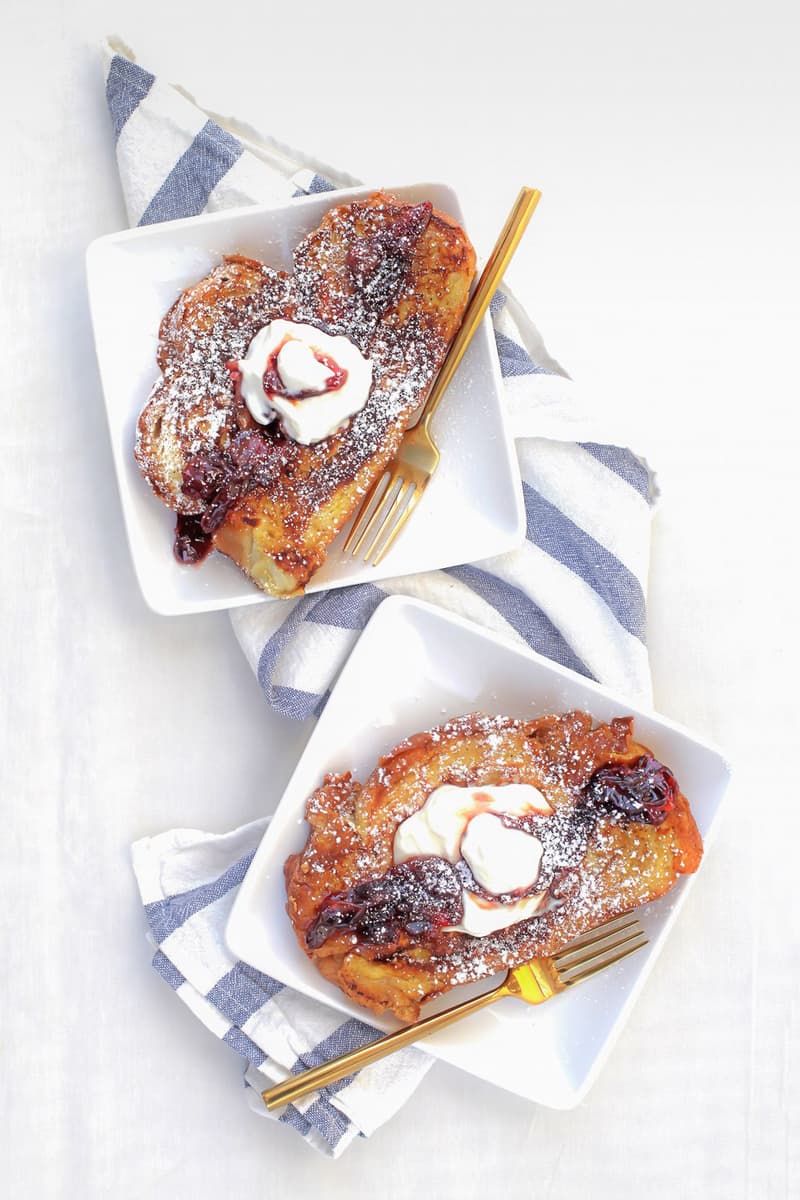 Brunch Calls for Boozy Blood Orange Syrup Topped French Toast
Sleep in a little longer this weekend.
Food
Brunch Calls for Boozy Blood Orange Syrup Topped French Toast
Sleep in a little longer this weekend.
The weather is warming up which means two things are in season: blood oranges and going out for boozy brunch. What if we told you there was a way to combine both of those things while staying in your PJs? Below, a french toast recipe that's topped with homemade whipped ricotta and a blood orange syrup spiked with Grand Marnier. Go ahead, sleep in a little longer before putting on your chef's hat.
French Toast
INGREDIENTS
8 slices of challah or brioche
7 eggs
2 cups milk, half & half or heavy cream
4 tablespoons unsalted butter
2 tablespoons vanilla
1/4 cup blood orange or regular orange juice
1 pinch salt
1 pinch Dried ginger
Zest of one orange

DIRECTIONS

In a large glass baking dish (I used one that is 9"x13"), whisk the eggs until slightly frothy. Add in the milk, ginger, salt, vanilla, orange juice and orange zest and continue whisking until everything is combined.
Place 2 pieces of bread in the egg mixture and let them sit. After a couple of minutes, turn the slices over, and continue to let them soak` in the liquid.
Meanwhile, in a large skillet set over medium heat, melt one tablespoon of butter. Once it has melted and heated up, add the first pieces of egg soaked bread into the pan, and cook for 3-4 minutes per side, or until the bread is crispy and golden brown.
As the bread is cooking, begin soaking other slices in the egg mixture. When the first two slices are done frying, remove them to a baking sheet and place them in a 250 degree oven to keep them warm and crispy.
Melt another tablespoon of butter in the skillet, cook two more pieces of bread, and then remove those to the baking sheet. Repeat this process, using a tablespoon of butter to cook every two pieces of toast, until all of the bread has been cooked.
Serve topped with whipped ricotta and blood orange syrup (recipes below).
The French toast can be made a day ahead and then heated in the oven, in a single layer on a baking sheet, at 300 degrees for about 15 minutes.
Whipped Ricotta
INGREDIENTS
2 cups ricotta cheese
1/4 cup powdered sugar
1 teaspoon vanilla

DIRECTIONS

Combine everything in the bowl of a stand mixer. Beat until the ricotta becomes smooth and creamy, about 2 minutes. Store in an airtight container in the refrigerator until ready to use.
Blood Orange Syrup
INGREDIENTS
3 blood oranges, peel and pit removed and fruit chopped into small pieces
1/4 cup granulated sugar
6 tablespoons Grand Marnier
6 tablespoons blood orange or regular orange juice
3 tablespoons water
Zest from 1 blood orange

DIRECTIONS

In a medium pan set over medium heat combine the orange peel, blood orange fruit, sugar, liquor and juice. Cook, stirring every few minutes, until it begins to bubble, the sugar begins to dissolve, and the juice and liquor begin to thicken into a sauce. Add water as needed to keep the sauce from getting to thick.
Continue cooking anywhere from 20-30 minutes, or until the fruit has softened and somewhat dissolved into the sauce. Remove from the heat and set aside until ready to serve.