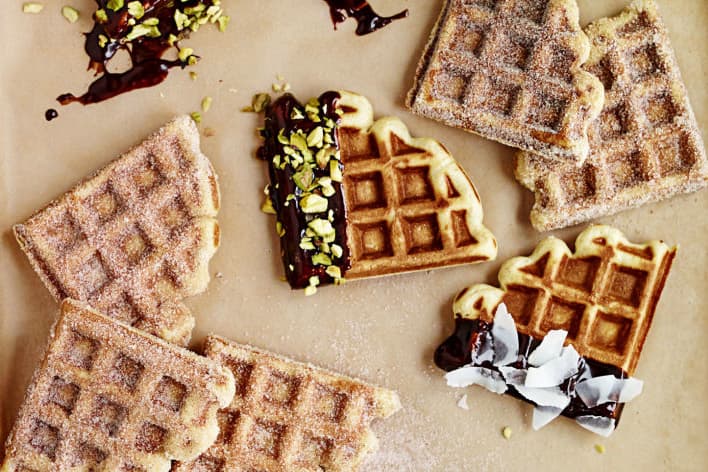 Culture
A Donut-Waffle Hybrid Recipe Right in Time for International Waffle Day
Mark your calendar for March 25.
A Donut-Waffle Hybrid Recipe Right in Time for International Waffle Day
Mark your calendar for March 25.
Have any plans on March 25? You should, since it's a pretty important day — International Waffle Day, to be exact. Any time is a great time for waffles, but for a holiday celebrating arguably the best breakfast food item ever, this is the perfect opportunity to step your waffle-making game up. Below, we present to you a recipe for the wonut: part waffle, part donut, wholly amazing.
Wonuts
INGREDIENTS

WAFFLE
1 1/2 cups all-purpose flour
1/2 teaspoon baking powder
1/2 teaspoon ground cinnamon
1/2 teaspoon salt
1 cup whole milk
1/3 cup sugar
2 large eggs, beaten
4 tablespoon butter, melted
1 tablespoon vanilla extract

CINNAMON SUGAR
1/3 cup sugar
1 teaspoon ground cinnamon

CHOCOLATE GLAZE
4 ounces semi-sweet chocolate chips
1/3 cup heavy cream
2 tablespoons light corn syrup
2 teaspoons vanilla extract

DIRECTIONS
1. Preheat waffle maker.
2. In a large bowl, whisk flour, baking powder, cinnamon, and salt. In a medium bowl, whisk milk, sugar, eggs, butter, and vanilla. Add milk mixture to flour mixture. Stir until just combined (small lumps are OK).
Spray waffle maker with nonstick cooking spray and add scant 1/3 cup batter to the center. Close waffle maker; cook 2 to 3 minutes or until deep golden brown.
3. Make the Cinnamon Sugar: In a brown paper bag, shake together sugar and ground cinnamon.
4. Make the Chocolate Glaze: Place the chocolate chips in a medium bowl. In a small saucepan, heat heavy cream until hot but not boiling; pour over chocolate chips. Let stand for 5 minutes. Stir until smooth. Whisk in corn syrup and vanilla extract. Use immediately.
5. Toss wonuts with Cinnamon Sugar or dip into Chocolate Glaze , and sprinkle with coconut or chopped nuts if you like. Let stand at room temperature to set, at least 1 hour.
Share this article