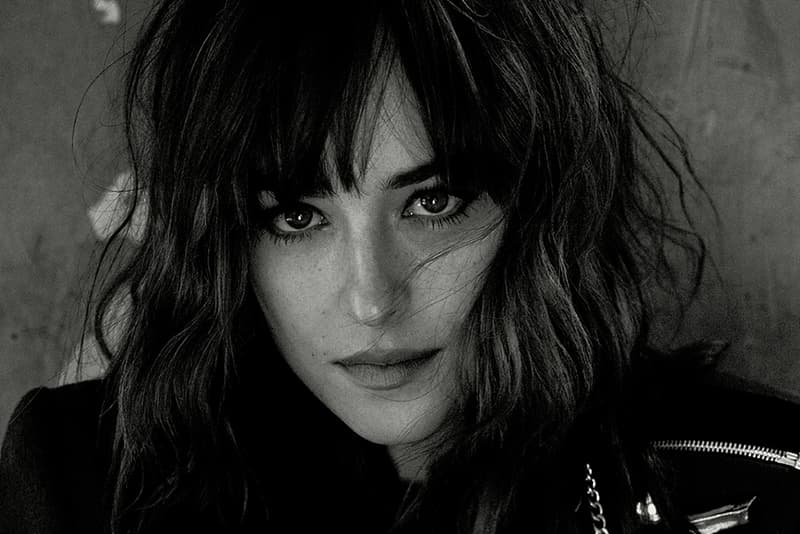 Culture
Dakota Johnson Sheds Light About Her Career in an Interview With Chrissie Hynde
"Sometimes my life can feel so suffocating, and then it can feel so massive."
Dakota Johnson Sheds Light About Her Career in an Interview With Chrissie Hynde
"Sometimes my life can feel so suffocating, and then it can feel so massive."
She may be the daughter of two of the most charismatic stars of their era, but Dakota Johnson is not one to ride on her parents' fame. Despite debuting as the lead actress of Fifty Shades of Grey, one of the highest grossing R-rated films of all time, Dakota has since moved on from that, taken on other roles in different films, proving she can be an all-rounder actress. Some of her more recent performances include Black Mass and A Bigger Splash. Despite the limelight she is in, there is still little to know about the actress. Hence in this interview with Chrissie Hynde for Interview magazine, Dakota gets more personal and reveals more of her perspective towards her career and life choices. Read the excerpt below or the full feature here.
HYNDE: I think it is. Everything changes. I guess a lot of mystery is gone because you can access so much information now. But you're still mysterious. Come on!

JOHNSON: I'd like to say that about myself. [laughs]

HYNDE: And you can keep the mystery. I remember when I met you, I asked what you did, and you said you were an actor. I said, "Why did you say actor instead of actress?" Do you remember what you said to me? You said you weren't very comfortable saying either yet because you were still kind of finding your feet.

JOHNSON: Ah. That still feels accurate to me. I still feel like I don't know what I'm doing. Like, I'm unsure of what my life will be like. I mean, I have such an obsession with making movies that I probably will always do that. But sometimes my life can feel so suffocating, and then it can feel so massive, like I don't have a handle on it at all, and I don't know where it's going or what I'm going to do. Right now, I'm known for making movies. And I wonder if that's it. I don't know. It doesn't feel like it to me.

HYNDE: I watch a lot of films, obsessively, like, seven or eight times. And I think it's kind of an interesting time now. There are good people making films at the moment. I could name a whole load of them: Michael Fassbender … you remind me of him, actually.

JOHNSON: I do?

HYNDE: Yeah! You kind of have that look. He can do all sorts of varied parts, and he pulls it off because he's not at the point yet where you think, "Oh, that's Michael Fassbender." You believe it. I think you can get away with that forever. Michael Caine does it, and he has been doing it for 60 years. You still believe him. And that's obviously the best thing you can do if you are an actor. And the way to do that is not to be too public, probably. Once you're on too many magazine covers and doing too much and getting exposed, then people start recognizing you, and you cross a line. I think everyone should stay out of it. Why we're doing this for a magazine, I don't know!

JOHNSON: [laughs] We should just talk on the phone more often.
Photographer

Craig Mcdean
---
Share this article