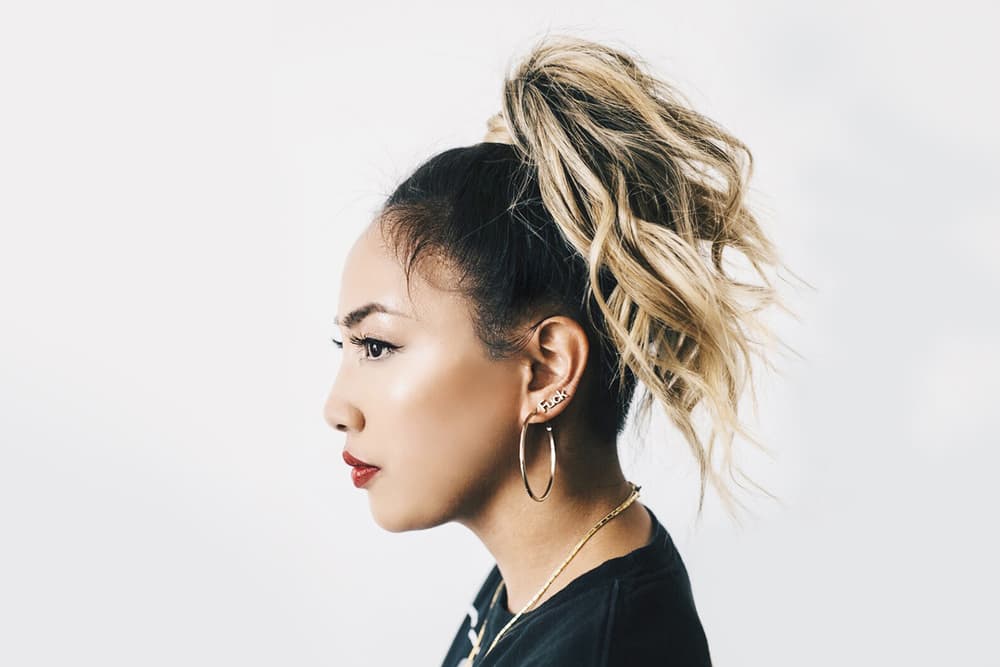 Fashion
This Is Why HLZBLZ's Miss Lawn Will Always Be the OG Queen of Women's Streetwear
Celebrating HLZBLZ's 10th anniversary this year, we chat with Lanie Alabanza-Barcena about what a decade in the game has been like.
This Is Why HLZBLZ's Miss Lawn Will Always Be the OG Queen of Women's Streetwear
Celebrating HLZBLZ's 10th anniversary this year, we chat with Lanie Alabanza-Barcena about what a decade in the game has been like.
Streetwear has experienced a renaissance of sorts when it comes to the female demographic. Although it had been more or less contained within a certain niche when it first emerged, streetwear has inspired significant interest among the fashion glitterati in recent years. Making its way into fashion week street style and even on the couture runways, streetwear has become a gender-fluid medium that transcends any traditional forms of categorization. Paving the way for such a revolution, we have trailblazers such as HLZBLZ's Lanie Alabanza-Barcena to thank.
Known to most as Miss Lawn, Lanie has been in the game for over a decade. First getting her start at Triple 5 Soul back in 2004, she soon moved to Jay-Z's label Rocawear Juniors where she designed collections for the likes of Rihanna and Patricia Field. She then launched her iconic streetwear label HLZBLZ in 2006. Although the line is not restricted to female wearers per se, Lanie admittedly recognizes that the brand is fundamentally female in its DNA. Known for its bold aesthetic and provocative graphics, HLZBLZ has established itself as an unwavering force within the streetwear industry. Largely considered as one of the OG queens of ladies' streetwear, we jumped at the opportunity to chat with Miss Lawn about what 10 years in the business really means, as well as what the changing landscape in streetwear means for the future of HLZBLZ. You can read our full conversation below.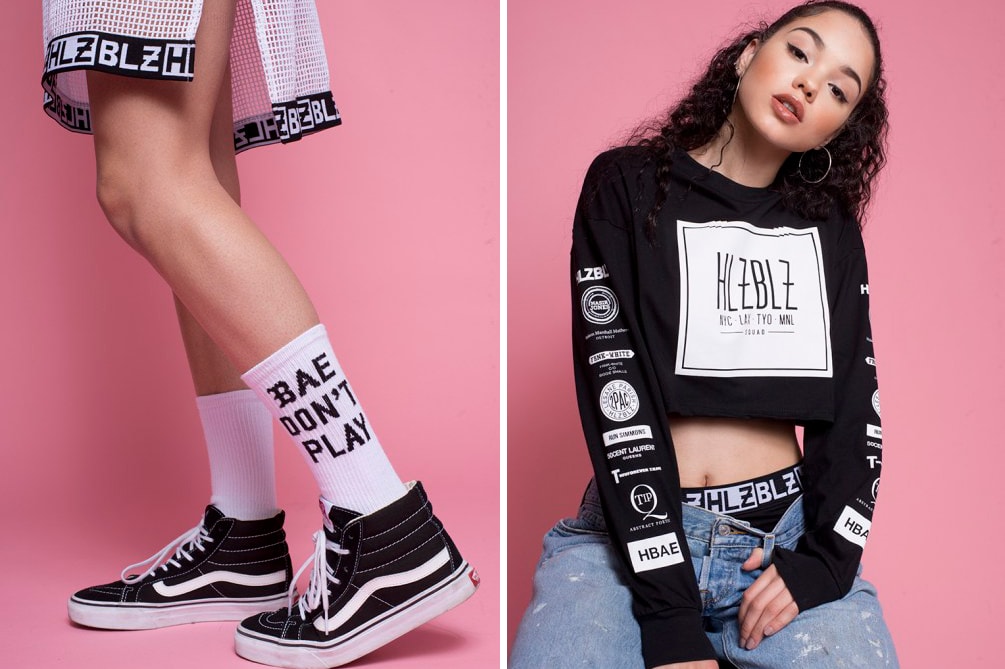 First of all, congratulations on HLZBLZ celebrating its 10th Anniversary. What do you think has been the greatest lesson you've learned so far with 10 years in the field?
Thank you so much. It's definitely one of my greatest accomplishments thus far and I feel truly blessed. When I started the brand, it was purely out of love for fashion and graphics. I never imagined it would become an instrumental part of the growth of myself as a designer, businesswoman and collaborator.
In these past 10 years with HLZBLZ, I've learned so much – more so than I've ever learned in my previous years working in the industry for other brands, but my "greatest lesson" has to be learning how to ebb and flow in this ever-evolving industry. In a time when fast fashion prevails and the current consumer is a part of the "like" and "follow" generation, I, as a brand owner have to stay current and learn how to evolve… and fast! Which is quite difficult, because as a creative who grew up as a time "purist," I'm just simply not made that way. I'm used to taking my time when designing a collection and pushing the envelope to train the eye of the consumer. But again, it's a lesson I've had to learn. Business is business and not always fun. Sometimes, especially now more than ever, you have to add a few pieces that you know will compete and sit alongside what else is out there in the market… which is sad but very true.
For the NYLON x HLZBLZ "Hong Kong Garden" 10th Anniversary capsule collection, the pieces utilize repurposed WWII sleeping bag fabrics. How did you come about with the idea to use these particular textiles?
For those that are very familiar with HLZBLZ, they know that from the beginning we've always had hints of military details within our garments. Whether it be the pockets or the functionality of some details, it's always been there. It probably stems from my husband, Bam's borderline obsession of military garb. That being said, for the 10 year anniversary we wanted to take it back to those roots. I wanted to get busy with design again and create pieces that were more forward and reminiscent to old school HLZBLZ.
So we visited this ridiculously HUGE surplus warehouse and just dug and dug for sleeping bag fabrics with the perfect distress to use for the collab. It was important to us to use these fabrics, not only because of the history behind each piece, but also we wanted each piece to be different.
The women's streetwear consumer was originally labeled as the girlfriend of the male streetwear consumer. I wanted to show that she was more than that.
How do you regard the relationship between men's streetwear and women's streetwear?
The women's streetwear consumer was originally labeled as the girlfriend of the male streetwear consumer. I wanted to show that she was more than that. She was not only her own person but she was also strong, fashion forward, independent and hungry for fashion alternatives to what was offered to her by the masses. Fast forward to now and streetwear is more gender fluid. We're seeing, more than ever, unisex fashion all across the board – not just in streetwear. You can clearly see the shift, which calls for an exciting time in fashion.
With streetwear being a largely male-dominated industry, what sort of challenges have you faced in the past and still face as a female thriving in this realm?
The main challenge is there aren't enough female streetwear stores. A bulk of my accounts are male streetwear doors that have small sections for their female consumers. This is a huge problem because we're not being fully represented in the stores. The female traffic doesn't garner enough business for these stores, which circles back to why they just have small sections. However, we're continuously working with our buyers to create more floor space and brand awareness for HLZBLZ and our other female counterparts.
Gender fluidity has become a hot topic of discussion within streetwear recently, especially with hip-hop figure Young Thug admitting to a preference towards women's clothing. Do you think this has affected how people are beginning to approach streetwear labels and blurring the line of what's "for men" and what's "for women"?
This circles back to what I mentioned earlier. It's definitely changed the game and has pushed me to think of new ways to claim my stake in this new generation of streetwear. We offer unisex styles within our brand and we always have BUT at the end of the day, the roots and DNA of HLZBLZ is very female. So as a businessperson, I'm already in the works of incubating new projects that fit within the unisex realm.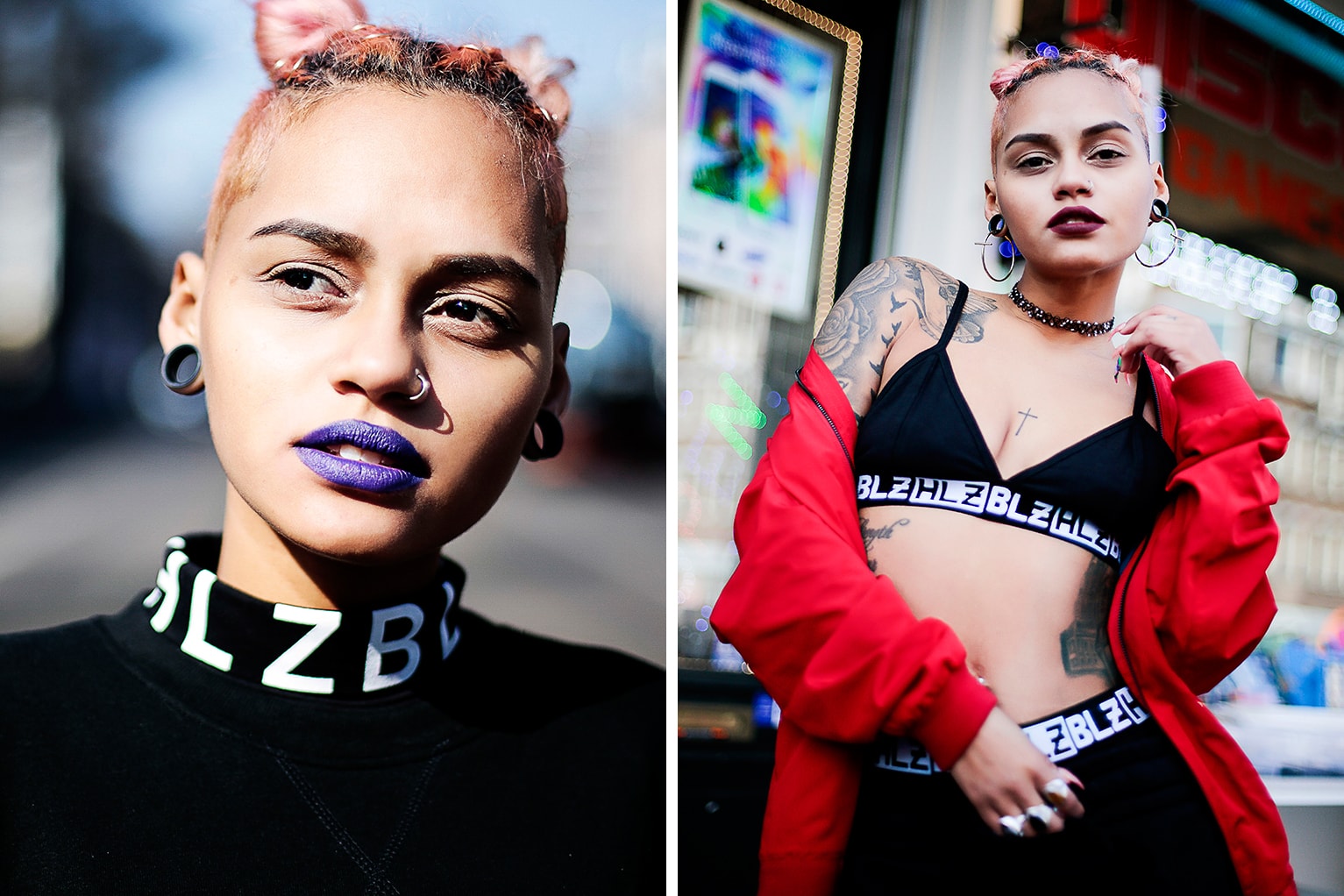 In the past, you've described that you're heavily influenced by your environment. How has the Internet and social media affected the way that you approach design?
The Internet and social media have provided immense amounts of free market research that I can use to my advantage, which is why I'm definitely more aware of what the streets are into. The key however is to NOT be overly influenced by what's already flooded in the market and on your feed.
Who are some of your style icons?
Vivienne Westwood, Lisa Bonet and Winona Ryder both circa 80's and 90's.
What advice would you give to young females who are trying to make it in streetwear, whether it be as a designer, stylist, or otherwise?
Be fearless. Don't be afraid to take the leap. Put yourself out there but let your work, drive and passion speak for itself.
What do you hope to see in the future for women's streetwear?
I hope to see more women's brands pop up. I want to see a new generation of brands to help drive and continue the progression of women's streetwear.
Photographer

Diane Abapo/Suspend Magazine, Juliane Falk/Julianefalk For Ontheblock/Onetheblockshop