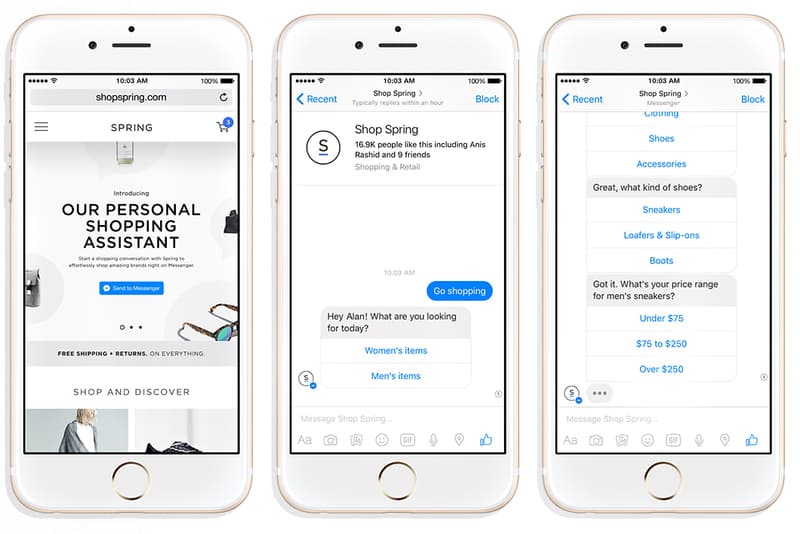 Spring Brings Personal Shopping Bot to Facebook Messenger
Welcome to the future.
The whole hoverboard thing didn't quite pan out as we expected, yet, but the future is here, and it's in online shopping. Facebook announced this week that it is now possible to shop via Messenger, thanks in part to Spring. The mobile-commerce company is the first to use the social media platform's newly developed API, allowing for it to communicate with Messenger's 900 million+ users who can purchase items from Spring's offerings of 800+ brands and retailers directly within the app. Other businesses will be able to take advantage of this "conversational commerce" platform that uses artificial intelligence to evolve and become better over time.
How does it work? A shopper simply begins the conversation via Messenger and responds to a series of multiple-choice questions that allow the bot — or "personal shopping assistant" — to narrow down a selection of five recommended items. Selecting one then opens a checkout page, and a receipt appears back in the message thread. A human "concierge" is on standby to answer any questions the bot may not be able to, also. "We've spent a lot time trying to understand personal shopping behaviors and what would be the most commonly asked questions," says Spring CEO and founder Alan Tisch. "[After] a week or two of it being live to customers, we're going to look at the data and see some of the feedback to see how we can improve it from here."
Share this article