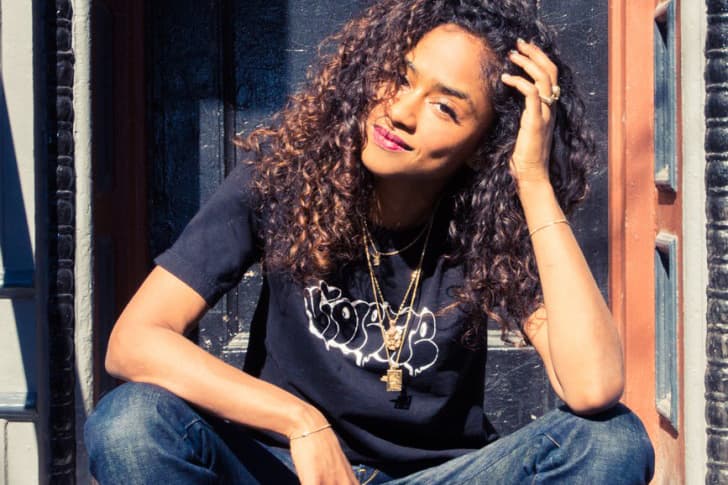 Culture
Vashtie Gets Real on Veganism and Maintaining a Healthy Lifestyle
And she actually hates working out too.
Vashtie Gets Real on Veganism and Maintaining a Healthy Lifestyle
And she actually hates working out too.
Working as a music video director, filmmaker, artist, designer, creative consultant and DJ means crazy schedules and a sometimes hectic lifestyle. But this has not deterred Vashtie from maintaining her diet and health regime. In an interview with The Coveteur, the all-rounder talks about her wellness goals and what she is doing to achieve them, including veganism, meditation, and even trying out unorthodox wellness practices such as colonics. Ironically, the health-conscious guru admits she does not enjoy working out (finally! Something we can all relate to). In fact, she grew up indulging on Cherry Coke and Cheetos before she got the hang of veganism. She also shares tips on how to transition into becoming a vegan and maintaining a lifestyle like hers. You can check out the excerpt below or read the full feature at The Coveteur.
How she came to be a vegan:

"When I was a kid, I always knew I wanted to be an artist, but I also loved animals, so I decided at nine that I was going to be a vegetarian. It was very weird for my Trinidadian household; my parents were like, 'Eat your curry goat, what's wrong with you?!' At 12 or 13, I met a friend—his name is Eddie Bauer, actually—and he was vegan and straightedge. He taught me about veganism and showed me all of these crazy videos of animals being tortured. I'll spare you the details, but I was like, okay, I definitely don't want to drink milk anymore or eat anything from animals."

Her wellness goals:

"My general wellness goals are for longevity—whether it's for the day or if it's for life. It's about being as healthy as I possibly can be and aging gracefully."

How she was a 'bad vegan' as a teenager:

"I became vegan, but from age 12 to high school and through art school, I was a bad vegan, as they say. I would go to fast-food restaurants and get the vegan option; I wasn't eating kale or whatever. Ten years ago, I started to really understand the connection between what I was putting inside my body and how it pertained to my skin and my energy levels. I used to skip meals all day because it would just make me tired, and then I realized, 'Oh, maybe it's what I'm eating that's making me exhausted and tired.' Slowly but surely, I started to transition from eating heavier foods to eating lighter foods to then transitioning into eating very raw and very vegan. It was, like, a long process, but that's how I got here."

Getting honest about working out(!):

"Working out is not necessarily something I want to do. I'm naturally just not a workout kind of girl. I love eating healthy, but for me, working out is more or less part of my job because I have to stay fit, I have to be on top of my game. What I like to do is literally just cardio on machines, which is probably not the best way to do it because I'm not necessarily connected to my body and in the moment; but I like working out on an elliptical or an arc-trainer. I get my cardio in and, at the same time, I get to do work, which, again, is not something a fitness guru would tell you to do, but it's what works for me. I get it done."

How to slowly make the transition to veganism:

"People say to me all the time, 'I want to be vegan, but I can't give up cheese,' and I'm like, you know you can eat an 80% vegan diet and on Saturdays be like 'This is my day when I eat cheese,' you know? People shouldn't feel committed to a term or to a lifestyle or to a menu or diet. If you know that you wanna be vegan, but your mom makes a bomb pot roast on Sundays, then maybe that's the day that you get to do what you wanna do."
Photographer

Renée Rodenkirchen
---
Share this article