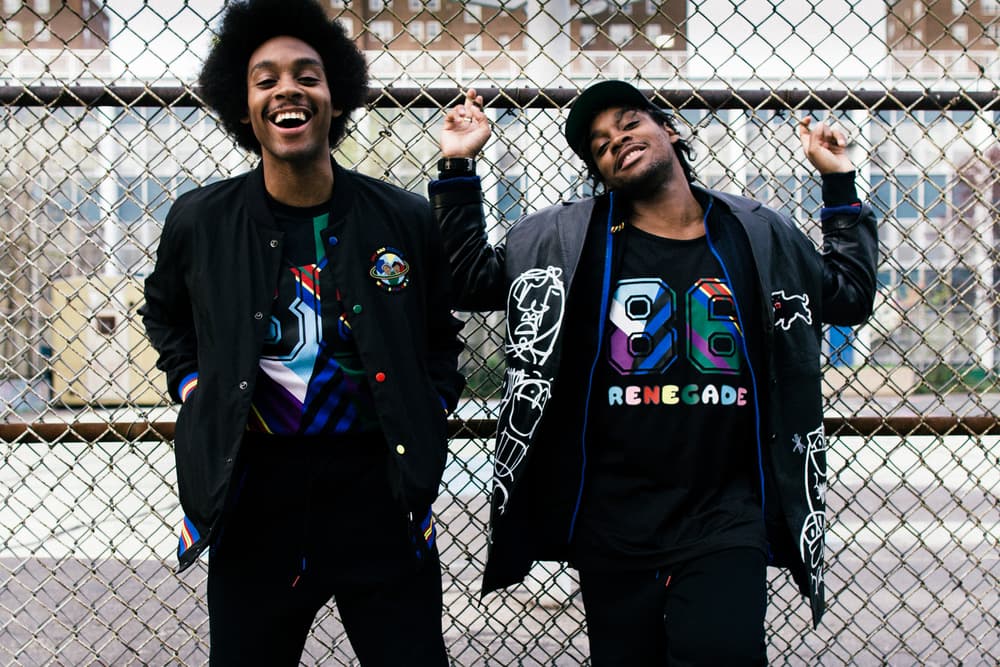 1 of 4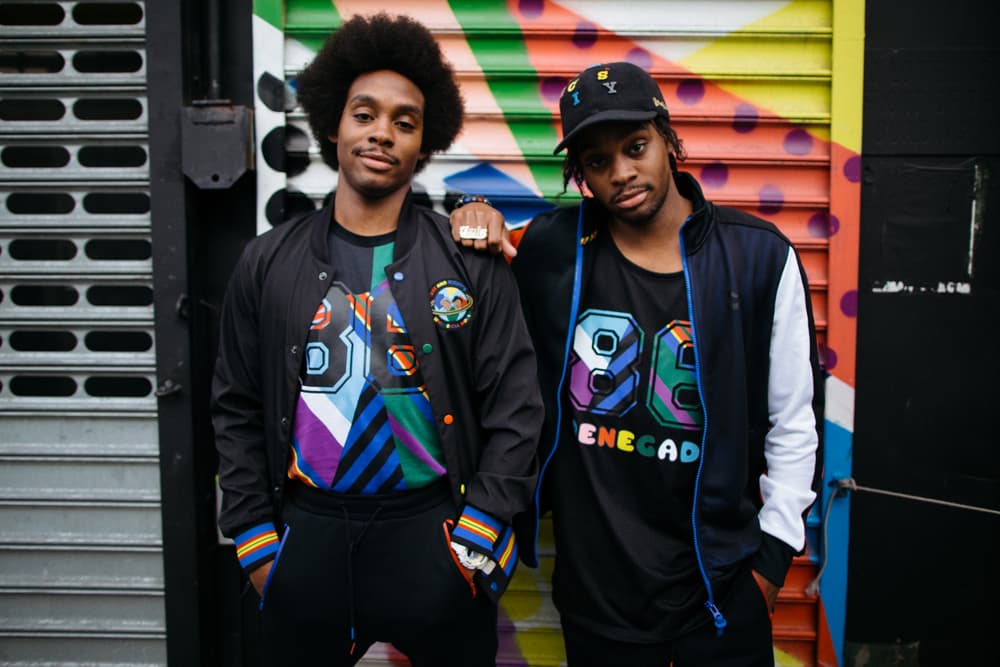 2 of 4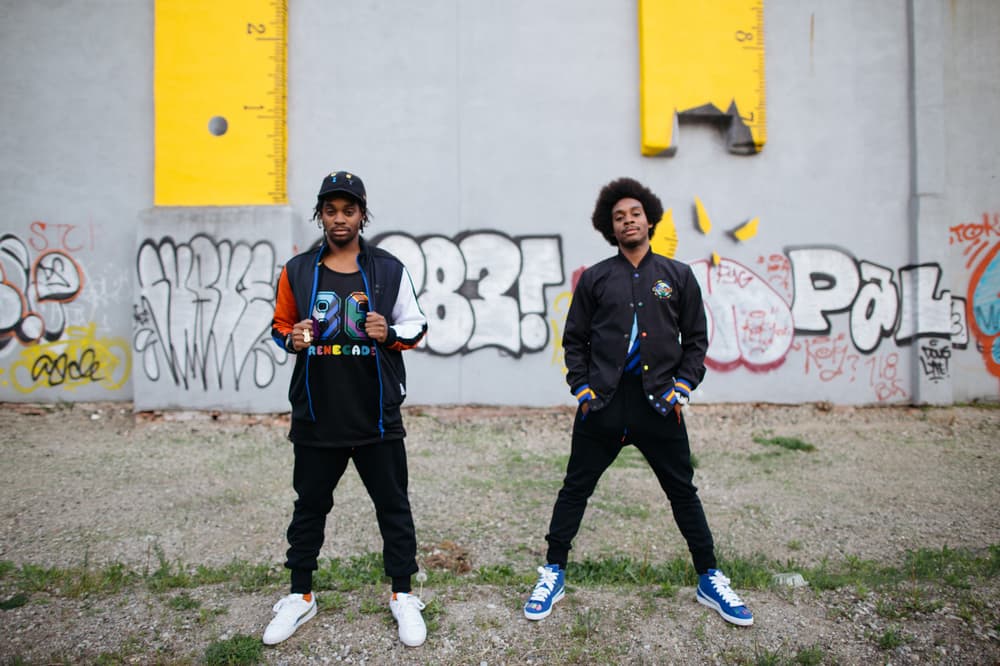 3 of 4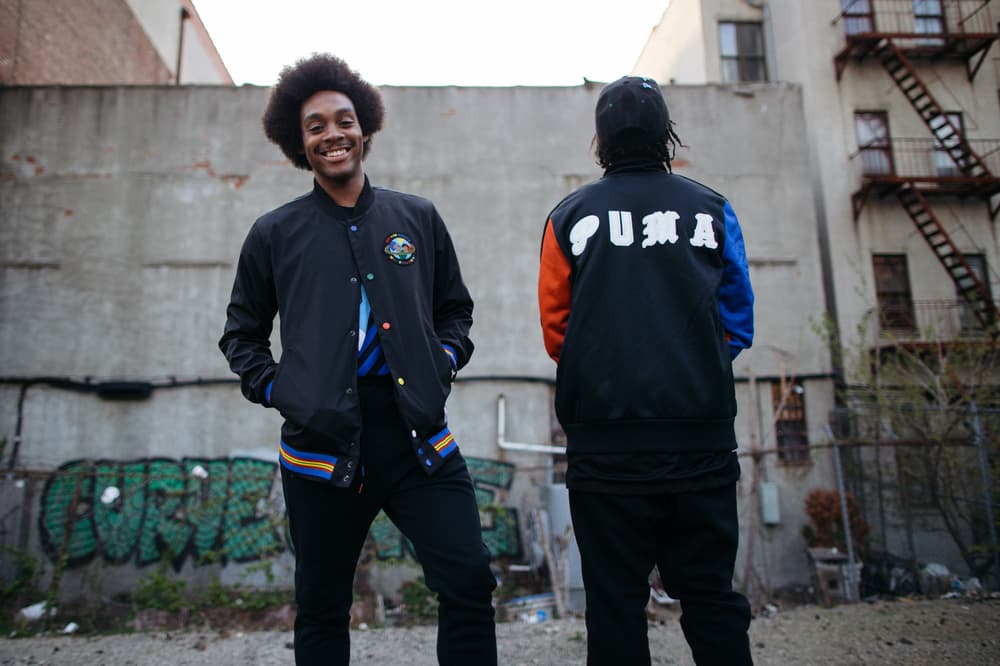 4 of 4
Fashion
Inside the Whimsical World of Dee & Ricky
The duo talk creativity and their latest collaboration with PUMA.
Inside the Whimsical World of Dee & Ricky
The duo talk creativity and their latest collaboration with PUMA.
As fashion has entered a stage where minimalism in every sense of the word has become the trend, there still exists the playfully vibrant Whimsical World of Dee & Ricky. Everything the Staten Island duo does is heavy on the quirk and color, much like their own personalities. Two twins, they share one creative mind set on accomplishing the goal of living out loud and doing things on their own terms.
For their latest project — their portfolio is full of collaborations and designs that earned cosigns from the likes of Kanye West and Questlove — Dee & Ricky teamed up with PUMA to create a full capsule collection, which sees bold retro-style shoes finished in patent leather and customizable velcro along with animated clothing. HYPEBAE met up with the brothers during a recent launch event to learn more about it. Read our conversation below.
Tell us about the collection, and walk us through your creative process.
Ricky: The inspiration for the collection is about functionality and primary colors. Me and Dee live in this whimsical world, we just love functionality and playful concepts and fabrics.
Dee: A lot of nostalgia, from toys to block shapes, and also pop art.
Ricky: And the abstract. We love the abstract.
What does it mean for you two to be working with PUMA while it has this roster of high-profile names like Rihanna and Kylie Jenner?
R: It feels good to be in the same field as professional artists and celebrities, but it's interesting because we grew up wearing PUMA. We would always wear the sneakers to play outside, to the playground, to play ball, or even skate. They're the most comfortable skating sneakers ever. Our grandmother always bought them for us.
D: Yeah, we highly appreciate it. It's super fun working with the company. It's a huge dream come true.
Do you feel a lot of pressure because of that?
R: Not really, because what we do is our hobby that also happens to be our job.
D: We breathe it, so it's a huge opportunity.
1 of 3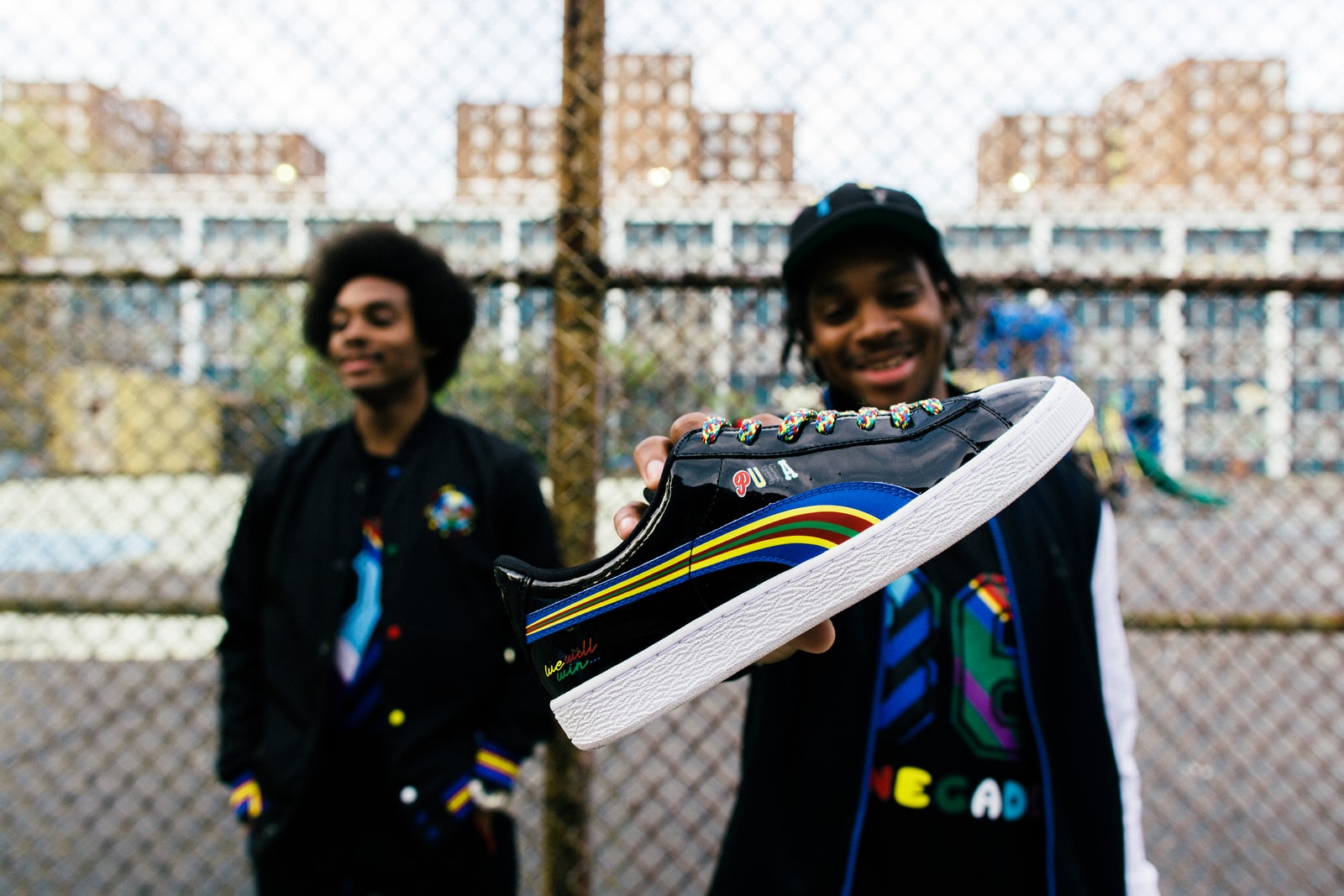 2 of 3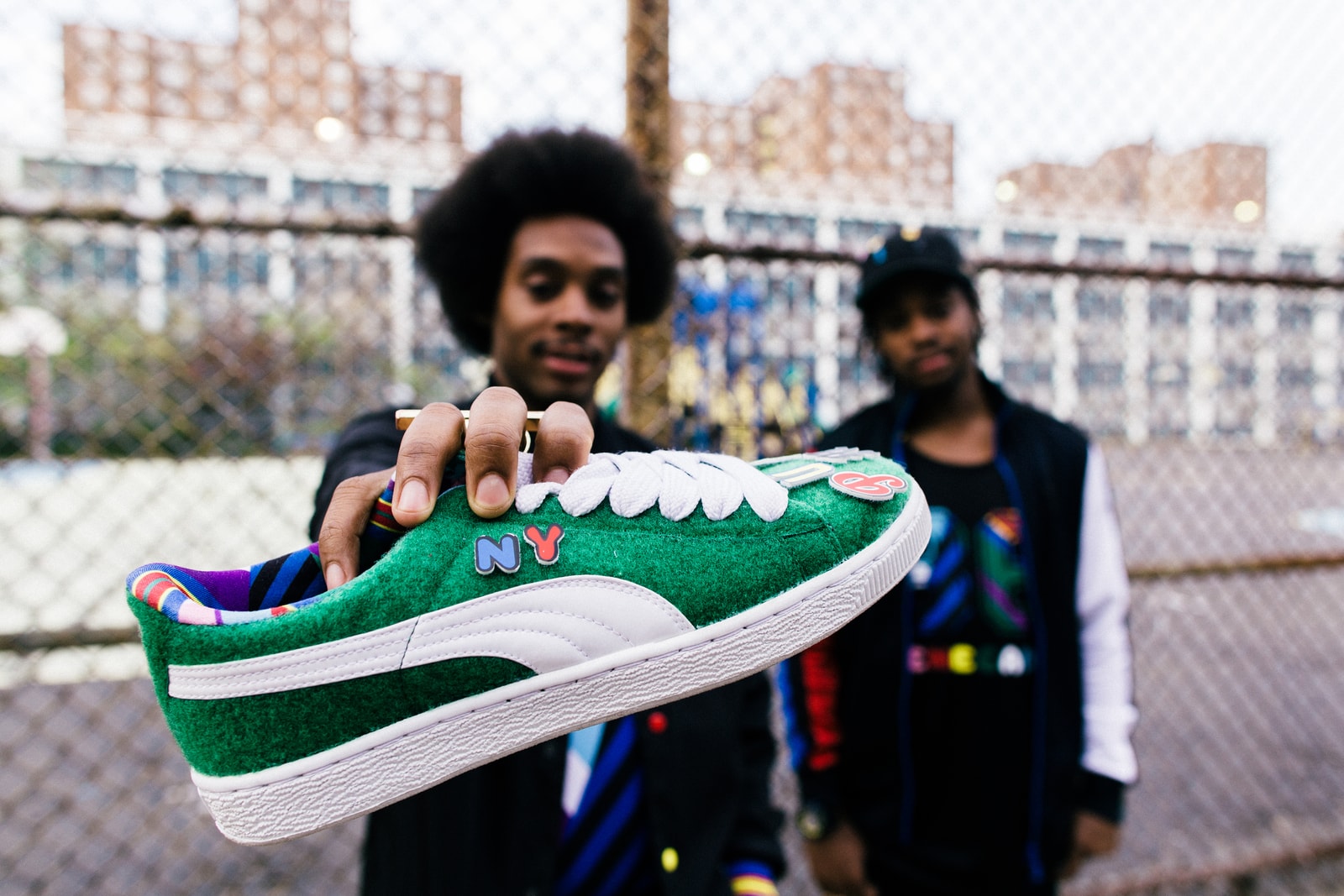 3 of 3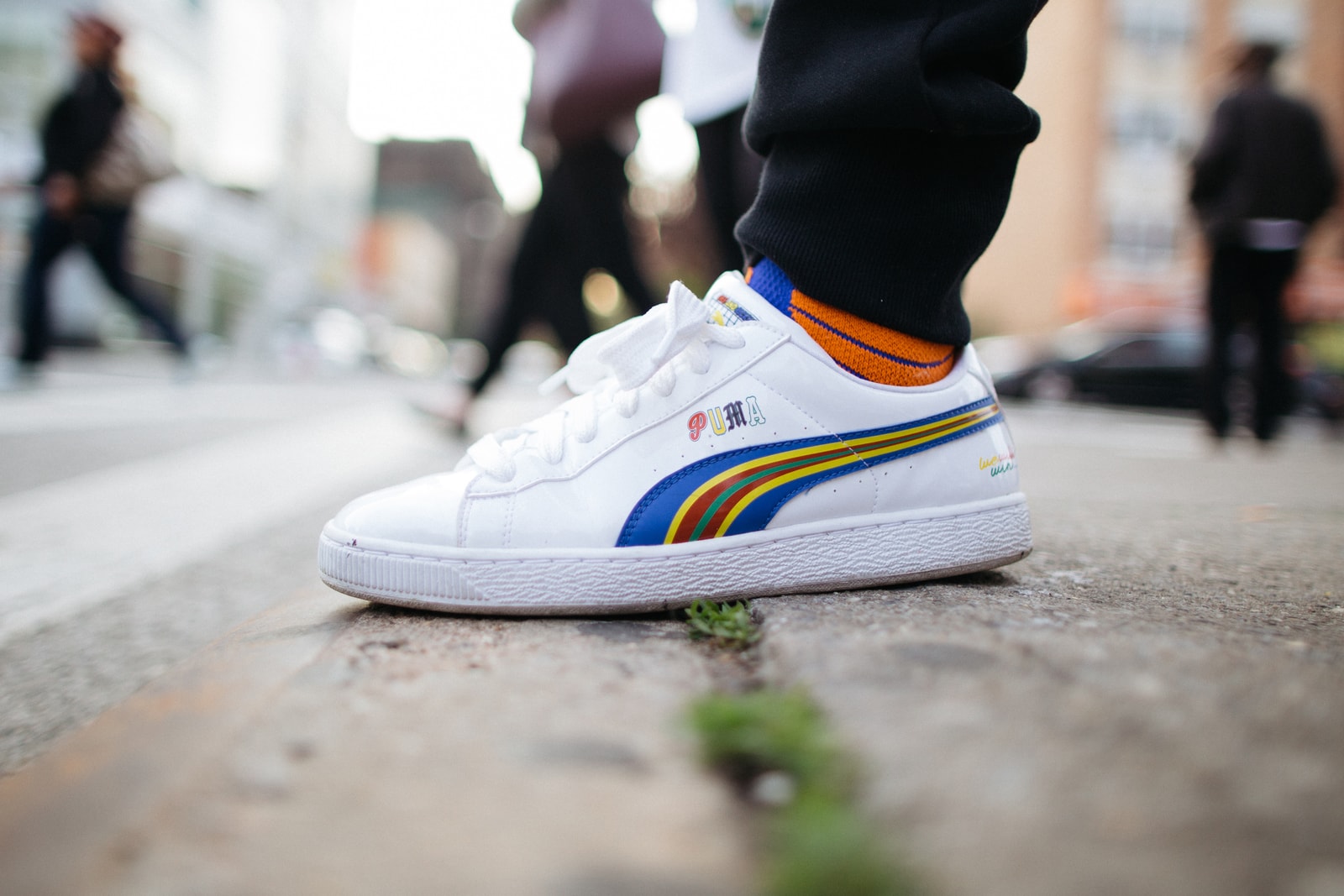 Outside of this collection, where do you find your creativity and inspiration overall?
R: From a lot of different avenues and genres. Just being in New York City, I think. Being born and raised in New York and then traveling the world — being ubiquitous around the world. There's so much inspiration around us.
D: A lot of traveling. Going to a toy store, out eating. Buildings and architecture; Zaha Hadid, Frank Lloyd Wright, Phillipe Starck — a lot of those people like that inspire us.
R: Inspiration is everywhere; We could find inspiration from a melted crayon in the street. It's just the way our minds think.
If you weren't creating or designing, what would you be doing?
D: When I'm not creating or designing, I'm teaching high school classes…for art design and accessory design.
R: I would probably be a chef.
What's your specialty?
R: I'd say salmon. And I cook a great steak. Or maybe cajun. Italian. Asian. I dabble in everything.
You work exists within this world you've created, but what do your personal lives revolve around?
R: Paying bills. Filing taxes. Going back and forth with emails.
D: We're big family people, so spending time with them. We're actually triplets, not twins, so we're always hanging out with our sister.
Whatever you believe in, it can happen and come into fruition.
What else can we expect to come from your world in the future?
R: A lot of building, new companies, a lot of tech stuff. More art shows.
D: We're starting a toy company, what else?
R: Just more designing. We're going to keep surprising people as we go on. We're not going to stop.
If you could create any one thing, what would that be?
D: I want to create a jet for Lear.
R: I would make a rotating building. A Rubik's cube-type of building.
Fashion has been in this minimalistic space. Where do you two think you fit into that realm? You're pretty much the opposite of that.
R: We've always been the opposite of the minimal, dark aspect of fashion. That's been going on for awhile. Everything is just so mundane; we're wacky and colorful.
D: We still add the minimalism to our product in a way, like with a plain shoe. But then it's functional and fun with textures and velcro pieces so you can add what you want. You can make it look like a whole different sneaker.
R: We're the fine line between minimal and crazy.
D: We just do what we want. We're not really following anyone.
Any advice for young people aspiring to design or create?
R: Do what you want, develop your own ideas and don't really listen to what anybody else thinks. Whatever you believe in, it can happen and come into fruition.
D: Inspire to inspire.
Share this article