Culture
Rihanna Is the Role Model She Never Thought She Was
How the Bad Gal has done more good since first entering the scene 11 years ago.
Rihanna Is the Role Model She Never Thought She Was
How the Bad Gal has done more good since first entering the scene 11 years ago.
It was 2005 when we were introduced to a big-eyed, brown-haired girl from Barbados named Rihanna as she made her way onto the dance floor with a few light moves and an unassuming smile, asking the DJ to play her favorite song over and over again. Now it's 2016 and as that smash pop single, "Pon de Replay," celebrates its 11th year anniversary this month, who would have known it'd be her music that we'd hear on repeat, so many times that it's doing Beatles numbers? Better than Beatles numbers, actually. The 28-year-old is the six-inch-walker, big-shit-talker rockstar of our time, and she told us herself in "Rockstar 101." More than that, however, she is undeniably the role model we currently need — despite her own apprehension toward the title.
One year before proclaiming her badass persona through that 2010 song to the riff of fellow rockstar Slash's guitar, however, Rihanna's life sang a very different tune, one of show-stopping scandal, when she was brutally assaulted by then-boyfriend Chris Brown. Over the next several years, we would watch him attempt to pick himself back up, rise, then fall yet again on his own unhinged volition — wash, rinse and repeat — but immediately after the 2009 incident, questions about her career would follow: What would be next for her? How could she ever move on from this?
Rih's complexities make her even more dynamic and that much more in touch with those of us who are just as imperfectly perfect.
She was a victim of abuse, but that wouldn't be all that became of her. Move on she did, and hers is a story of trial and triumph so major — an inspiration for anyone who has been a victim of abuse —  that what happened is secondary to everything else that comes to mind when you hear her name or see her image.
That image is one crafted from the pillars of sex, drugs and rock and roll. Rih knows it, and she owns it. In September 2015, She was cognizant of this when asked about existing in the same space as a name equally as popular as hers: Taylor Swift.
"Er, I doubt it," is Rihanna's response when asked if she'd accept an invitation to become the latest in a long succession of artists to join Swift on stage. "I don't think I would. I just don't think it makes sense. I don't think our brands are the same: I don't think they match, I don't think our audiences are the same. In my mind she's a role model, I'm not." She adds, with a smile.
That statement set headlines ablaze. While it's true that she and Swift are practically polar opposites, the notion of Rihanna not being a role model is utterly false. You could even argue that it was irresponsible of her to not acknowledge her massive influence in that way, but here's the thing about being a celebrity: having your name automatically entered into that role-model arena comes with the territory of star status, but it is not something that stars — especially those who reach a certain pinnacle in their career — necessarily signed up to take on. With it comes an incredible amount of pressure, and their goal is less so to become a poster child of anything; more so, it's about being the best at what they do. In Rihanna's case, that's being an entertainer. Her refutation of the role model mantle is understandable: Swift's image is one of conservative, cookie-cutter prestige. T-Swift is America's sweetheart who wouldn't dare to ever rock the boat. And not only does RiRi rock it, she's wining, body-rolling and twerking on it, wading her way through carefree waters that Swift would not ever dare stick a big toe in.
Rihanna dove right in without even holding her breath. We first witnessed her evolution from sweet Islander girl to international sex symbol around the release of 2007's Good Girl Gone Bad, when her edgier side came out to play, identifiable by the short haircut she got on a whim just before shooting the album art and upsetting her label in the process. And since then, Rih's only amplified it, her appearance getting bolder and bolder — she's had more hair transformations than studio albums with each one being symbolic of not just her own evolution, but also of all women as we grow, change and react to the world around us — just like the messages in her songs, one of the most prominent being of sex positivity.
Much like Madonna who came before her, Rihanna is a radical of our generation's time. Intercourse has often been a subject that occurs in patriarchal discourse for the pleasure of men, but with the contemporary rising wave of feminism, that archaic idea is changing. As she ages the content of her work has only gotten more mature. No need for cute, light metaphors in her world. Her catalog is full of no-holds-barred examples, but for brevity's sake, examine everything she's presented in the short span between now and that aforementioned interview by looking at her most recent album, ANTI. There are singles like "Work" that play into her softer side as a vulnerable woman in a relationship. But the majority of it is an amped-up, explicit look at independence in love and sex — ahem, "Sex with me is so amazing," she sings — as she continues to push the boundaries of provocative nature as she's known to do. In the span of one month she dropped two videos, both with imagery exploring the nuances of female empowerment. There's the dice on her pelvis rolling around down yonder in "Kiss It Better" as if to say that a woman's anatomy is so magical that anyone fortunate enough to get near is lucky. And then there's the song with lyrics that have all the makings of an I-don't-need-a-man-to-validate-my-existence anthem, "Needed Me," in which the Bad Gal portrays a badass femme fatale on the hunt for revenge.
The two latter videos show Rihanna in all her NSFW glory as she continues to be a pioneer in the #freethenipple movement, only attesting to her inspirational no-fucks-given attitude. We have seen just about every single part of her body — completely nude on several occasions and also stunningly draped in hundreds of thousands of  crystals -– so much so that nudity, especially hers for the sake of us women everywhere, is becoming normalized — as it should be. The female body is a treasure, a gem (and in her case, a Swarovski-covered one), and should a woman choose to put hers on display so long as it pleases her and doesn't harm others, she can. We all can.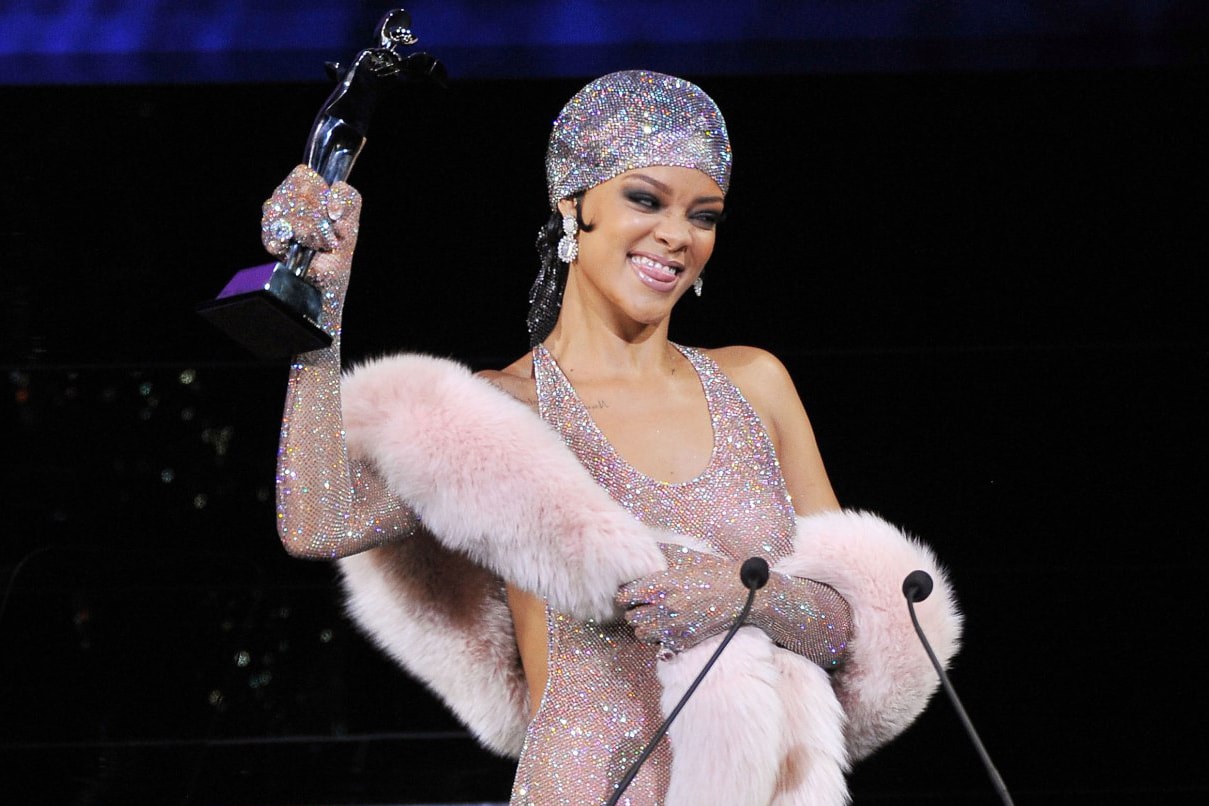 But when Rih is clothed, well, there's a reason why she was awarded the title of fashion icon. That same confident spirit she displays while in the buff still oozes from every single seam of the garments she wears. Her approach to fashion is fearless -– what else would you call that pair of thigh-high denim boots she created in collaboration with Manolo Blahnik? Not tied down to any trend, she kickstarts them.
For proof of Rihanna's impact, look to a couple of the business deals she's garnered as of late; although, with an 11-year-long career like hers, she obviously has a portfolio full of them. Within the last few months, she's breathed new life into PUMA, ousting Kanye West and other designers as the most-talked about online and earning a resell value of $1,000 USD for pairs of her — get this — faux fur pool slides. There's also that contract she just signed with LVMH offering her $10 million USD to produce her own beauty line, which will undoubtedly sell out just like her collaborations with makeup giant MAC cosmetics (those who missed out are willing to shell out seven times the price for tubes of her "RiRi Woo" lipstick today to online resellers, retailing for $16 USD in 2013). And lest we forget how her loyal fans, whom she dotingly refers to as the "Navy," crashed Manolo Blahnik's site once her collaboration went live. Multiple times. That Rihanna reign just won't let up, and it all speaks volumes to her motivational acumen. But she doesn't stop there. With the recent announcement of the scholarship program started with her Clara Lionel Foundation, she's actively empowering the youth to further their education and pursue their own success. For those who want to follow in her footsteps, this initiative alone is her helping to clear the path.
Among all this recent news you'll see more than just entrepreneurial Rihanna. There's the Rihanna who's truly in tune with all of her fans. The singer's relationship with the Navy extends beyond the typical codependency shared between artists who do the bare minimum of releasing their work for fan consumption and nothing more. Last month, a young man anonymously revealed that he'd been struggling to come to terms with his sexuality when he turned to Rihanna via Twitter. To his surprise, she not only listened but supported him during his entire journey to come out to friends and family members.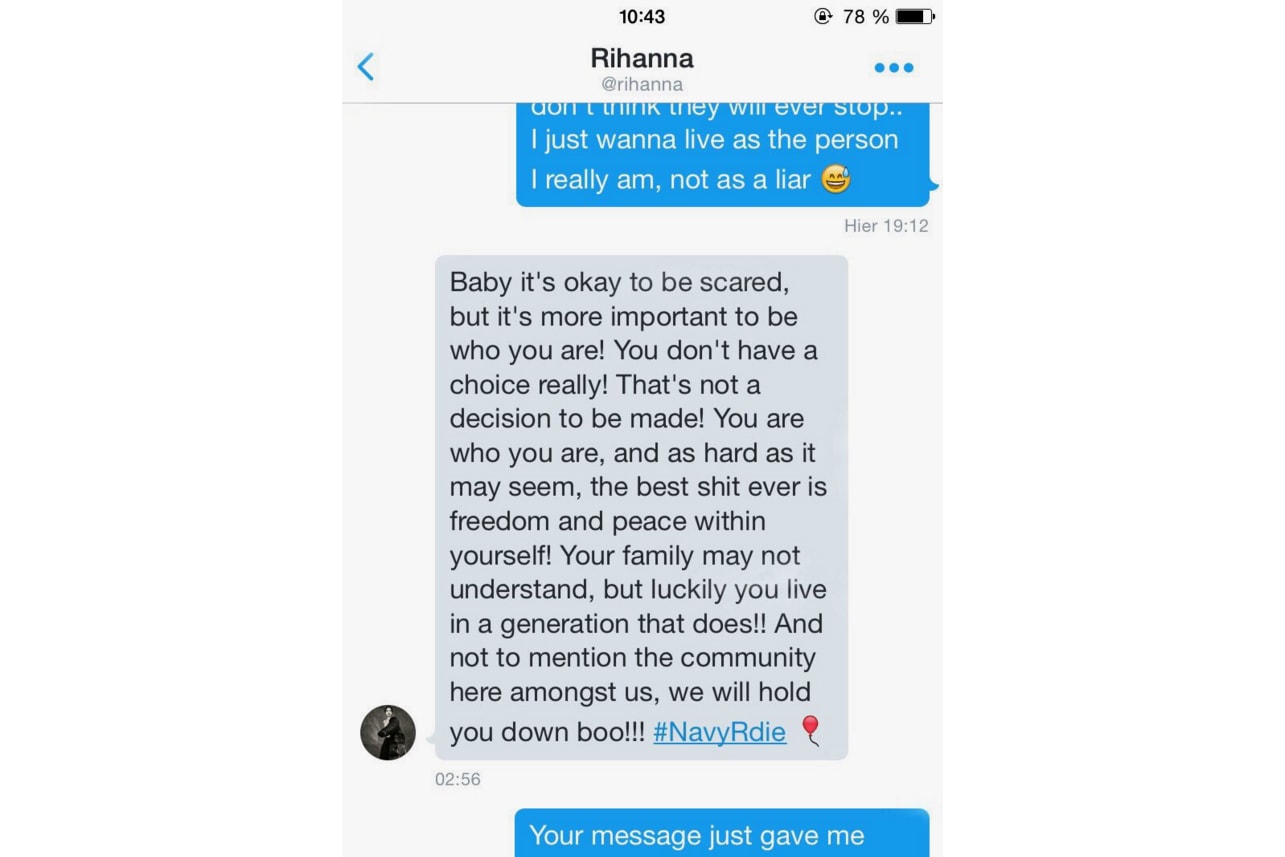 Being one's self is Rihanna's sermon, her personal MO and mission statement. It means staring adversity and tragedy in the eyes, and rather than flinching, she winks and lives unapologetically, in spite of those who criticize her for being a negative influence for promoting a sex-positive lifestyle; for loving to spark up almost as much as she loves herself; for the violence in some of her videos. On the surface level of that, she's murdered three men, her most recent killing seen in "Needed Me." But if violence is all you see, you're missing the bigger picture: each of those killings can be representative of her reclaiming her own life, her own space, and space for women overall to recognize their own power and exercise their strength — not by actually causing harm to the opposite sex, however; art is interpretive and not always literal, after all.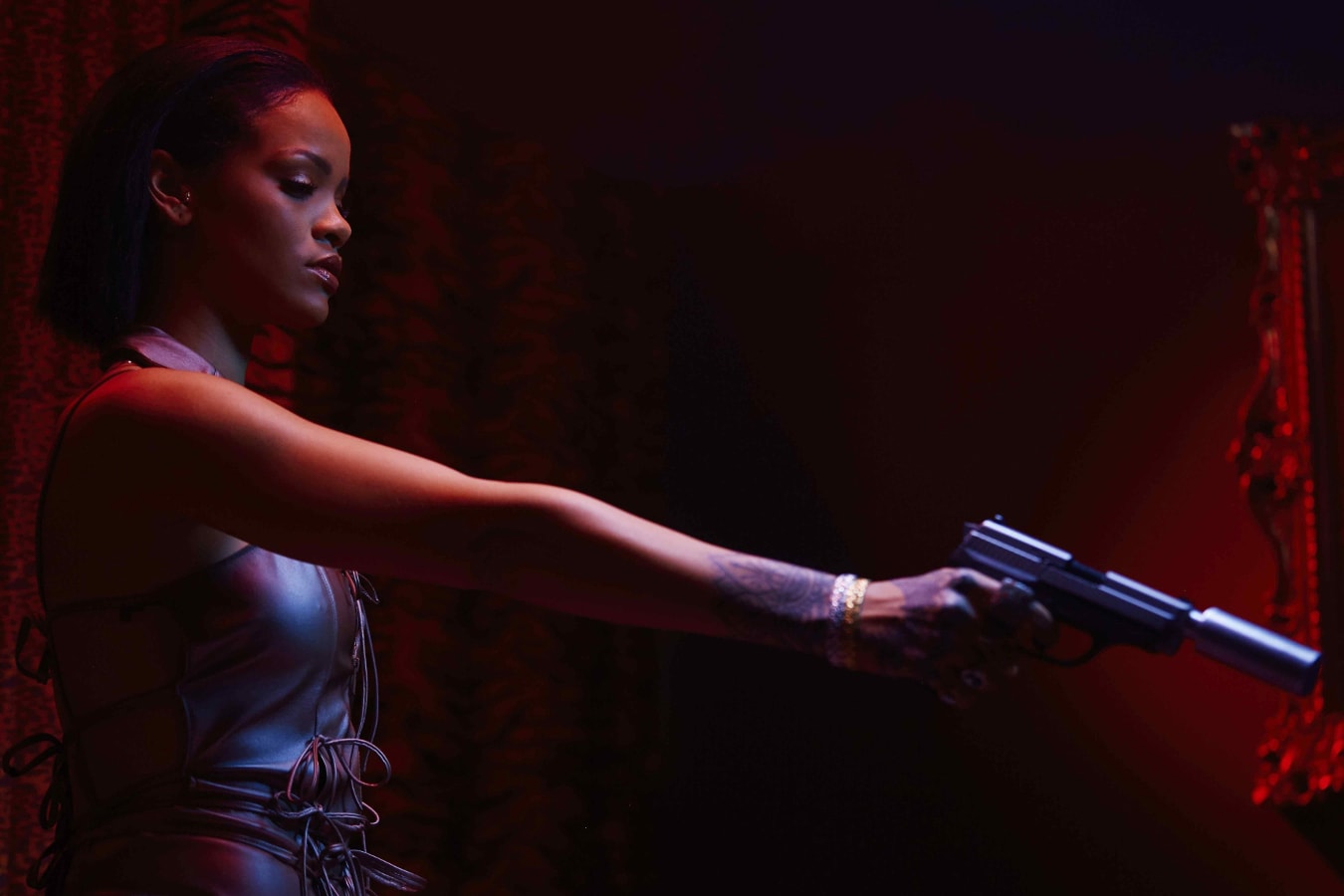 Her actions that foster criticism combined with all of the other obviously empowering things she does are testaments to how multifaceted she is, how raw and real she actually is. Those things are all part of what make her human — what she was before becoming a celebrity and will remain to be — just like you or I. She's as flawed as the rest of us, and it doesn't get any more relatable than that.
So then the fact still remains: Rihanna is a role model, just not of the traditional sort in the league of which Swift and others like her reside. It seems that even she is at last slowly but surely accepting this, revisiting, rethinking and redefining what that title really implies in her recent "Black Girls Rock" acceptance speech. "Role model is not the title they like to give me, you know," she lightheartedly said with a laugh. "I think I can inspire a lot of young women to be themselves, and that is half the battle." Rih's complexities make her even more dynamic and that much more in touch with those of us who are just as imperfectly perfect – or existing outside of the standards society expects us to meet — as she is. And yet she's still a superstar. Over a decade after "Pon de Replay" and her ascent into stardom, Rihanna's in a league of her own. You can join it, or you can watch from the sidelines, but when it comes to being a role model, you — nor she — can never truly deny how important to the game she is today.
Photographer

Terry Richardson
---
Share this article