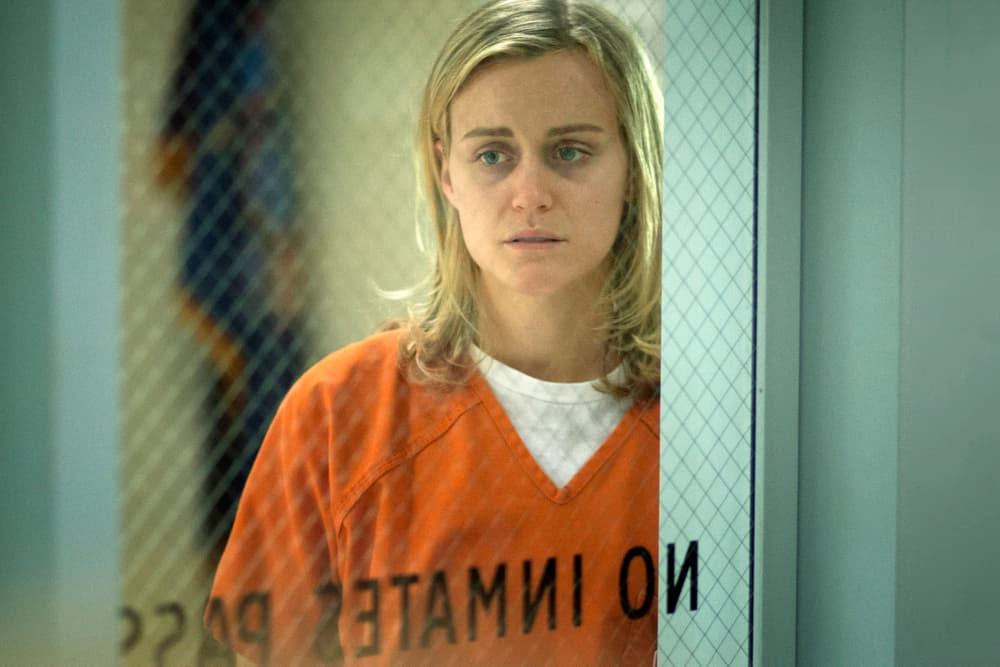 Culture
HYPEBAE's Ultimate List of Prison Shows to Help You Get Over 'OITNB' Withdrawal
It's okay, we'll get through this together.
HYPEBAE's Ultimate List of Prison Shows to Help You Get Over 'OITNB' Withdrawal
It's okay, we'll get through this together.
Episode 13 concludes. Netflix prompts you to check out some show you would probably "really like." You're not interested, obviously, because you're too busy wallowing in the bottomless pit of tears and regret that is binge-watching. Yes, we're back here again: the Monday after the Orange Is The New Black season drop. I guess there are just some lessons that we were never meant to learn. Self-control is apparently one of them. Although the third season was largely considered a hot mess (due in part to the show's lack of direction that seemed to try too hard to please every bit of critique thrown at creator-writer Jenji Kohan) Season 4 was OITNB's redemption. The latest instalment harks back to the legendary success of its inaugural season – back when the show was effortlessly hilarious, driven by strong storytelling, and did not get lost in a convoluted mishmash of drama and comedy. Of course, we don't want to reveal any spoilers for those who have not yet finished the season (if these people even exist) but for those poor souls who are looking to fill the Litchfield-shaped hole in their hearts, we're here to be your big spoon. Compiling a list of the best television shows to take place in a prison, HYPEBAE's ultimate list is sure to help you get over that nasty OITNB withdrawal. From a time-traveling sci-fi thriller to an intricate plot to break out of prison, these shows might just have you asking, "Piper who?" Check out our full list below (WARNING: some trailers might contain spoilers).
4. Alcatraz
Expectations were high for Alcatraz when it first debuted on FOX back in 2012. With J.J. Abrams and Bad Robot Productions as the executive producers, who could blame the rabid fanboys expecting the second coming of Lost. Unfortunately, the sci-fi meets action-drama series only survived one season. Like many other shows of the sc-fi genre, time travel can either serve as the program's triumph or demise and sadly, it was the latter for Alcatraz. Switching between eras, the show focused on its eponymous prison, which (in real life) was shut down in 1963 due to unsafe conditions. The premise of the series was that both prisoners and guards disappeared in 1963 and have spontaneously reappeared in modern-day San Francisco. Tracking down these "runaways" is a covert government agency that includes police detective Rebecca Madsen (Sarah Jones) and Dr. Diego Soto (Jorge Garcia). Although the show's concept undoubtedly showed promise, the resulting series was kind of boring and predictable. Nonetheless, Alcatraz is worth a try and especially so for history buffs. Plus: Hurley.
3. Oz
Oz, which first premiered in 1997, was revolutionary. As HBO's first ever hour-long dramatic television series, the show was ground-breaking and essentially paved the way for the legendary programming that the network has become known for (Game of Thrones, The Sopranos and True Detective – the list goes on). Throughout its six-season run, Oz consistently tore down barriers and tackled difficult dialogues on race and class. Set against the fictional backdrop of Oswald State Correctional Facility ("Oz" for short), the series follows the lives of both the inmates and prison staff. The majority of the show takes places in "Emerald City," which is aptly named after the setting in The Wizard of Oz, an experimental unit of the prison that focuses on rehabilitation and learning responsibility during an inmate's sentence. Portraying a no holds barred depiction of prison, the stories are powerful and unflinching in their honesty. Between power struggles and tales of survival, Oz is a classic that has helped define television as we know it today.
2. Prison Break
With the recent announcement that a ten-episode fifth season of Prison Break would be debuting early 2017, now is as good a time as any to check out the runaway hit (pun intended). The show follows the story of engineering genius Michael Scofeld (Wentworth Miller), who endeavors to help his wrongfully accused brother Lincoln Burrows (Dominic Purcell) break out of prison. Although the show kicked off with a spectacular first season met with raving reviews, the succeeding seasons were messy and cliched. Even so, the concept behind Prison Break's first season is truly trailblazing and utterly captivating. Keeping audiences at the edge of their seats episode after episode, Prison Break is definitely a must-watch for fans of intelligent action programming (even if we are only regarding the first season).
1. Wentworth
Wentworth is arguably better than Orange Is The New Black. True, the two shows are very different but Wentworth is a heck of a lot more consistent. Although OITNB has been widely praised for its strong female characters and gritty storyline, critics will be quick to point out the contrived nature of many plot developments in Season 3 (although the show admittedly redeems itself in Season 4). In contrast, Wentworth is a truly visceral reflection of the torment and redemption that is inherent in a women's prison. Currently in its fourth season, the Australian drama is a revival of the cult-favorite Prisoner series made popular during the 1980's. Compared to Piper Chapman (Taylor Schilling), Wentworth's main protagonist Bea Smith (Danielle Cormack) is a heroine that you can unashamedly root for.
First entering prison for attempted murder against her husband, the former domestic abuse victim goes through a tumultuous transformation during her time behind bars. Along the way, she encounters love, heartbreak, hatred, triumph and failure. Her experiences are written and portrayed so vividly that the story consumes the viewer in a way that is incomparable to the storylines that sometimes become strained in OITNB. Wentworth may not be as funny as OITNB or may not have the same star power as its American counterpart but at its core, it is powerfully real. Plain and simple. Unwavering in its commitment to portray undiluted characters, the cold-blooded sadism of Governor Joan Ferguson is at times difficult to watch, while the prisoners coming to terms with who they were and who they have become is both heartbreaking and heartwarming. The bottom line is: watch Wentworth.
Honorable Mention: Daredevil (Season 2)

Okay, so technically, Daredevil isn't a show about prison but hear us out. Without divulging too many plot details, at the crux of the second season is a major storyline that involves Kingpin. Fans of the show will know that the first season finale sees the arrest and incarceration of Wilson Fisk, aka Kingpin. Although Elektra and Punisher undoubtedly steal the show in season 2, Kingpin plays a critical role in how the narrative develops. Although the scenes in prison are brief, the story arc set there showcases the dynamics intrinsic in a prison. And to be honest, while you're at it, you really need to watch the entire Daredevil series. You're welcome.
Share this article