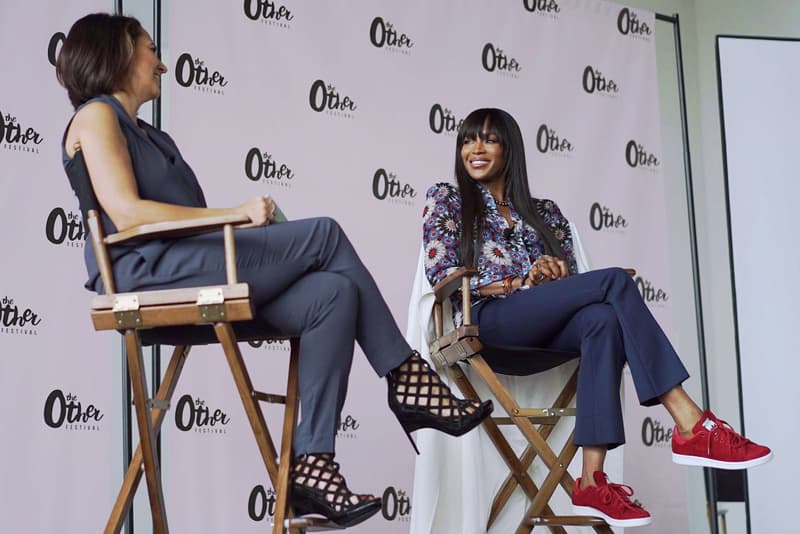 Fashion
Naomi Campbell Reflects On Diversity and Racism at The Other Festival
The model, who celebrates her 30-year career, also dishes on Kanye West's MSG show.
Naomi Campbell Reflects On Diversity and Racism at The Other Festival
The model, who celebrates her 30-year career, also dishes on Kanye West's MSG show.
This year, Naomi Campbell celebrates 30 years of consistently proving herself to be the queen of the catwalk, magazine covers and beyond. Over the weekend, the 46-year-old supermodel attended The Other Festival — New York's first all-female conference celebrating creatives and influencers — where she reflected on being an icon who has transcended the fashion industry, first expressing her "disappointment" in the continued lack of diversity and feeling as though things are moving backward. "That's where we speak up — and it's not an attack, it's just a conversation." She adds, "But it has to be mentioned, it has to be spoken about."
Campbell, who was the first black model to cover French Vogue, TIME, among achieving other major milestones, also admitted that she didn't have any sense of the impact she was making back then — it was all work and a matter of enjoying her life. Furthermore, she opened up about how racism wasn't something she dealt with while growing up in London, her first experience with discrimination not taking place until she was in New York City. "I first understood about racism when I stuck my hand out for a taxi on Canal St. when I was 17 and I was with Christy [Turlington]." She continues, "First he saw me, and I put my hand out…And he was like 'I'm not stopping; I'm off-duty.' And then Christy put her hand out, and he put the light on and she jumped in and I jumped in." When Campbell asked why he wouldn't stop for her, he said because he assumed she was going to Brooklyn or Harlem.
Regardless, Campbell express her overall joy for being continuously supported by those around her, saying she always looks forward to evolving with the next project she takes on. One in particular she found to be exciting was Kanye West's Yeezy Season 3 show at Madison Square Garden, which Campbell said she had to be a part of because she's always wanted to work in a show there. That memorable appearance almost didn't take place because of her injured knee, but she pushed through to support West's vision, which she called completely "organic" — forcing her to be on her toes and prepared because "Kanye can call anytime."
It's clear that Campbell's reign is far from over as she continuously takes on new jobs, and she wouldn't have it any other way. "After 30 years, I'm still enthusiastic about what I do."
Photographer

Keith Estiler/Hypebae
Share this article