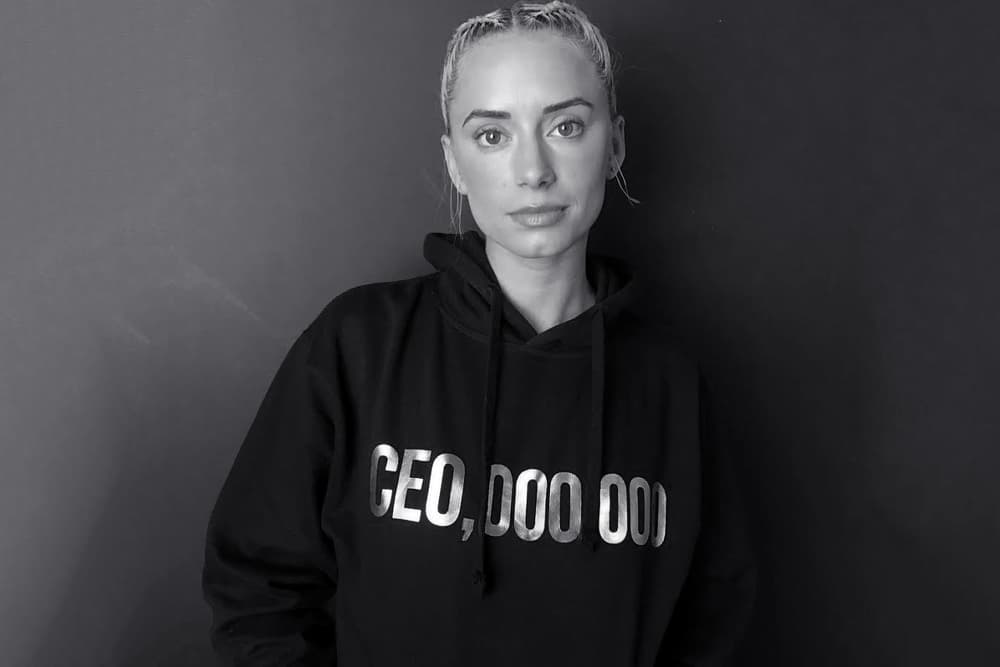 Culture
YesJulz and the Empire That Social Media Built
How the "Director of Vibes" is living her life online and off while commanding the digital space.
YesJulz and the Empire That Social Media Built
How the "Director of Vibes" is living her life online and off while commanding the digital space.
If you thought the attention Julz Goddard has earned is by happenstance, you're wrong. Better known as Yesjulz, she has at least half a million people tuned into her life at any given time as she's built up her influence and eponymous digital marketing and branding agency brick by brick, follower by follower. Of course amassing nearly 500,000 followers on Instagram and Twitter plus the triple-digit number of views she gets on Snapchat (the platform she's utilized to leverage herself as a brand companies want to spend big bucks to align themselves with) comes with a few caveats. The internet is a forum for not just Julz and those who support her, as negativity thrives both online and off with people quick to judge her over her body and beauty versus her brains. She is admittedly the stuff of #WCW material; say what you will, but she's got the business acumen to back her up — naysayers be damned.
Julz has a resume that reads like a grocery list — there's a bit of everything on it: party planner and hostess, brand collaborator, agency owner who employs only women, actress, manager of 070's Shake, influencer — but she sums it all up with one phrase, "Director of Vibes." Her #NeverNotWorking mantra means the Miami native is constantly on the move racking up frequent flyer miles, and she was in Paris when she hopped on the phone with us to talk to us about her hustle, including her newest role as Skype's Shoot the Future contest judge in support of young content creators, as well as her space in social media. Check out our conversation below.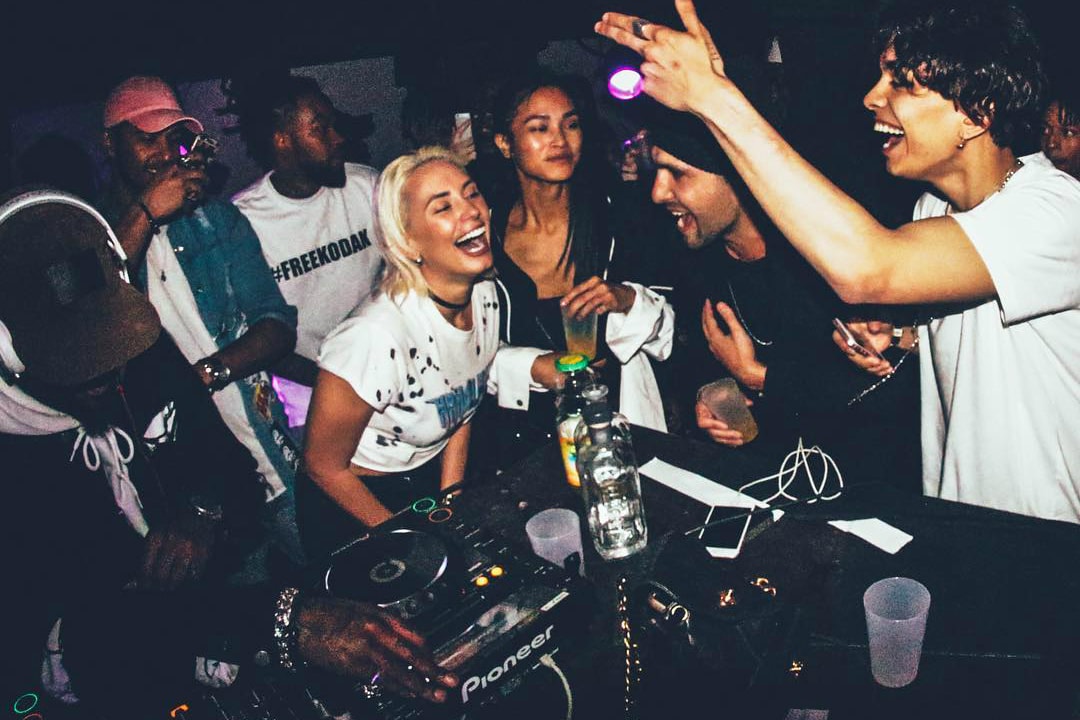 What exactly are "vibes"? It's such a big buzzword, so in your own words, what does it mean?
In my opinion, everyone can interpret it how they see fit, but vibes just means good energy. I think especially now with all this technology, people kind of forgot how to communicate with one another in person and it became this thing where people were afraid to just let loose and have fun and make new friends. I think it's really important to bring that back, especially when speaking of experiences like going out. One thing I found working in nightlife in Miami before starting my business was that people weren't having fun when they were out anymore. They were just spending money and showing off and hoping people saw them — like, a weird epidemic. What happened to having fun and dancing and all these good vibes that people used to go out for? That's how I started using the word because I felt like if we spoke about it more, then maybe it would come back.
You've added a new role to your portfolio by working with Skype as a judge of their content contest. What makes for good content to you?
I was really attracted to the Shoot the Future campaign that Skype is doing. I really love it when brands take the initiative when they really don't have to. To find ways to give back, especially to the younger audience to inspire them to work hard and follow your dreams. That's why it's so great and aligns totally with what I believe in and what we believe in as an agency that's trying to bridge the gap between cool and conscious. For me with this contest, I'm looking for something that inspires — any good piece of content leaves the viewer with a feeling afterward. If it's good, you're going to feel something: happy or sad, inspired or upset. That's what good content should evoke in its audience.
What is it like for you to be a woman who's commanding the space you're in and excelling?
It's crazy because I've been learning more and more about just being a woman and femininity and the role we have in the universe. We're so important and I think sometimes we don't even realize as women how much we mean to the world. It's really tough being a woman in this space. It's not always easy, but I really enjoy a challenge. I love working and working hard and letting my work speak for itself. It's interesting because a lot of the time there seems to be this thing where it's like you have to be a hard-worker or sexy. You can't be both. But that sucks because I am sexy and I feel good when I wear a bikini or when I put on heels and dress up. It's just trying to find that balance because society says you have to be smart or sexy and it's not fair. It's a lot of fun to try to break down those barriers and be myself and learn how to be comfortable in my skin, be OK with that and make the world be OK with that. And then also realize it's business first over here. It can be a lot of fun.
As long as the work you're producing as a woman in any space is top level, there are going to be challenges but you're going to get through them because people have to respect the product. I love being a girl and I have an all-girl team. I think it's really fun because for the longest time in the environment I was in, marketing wasn't a world women were running or had a lot of freedom in. If you were a girl in an agency — and I experienced this firsthand — you were the secretary at the front desk and guys were running the company. If you had an idea, maybe they would listen, but they'd probably take credit for it. It sucked, so I started my own company and I'm only hiring girls because we have the best ideas. I was a little scorned when I did that but it's been great. We really do wake up just thinking of cool ideas for our favorite brands, and we make them come to life and we get to pay our bills with that. It's really special.
I'm not the same person today that I was three months ago and I'll probably be different in another three months because I just keep learning and evolving.
Your style is different from what we typically see on the Miami party scene as far as dressing up goes. I heard you say somewhere that your mantra is "less is best," so then where does your inner confidence come from? How do you exude that?
I'd love to say I always had that, but I think it's something I grew into. I definitely was trying fit in with all the Miami girls when I turned 21. Going out, I threw on the really uncomfortable six-inch heels and the tight bandage dresses. Then I realized one day after getting blisters on my foot – I was hosting some celebrity or something in the worst mood ever and I couldn't be the happy, great host I know I'm capable of being. I sat down on the couch and I was like "Why did I wear these shoes? I can't even do my job the best way I know how. I'm not doing this again." And ever since then, I just started wearing sneakers. I realized I was a happier, better person when I was comfortable (laughs). I have this friend that's a stylist who helps me shop and tells me "beauty is pain." I don't really agree with that. I feel like we can be beautiful and not be in pain. It's 2016 and we're not wearing corsets anymore. I'm so happy that hip-hop has had the influence on fashion that it has because luckily we're in a time where athleisure is so popular now. Years ago, the clubs weren't OK with the sneakers and you couldn't get in if you weren't dressed up. Now, that's not the case anymore. You even see supermodels dressing in sneakers and leggings and a tee when they're out instead of dressing to the nines all the time. It's trickled down and I'm excited to see where fashion goes with that.
You've managed to build a career around social media, so what do you think the future of social media holds?
What do I think the future of social media holds? I think it's beyond anything you and I could comprehend because we're not out there in Silicon Valley. It's really incredible that these people are coming up with crazy things every single day. Even Snapchat is just really breaking barriers and taking this to the next level. If you think about it, it's like a television in your own hand that you can broadcast on your own network from anywhere for as long as you want. Anybody in the world can tune in — that's kind of crazy.
I don't know where we can possibly go from there, but I think there's going to be more and more music-sharing platforms. We're going to see a shift and there will be more ways for artists to start benefitting off their art now. We went through this phase where CDs were out and then the MP3 came and then artists in the music industry were like, "Whoah, how can we make money off this?" And the only way to do that was touring. I think now, there's going to be a focus on that. Also, social media is going to have a new consciousness. There will be apps that really push people with philanthropic efforts. There's a general overall awareness taking place, hopefully, with everything going on.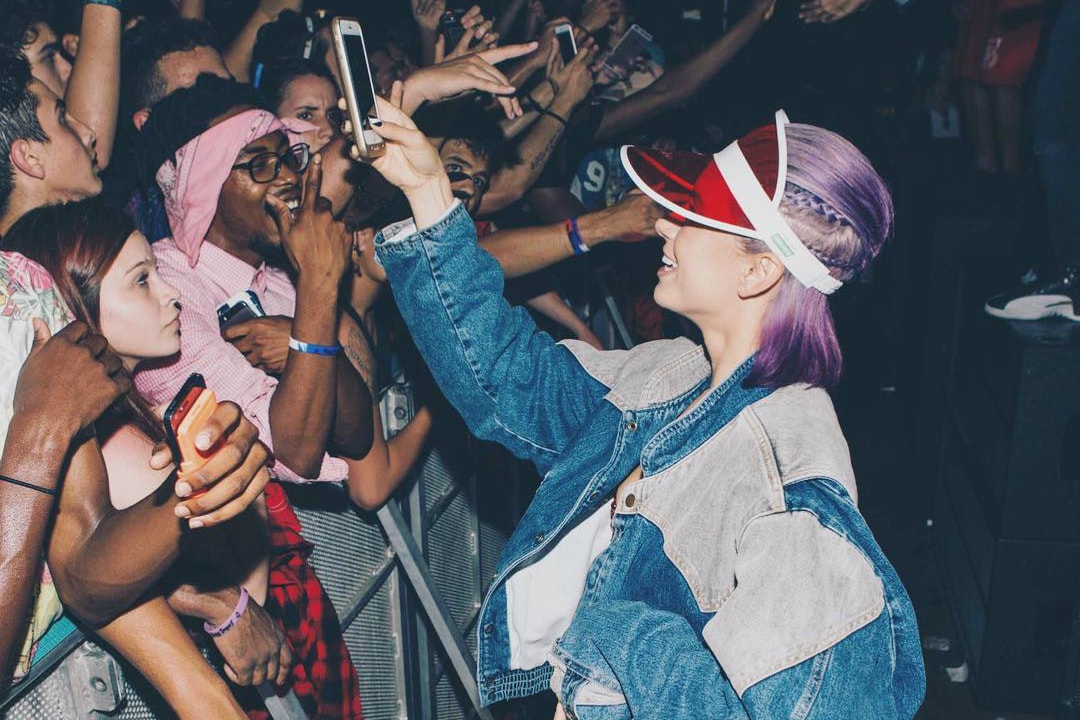 As someone who puts almost everything out there online, what would you say are the challenges of living your life publicly like that? And how do you decide what the boundaries are with the intimate details of your world that you're willing to share with so many people?
I'm pretty open. Most people like to keep their family affairs private, but I find that I get the best response from my audience when I do let them in and I'm snapping with my mom or my niece, and it seems like those are the moments that people really can relate and connect to. At first I was hesitant to share the fact that I was adopted, and then I did and I got an overwhelming response from people who are adopted or foster kids or parents who are looking to adopt. It was really powerful and special. From that moment on I realized there's a real power in sharing certain things. The only thing that's off-limits is my love life.
How do you deal with criticism in working in a realm that's so open and opinionated like social media? On Twitter, everyone is speaking their mind, and on Instagram, people are free to leave hurtful things in comment sections…
The internet is our best friend if you want it to be, or it can be our worst enemy. It gives people who might've felt like they never had a voice a voice and sometimes that's a great thing. Sometime's it's just not. I'm always growing. I'm not the same person today that I was three months ago and I'll probably be different in another three months because I just keep learning and evolving. But there's definitely some times where it gets to me because I'm human and I really care about my audience and what they think and if they enjoy the work I'm doing. So I pay attention to all my comments. I really interact with my audience on the internet so I do see a lot of the mean things that are said. I have fun with it to be honest. Sometimes it is worth it to make something a conversation.
I just had a conversation on Twitter the other day, someone said, "Oh if it wasn't for your boobs or your butt, you wouldn't have any of this." But that's funny because there are a lot of girls with boobs and butt out there and I don't really see them running their own marketing agencies. I'll go back and forth and that'll open a discussion and my next tweet will be like, "Ladies don't ever let a man make you feel like your work is only a product of your looks because it takes work ethic, period." I thought it was a conversation that needed to be had. Sometimes there are other instances where people are trolling and saying crazy things to provoke you because they want to get a reaction out of you. You have to be careful where you spend your energy. You can get lost in that Twitter blackhole.
What's one thing you wish people knew about you?
I'm really passionate about helping the youth. And everything I do, I love showing people a good time and giving people opportunities. I love the culture, I love hip hop, I love sneakers. I've been collecting since I was eight years old, and I've been listening to music for as long as I could remember. My mom would have to jack the Walkman out of my hand and force me to eat because I wouldn't stop. It's like my destiny. I was going to be doing this in one way, shape or form. I just really enjoy having fun and helping other people have fun. I think at times people need that extra push to let go. We have so many serious things that happen in our lives on a day-to-day basis, so I'm glad I can be that igniter for some people.
What people should know for real is I'm just getting started. This is just a warm-up.
Photographer

@akarambo_, @tihwc
---
Share this article