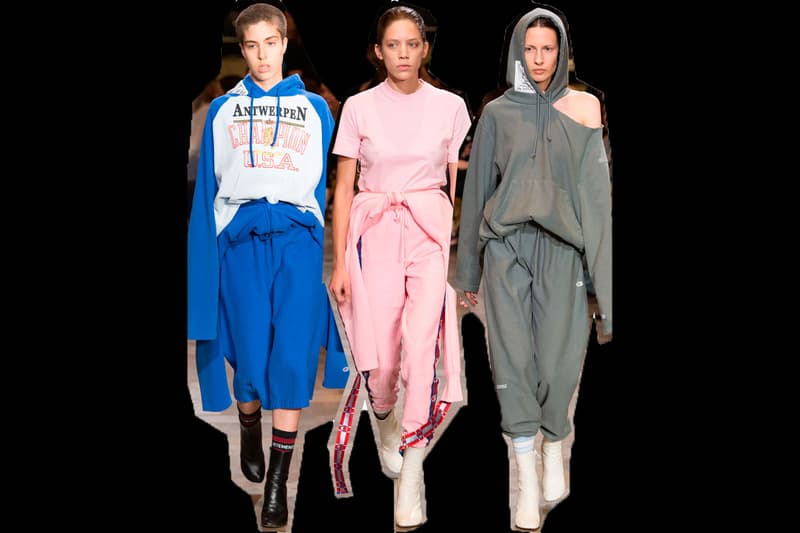 Fashion
Champion's Head Designer Opens up About Vetements Collaboration
Learn how two streetwear giants united.
Champion's Head Designer Opens up About Vetements Collaboration
Learn how two streetwear giants united.
Vetements' latest collection presented at Paris Couture Week took on 18 different brands; many, including Champion, Juicy Couture and Levi's, are far from couture. But that was deliberate, of course.
Racked spoke to Ned Munroe, Chief Global Design Officer of HanesBrands Inc. (which owns Champion) and learned the partnership existed in tandem – Vetements leant a modern aesthetic and Champion got its hands on the "best fleece out there." The result was three ensembles that started from Vetements' initial mimicry.
Read an excerpt from the interview below.
Did you reach out to them immediately?

We did. First of all, anyone who messes around with our logo, of course we're going to contact them. But once we talked to them and we understood the strategy and why they did it, we realized quickly they weren't trying to bastardize the brand, they're actually complimenting the brand. They were recognizing that Champion is an iconic athletic brand and we do the best fleece out there. So once we understood that, that's when the conversation [about possibly collaborating] started. We said to them, we love your strategy and we love your positioning but you can't [use our logo] without us being a partner.

And that's how the collaboration, which debuted at Haute Couture Week, came about?

That started the conversation. I'm thrilled about it; it's a very exciting concept. To have both of our brands—Hanes and Champion—partnering with Vetements on this collaboration makes it even more exciting.

What was it like working with the Vetements team?

They're a great group of people—very talented and very respectful to both of our brands. Getting the product to where it needs to be has been a lot of fun. It was definitely a new challenge and it was a very creative challenge (we manufacture performance styles, after all). But their team was very respectful in twisting these iconic styles in a way that's right for their brand as well as ours.

Tell me about the process.

Well, for instance, Hanes is all about the iconic tee. So it was about taking the classic crewneck silhouette and figuring out how you put it into their design aesthetic, interpreting the Hanes classic in a way that felt true to the Vetements brand in neckline, shape silhouette, and overall aesthetic. We had to use different resources to get it done, and a different factory for some of the styles, but it's still Hanes fabric. It still has integrity.

What about for the Champion products?

Champion is known for its fleece. So the challenge was: How do you manipulate the fleece in such a way that it's a modern interpretation? We played with a couple of different fabrications that really go back to the iconic heritage pieces of the brand. We did a version of the iconic Champion hoodie—and then it was figuring out, okay, what's the bottom of that? So we made track pants, a track suit.

Do you think the collaboration will have an impact on sales of regular Champion gear?

I think it's too soon to answer that question. Vetements is so hot right now so there is certainly a strong buzz. But we've got our own pretty strong collaboration strategy; the Champion brand and our lifestyle strategy are on fire right now. That's why it's great partnering with Vetements. We help each other tell a good story together. And it's fun playing in a different parts of the market.

What's the benefit, then, of partnering with Vetements?

Vetements has a more modern aesthetic. It's connected to designer and to streetwear, it's tapping into this amazing influencer in street culture right now, and that's super important.
Share this article