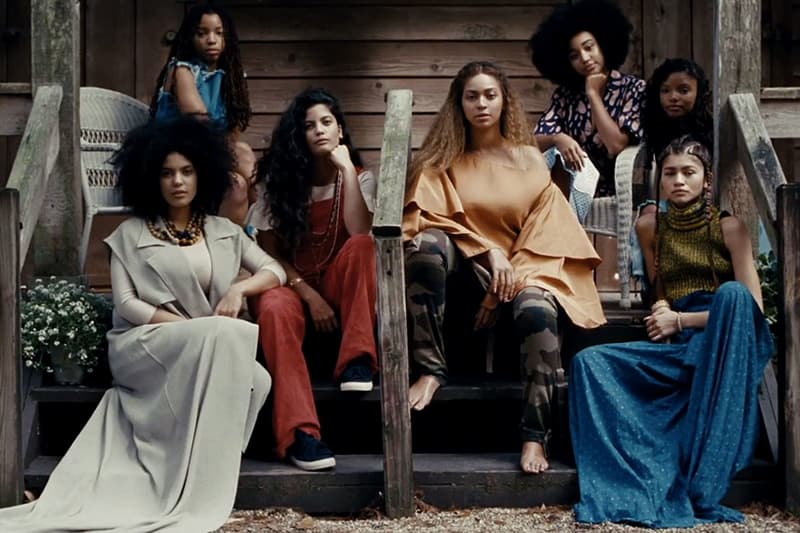 Fashion
A 'LEMONADE' Stylist Discusses Dressing Some of Today's Most Influential Women
Newheart Ohanian explains what it's like to work with Queen B's Secret Society.
A 'LEMONADE' Stylist Discusses Dressing Some of Today's Most Influential Women
Newheart Ohanian explains what it's like to work with Queen B's Secret Society.
Newheart Ohanian, one of the stylists responsible for Beyoncé's visual album LEMONADE, has shared her experience of working with Queen B's "Secret Society" in a recent interview. Speaking to Racked, the FIT graduate explains what it was like to work with Beyoncé's celebrity co-stars including Zendaya, Serena Williams, Amandla Stenberg, Winnie Harlow, Quvenzhané Wallis and more. In particular, Ohanian touches on the changes of the industry throughout her career, the relevance of social media to her job, as well as working on the LEMONADE set. Read an excerpt of the interview below. You can also head over here to view the full feature.
On the changes of working as a stylist over the years:
In the 80's and 90's stylists were in the most amazing position, because there were very few of them. There were extravagant budgets, they flew around the world, and it was exactly what stylists dream of today — and in some cases, it is! But now, the reality is that there are millions and millions of stylists, and not everybody has the opportunities that the very few did back then. There was this very small circle of industry people in New York and LA, and by the time 2001 came along, finances changed. Budgets were slashed, there were very few jobs in comparison. It completely crumbled at the time, as did a lot of other industries.

On the relevance of social media to her job:
A lot of people are buying their followers, but I've kind of taken a backseat to watch where the industry is going. I find it very frustrating, but then I look at some of the most amazing creatives that work in this industry, and they have, like, 500 followers. As long as you have the work and the content, then that's what matters. Of course, I have to be part of the current times as well. One of my good friends is Mario Dedivanovic, who's Kim Kardashian's makeup artist, and he has, like, over two million followers.

On the directions she was given for styling LEMONADE:
It was basically 'Civil War, late 1800s.' They wanted to give awareness to Black Lives Matter and racism, and so they took a part of our history before the Civil War when African-Americans were a big part of elite society. So it was really nothing to do with 'Becky with the good hair.' It was just a beautiful concept to bring awareness to something very important to Beyoncé and Kahlil Joseph.

On how she kept the project as a secret:
Originally I had to keep it a secret, and then we had three days to fly in all the clothes and get ready for the fittings, and it was one week before Christmas, so I needed speed to be on my side. I had to approve that we needed to say that it was for Beyoncé. As we started filming and I started working with some of the celebrities, we needed to be very specific because their bodies are so different. We called it 'Project Lemonade' as our incognito name, but they knew it was for Beyoncé and everybody had to be very hush-hush about it.

On working with Beyoncé:
Beyoncé had to approve all the outfits that I'd intended for Zendaya and Serena and all of these girls. She was very hands-on and specific in regards to her vision, along with Kahlil Joseph. He was very much a part of the process as well, which I found really enlightening and refreshing. He was just very interested in the conceptual part of the wardrobe.

On becoming a stylist:
It's a lot of hard work and dedication; it's not as glamorous as it seems on the outside. I literally feel like it's one of the hardest jobs, as far as hard labor is concerned. I'm about to take on an actress as a client, and you constantly have to think for them. You really have to love it; you have to be married to it, and it has to be a part of you, and if it's not, it'll feel like a very stressful job. For me, it's what I love to do. I love to look at beautiful things and see who it would work for. Although I complain about it all the time, I think I found my niche.