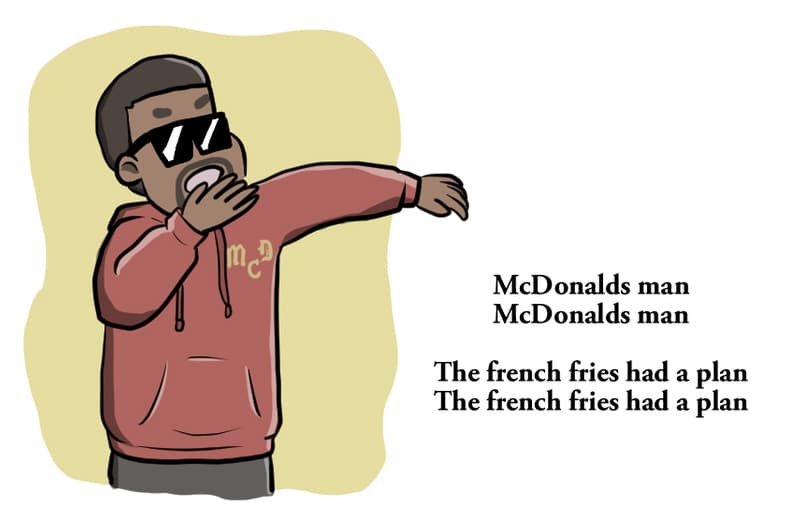 McDonald's Responds With a Counter Rap to Kanye West's French Fry Poem
Fry mic drop.
Kanye West's feature in Frank Ocean's Boys Don't Cry Zine stirred up intense McDonald's emotions. The limited-edition publication – an accompaniment to Ocean's long-awaited Blond – boasted a bizarre tribute to McDonald's that demanded a counter response by Team Fry.
Check out the poem below and McDonald's hilarious tweet drop. Enjoy artist Dami Lee's visual presentation here.
McDonalds Man
McDonalds Man

The french fries had a plan
The french fries had a plan

The salad bar and the ketchup made a band

Cus the french fries had a plan
The french fries had a plan

McDonalds Man
McDonalds Man

I know them french fries have a plan
I know them french fries have a plan

The cheeseburger and the shakes formed a band
To overthrow the french fries plan

I always knew them french fries was evil man
Smelling all good and shit

I don't trust no food that smells that good man
I don't trust it
I just can't

McDonalds Man
McDonalds Man
McDonalds, damn

Them french fries look good tho

I knew the Diet Coke was jealous of the fries

I knew the McNuggets was jealous of the fries

Even the McRib was jealous of the fries
I could see it through his artificial meat eyes
And he only be there some of the time
Everybody was jealous of them french fries
Except for that one special guy

That smooth apple pie
???? FAMOUS ???? ???? drop. pic.twitter.com/6ti05OCb40

— McDonald's (@McDonalds) August 22, 2016
---
Share this article