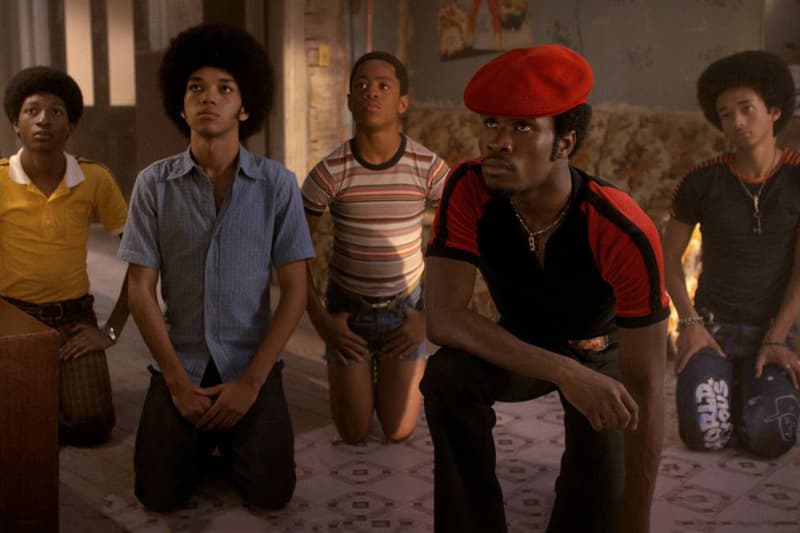 Culture
'The Get Down's Costume Designer Talks Keeping Hip Hop Fashion Authentic
Its a love letter to '70s New York.
'The Get Down's Costume Designer Talks Keeping Hip Hop Fashion Authentic
Its a love letter to '70s New York.
Baz Luhrmann's new Netflix show The Get Down, is an ode to hip hop's birth in New York – a tale that's told in equal parts '70s primo style and music.
It was critical to nail the show's costumes and designers Catherine Martin and Jeriana San Juan knew they "wanted to take what was absolute, 100 percent accurate for the period and kind of turn up the volume on it, and amplify it." San Juan also told Vogue:
"I feel like hip-hop and fashion are synonymous. [It's] what this whole show is about—this big bang in culture. You not only have the music being created and becoming iconic, but you have the art form of graffiti being formed, you have the dancing—b-boying and breakdancing becoming this new thing—and then you have the fashion. The fashion is such a big part of that movement that identifies hip-hop."
The project was a massive research endeavor and one that involved scouring the archive, consulting rappers and reaching out to age-old brands including Gucci and Puma. What resulted is a love letter to the '70s. Catch and excerpt below and read the entire interview on Vogue.
So you kind of lived this story?
There are a lot of similarities just in terms of the core story. I don't think it's just a story about kids in the Bronx in 1977: I think it's a very human story of wanting more than your circumstances. I was born after this generation, I was born in 1981, so I was coming up more as a child of the '80s, but basically my whole family was coming from this. So I sort of aligned myself with more of hip-hop. I was kind of an eclectic weirdo: I loved hip-hop music but I also loved 1950 musicals. I loved Fred Astaire and Frank Sinatra, and I kind of had this weird duality in the things that I loved and even now my musical taste is a combination of Nas, Nicki Minaj, and real classic tunes from the '50s.

For research, were you looking at concerts, films, and coming up with the ideas for the costumes?
Yes, basically I created this list of all of these documentaries and movies to watch, and Baz passed on to me 10 years worth of categorized research down to what DJs were popular on the radio, who was president, who was mayor, who was governor, to what were the fashion designers that were at the top of their game and the most successful. It was incredible—I honestly never had had that experience before, where I walked into such a well-researched show.

Part of that research was the relationships that Baz had made with Grandmaster Flash and Joe Conzo, the original graffiti artists, and Lady Pink, who is the first lady of graffiti. There was this very open door policy between me and the people who are at the center of this story and at the center of this-movement who were basically very much a part of the story we were telling. Talking to them, we could gather photos of what they looked like, what their friends looked like, and what exact sneaker they wore, what was the cut of the jean — all of those details they were able to give me directly.

With a project like this, was there a challenge of creating something that feels very lived in and also creating something theatrical or high gloss? How did you mitigate that when you were coming up with the costumes?
It was a challenge, because we wanted to take what was absolute, 100 percent accurate for the period and kind of turn up the volume on it, and amplify it. In part that was to get a freshness, a crispness, a contemporary vibrancy, but also to depict it in the way kids see it. We were talking about how, in our own childhoods, you see everything as bigger, as more colorful then it actually kind of was. You're seeing [the times] through the kids' eyes.
Share this article