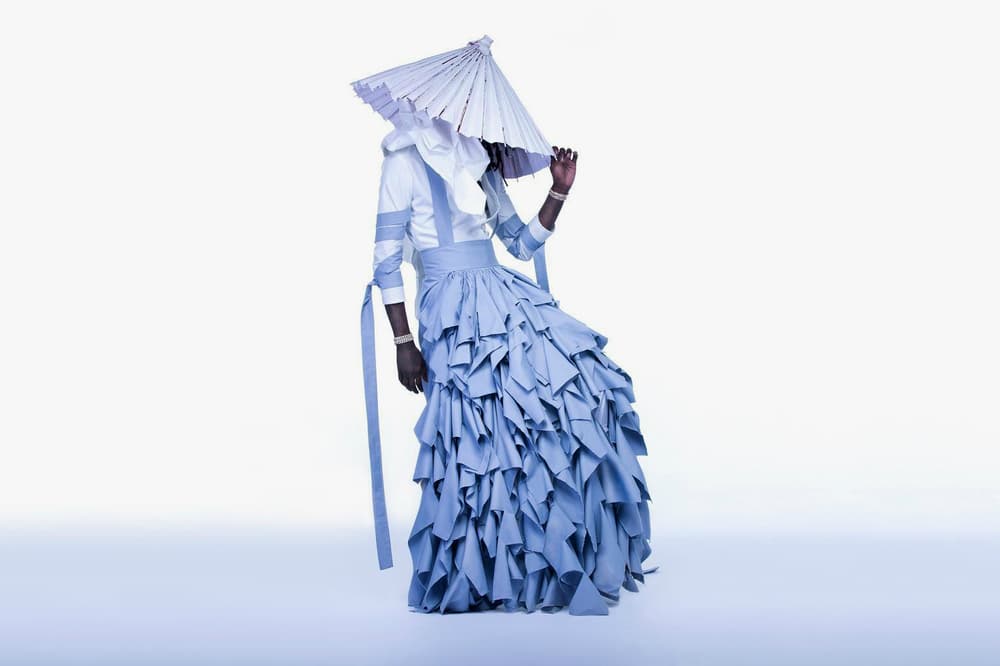 Fashion
No, There's Nothing Gay About Young Thug Wearing a Dress on 'JEFFERY'
On the progressive rapper's Alessandro Trincone outfit, Frank Ocean, and hip-hop's hyper-masculinity issue.
No, There's Nothing Gay About Young Thug Wearing a Dress on 'JEFFERY'
On the progressive rapper's Alessandro Trincone outfit, Frank Ocean, and hip-hop's hyper-masculinity issue.
Words and their meanings tend to get lost in translation from time to time. Blame it on the internet. Blame it on textspeak. Blame it on emoji if you want. Regardless, words still mean things. Like the word "gay," for example. Gay has a few definitions, according to Merriam-Webster: "sexually attracted to someone who is the same sex; of, relating to, or used by homosexuals; happy and excited." Being a man who decides to wear a dress is not included in any of those definitions — so by that logic, the rapper formerly known as Young Thug is not gay. Some people would attempt to tell you otherwise — even though No, My Name Is Jeffery (or just Jeffery for short) has never came out and said so himself.
Hours before dropping his long-awaited album, the cover art for JEFFERY was unveiled first. The concept was simple, presenting Jeffery against a gradient background that paralleled the color scheme of his dress. Yes, his dress. Cue the sexuality uproar.
By this point, anyone familiar with the Atlanta rapper born Jeffery Lamar Williams has seen him in a dress or womenswear on multiple occasions, so this shouldn't come as a shock. Remember his "Check" video? Dazed magazine cover and spread? His "Best Friend" video? His Calvin Klein campaign? The examples are endless, as he's simply a man who loves women's clothes, telling GQ:
"Because women's clothes are [slimmer] than men's clothes. The jeans I got on right now, they're women's jeans. But they fit how they're supposed to fit. Like a rock star. The only thing I probably have in men's is, like, briefs. T-shirts. Ninety percent of my clothes are women's."
Straight from the horse's pearly white-teethed mouth, that should have been the end of that. However, unsurprisingly so, Jeffery's wardrobe on his eponymous album proved to be polarizing yet again: There were those fascinated by the literal work of art he's wearing, and those who found it to be problematic. Found it to be…"gay." Has the definition of "gay" been amended, unbeknownst to us? At what point did clothing become an outright identifier for one's sexuality?
Of course, if Jeffery was gay, that would be perfectly fine. His sexuality would not detract from the infectiousness of his music. But the issue is the imposition of sexuality that's come up based solely on his closet.
Boys must not express love for other boys whom they love even as friends, much less pen a whole rap about their "bestie," and definitely not call them "hubbie" or "lover." Because that would be gay, wouldn't it?
A pillar of hip-hop has always been boundary-pushing. It was a cultural challenge to what mainstream society offered, a reaction and synthesis to the world African Americans existed in at the time of its birth in the 1970s. Boundary-pushing is what keeps the genre evolving, and yet nearly 50 years later, hip-hop occasionally comes to a head with one of its other pillars: hyper-masculinity. Through both lyrics and production, an inherent sense of bravado has, and will always, persist and reinforce some stereotypes constructed by the same society hip-hop often rages against. Like the notion that men and boys must be tough. Boys must not express love for other boys whom they love even as friends, much less pen a whole rap about their "bestie," and definitely not call them "hubbie" or "lover." Because that would be gay, wouldn't it?
Another thing they shouldn't do? Cry. Boys Don't Cry. But we're willing to bet a Frank Ocean 'zine that a few male tears were probably shed following the release of the singer's highly-anticipated Blond. How could anyone listen to "Ivy" or "Self Control" or "Godspeed" and not be overcome with emotion or at least feel a tear or two well up in their eyes? Some of the content on Frank's album is devastatingly and beautifully heartbreaking — and it's also about experiences with another man (or men). And yes, that is gay.
Rewind to 2012's Channel Orange when Frank came out in an open letter, detailing the first time he fell in love with a man. (If we're keeping score here, being in a relationship with or attracted to someone of the same sex is homosexual. Wearing a dress is not.) This sent shockwaves and was especially peculiar considering Frank's relationship, or heterosexual friendship, rather, with Tyler, The Creator — a person who uses the word "faggot" recreationally. And yet Frank's ability to wax ever-so-poetically on tracks produced equally as divine allows him to keep a fanbase of all genders and sexualities.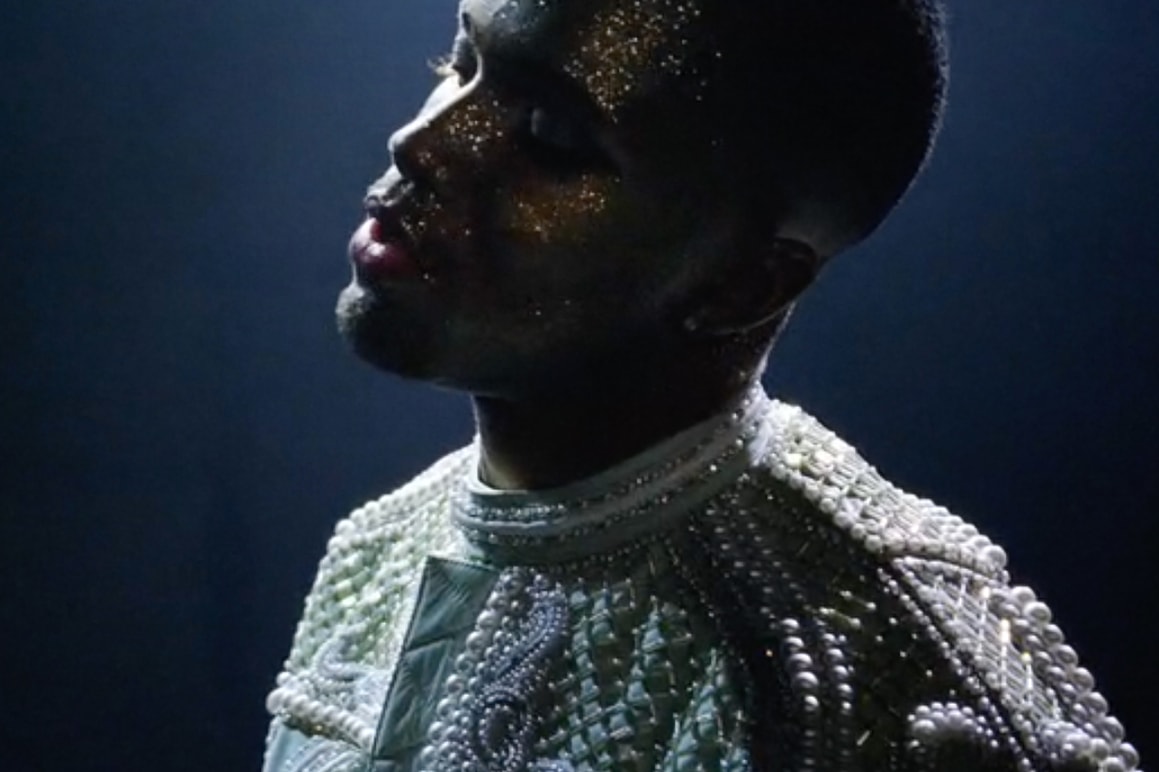 On Channel Orange, Frank only vaguely acknowledges his homosexual relationship(s). Through the perspective of Jenny from the 1994 blockbuster the song shares a name with, he tells "Forrest Gump" that "you run my mind, boy." But assumedly through his own perspective, too. In Blond, however, Frank is a little bit more outright. Take "Good Guy," for example: "Here's to the gay bar you took me to." One does not have to be gay to go to a gay bar, but this was the first documentation of Frank using the G-word in the context of his personal narrative. Just a day before Blond dropped came the video for "Nikes," track one on the album, in which we see a glittered-covered Frank wearing makeup. But for the record, eyeliner and glitter and dresses? Not gay.
Another thing that's not gay? Women wearing men's clothing. According to the societal double standard, when a girl trades in her dress for an oversized T-shirt, her sexuality is not to be questioned. She is a "tomboy." She's stylish. She's Rihanna or maybe she's one of the streetwear muses on our own Instagram feed. She's…hype. If putting on something she'd normally find in the men's department does not suggest she is also putting on the label of "lesbian," why is this not the case for any other gender? Clothes might make the man, but they don't make him gay or straight or bisexual or otherwise. Clothing itself does not have or offer a sexual identity.
At the very least, Jeffery's album cover styling proves he's a man of good taste. Alessandro Trincone, a designer for VFILES Runway Season 7 to which Jeffery will act as a mentor, designed what will forever go down in hip-hop history as that dress. That dress will be iconic in its own fashionable right, too, as a stunningly layered and fluid sculpture — see the connection here?
That dress is from Trincone's Annodami collection. In his own words:
"Annodami talks about my own experience with oppression and self fulfillment. Being raised in a socially rough environment, it has always been a challenging issue to express myself; I have gradually understood the importance of loving yourself as it is the only real protection from "evilness." I believe we are only able to stand against fear with a crystal clear reflection of our inner selves."
Jeffery's inner — and outer — self is someone who will not be bound by rigid gender structures or the imposed idea of masculinity and its fragility. Maybe he's not what some claim a rapper should look like — whatever that means. In hip-hop, style is another cardinal pillar and has always been a space to explore and experiment with clothing at one's own will. In music overall, actually. So of course Jeffery's not the first man to put on a dress or other pieces deemed feminine — ahem, Prince. Or even more relatively: A$AP Rocky, Kid Cudi, Kanye West — the list goes on. Anyone's issue with what Jeffery wears says more about them than Jeffery himself. He is, in every sense, carefree, unafraid and progressive—the necessary force that hip-hop needs to continue pushing the culture forward.
Call him Thugger, call him Jeffery, but you can't call him gay just because he looks damn good in a dress while doing so.
---
Share this article