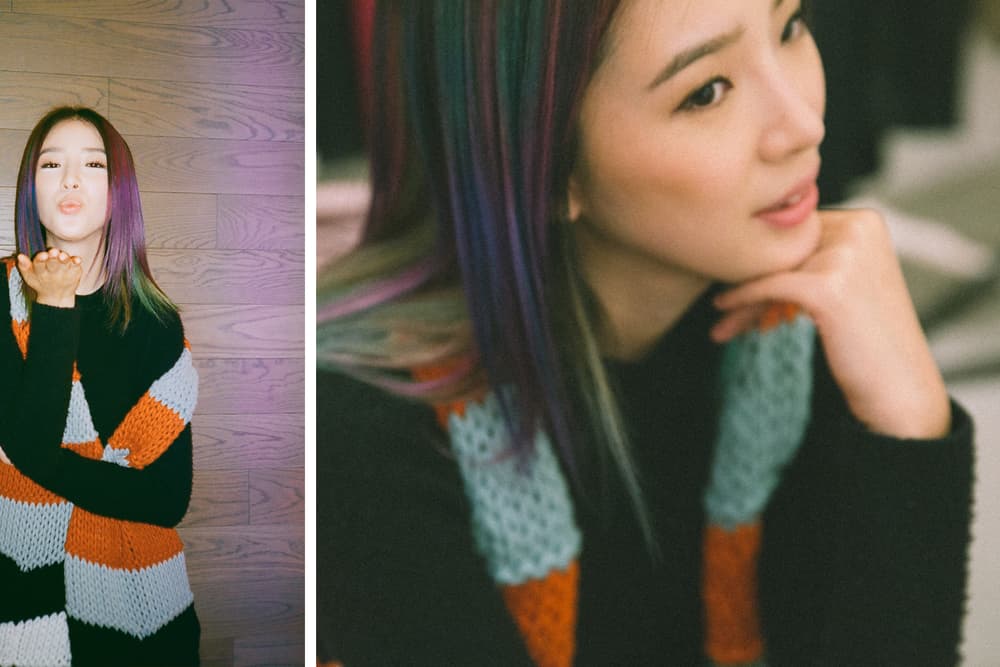 Beauty
Irene Kim Is Actually a Real-Life Unicorn and the Beauty Guru That We All Deserve
We chat with the South Korean model about her West-Meets-East mentality, holy grail beauty secrets & more.
Irene Kim Is Actually a Real-Life Unicorn and the Beauty Guru That We All Deserve
We chat with the South Korean model about her West-Meets-East mentality, holy grail beauty secrets & more.
South Korea has in recent years undoubtedly become the beauty capital of the world. Known not only for its cult-status beauty products, South Korean entertainment exports have also taken the globe by storm. However, a darker side of the industry exists as an undercurrent to the glossy perfection of Korean glamor — one that has been criticized for its almost robotic standardization of beauty. There's always an exception, though. Enter Irene Kim.
If anyone were ever to imagine what a real-life unicorn would look like, Irene would be it. The statuesque 28-year-old model radiates with an effortless charisma that lights up any room. She walked out from a modeling contract at the age of 15, after the agency insisted that she undergo minor plastic surgery, and she hasn't looked back since. Defying the expectations of Korea's beauty industry at every turn, she has built her career on an unwavering conviction to stick with her beliefs and to represent herself in the most honest way possible. Today, Irene has established herself as one of the most sought-after models in the world — doing it all without ever having to compromise.
Having already worked with the likes of Calvin Klein and Chanel, Irene also works with Estée Lauder as a consultant alongside Kendall Jenner. The beauty guru also spends plenty of time in front of the camera, hosting a popular fashion program on Mnet America entitled "K-Style." Sure, many may dub her as an "influencer," but Irene is much more than that. She represents every little girl that has been told that she can't be something — that she's too old, or too unconventional, or too different. She has taken every criticism thrown at her, transformed it into something positive, and has proceeded to prove everyone wrong. This is undoubtedly proven by her hefty following on Instagram that boasts well over 800k followers — Irene is spreading the word, and people are listening.
We recently caught up with Irene at the MaxMara 101801 "De-Coated" event in Hong Kong to discuss the rise of South Korean entertainment and beauty, growing up in Seattle, her holy grail beauty secrets, and more. Check out our conversation below to learn more about fashion's favorite beauty guru.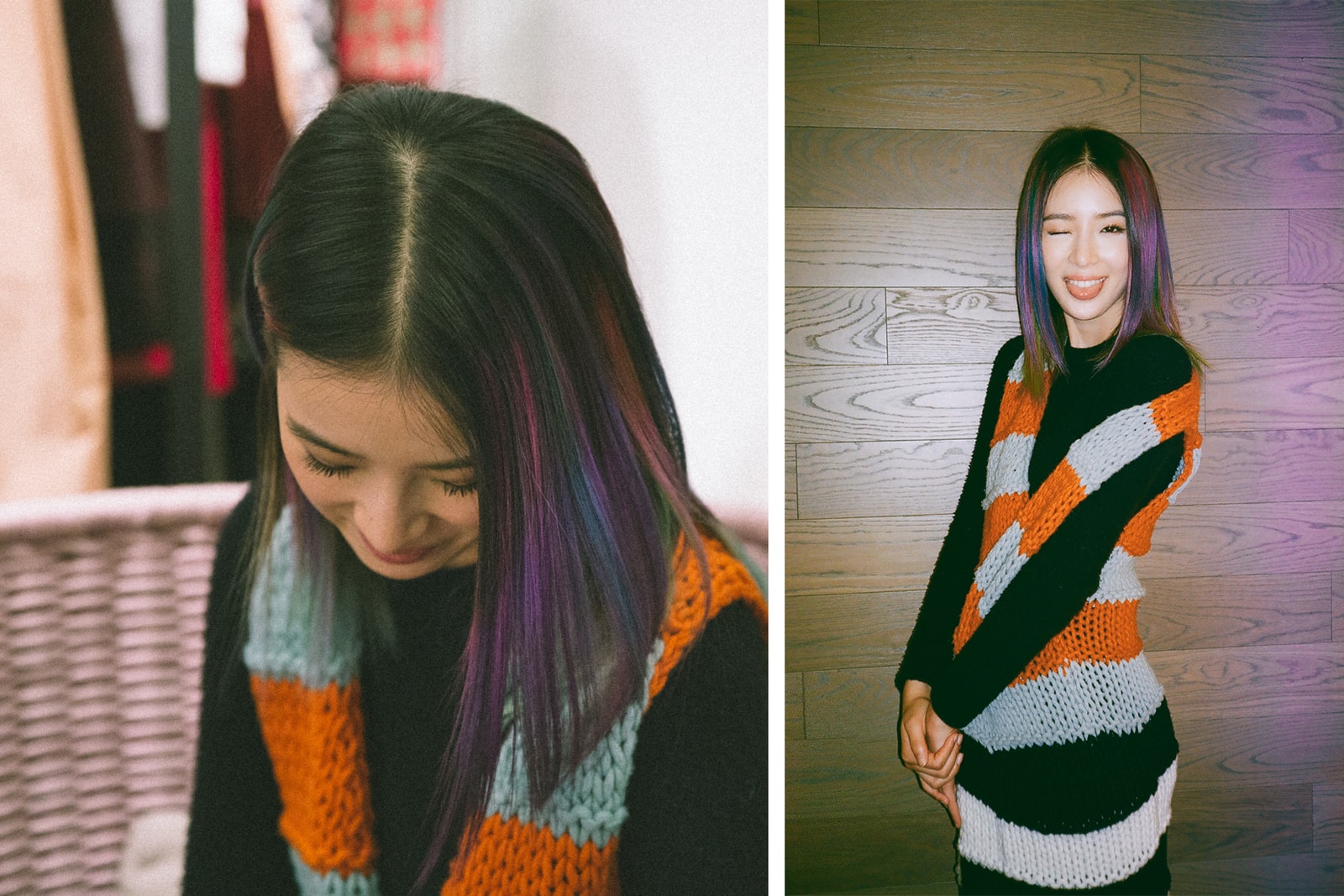 How would you describe yourself in three words?
Colorful. Positive. Overachiever.
Korean beauty has recently became a global phenomenon, extending way beyond Asia. In your opinion, what sets Korean beauty apart from anything else found in the world?
Korean beauty is unique because we've come up with a solution for everything. We have every type of cream, from horse oil to nail cream, to maybe pig's feet as snacks — but who knows? There's just a service for everything in all different ranges. If you want to get the simplest sheet masks, they are like a dollar and they work amazing. Down to the packaging, it's fun and cute — you want to carry and Instagram it. We have face masks for everything: lip packs, eye packs, stomach masks — it's crazy.
If you want to go high-tech skin care, the dermatology is so much more advanced than anywhere else — the machine and laser and lights and whatnot. My dermatologist does this red light on me and it's for rejuvenation.
What's your holy grail beauty secret?
I would say seriously drinking a lot of water. [Also,] it's not just about putting on the makeup, but how well you take it off too — like how you cleanse, because it's about maintaining your skin as well. Sometimes I'll have makeup on for 20 hours straight, and my skin just could not handle it before I figured out a way to cleanse right, eat and drink right, get enough sleep and stuff.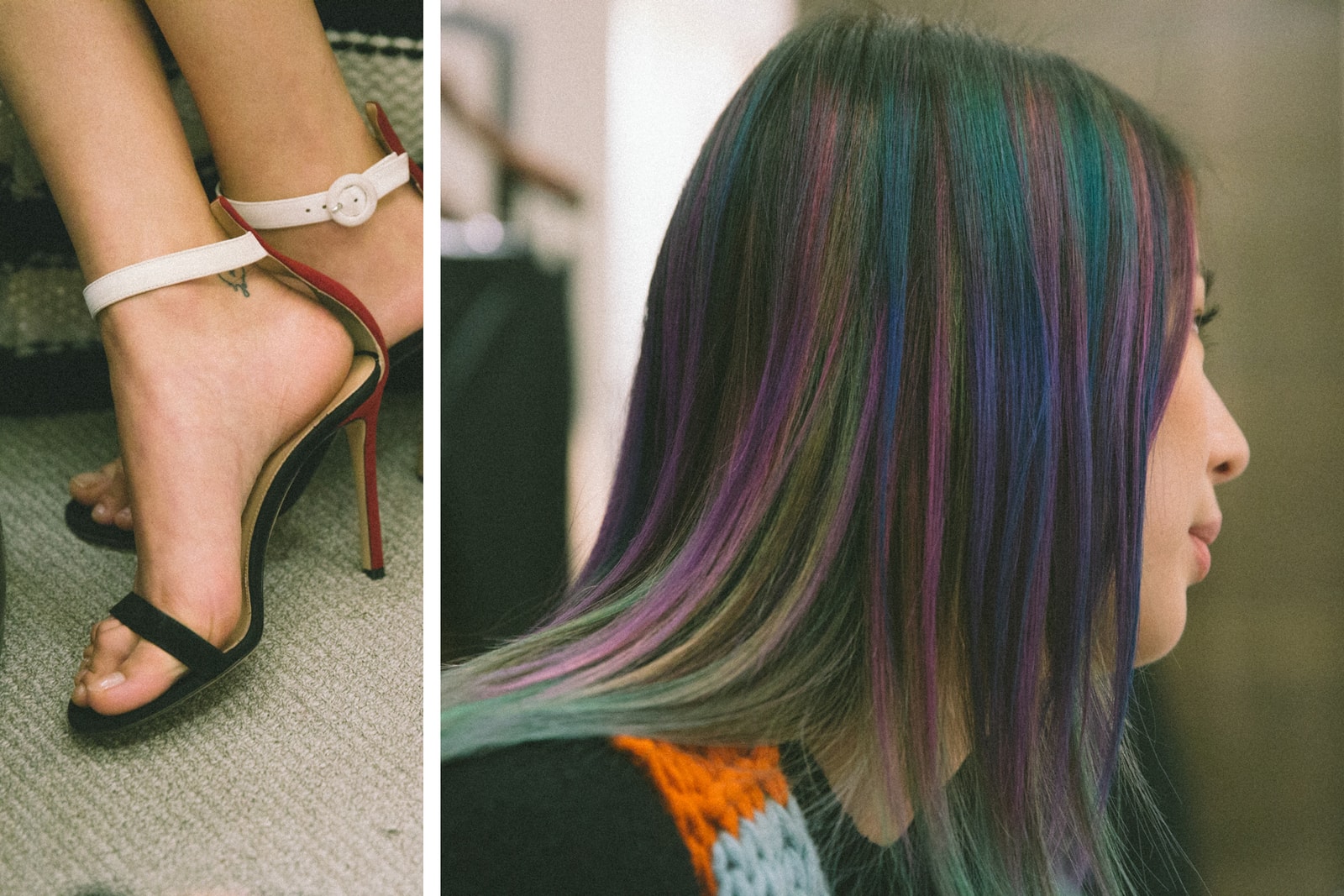 So you grew up in Seattle and moved to Seoul after. How does this kind of 'West meets East' mentality affect the way you approach fashion and culture?
It's definitely affected me. In the beginning when I first moved back to Korea, I was so depressed. It was more of a culture shock for me, but now it's just like growing up and I get the best of both worlds. I get all the good stuff in the States, like overseas travelling, and then the influence of being in Asia has just been amazing too. We Asians have such a crazy work ethic — it has really given me a push to do what I love.
What makes Korean fans crazier than any other fans?
They are dedicated. They would do anything to get that selfie with you. All around, I have definitely gotten a lot of support from my K-pop friends. I am not a singer, but I have a lot of friends that are in the industry and we all support each other. That's what helps the community grow.
Speaking of community, Soo Joo Park once said in an interview that after she dyed her hair to platinum blonde, that's when everyone started paying attention. Nowadays, she's become known for that look. And I read in another interview where you said your hair has kind of become your trademark. Do you ever feel like you can't go back to black? Do you feel your hair has become a part of your identity?
Now, it's just a part of me — it's my other right arm. It wasn't really the plan when I dyed my hair, I just got inspired. It's really given me an image — it's made me Irene. Back then four years ago, when I first dyed my hair, nobody had colored hair. I was one of the first Asians to do it. It's really cool to see other people having different colors. You have this image, like if you're an Asian model, you need to have long, black, straight hair — but now, it doesn't really matter.
Is it empowering?
It is! I kind of broke the rules.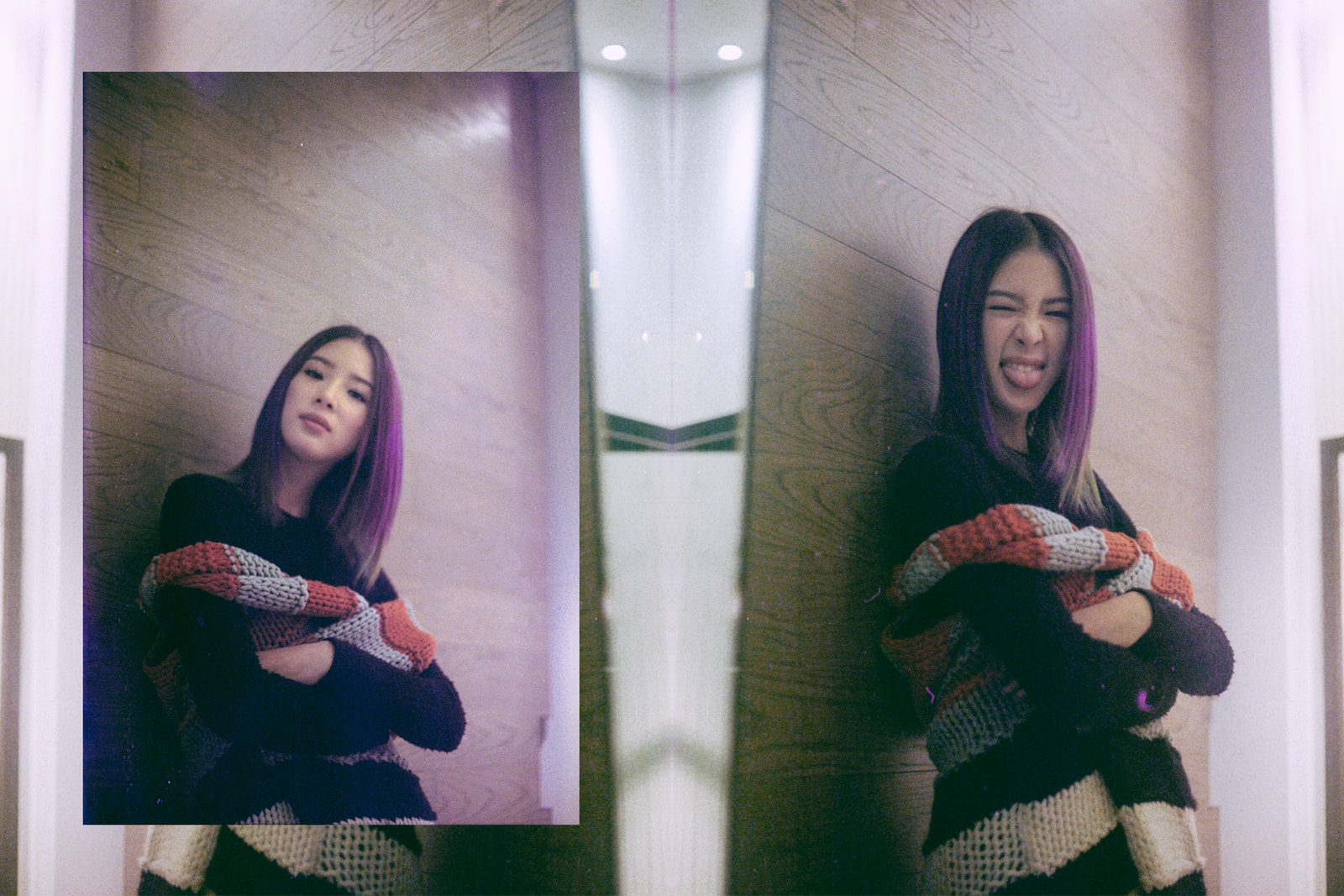 You studied textile design in FIT. Does that influence where you put fashion and garments?
It definitely does. I think that's where I get my mixing and matching and my love for color and prints — just putting things together, in general.
How would you describe your fashion philosophy? How you put together outfits?
Don't take it too seriously. In terms of putting together outfits…first, I like the whole aesthetic of high and low. When I am wearing heels, I'll wear something casual on top. Or if I am dressed up, then I'll prefer doing sneakers or flats. I hate heels, but just for events and stuff.
Do you have beauty tricks that people would not expect, or are kind of weird?
I was doing oil pulling for a while. You take a tablespoon of coconut oil, and you just swish it in your mouth for 20 minutes. What it does is it takes out all the toxins in your body, and you can't swallow it — you have to spit it out. I don't know if it works, but I found it helps give you [really fresh breath]. Also, now I work out regularly — I love pilates.
You have this image, like if you're an Asian model, you need to have long, black, straight hair — but now, it doesn't really matter.
What are three products that K-beauty newbies should try?
Snail cream, because I haven't really tried that yet [laughs]. Try snail cream to see if it works, then tell me. The sheet masks, because I bring it with me everywhere. I started getting into them recently. They are awesome. Put them in the fridge first — it keeps them cold and makes them more soothing. We have fun, poppy lip colors too.
Yeah, lip stains are really big in Korea but I've never seen it anywhere else.
Lip tints because we don't like a full lip — we just do the inside and get the gradient kind of faded lips.
In terms of music, CL and G-Dragon are finding a lot of popularity in the States. Do you feel that attention has been drawn to Korea more than ever?
For sure. I think it's really great that they're getting so much recognition globally, just because they are so cool and they are really talented — it's not just about their appearances. As artists, they should be recognized.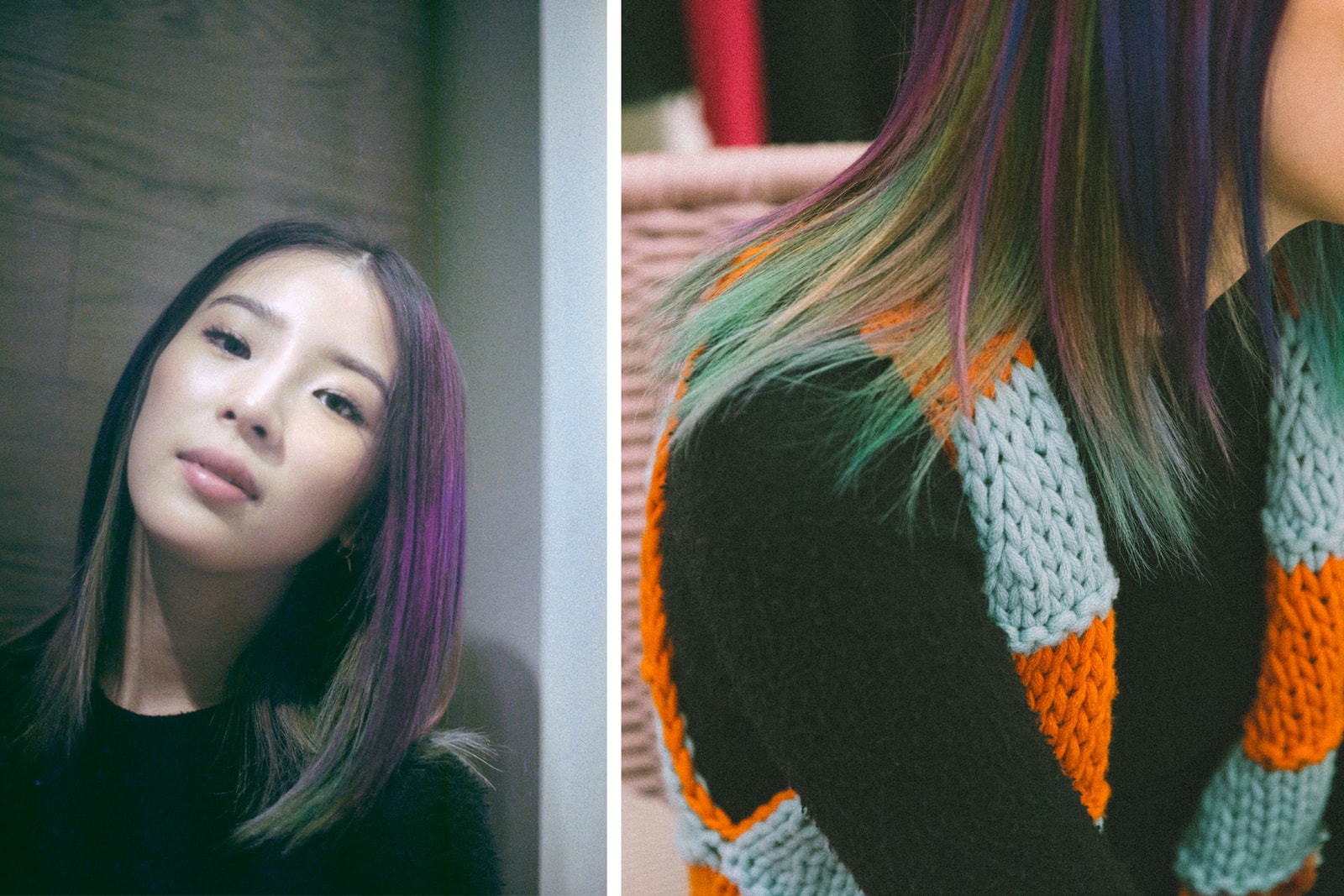 Do you feel there's a misconception about influencers nowadays, because there is such a condensed scene nowadays?
I think yes. I think with anything, it's just really how you play the role and how you recognize and define yourself. It's just an industry label, so I don't consider myself specifically as an influencer because I do so many other things — I also produce and [host] a TV show, I model. So influencer is just one of those roles. Sometimes, it can be a misconception but we're hard workers. We're not just sitting around and taking pretty pictures. There are a lot of other things you have to do to get things done.
I think sometimes people don't understand the effort it takes.
Which I don't mind. It's funny how people think that I'm just a cute girl with colored hair who takes cute pictures. Then when they meet me they're like, "Oh you can actually talk! You can hold a conversation!" So I kind of like the image that I give off, because it's not that serious. I am an entertainer and that's what it is.
What's in your purse right now? What are your travel essentials?
I have my wallet. I have a charger. I have some Estee Lauder mascara. I have flower pollen — I eat it for energy. It's also for your immune system. You just take a tablespoon of water, then swallow it. I was also just in Thailand, and this Thai fan gave me this herbal inhalant. So you sniff it when you're tired — it's herbal.
Do you have any words for people who are trying to get into the industry?
Don't be afraid to experiment and to take chances. Make sure when you're doing something, you're loving it, because it will show. Being an influencer and all the social media stuff, you have to be yourself and be authentic. People can tell when you're faking it.
Photographer

Renee Neoh / Hypebae
Share this article