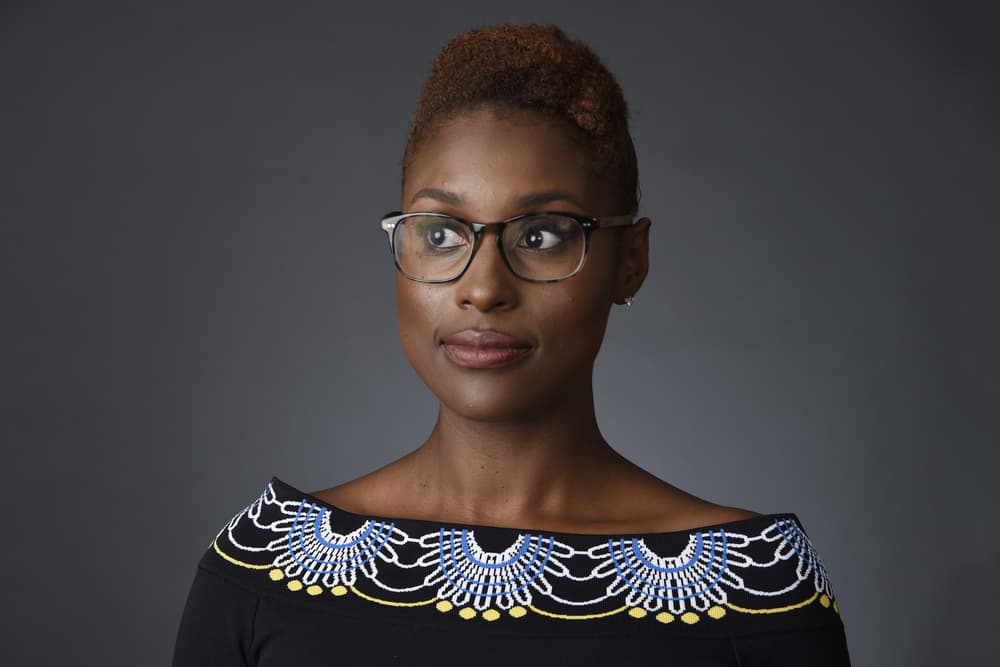 Culture
No, Issa Rae's 'Insecure' Is Not Meant to Be the Next Lena Dunham's 'Girls'
Before you stream the show, read our exclusive convo with the creator, executive producer and star.
No, Issa Rae's 'Insecure' Is Not Meant to Be the Next Lena Dunham's 'Girls'
Before you stream the show, read our exclusive convo with the creator, executive producer and star.
Issa Rae has a lot to be confident about: her massive following has helped project her from the desktop screen through her YouTube series, The Misadventures of Awkward Black Girl, to the television screen with her new HBO show, Insecure. The black female experience is one that the premiere television network has yet to spotlight through its original programming, and via her own comedic lens and telling of painfully awkward encounters, Issa is filling that void. Post Sex and the City era came Girls, both cult comedies — but both starkly lacking in diversity. With the final season of Lena Dunham's show nearing, Insecure is set up to be HBO's next big hit. The comparisons between the two are already being drawn, but aside from them being written by women and sharing elements of relatability through their own narratives, that's where they should stop, Issa told us at a screening of the show on Sunday. Yes, Insecure is inherently black and explores friendships and romantic relationships between black women, the stories being told are not solely exclusive as such.
What's more significant to recognize is the timing of which Insecure is debuting. Donald Glover's Atlanta along with Ava DuVernay and Oprah Winfrey's Queen Sugar are, like Insecure, bringing black culture to primetime with outstanding reception — and we expect Insecure to do the same. The wait for Issa's millions of viewers is now over, as the first episode is currently available to stream via HBO Go and HBO Now ahead of its official October 9 premiere on the premiere television network. But before you watch it, find the trailer and our own chat with Issa down below.
Lena Dunham's Girls has come up in the discussion of your show. What do you think of the comparisons or parallels already being drawn between her show and Insecure? 
I honestly feel like it's a lazy comparison. I love Girls and I think Lena Dunham has a very distinct voice and I know that she's worked hard to get where she is and I've done the same thing. So I feel like, to be like, 'Oh here are two young women on HBO — let's compare them' is unfair to both of us. I just don't see the comparisons. I think as people watch the show, they'll realize that.
As a black woman, what does this opportunity mean for you as Insecure is coming at a time when shows like Atlanta and Queen Sugar are being critically received so well?
I saw Donald at an Emmy party and I was like 'I'm so sad that your show came out first because it's so dope. And it's raised the bar so high.' I'm just so excited to be apart of this time when so many stories are being told and I think we're different in that we bring a comedic side into the black female experience. We're telling a very specific story, so I'm just excited to be in the same conversation as shows I'm a fan of too.
There's a small scene that I personally thought was impactful — you're trying on bold lip colors and role playing but settle for Carmex. Were you intentionally trying to make a statement about beauty or anything here?
That was really tapping into my own insecurities. I was just saying earlier I didn't realize the impact that that scene would have. Every time I've sat in a screening, people are like. 'Oh my god! That's me too.' And I had no idea that was going to be the case. You know, you try to take a risk – you try to have a bold lip and think that will give you a new personality, unaware of the fact that we're still the same person. That's the statement I wanted to make. At the end of the day, you're still you. Do what makes you comfortable.
With the show being called Insecure, do you have any advice for building confidence and self-esteem despite flaws?
I embrace them at the end of the day. I finally got into a place where I'm confident in what my insecurities are. I know I'm flawed and that's what makes me me. Once you get to that point, you can just move forward. That's what makes you who you are, so embrace that.
Photographer

Chris Pizzello/Invision
---
Share this article