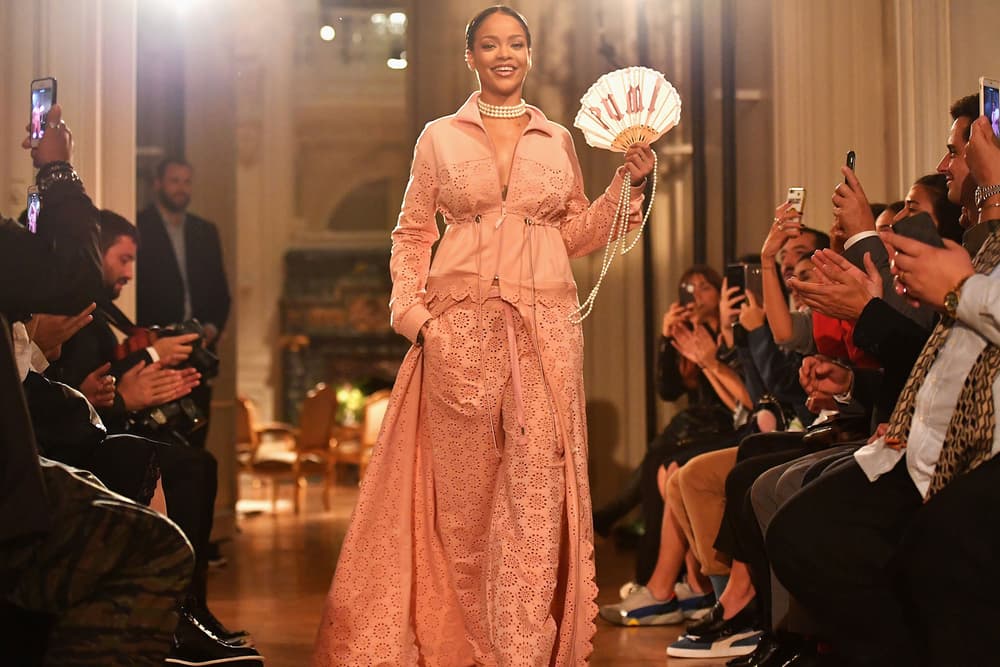 Fashion
Marie Antoinette Is the Bad Gal Muse for Rihanna's Fenty x PUMA 2017 Spring/Summer Collection
RiRi speaks of her 18th century-inspired streetwear range.
Marie Antoinette Is the Bad Gal Muse for Rihanna's Fenty x PUMA 2017 Spring/Summer Collection
RiRi speaks of her 18th century-inspired streetwear range.
Having already seen every single look from Rihanna's new Fenty x PUMA collection presented at Paris Fashion Week, we now learn about the singer-designer's vision for her 2017 spring/summer range. Prior to the intimate runway show, RiRi sat down with Vogue to discuss her 18th century, French-inspired streetwear collection. In particular, she mentioned how the grand Palace of Versailles is a major source of inspiration for the pieces. Moreover, the artist also pointed out how Marie Antoinette might be the most influential bad gal muse in history.
You can read an excerpt of the interview below, and can head over here to view the full feature.
On the mood of her new collection:
It was definitely a departure from the first collection; that collection had a much darker tone to it, intentionally so. To me, Spring should feel like something fresh, even though I'm not going to stop wearing black altogether. But I didn't want it to be super-bubbly, so I kept it a bit street—everything was super-sporty and definitely highly influenced by 18th-century French culture, and the style of that time, mainly Marie Antoinette, and the Palace of Versailles. She just had this regal way about her, and everything she did was big. I wanted to mix that in with sport.

On why she decided to unveil her collection in Paris:
I chose Paris because I wanted people to feel the entire tone of the new collection. I wanted them to feel like this is what Marie Antoinette might wear to the gym, or play tennis in. I imagined it like that, and I hope people receive it in a fun way. The other challenge was having to design part of the collection for men. I ended up just going back to myself for that, because, you know, I wear men's clothes all the time. So I thought to myself, "Just design what you like to wear."

On her first memories of Paris:
I remember a lot of Coca-Cola and a lot of chocolate! Not matter where I was, even in a radio station, they always offered chips, chocolate, and Coca-Cola. I would have been 16 or 17 at the time. But I remember the architecture being so incredible to look at—the fountains in the middle of roundabouts, the streets, the lampposts. Everything here is so beautiful, it never leaves you, even if you've only been to Paris once. The more you come, the more you learn about the culture.

On the one song that best describes her new collection:
Well, funnily enough, I can give you a sort of collabo of an answer on that because the soundtrack tonight is a combination of violins mixed with trap beats. To me, that represents this collection: It's super-regal and a perfect mix of street- and sportswear.
Share this article