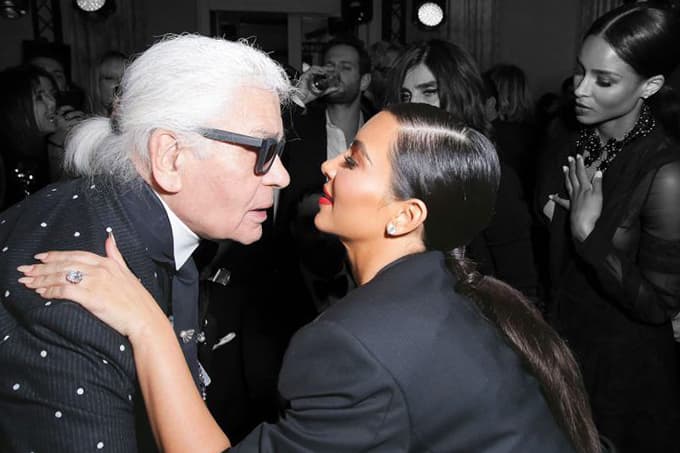 Fashion
Karl Lagerfeld Sums Up Kim Kardashian's Contribution to Fashion With One Sentence
And praises Kendall Jenner too.
Karl Lagerfeld Sums Up Kim Kardashian's Contribution to Fashion With One Sentence
And praises Kendall Jenner too.
Karl Lagerfeld last talked about Kim Kardashian on her Paris robbery and cited her "too public" persona being a cause. But onwards to 2017 he's got nothing but love.
The Chanel creative director is positioned to be a character in Kim's smartphone game – Kim Kardashian: Hollywood – and had nothing but praise for his collaborator. The noted designer summed it up with one sentence:
"Kim's contribution to beauty and fashion…is the fact that you don't have to be super slim and very tall to be beautiful."
He then added, "I like her mother [Kris Jenner] a lot and I adore her little half-sister Kendall. I don't know the rest of this astonishing family." The industry's recent acceptance towards the the non-traditional sample-size model like Ashley Graham is no small movement in body positivity – and now Lagerfeld is on-board too.
What impressions will the clan make in 2017?
Share this article