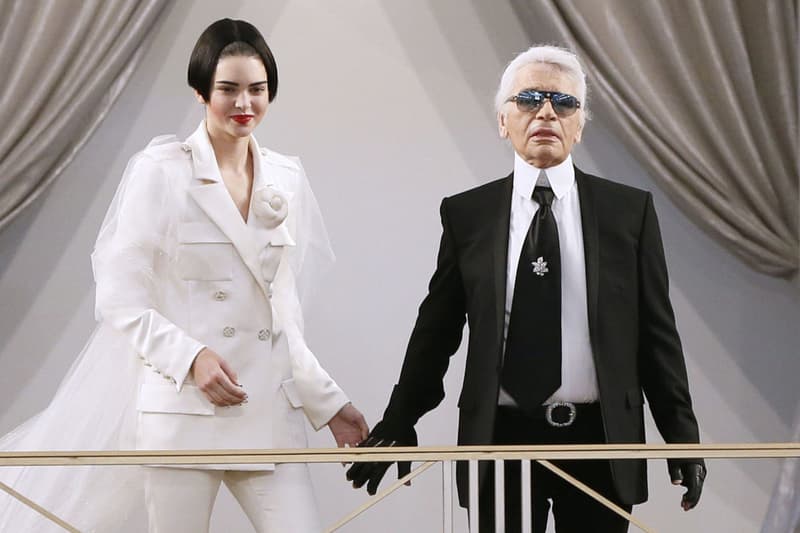 Fashion
Karl Lagerfeld Opens up About What It's Like to Photograph Kendall, Kim and Kanye
"I will say something pretentious – if you are vaguely famous yourself it is much easier."
Karl Lagerfeld Opens up About What It's Like to Photograph Kendall, Kim and Kanye
"I will say something pretentious – if you are vaguely famous yourself it is much easier."
Not too long ago Karl Lagerfeld praised Kim Kardashian's contribution to the industry: "You don't have to be super slim and very tall to be beautiful." In a new interview with CNBC the Chanel and Fendi creative director revealed what it's like to photograph the Kardashian-Jenner clan.
The designer's picked up the lens to shoot Kendall on a previous Fendi campaign and she's walked on the runway on many an occasion. "She's a nice kid, you know," he said. "I thought she was right for Fendi, you know. And I like her personality. There's something very sweet about her."
He's also photographed older sister Kim Kardashian and Kanye West on the Harper's BAAZAR 2016 September cover and said it was "no problem" because he's Lagerfeld. Read the excerpt below and catch the entire interview here.
Tania Bryer: And you also photographed her sister Kim Kardashian…

Karl Lagerfeld: Yes but not for collections…

TB: No for Harper's Bazaar. Yes. How were they Karl. How did you find them?

KL: I photographed them before and I knew both of them for a long time. So there was no problem at all because if you have to photograph famous people – and I will say something pretentious – if you are vaguely famous yourself it is much easier. If they are in front of an unknown photographer, they would not relax like they do in front of me. I had done for another magazine when she was pregnant and I met her several times. Him I knew even longer. Normally I don't have problems with people.

TB: And with Kanye West, his attitude, do you think he's very brilliant at his strategy. Or people can find him arrogant?

KL: Yes but when you know him you see it all differently and the mother is very funny, I like the mother. She is so funny.
---
Share this article