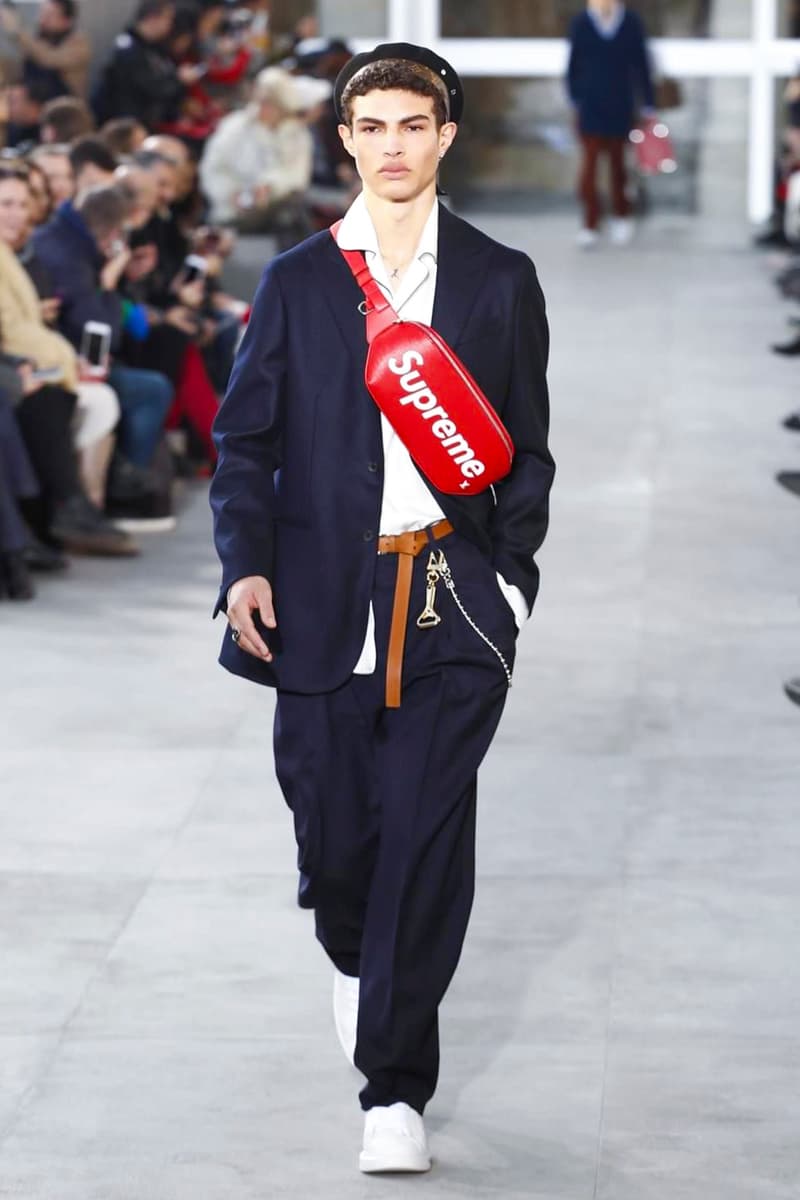 1 of 40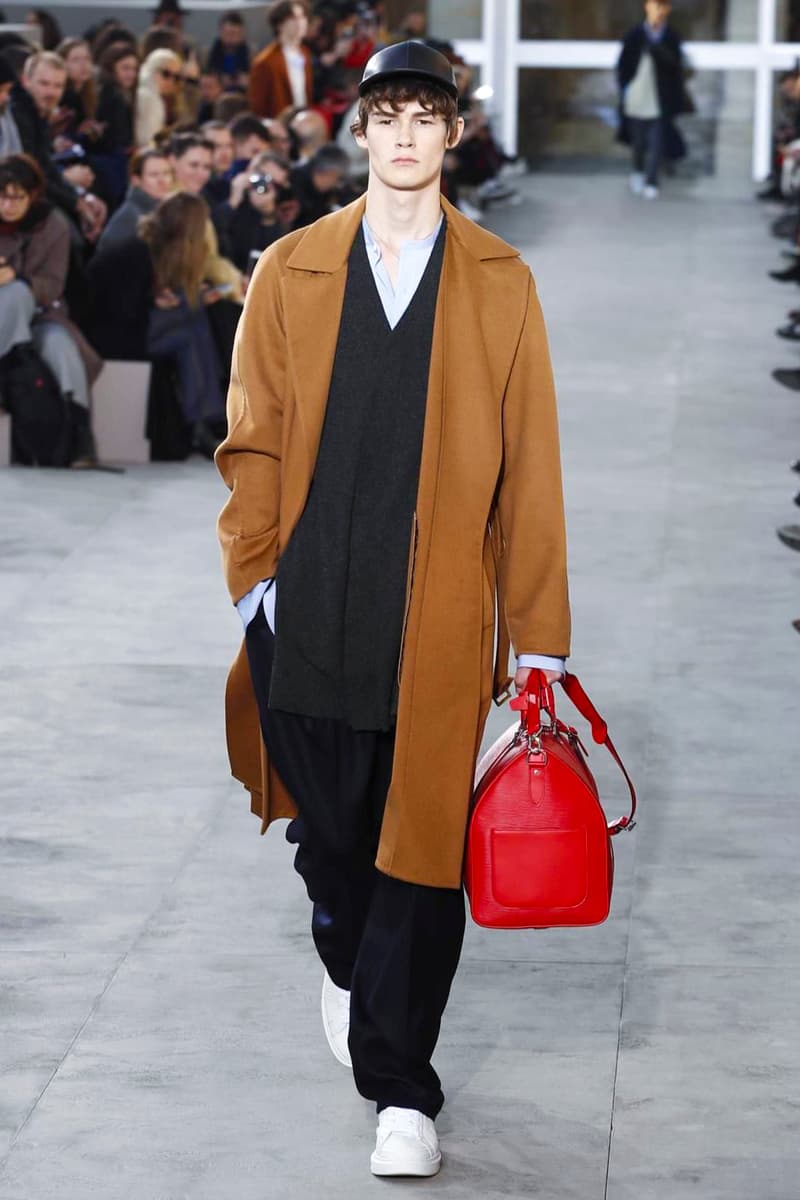 2 of 40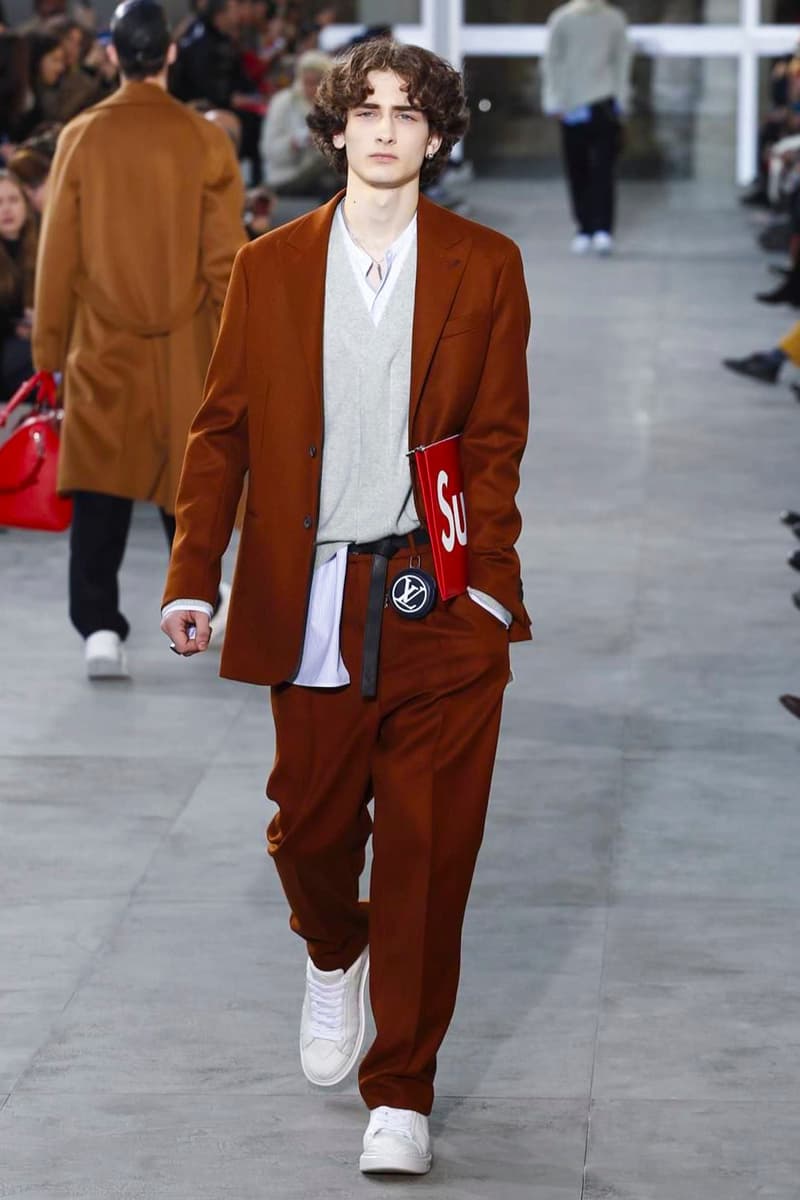 3 of 40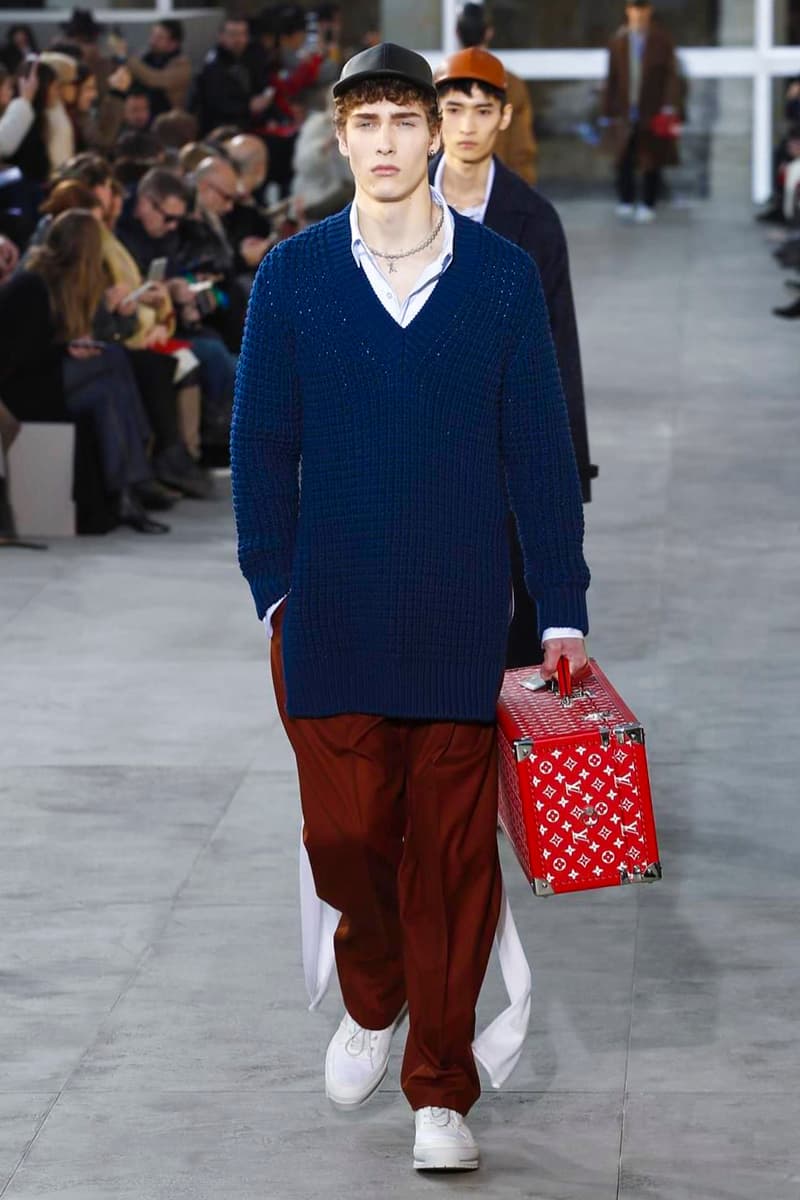 4 of 40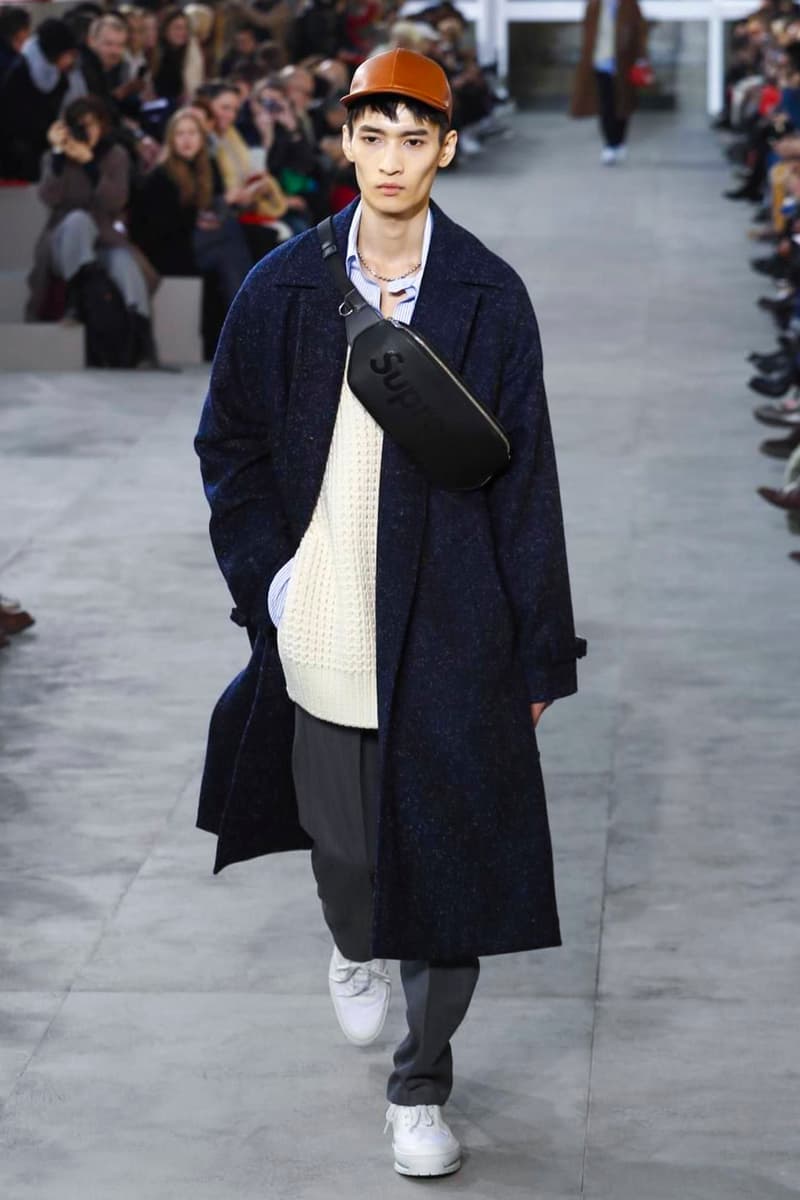 5 of 40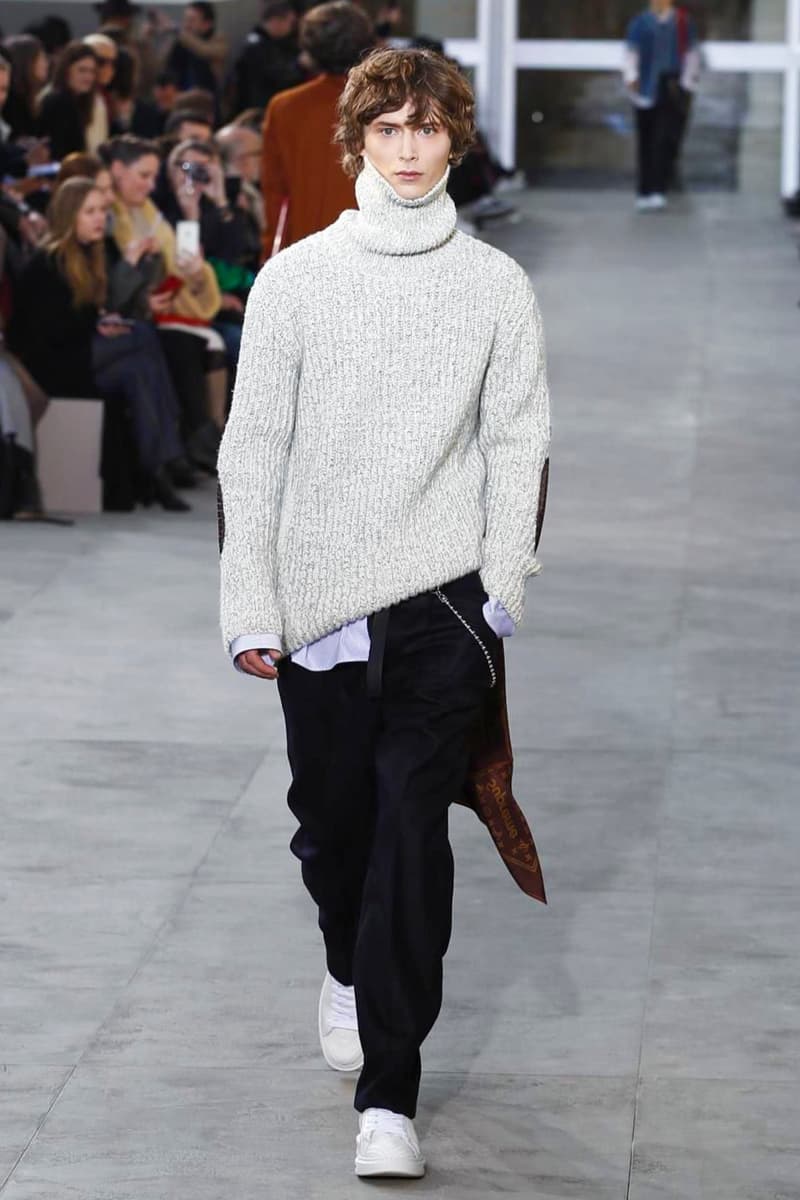 6 of 40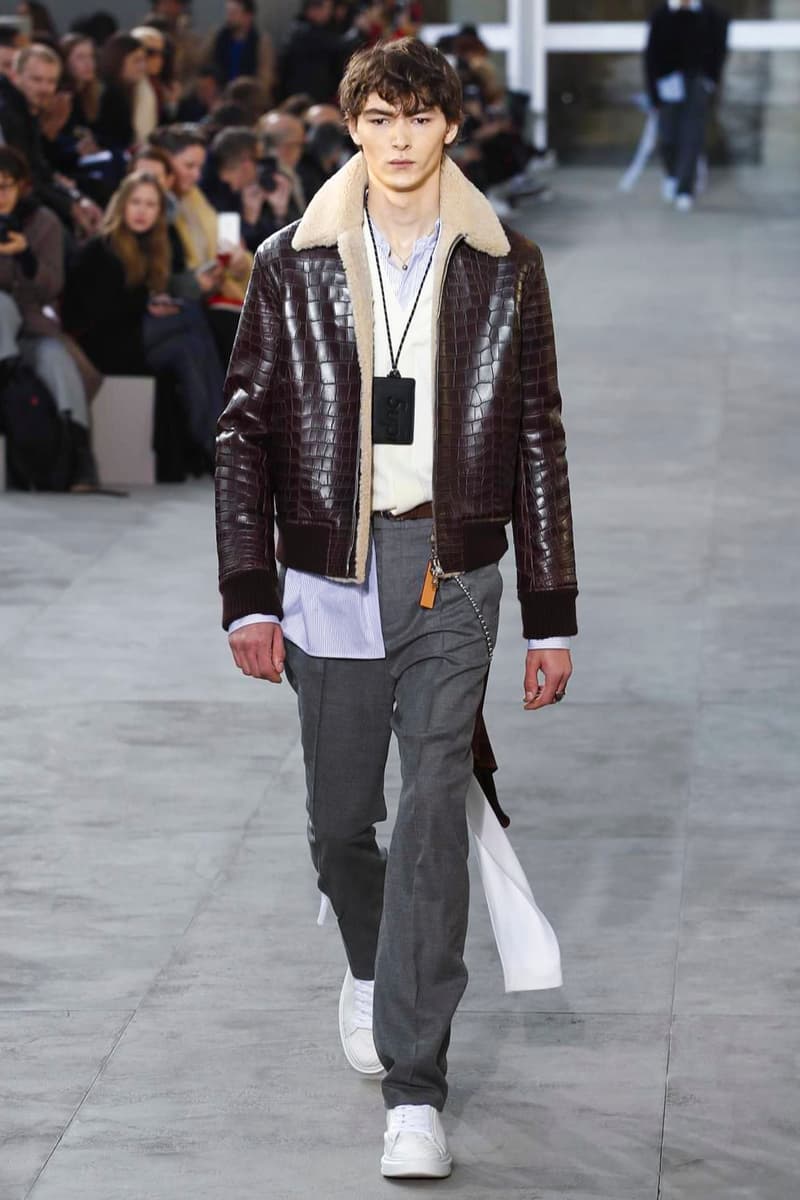 7 of 40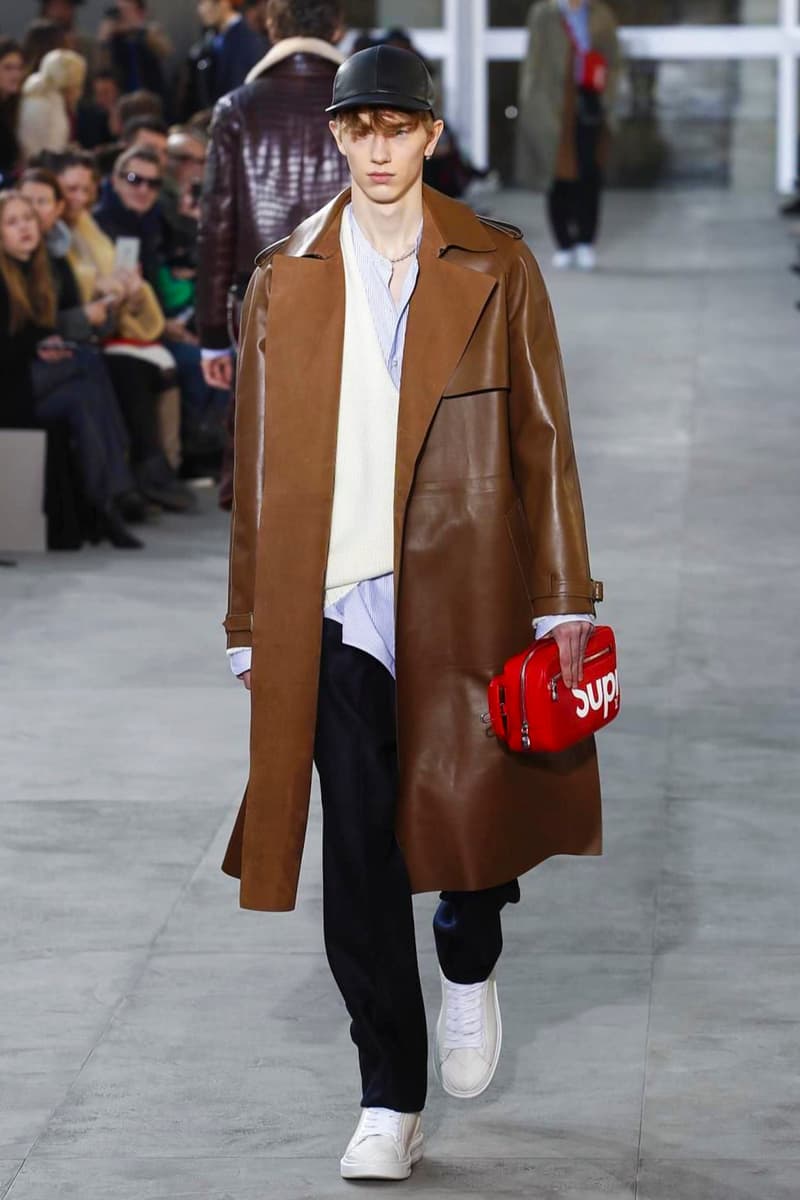 8 of 40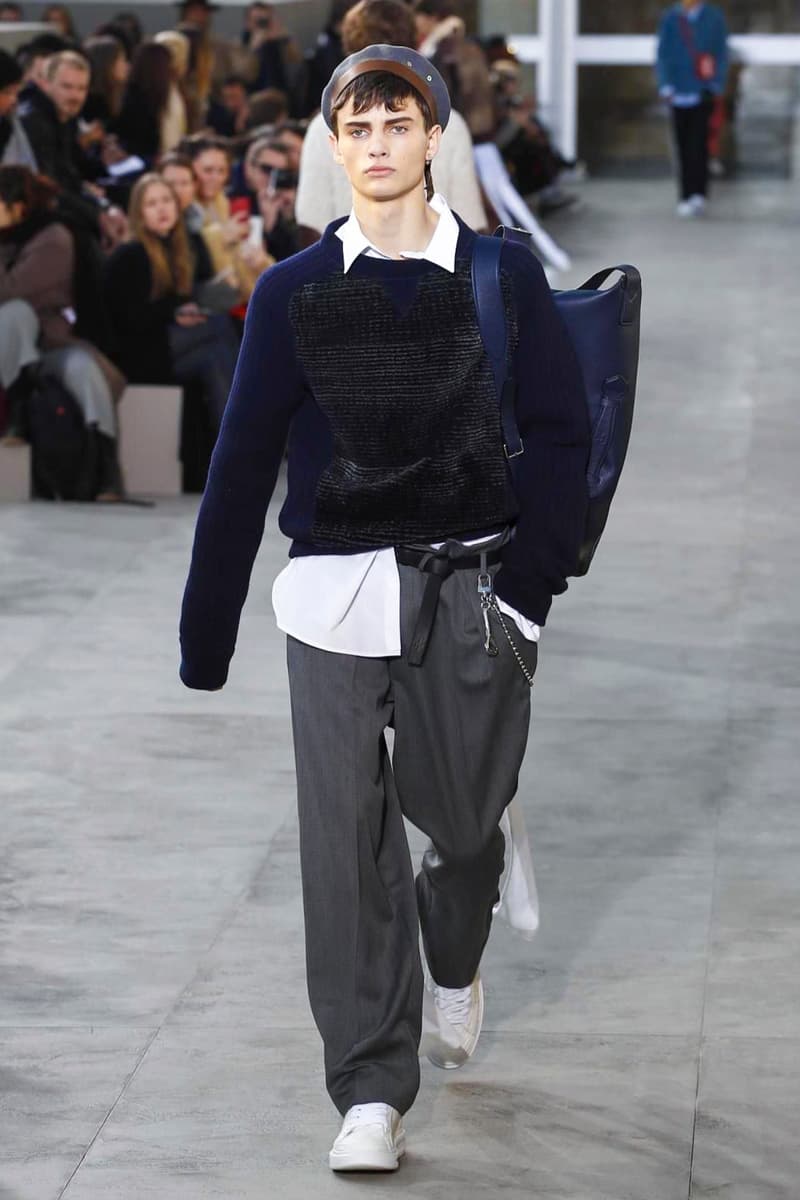 9 of 40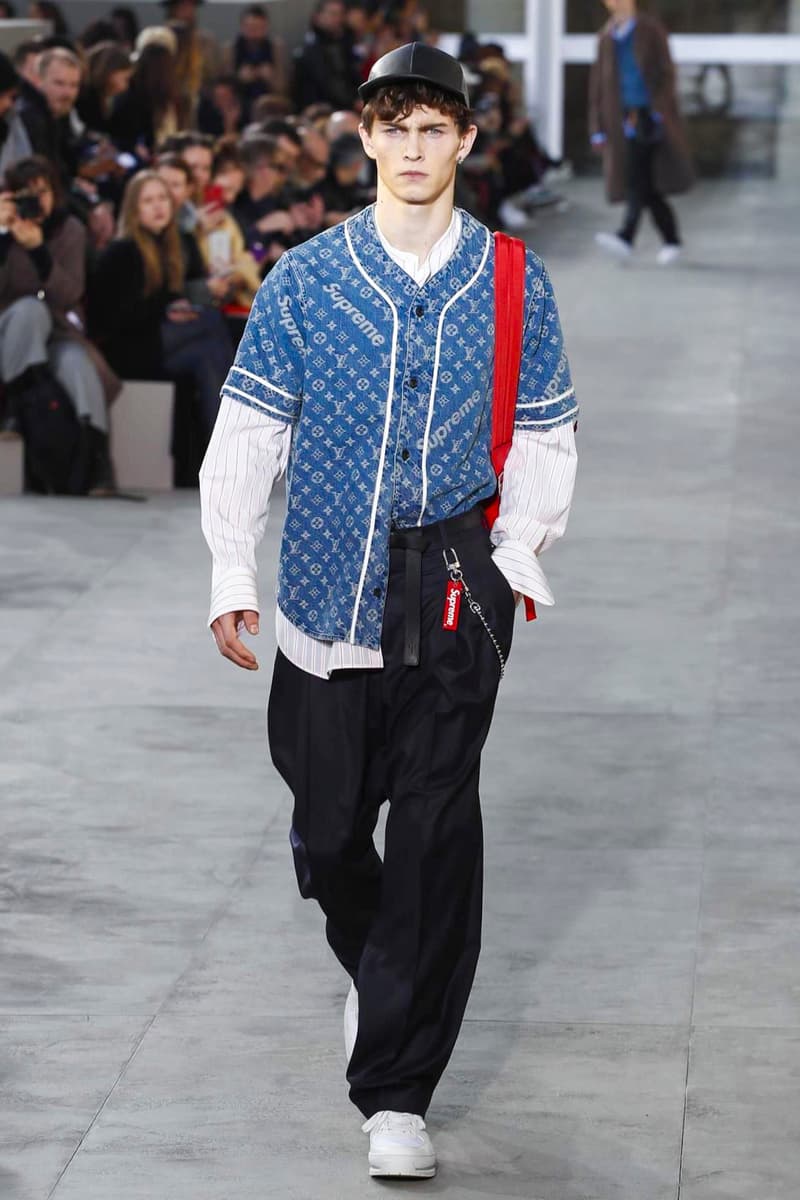 10 of 40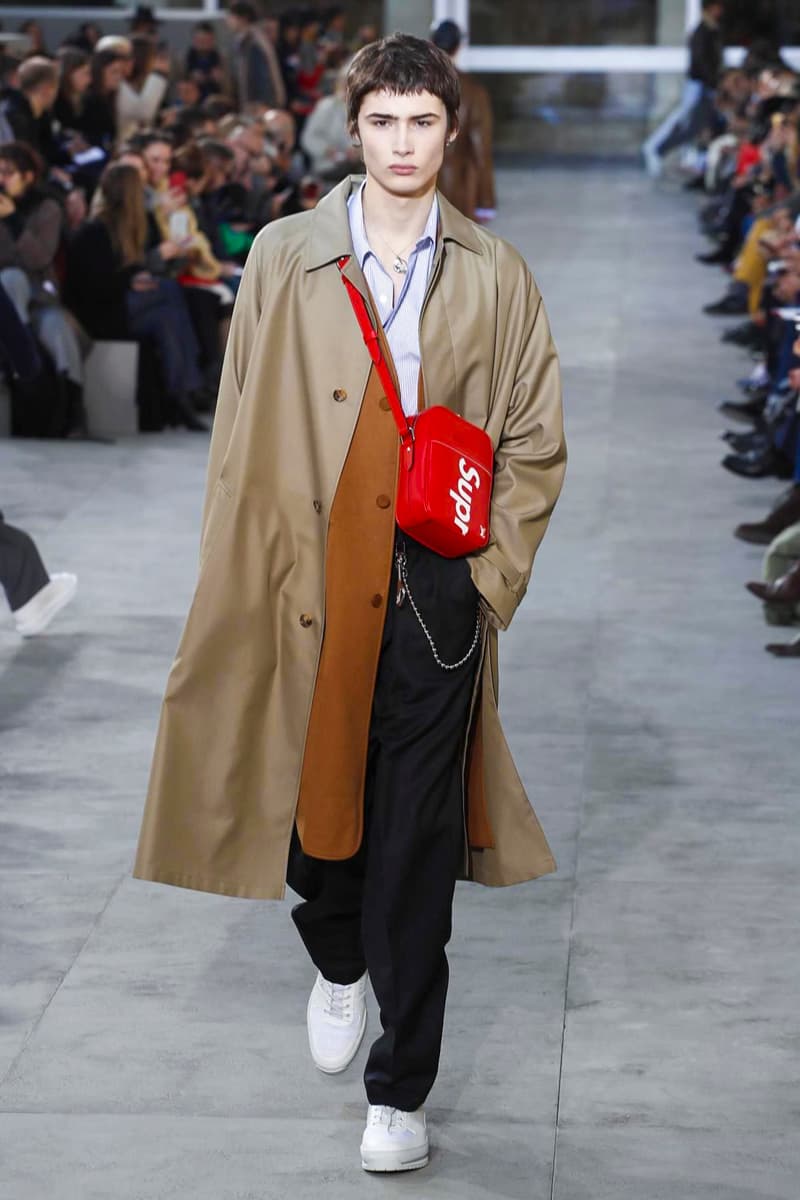 11 of 40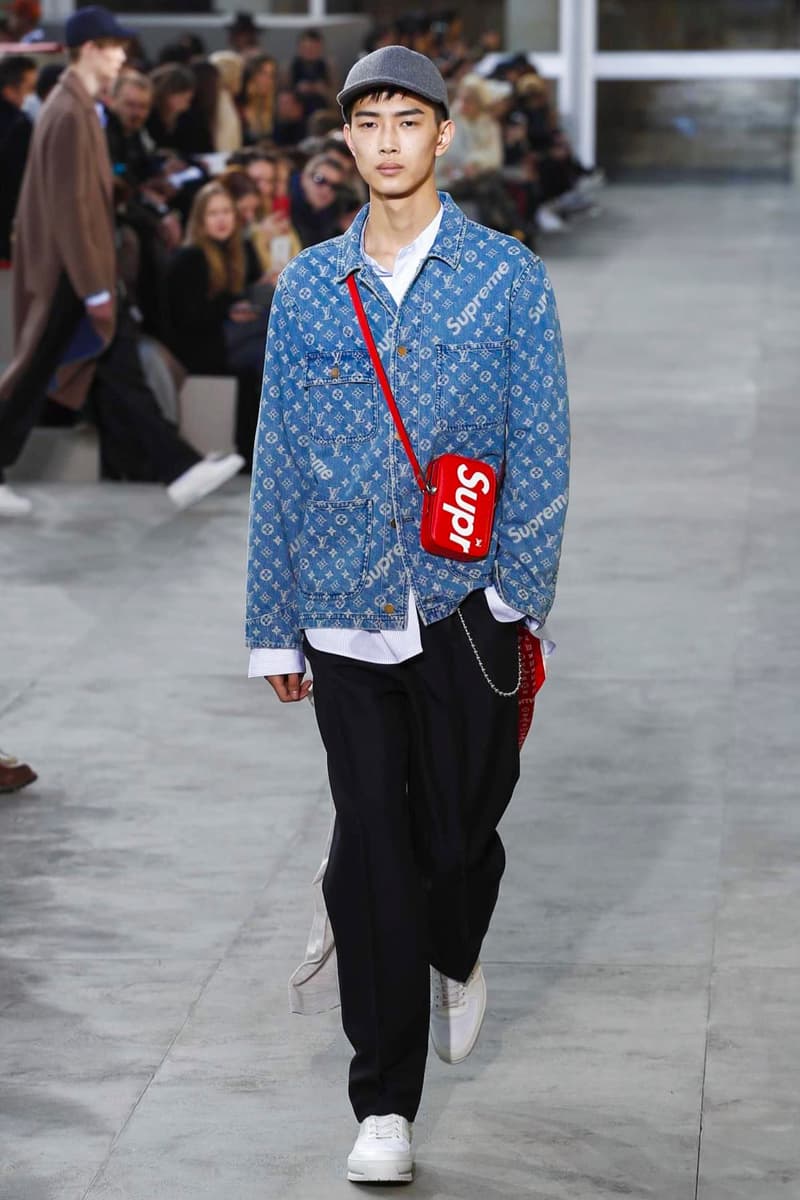 12 of 40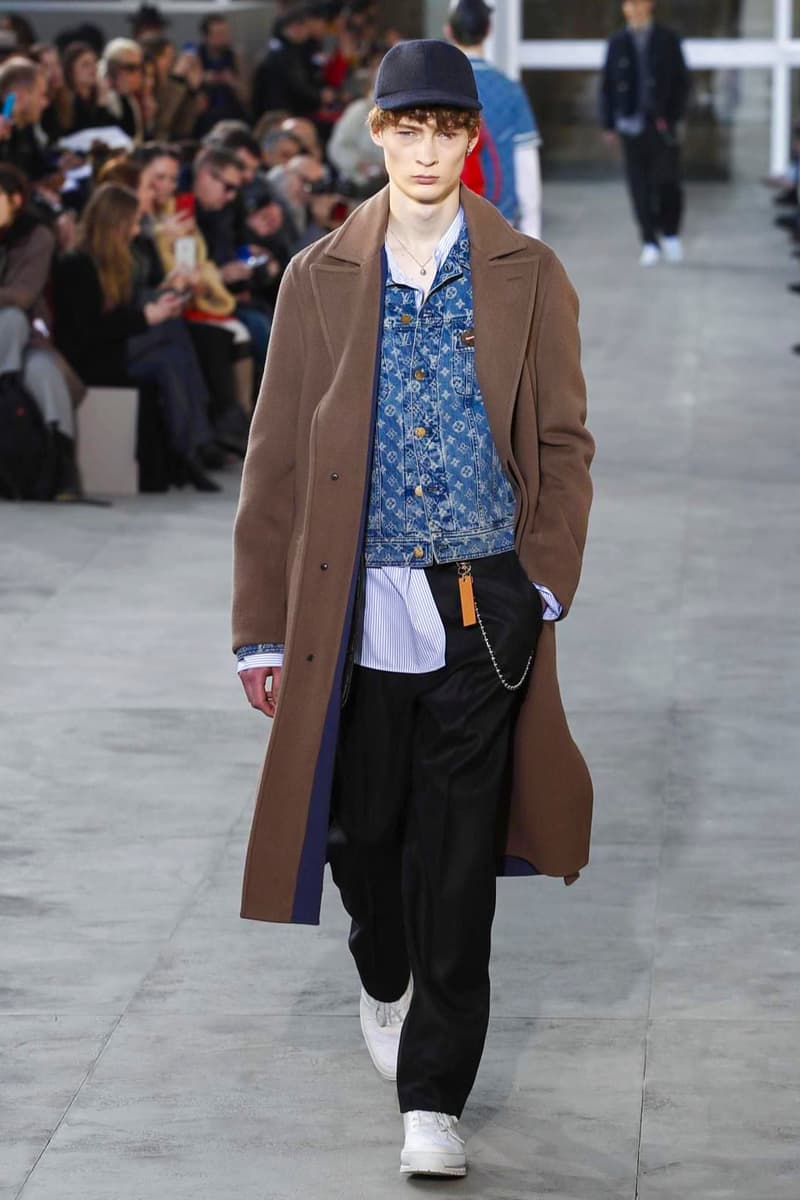 13 of 40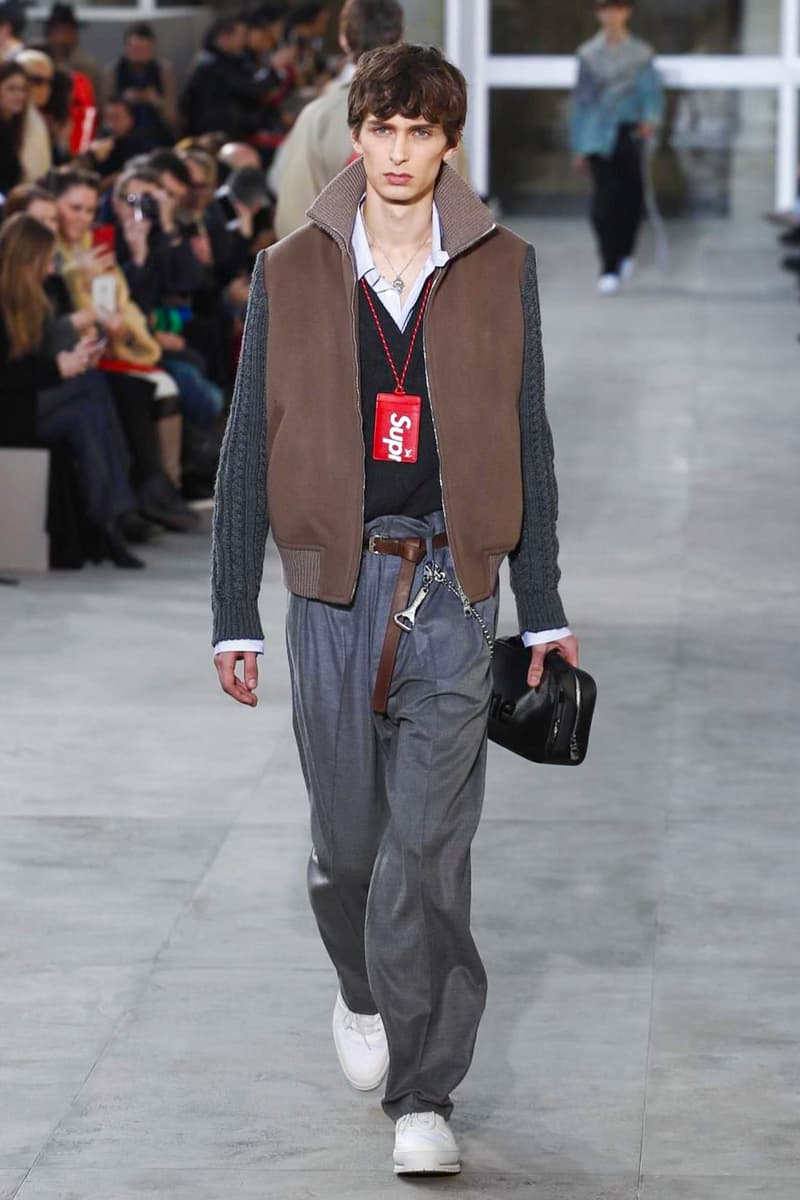 14 of 40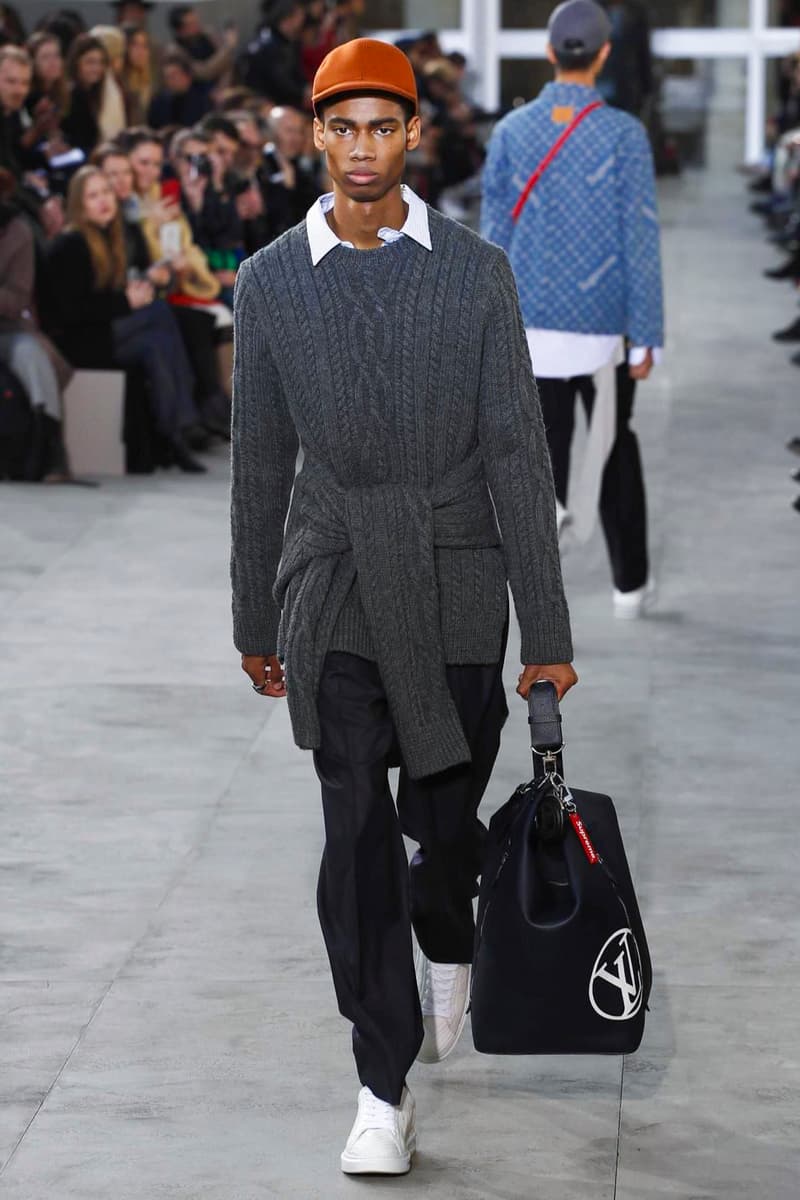 15 of 40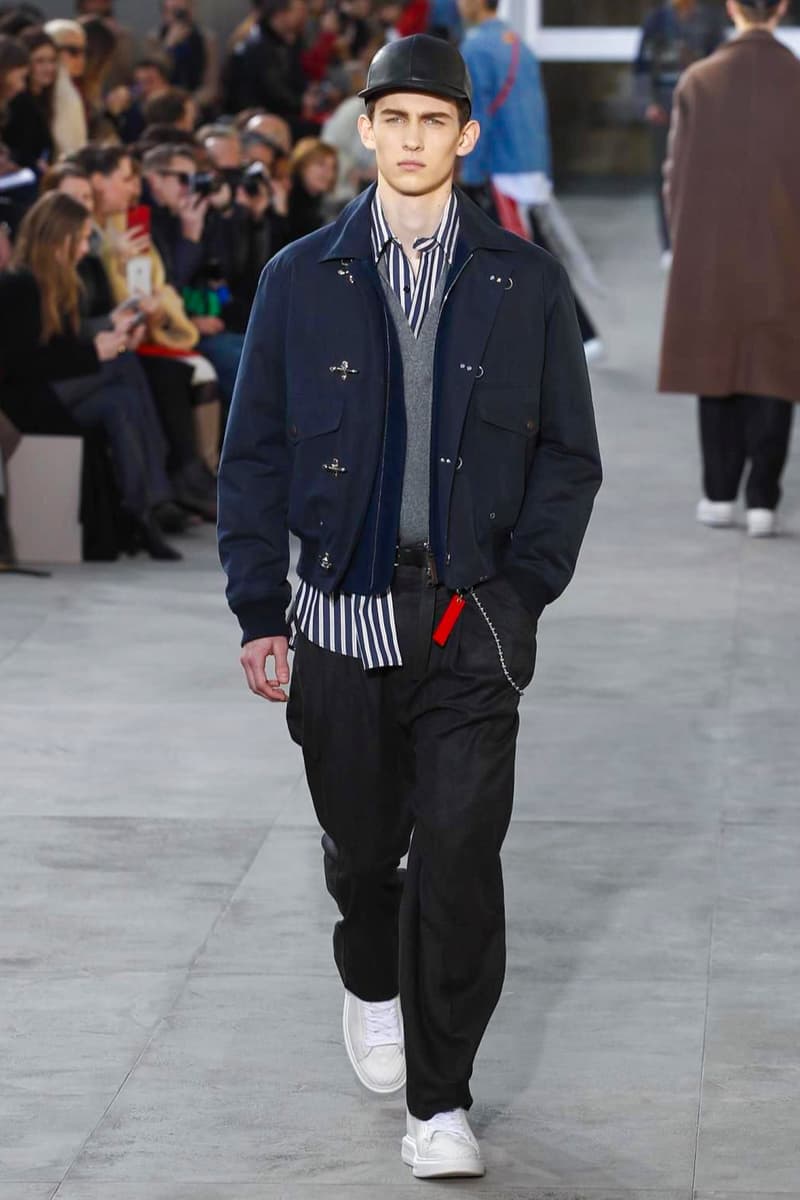 16 of 40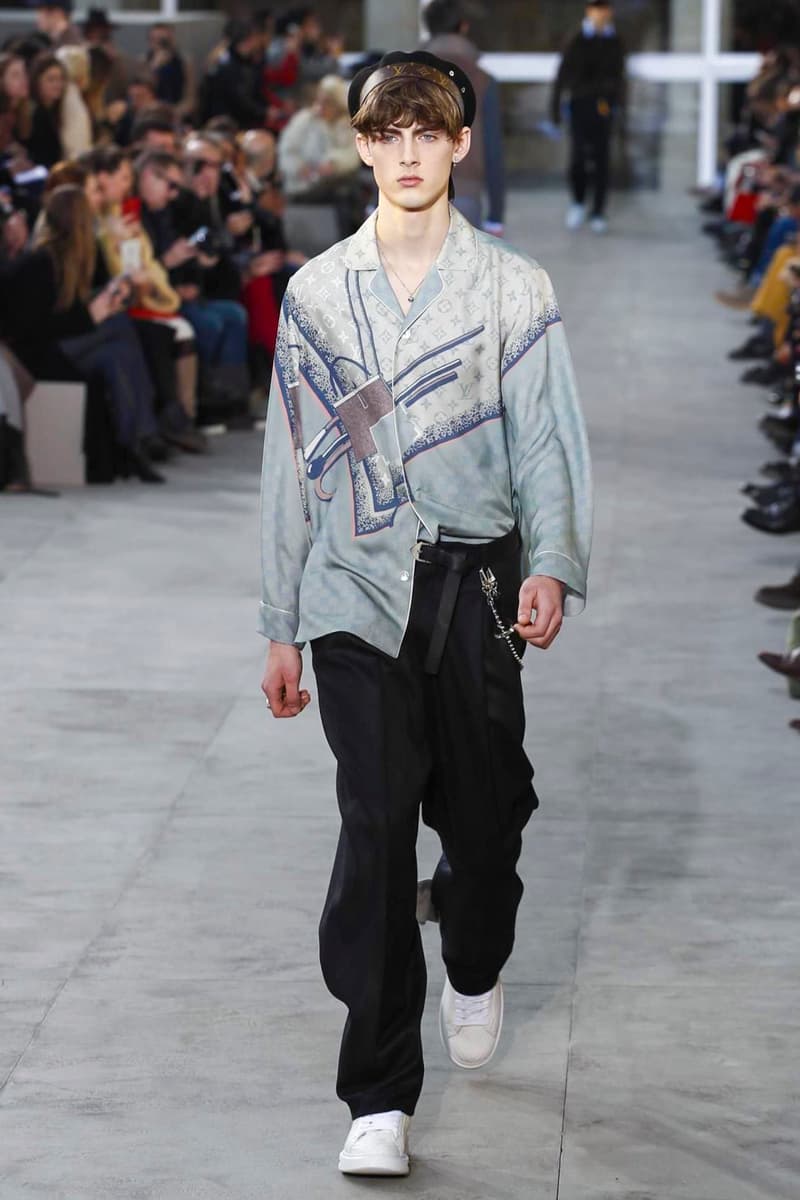 17 of 40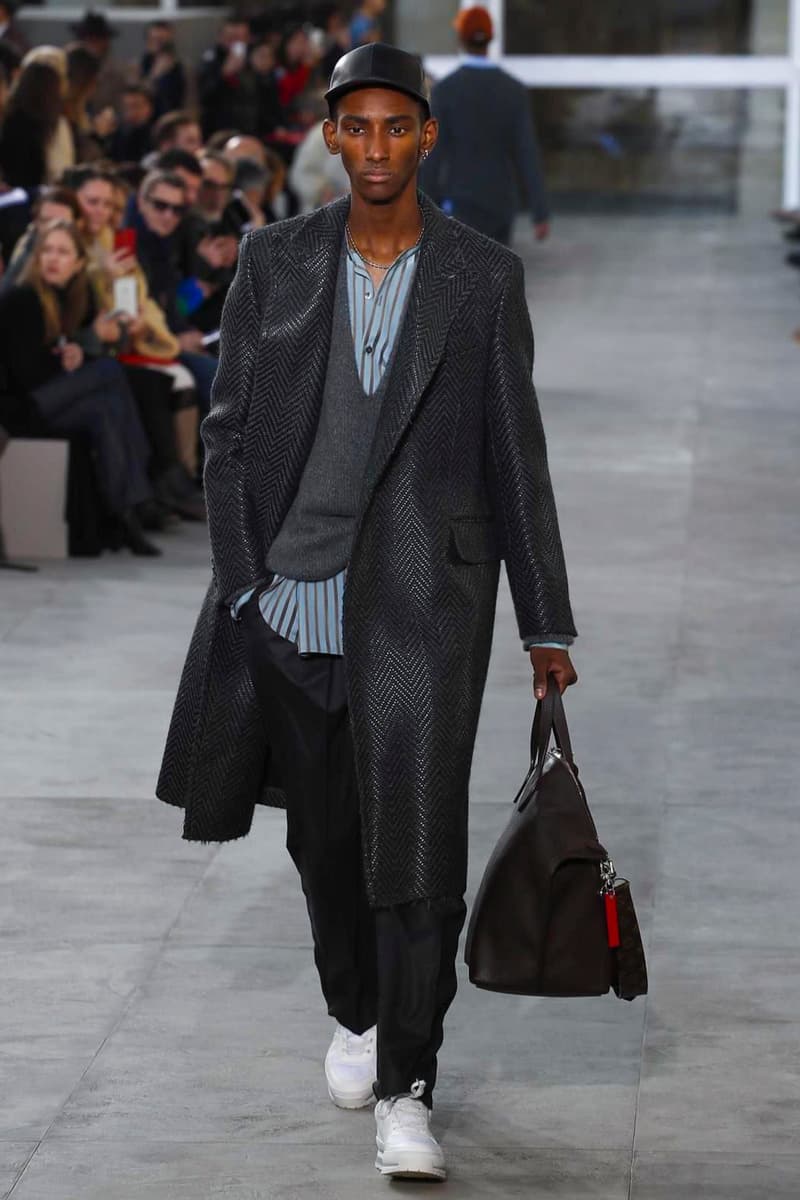 18 of 40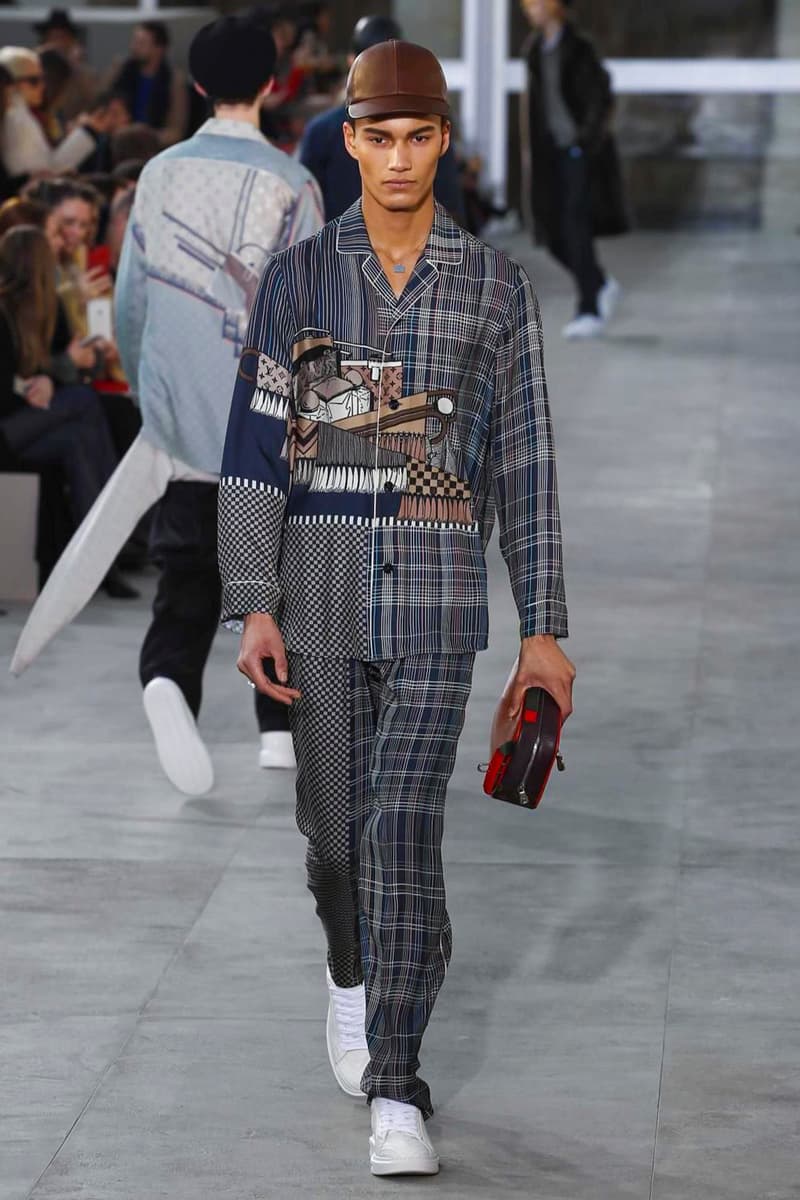 19 of 40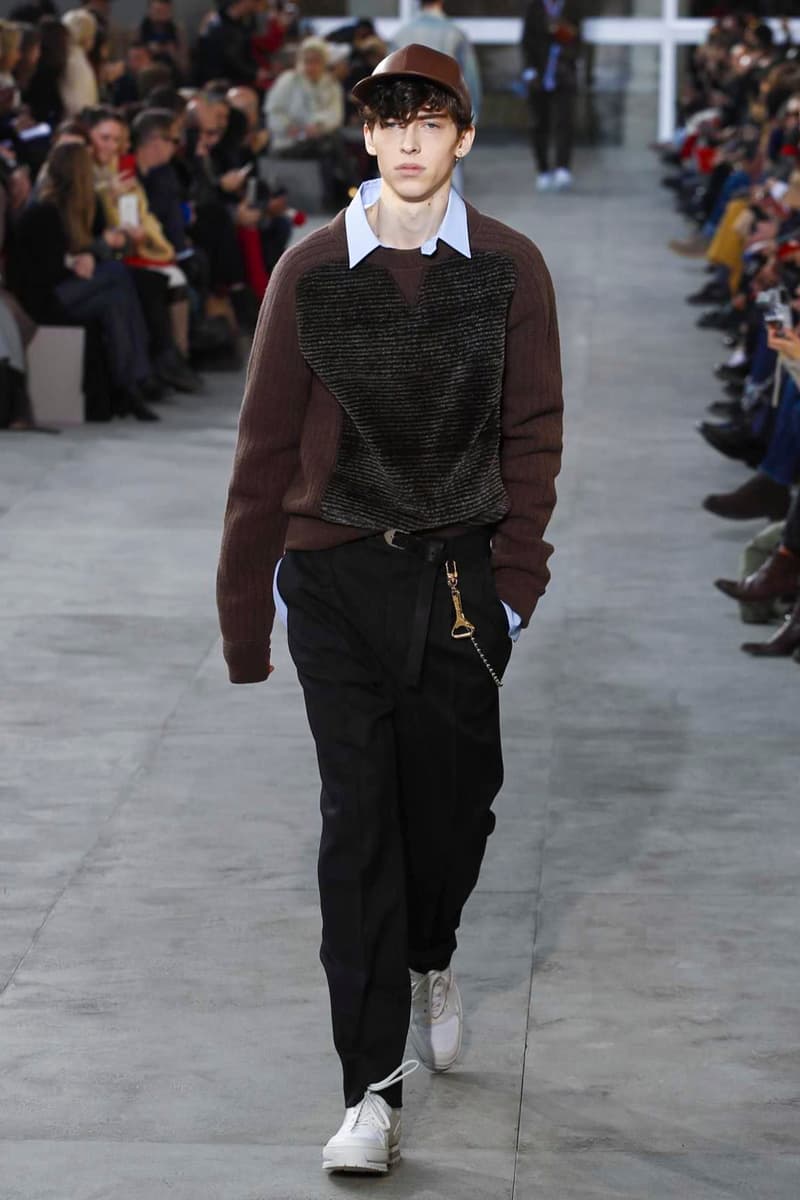 20 of 40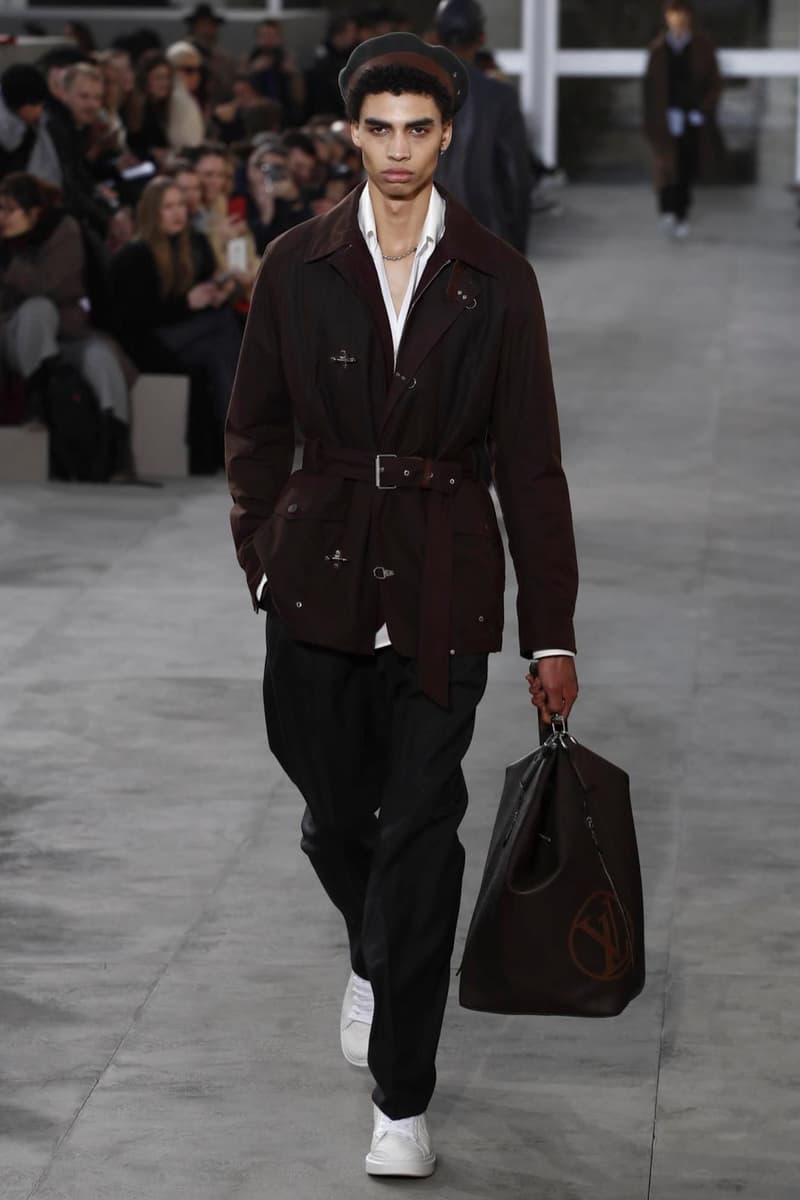 21 of 40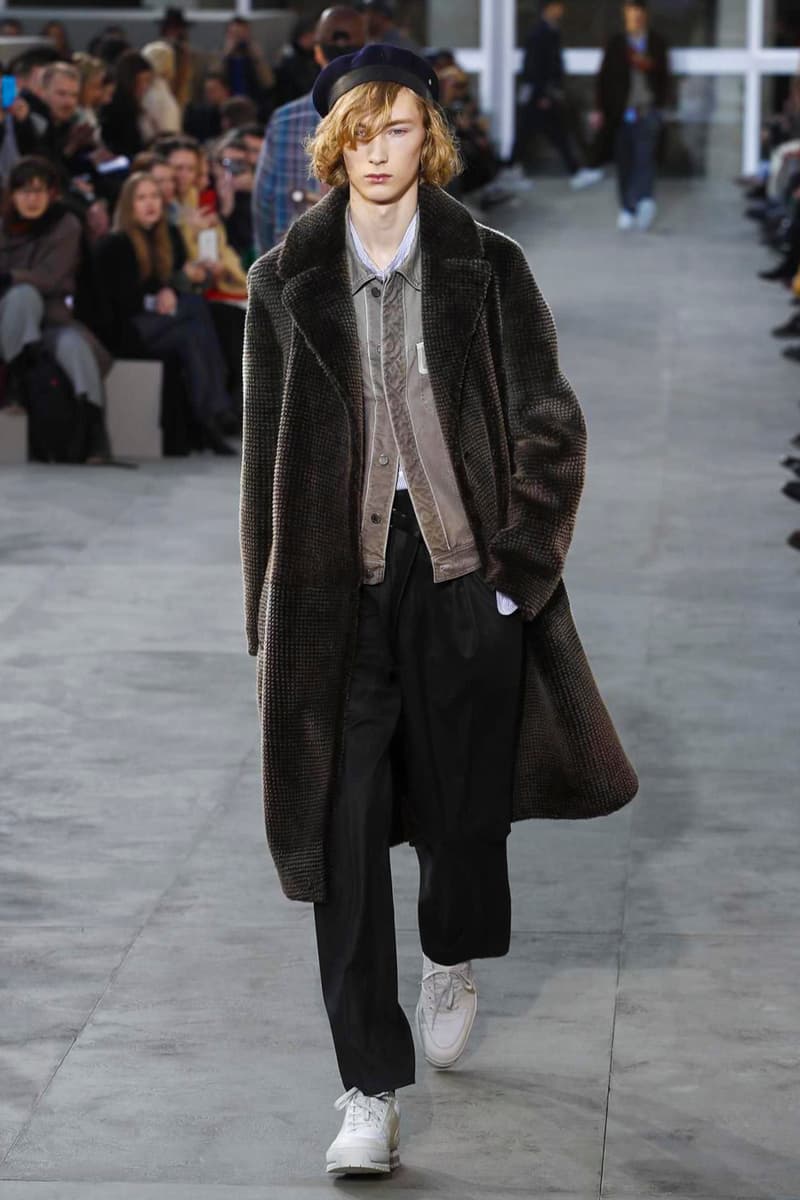 22 of 40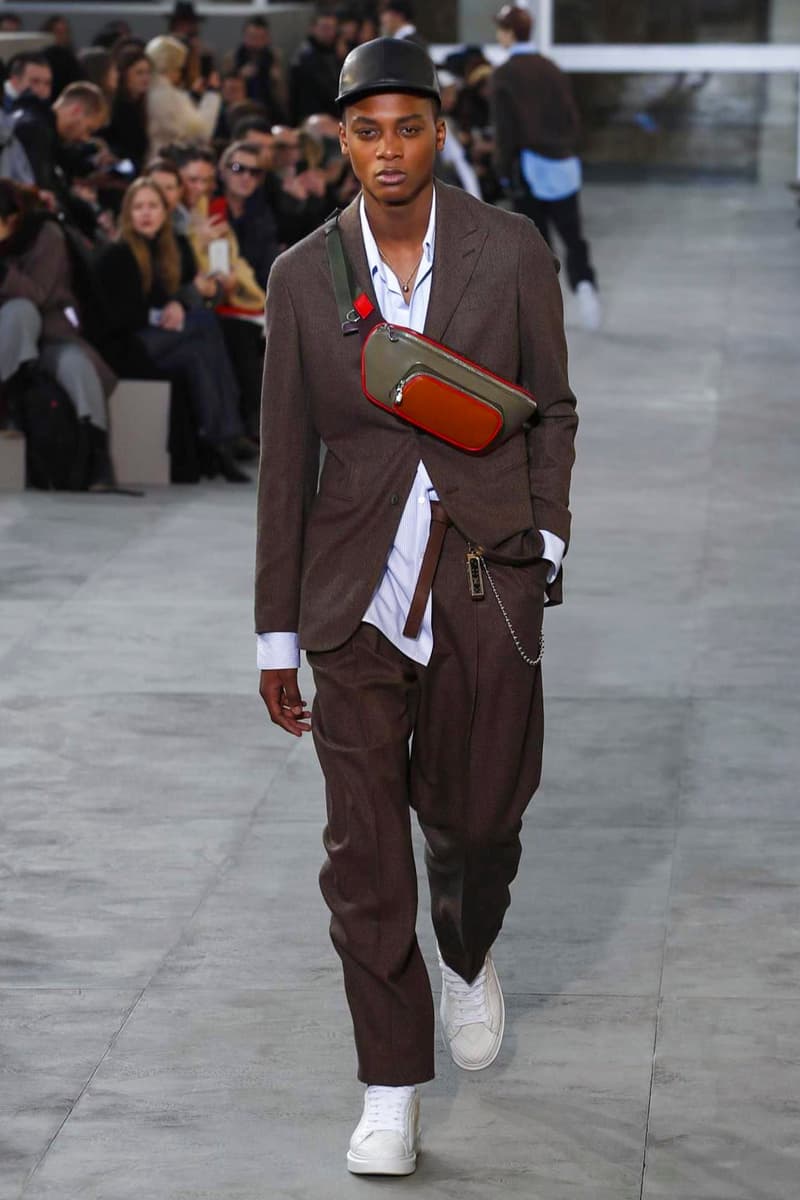 23 of 40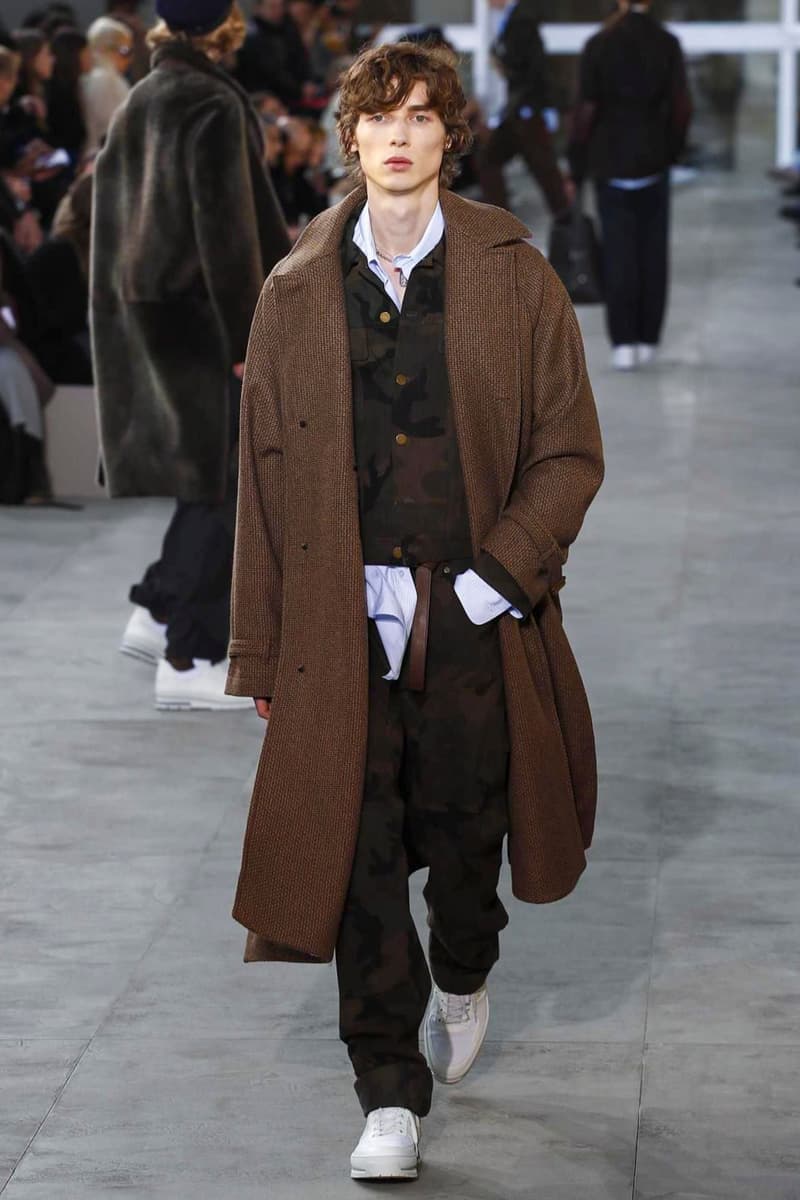 24 of 40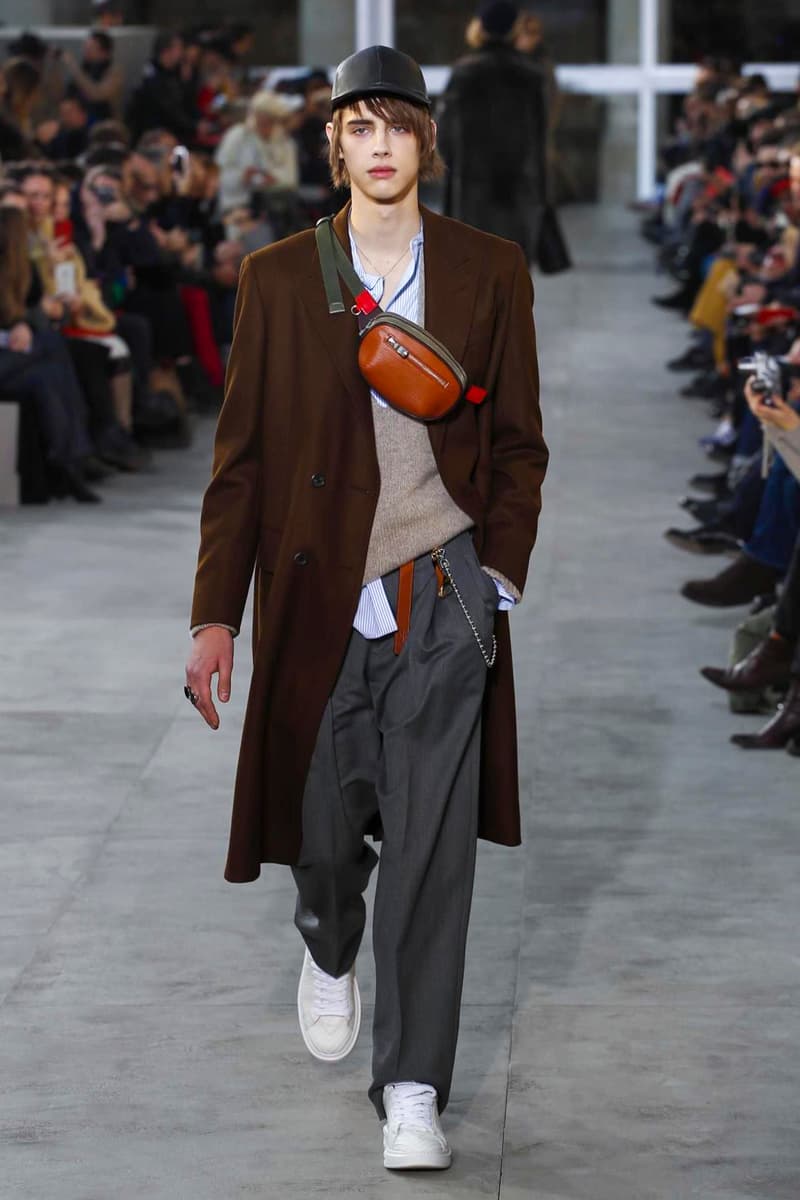 25 of 40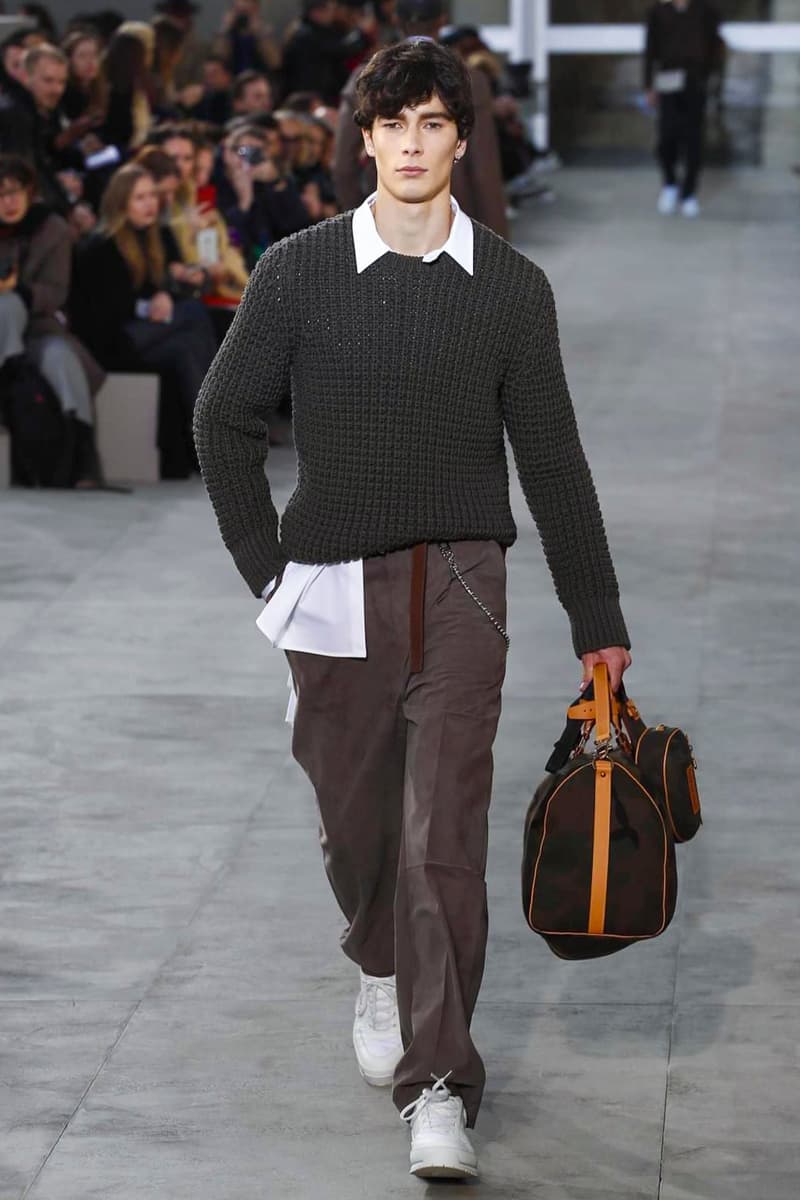 26 of 40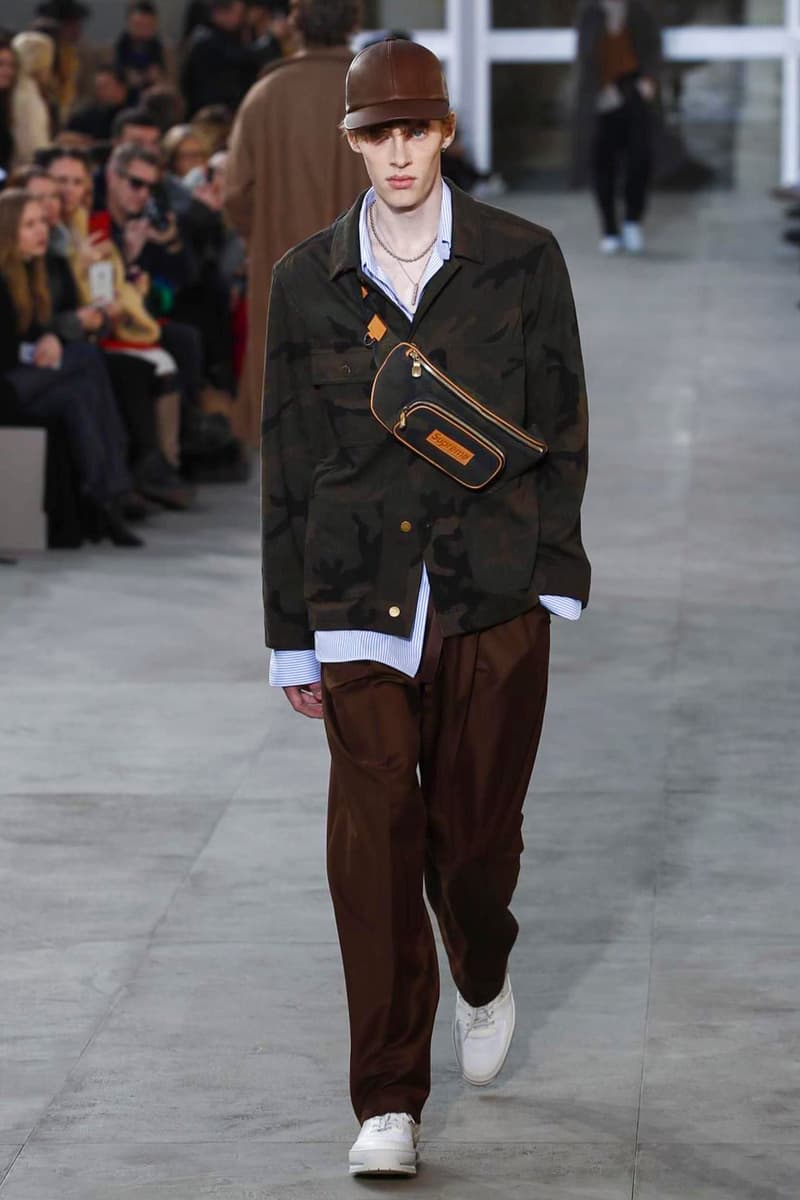 27 of 40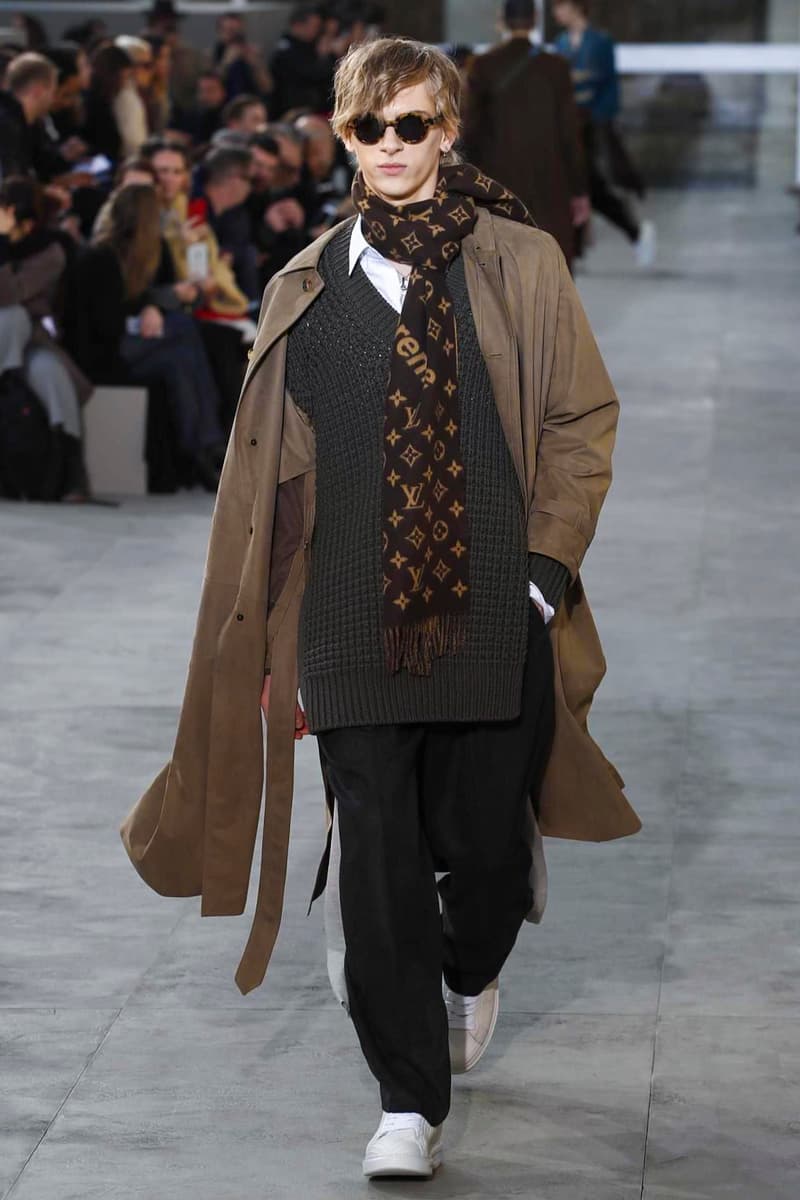 28 of 40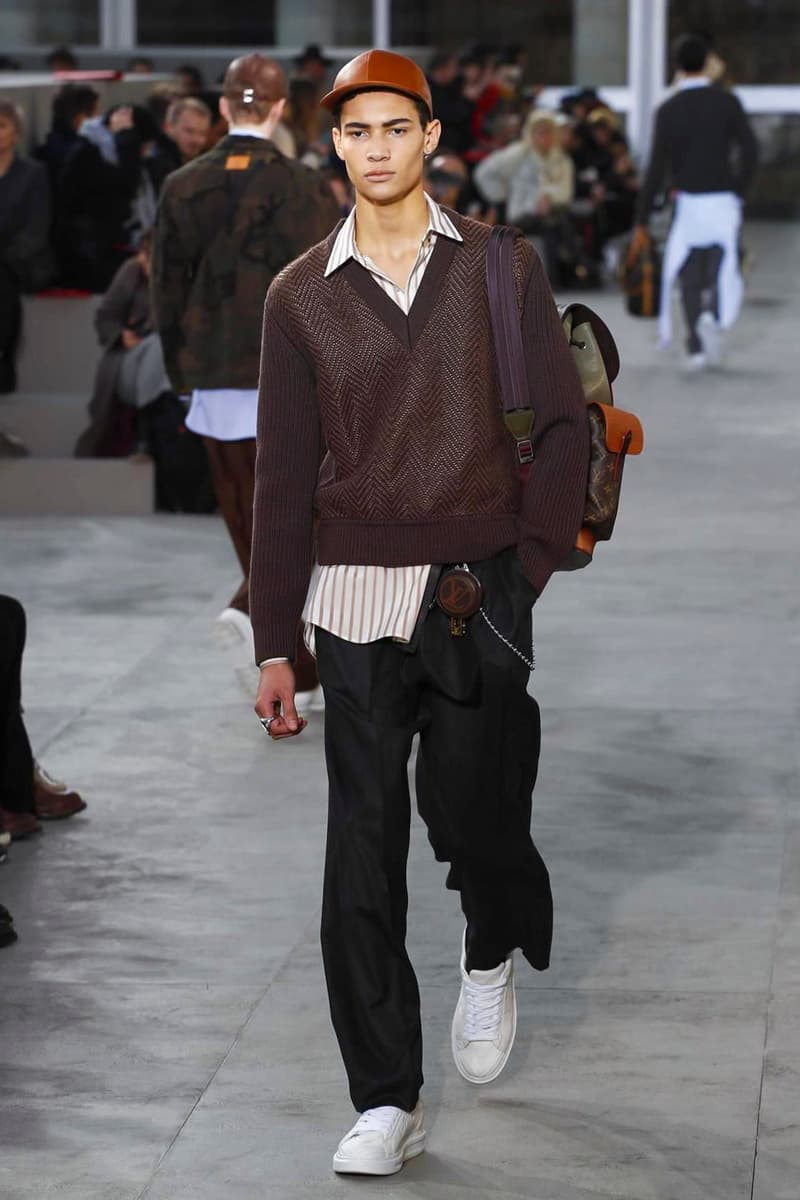 29 of 40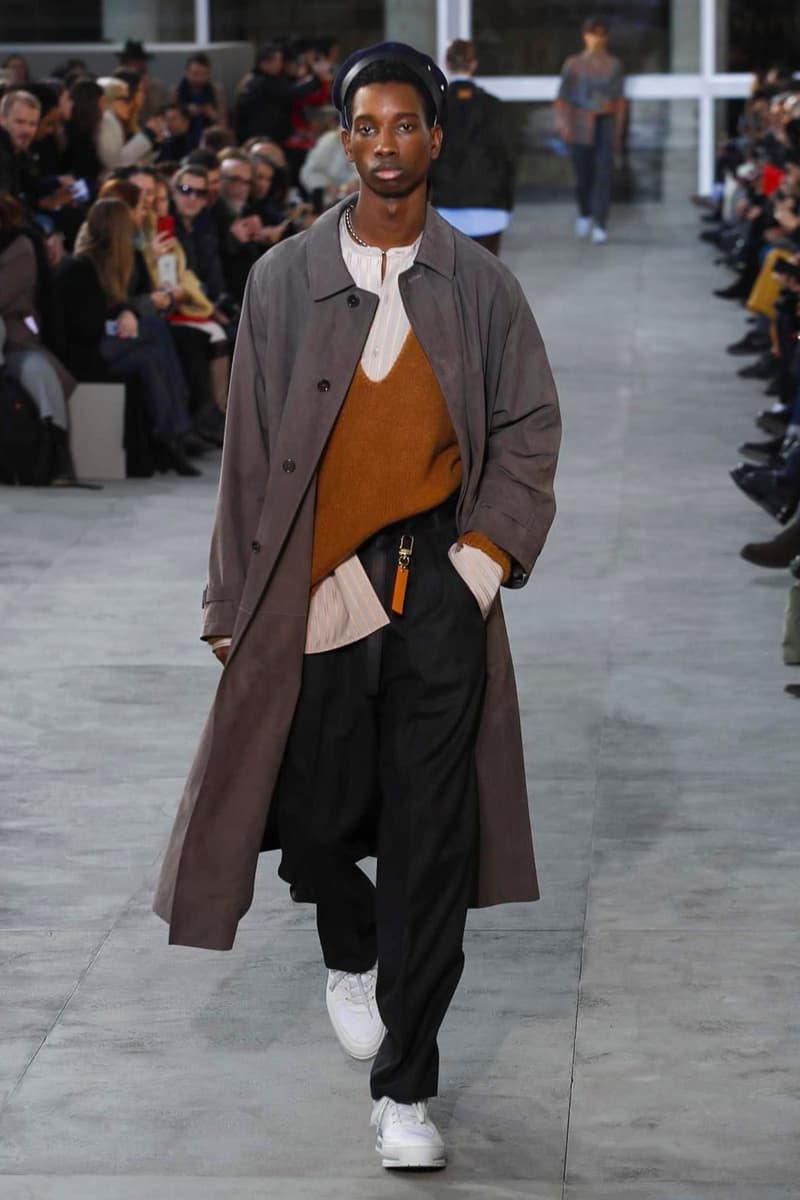 30 of 40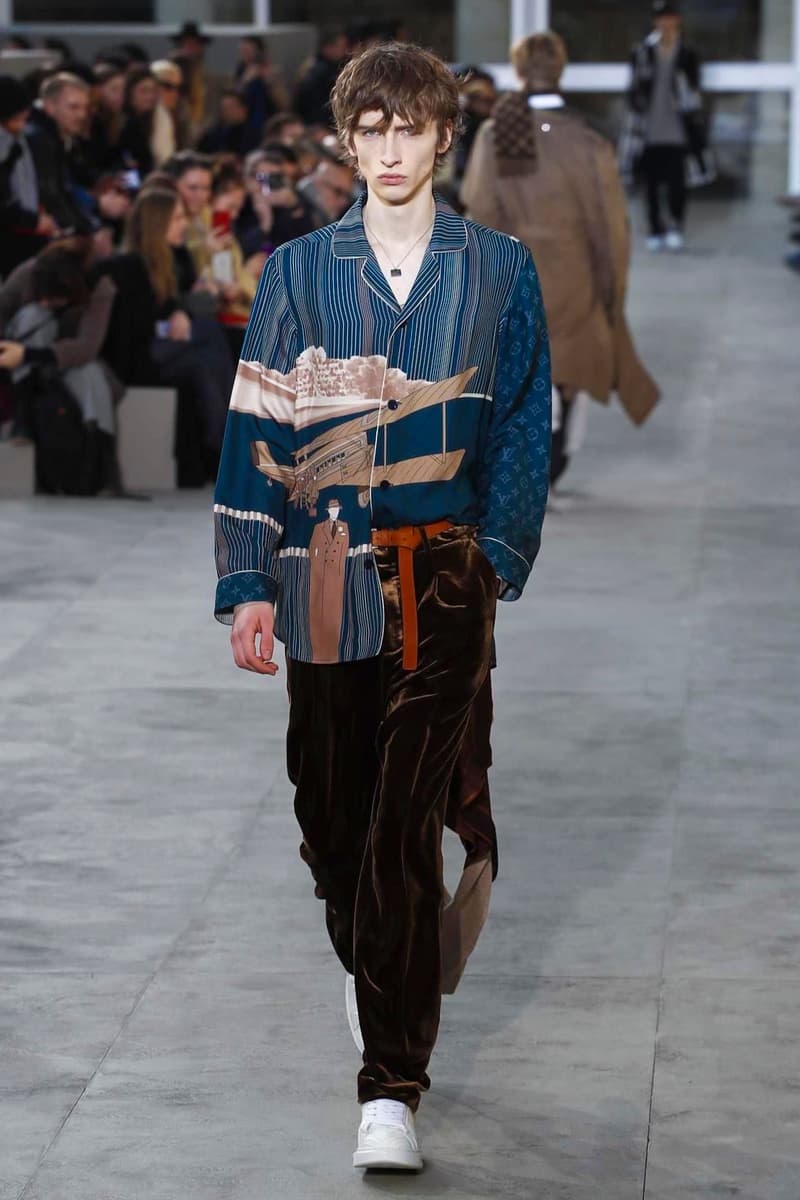 31 of 40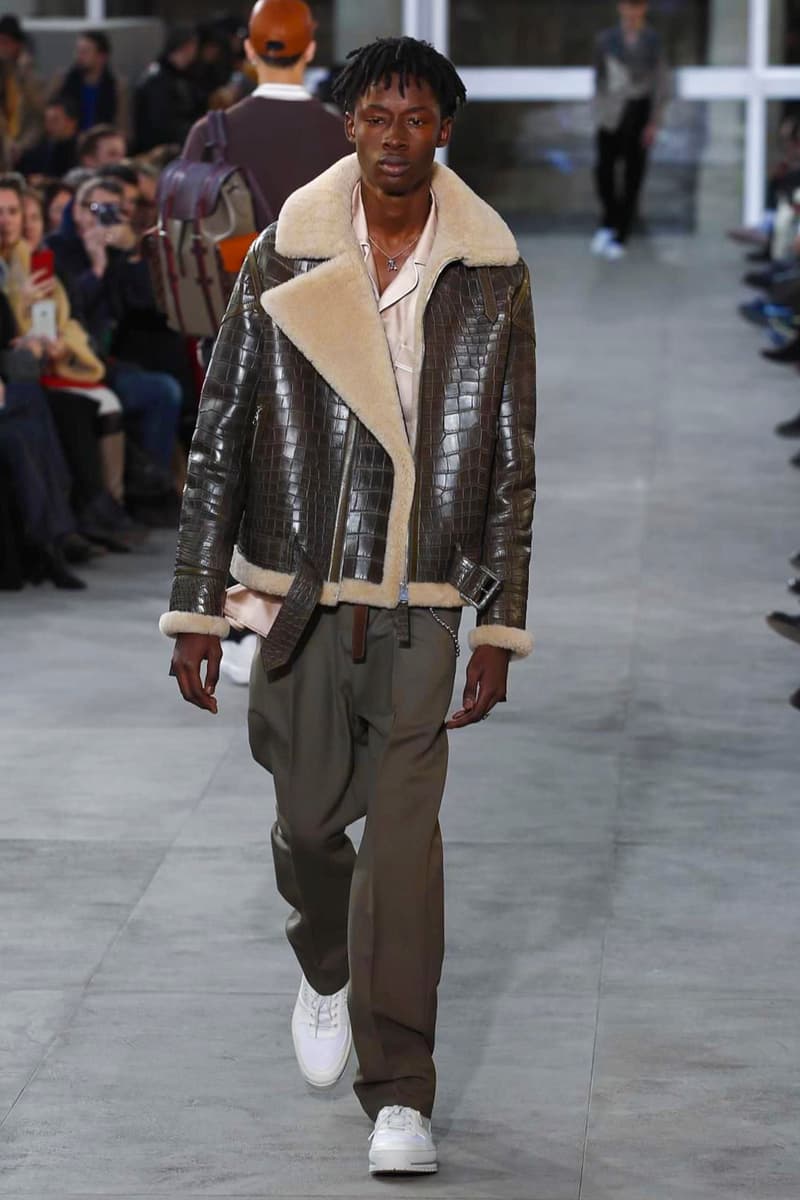 32 of 40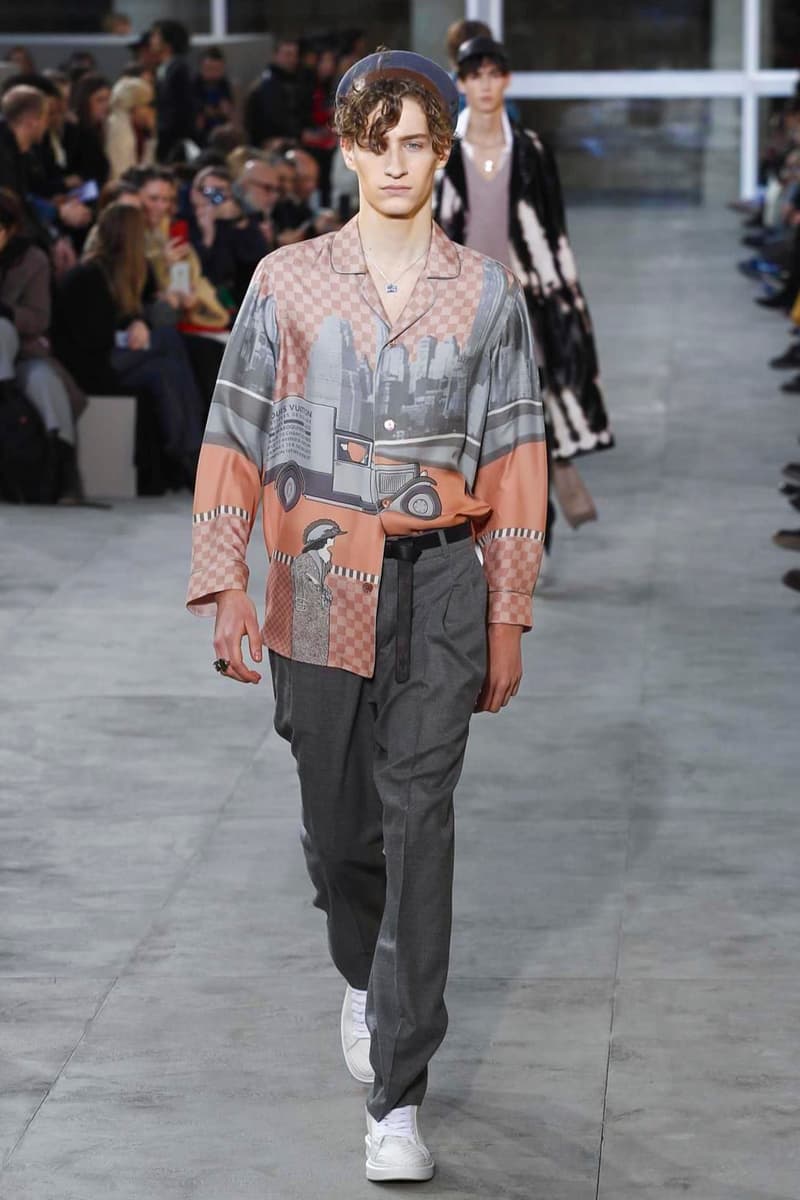 33 of 40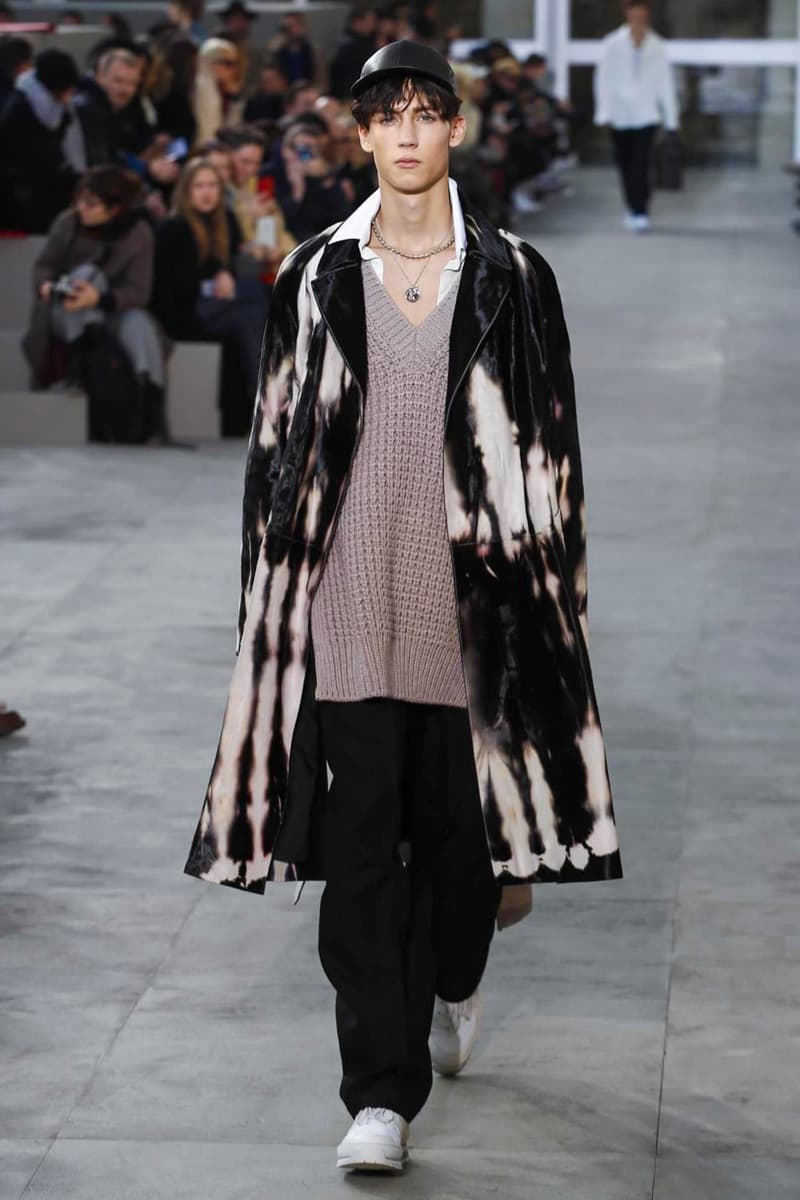 34 of 40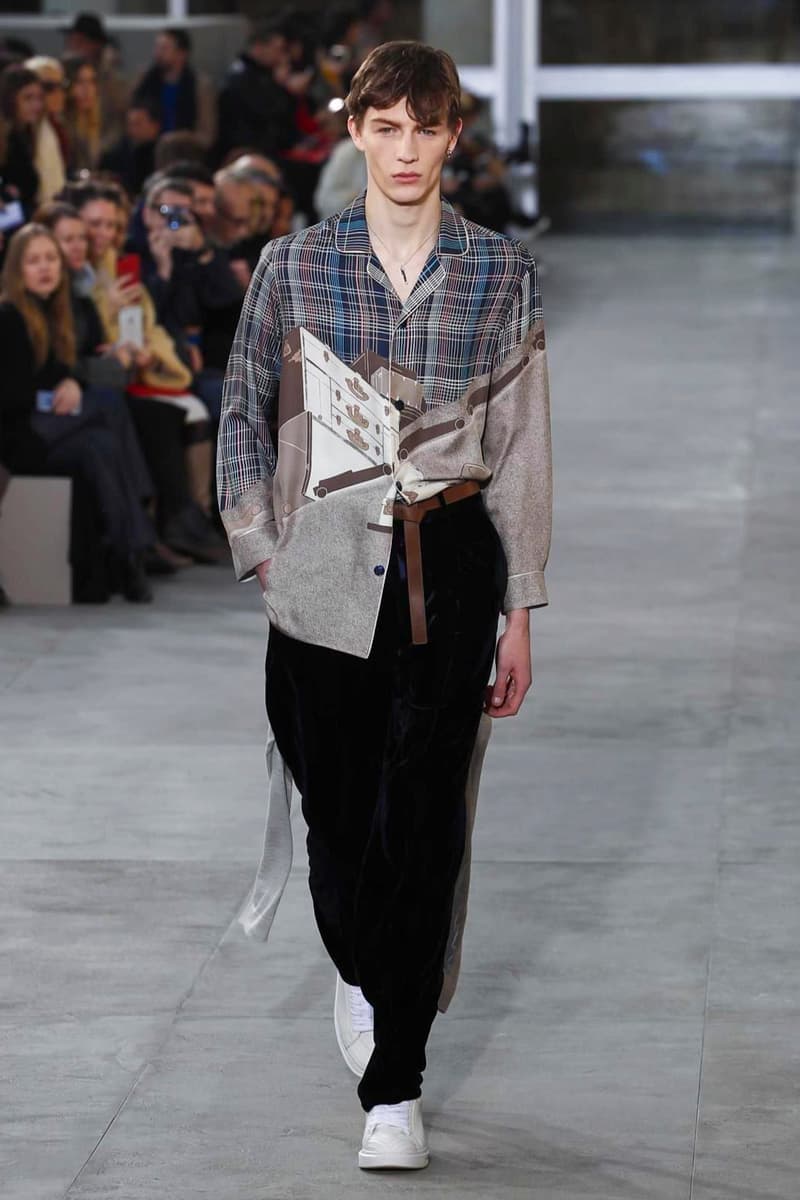 35 of 40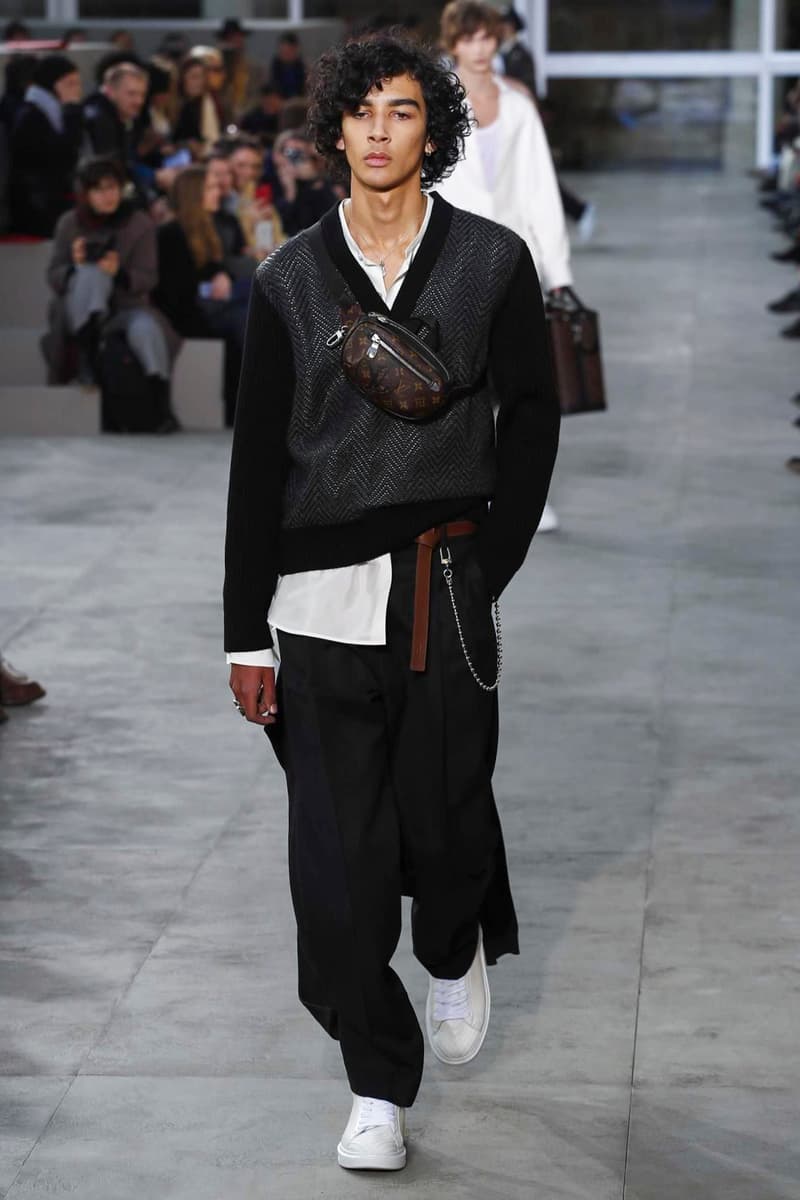 36 of 40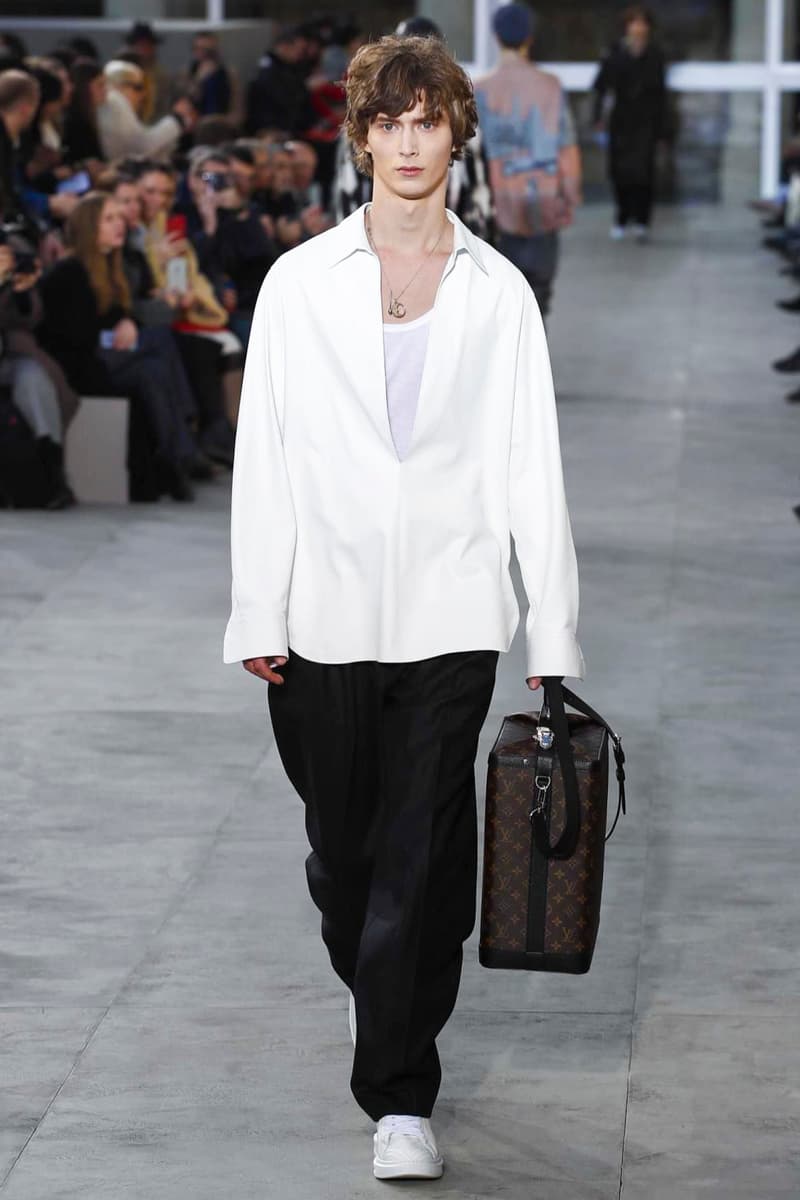 37 of 40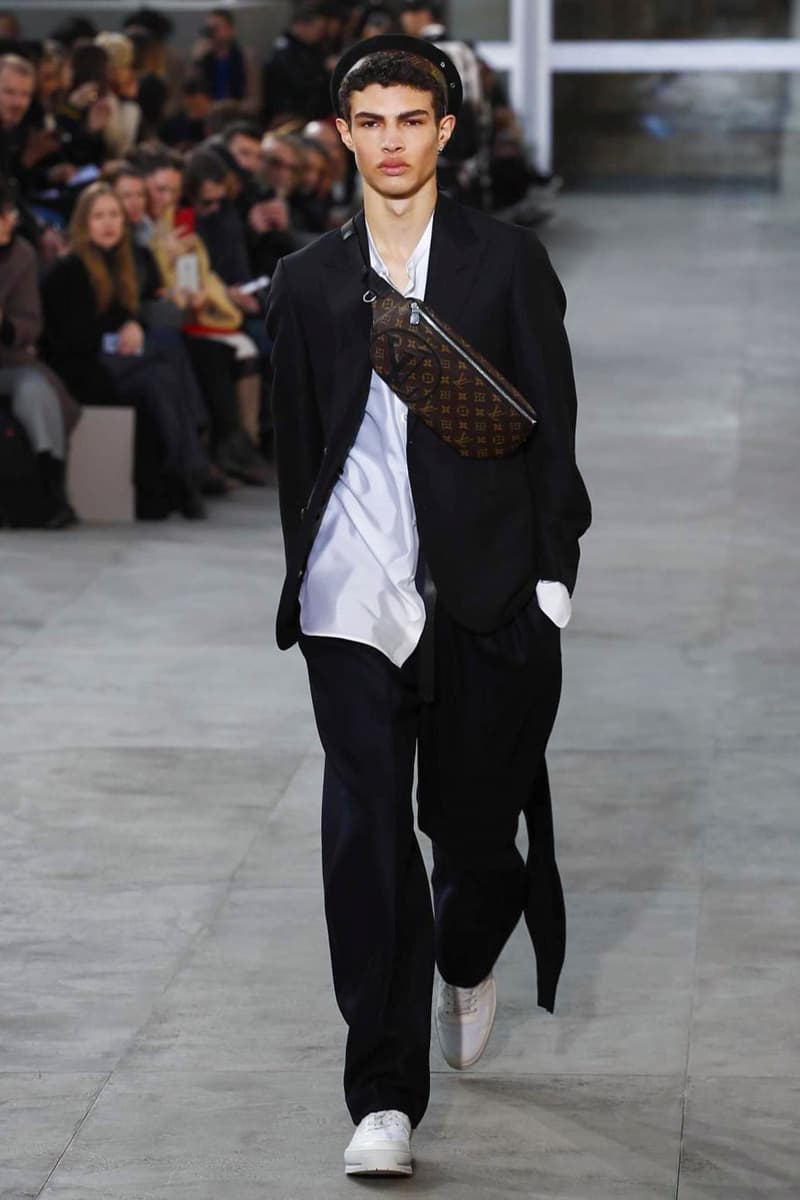 38 of 40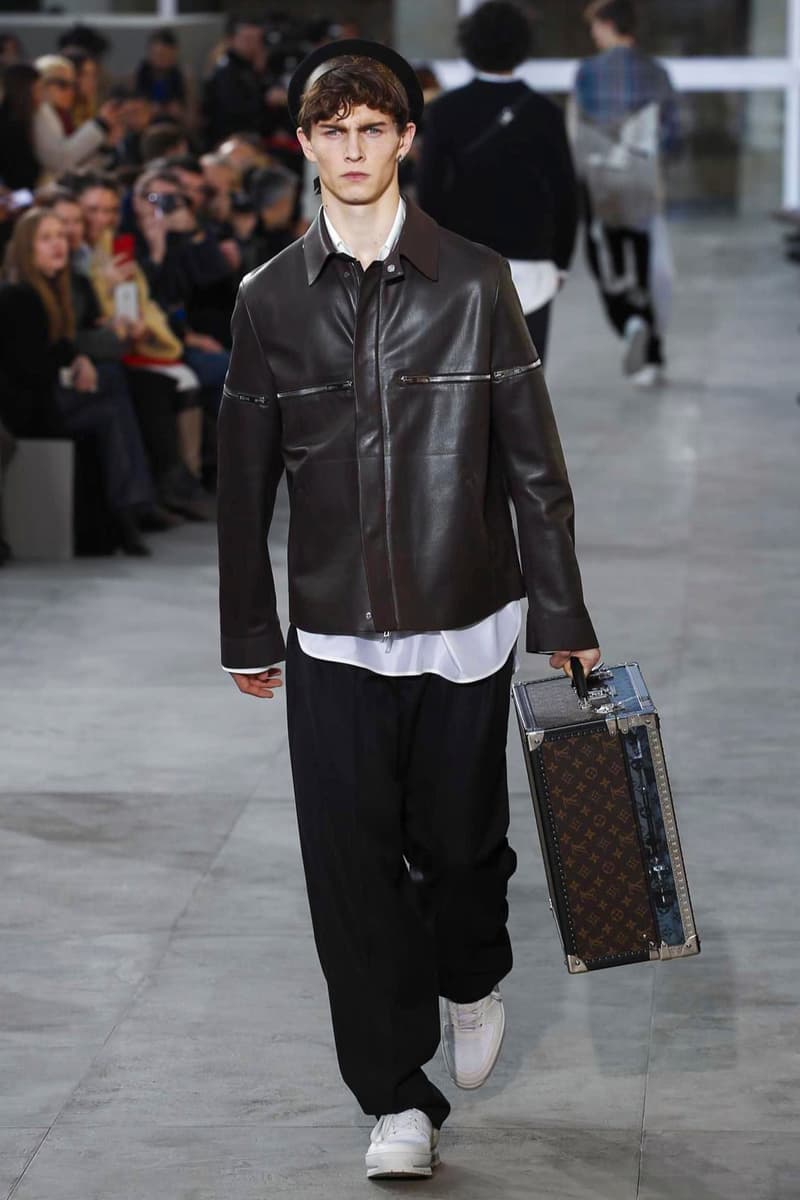 39 of 40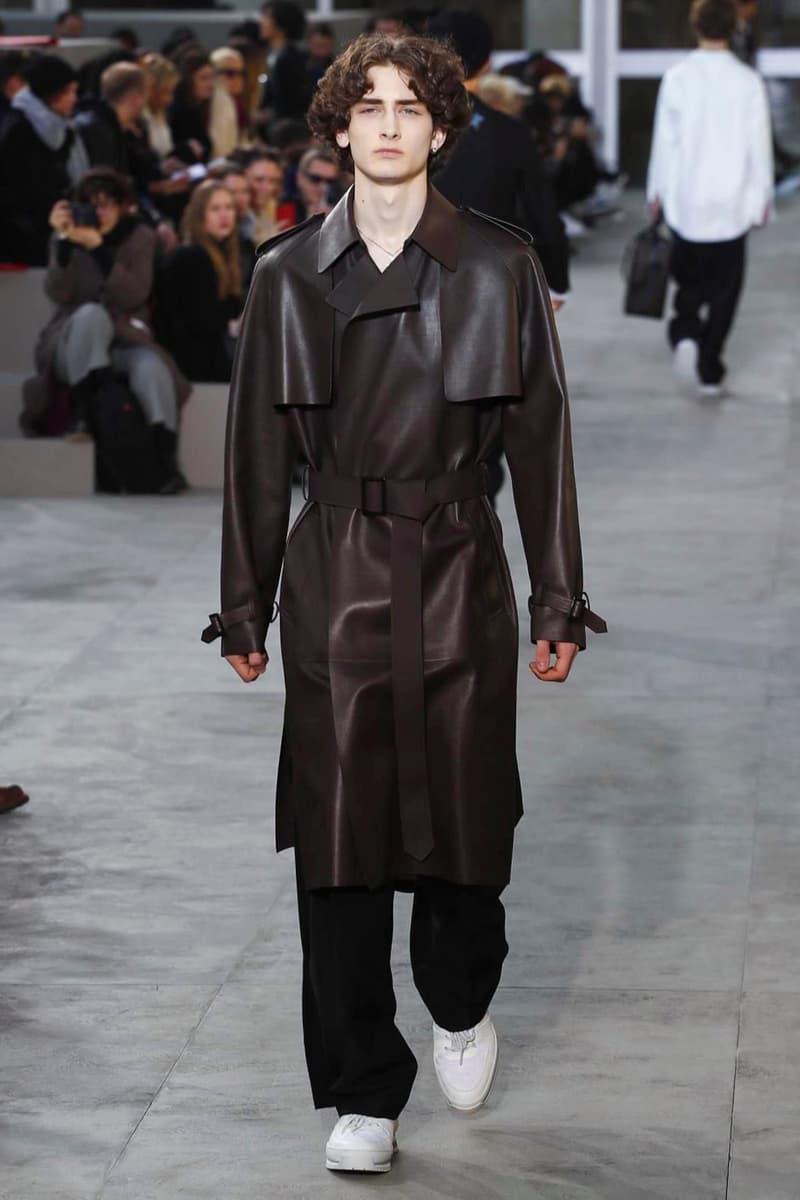 40 of 40
Fashion
Here's Every Single Item in the Supreme x Louis Vuitton 2017 Fall/Winter Collection
Kim Jones: "No New York City men's conversation is complete without Supreme."
Here's Every Single Item in the Supreme x Louis Vuitton 2017 Fall/Winter Collection
Kim Jones: "No New York City men's conversation is complete without Supreme."
The moment's here – Louis Vuitton's Fall/Winter 2017 collection included Supreme like the rumors whispered.
Kim Jones asserted prior to the show: "No New York City men's conversation is complete without Supreme." The collection was an ode to New York streetwear both "uptown and downtown."
He explained to Vogue how the collaboration came about:
"It was Michael Burke, the CEO of Louis Vuitton, called me up one day and said, 'Do you know the people at Supreme because I'm really interested in the brand and I'd like to talk to the founder,' who's James Jebbia, who I know. So I said you can get his number off me if we can do a collaboration with them!."
It's smart, but streetwear-smart. Inspiration from Manhattan artists like Basquiat and Andy Warhol come to mind with logo-heavy – thanks in no small part to the Supreme box logo – and denim-dominated looks.
The new Louis Vuitton monogram is replaced with the Supreme Bogo and showcased on denim Jacquard camo. It's dedicated to "the city's friends and heroes."
Check out the looks above and take a closer look at select items via Vogue and Instagram below.
1 of 9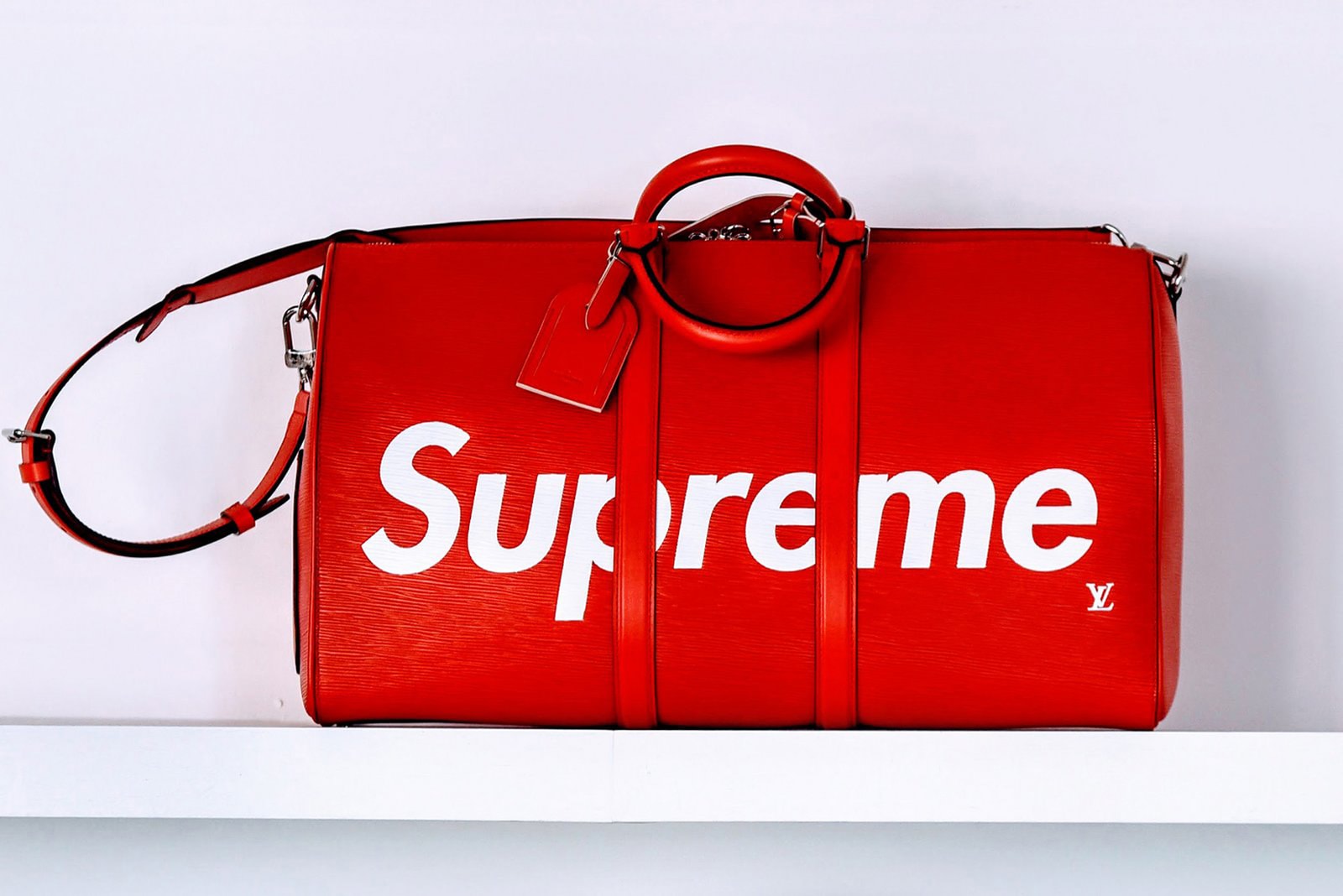 2 of 9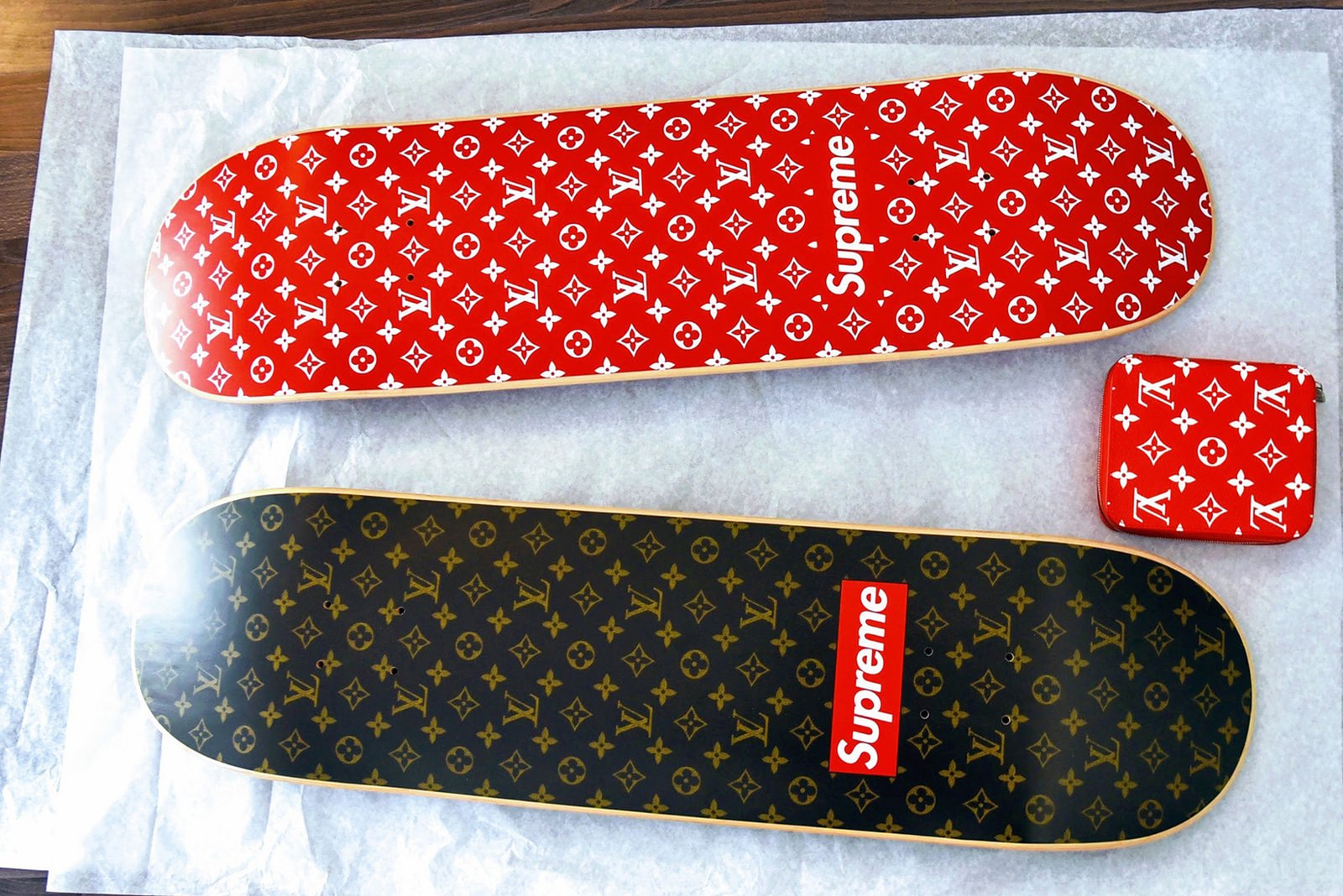 3 of 9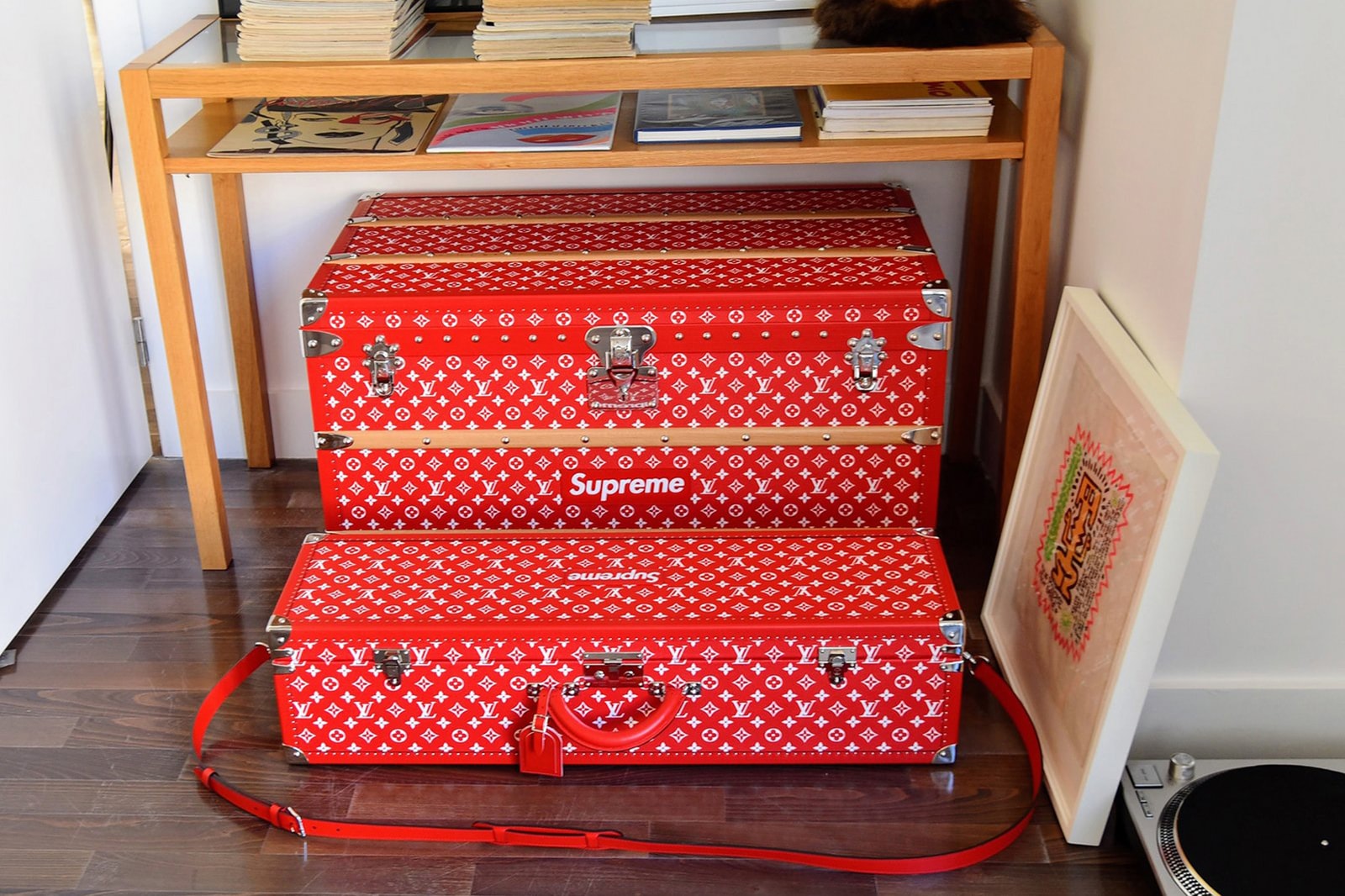 4 of 9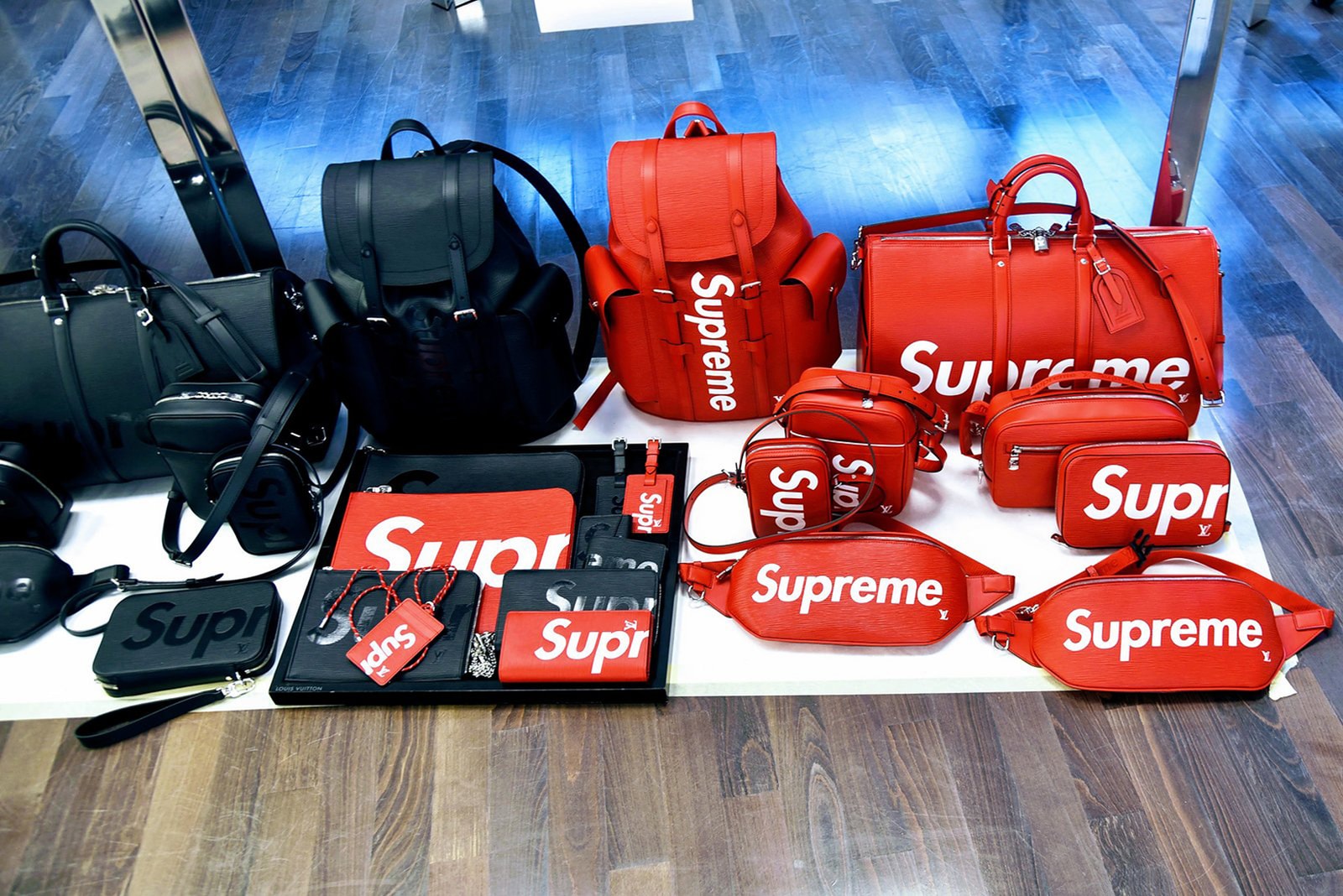 5 of 9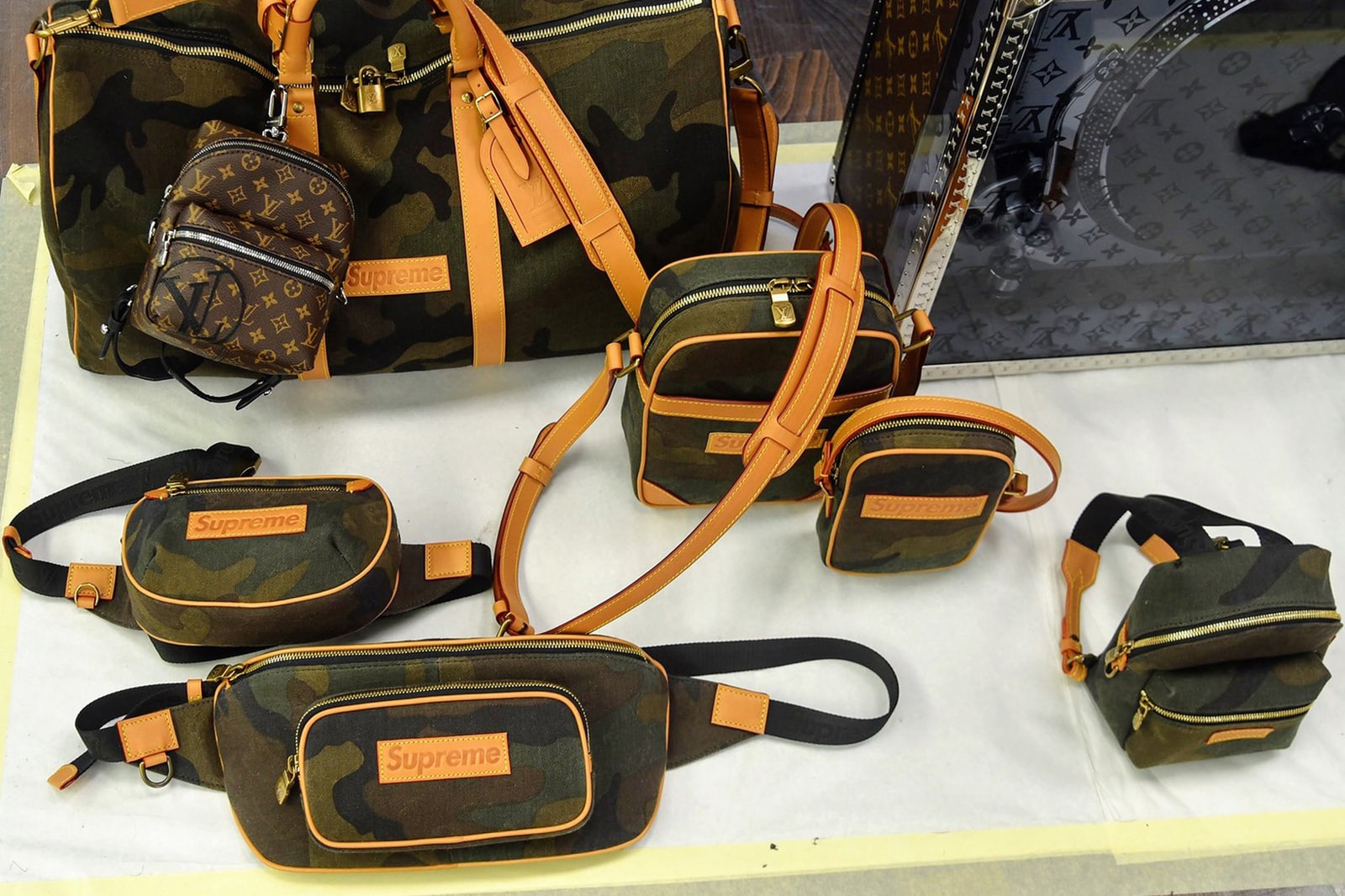 6 of 9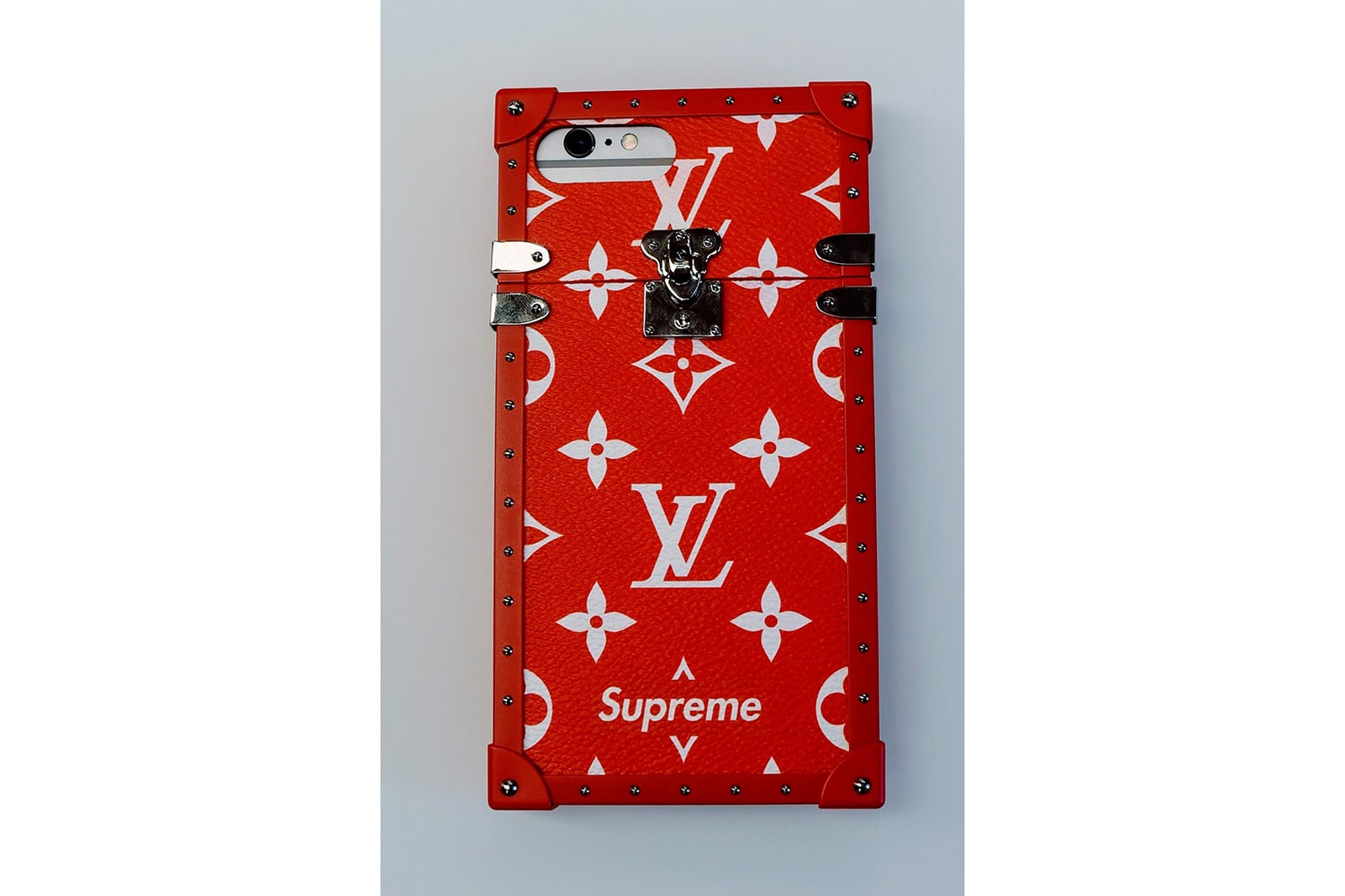 7 of 9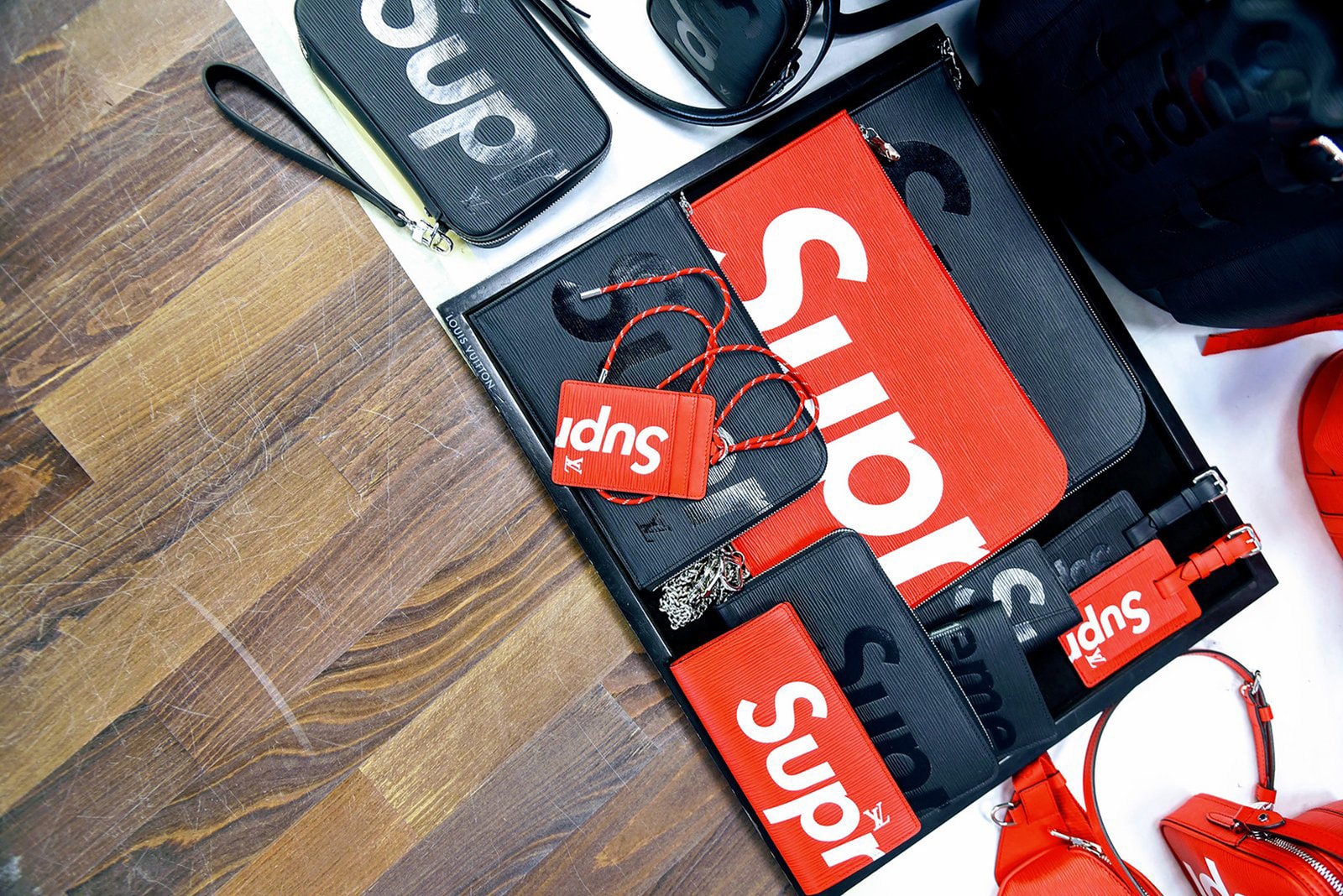 8 of 9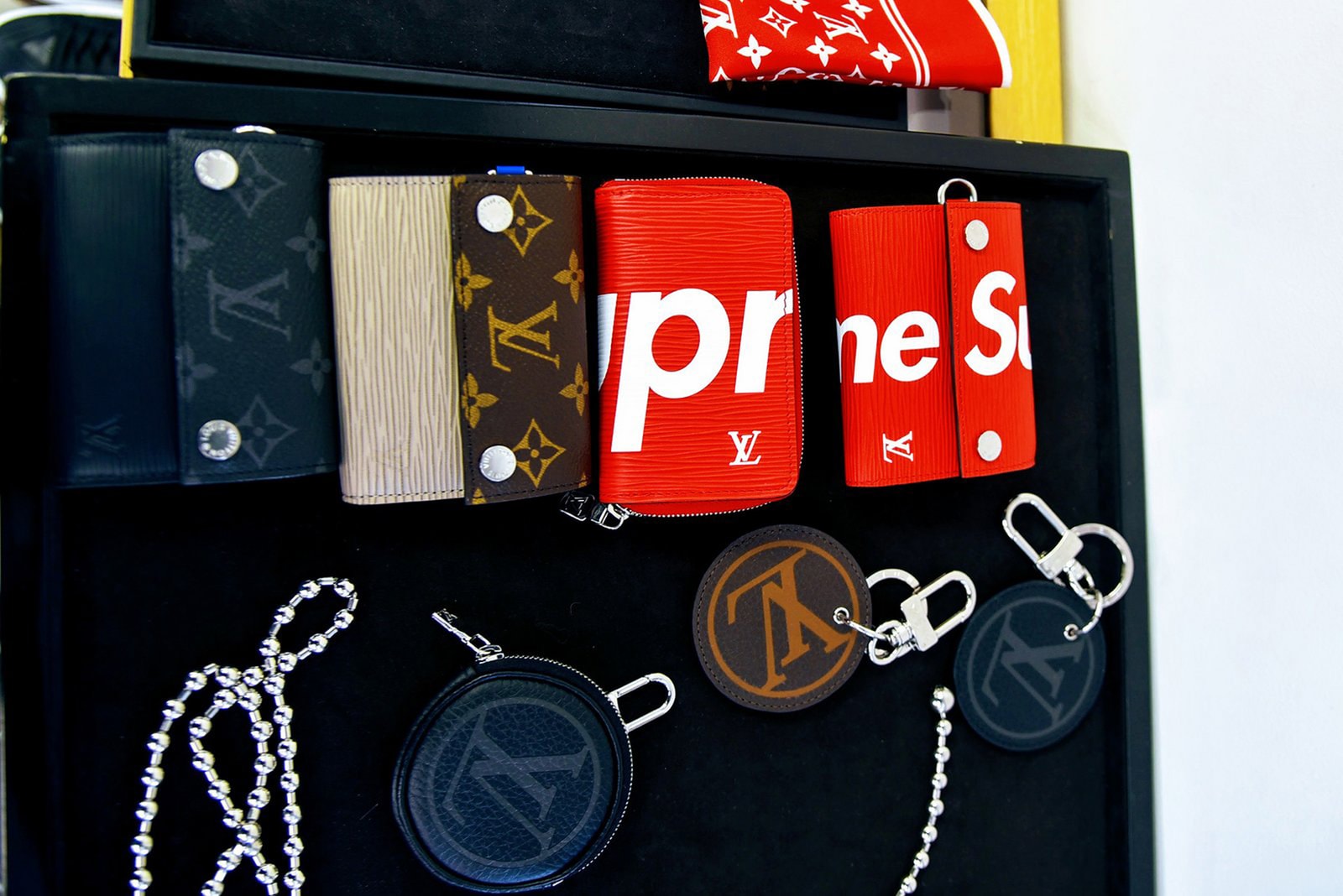 9 of 9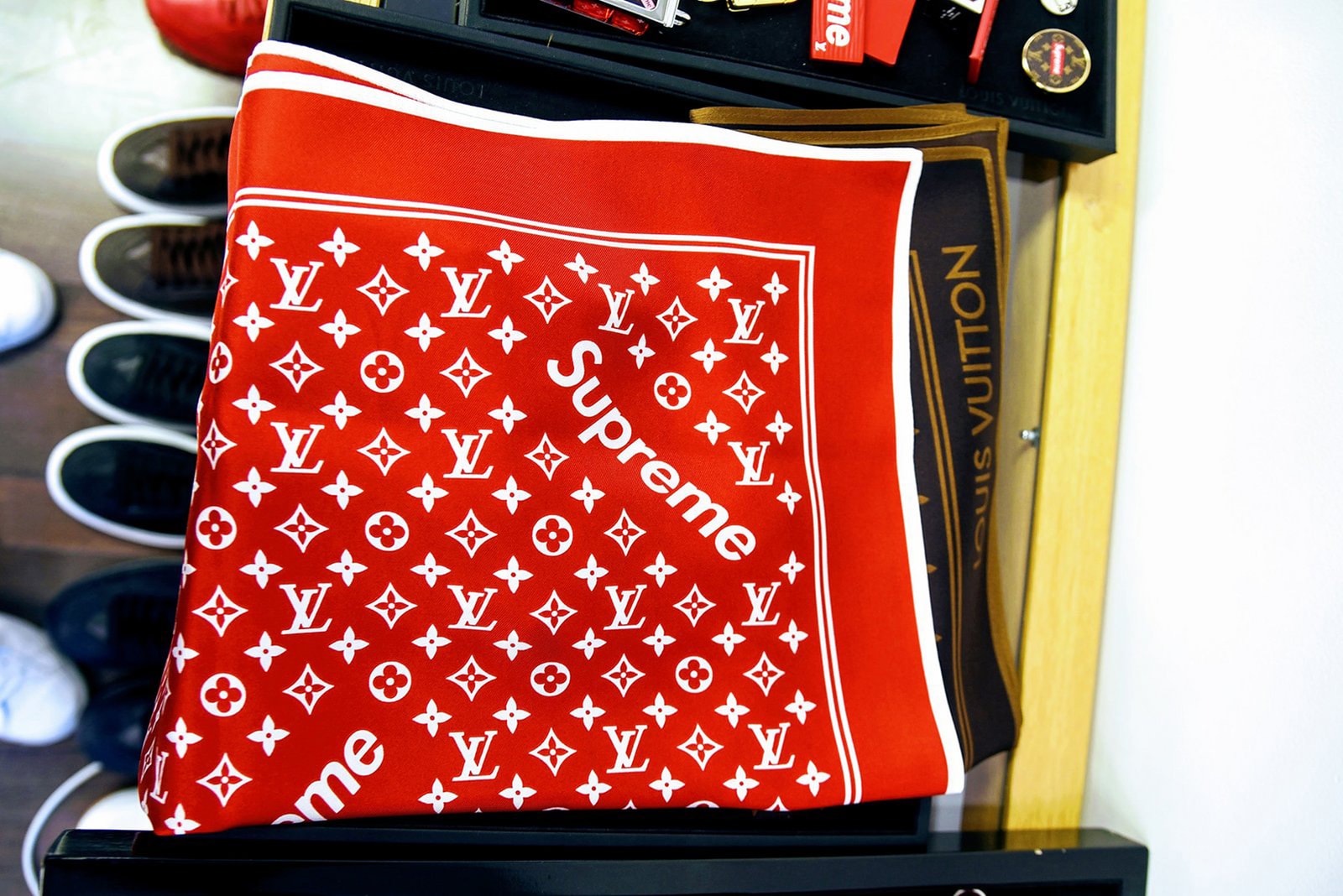 Look 1
Gold Louis Vuitton x Supreme Bottle Opener on a Silver Beads Wallet Chain
Red Epi Louis Vuitton x Supreme Bum Bag
Look 2
Silver LV Pendant Necklace
Red Epi Louis Vuitton x Supreme Keepall
Look 3
Gold Louis Vuitton x Supreme Dice Holder on a Silver Beaded Wallet Chain
Look 4
Silver LV Pendant Necklace
Red Epi Louis Vuitton x Supreme Zippy Wallet
Look 5
Ivory Wool Chunky Waffle Knit V-neck Long Sweater
Black Epi Louis Vuitton x Supreme Bum Bag
Look 6
Tanned Cowhide Leather Louis Vuitton x Supreme Charm on a Silver Wallet Chain
Black Epi Louis Vuitton x Supreme Wallet
Black Epi Louis Vuitton x Supreme Card Holder
Brown Louis Vuitton x Supreme Monogram Handkerchief
Look 7
Red Epi Louis Vuitton x Supreme Wallet
Brown Louis Vuitton x Supreme Monogram Handkerchief
Look 8
Silver LV Pendant Necklace
Red Epi Louis Vuitton x Supreme Trousse Toilette
Look 10
Red Epi Louis Vuitton x Supreme Christopher Backpack
Red Epi Louis Vuitton x Supreme Wallet and Charm on a Silver Wallet Chain
Look 11
Red Epi Louis Vuitton Supreme Danube Messenger Bag
Look 12
Indigo washed Louis Vuitton x Supreme Monogram Barn Jacket
Red Epi Louis Vuitton Supreme Danube Messenger Bag
Red and White Louis Vuitton x Supreme Handkerchief
Look 13
Indigo washed Denim Louis Vuitton x Supreme Monogram Jeans Jacket
Monogram Macassar and Silver and Red Louis Vuitton x Supreme Badges
Tanned Cowhide Leather Louis Vuitton x Supreme Charm on a Silver Wallet Chain
Look 14
Silver LV-coin and Bottle Opener Pendant Necklace
Silver LV-coin and Bottle Opener on a Silver Beaded Wallet Chain
Black Epi Louis Vuitton x Supreme Trousse Toilette
Red Epi Louis Vuitton x Supreme Card Holder
Look 15
Red Epi Louis Vuitton x Supreme Charm
Look 16
Red Epi Louis Vuitton x Supreme Charm on a Silver Beaded Wallet Chain
Red Epi Louis Vuitton x Supreme Wallet
Look 17
Silver Louis Vuitton x Supreme Bottle Opener on a Beaded Wallet Chain
Look 18
Dark Brown Cuir Taurillon Leather Zipped Cabas Tote with Red Epi Louis Vuitton x Supreme Charm
Look 19
Silver LV Flip-Coin and Monogram Macassar Signet Rings
Look 20
Gold Louis Vuitton x Supreme Bottle Opener on a Silver Beaded Wallet Chain
Black Epi Louis Vuitton x Supreme Wallet
Black Epi Louis Vuitton x Supreme Zipped Wallet
Look 23
Gold Louis Vuitton x Supreme Dice Holder on a Silver Beaded Wallet Chain
Look 24
Khaki Louis Vuitton x Supreme Camouflage Denim Jacket
Khaki Louis Vuitton x Supreme Camouflage Carpenter Pants
Look 25
Gold Louis Vuitton x Supreme Bottle Opener on a Silver Beaded Wallet Chain
Silver and Monogram Macassar Signet and LV Flip-Coin Rings
Look 26
Red Epi Louis Vuitton x Supreme Wallet
Khaki Louis Vuitton x Supreme Camouflage Keepall and Bum Bag
Look 27
Khaki Louis Vuitton x Supreme Camouflage Denim Barn Jacket
Khaki Louis Vuitton x Supreme Camouflage Bum Bag
Look 28
Silver LV Flip-Coin an Bottle Opener Pendant Necklace
Brown Louis Vuitton x Supreme Monogram Wool Scarf
Look 29
Gold Louis Vuitton x Supreme Dice Holder on a Silver Wallet Chain
Look 30
Natural Cowhide Leather Louis Vuitton x Supreme Charm
Look 31
Brown Louis Vuitton x Supreme Monogram Handkerchief
Look 32
Monogram Macassar Louis Vuitton x Supreme Pen Knife on a Silver Wallet Chain
Look 33
Silver Flip-Coin and Monogram Macassar Signet Rings
Look 34
Silver LV Flip-Coin an Bottle Opener Pendant Necklace
Silver Flip-Coin Ring
Source
Photographer

Luke Leitch/Vogue
Share this article