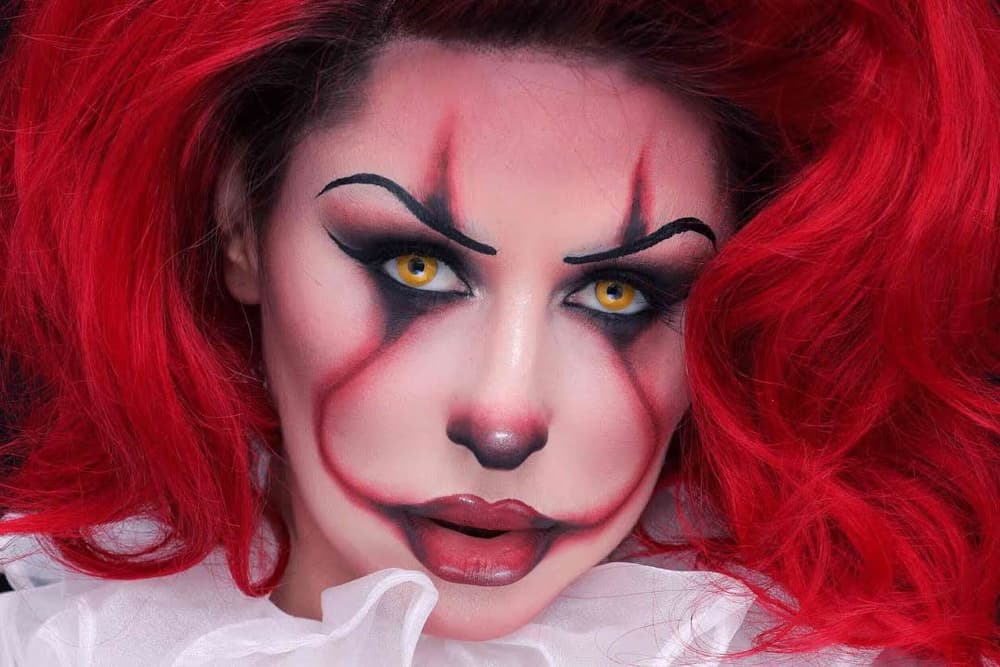 Beauty
Clown, Kitten or Skull? Peep These 5 Easy DIY Halloween Makeup Tutorials
For everyone that left their costumes to the last minute.
Clown, Kitten or Skull? Peep These 5 Easy DIY Halloween Makeup Tutorials
For everyone that left their costumes to the last minute.
It's officially Halloweek-end and the pressure is on. Friends will be throwing costume parties, and you can't be the only person in street clothes. We would love to assemble a 12-piece look but with theme shops selling out of costumes, your options are sure to be limited.
We've found five straight-forward Halloween makeup tutorials that can be achieved in under an hour.
Cat by Melly Sanchez
Cute cats and kittens have become a staple look for ladies but beauty guru Melly Sanchez takes the trend one step further. She contours her cheeks and nose to get that slender, feline profile. Using Too Faced's Chocolate Bar palette she creates a strong cut-crease eyeshadow, look that she later tops with gold glitter. She finishes up using The Balm's black liquid liner to create a nose and whiskers. Her tutorial is straight forward and glam enough to impress unsuspecting party hosts. Throw on these $10 USD shimmer cat ears from Urban Outfitters with black clothes and your costume is complete.
Clown by Chrisspy
The remake of IT was one of the most popular films to hit theaters this year. It's no surprise that Halloween lovers are eager to recreate the creepy makeup look of Pennywise the Clown. Using Urban Decay products, Chrisspy nails this look without any of the special effect materials used in the movie. Her face is set with the brand's lightest foundation shade to avoid using face paint.
She glues down her brows and covers it with a wispy shape that Pennywise sports. Using the UD 24-7 lip liner in "Gash," she lines her lips and forms his signature, red face pattern. Add a red wig to the look, and transform into a child's worst nightmare.
Fortune Teller by Arnell Armon
No one asks a woman of mystery too many questions. A fortune teller is a classic Halloween look that can be interpreted in a variety of ways. Arnell Armon chooses a purple theme for her clairvoyant look. Her skin is set with Fenty Beauty's Pro Filt'r foundation and contoured to give her an aged appearance. The eyeshadow combination truly pull this look together. She uses the Violet Voss Rainbow palette to mix in pink hues for dimension. Colourpop's liquid lipstick in "Teeny Tiny" rounds out her purple ombre lips. The only props needed for this costume is any beaded scarf and the chunky earrings of your choice.
Skull by Chloe Morello
Chloe Morello's take on a glossy skull is right up our alley. Using Kat Von D's Shade & Light eyeshadow palette, she contours and forms a deep and dark eye socket. Tarte's black Clay Paint liner is used to form her mouth slits and smashed nose. The last step – and our favorite part – is the generous amount of Sephora's Dimensional highlighter that she adds to all her prominent features. Luckily, perfection is not necessary for this costume so it can be done in a quick jam.
Vampire by Eman
Vampire looks never go out of style. Eman's own take on the undead human-creature touches on all of 2017's beauty trends. Her blown out eye is created using Melt Cosmetics' Dark Matter and Love Sick stacks giving it a realistic touch. Using a bloody red shadow, she traces her under eye to give off that sick and sleepless appearance. Fierce brows and L'Oréal's Lip Paint complete the ghostly look.
---
Share this article