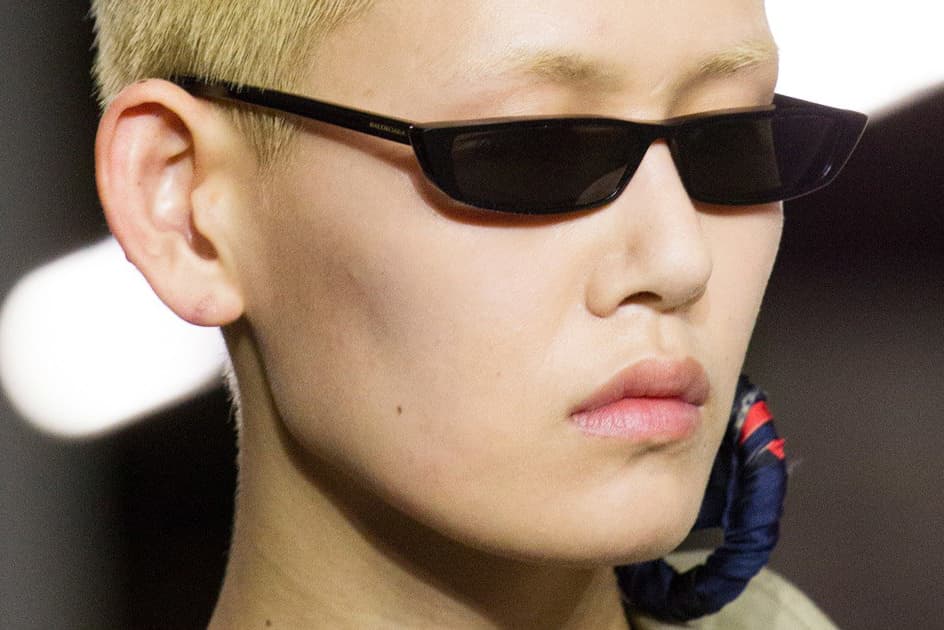 Fashion
Enter the Matrix with These 6 Pairs of Futuristic Glasses
These must-have frames will upgrade your entire look.
Enter the Matrix with These 6 Pairs of Futuristic Glasses
These must-have frames will upgrade your entire look.
We all know that pair of well-fitting glasses can take your look from basic to bold. Recently we've seen the rise of a particular type of narrow silhouette made popular by Balenciaga. The brand debuted sunnies inspired by the cult-classic movie The Matrix, which instantly became the talk of February's Paris Fashion Week.
All summer, we watched the trend take off with fashion darlings like Rihanna and Gigi Hadid sporting the sleek glasses. These ladies paired the eyewear with athleisure pieces, streetwear, and even ball gowns adding a bit of edginess to their look
For the fall season, we've chosen six pairs of glasses that'll add an instant boost to your profile. Read on to check out our favorite picks.
Acne Studios' Silver Giel Sunglasses
These rimless beauties made by Acne Studios are a certified stunner. The handcrafted metal frames are set off in a silver tone with stainless steel accents at the nose pads. Its asymmetrical lenses are the standout feature, each holding irregular round shapes. These sunnies can be worn day or night to keep your eyes covered and maintain your mystique. SSENSE currently stocks this piece for $420 USD.
Adam Selman x Le Specs' The Last Lolita Sunglasses
Adam Selman's eyewear collaboration with Le Specs flew off the shelves before the industry could realize what was happening. Ladies like Kendall Jenner were spotted wearing the cat-eye frames and fans simply couldn't help themselves. The thick acrylic frames complement round, square and even pointed faces with its exaggerated pointed tips. Lucky for you, Opening Ceremony has restocked this popular item retailing for $120 USD.
Andy Wolf's Ojala Frames
Andy Wolf's Ojala glasses are subtle and sleek. This item holds a rectangular shape with an exaggerated bridge for emphasis. Bella Hadid was seen during Milan Fashion Week sporting the red colorway of this piece with a plain tracksuit. Its narrow profile and delicate construction adds another level of sophistication unlike any other accessory. You can pre-order a pair from Opening Ceremony now for $350 USD.
Dries Van Noten x Linda Farrow's Rectangular Frame Sunglasses
Dries Van Noten has been on a roll with its eyewear that the youth seem to love. Its styles loosely reference the '80s and '90s while adding a bit of a modern flair. The brand's vintage Linda Farrow line includes these rectangle frames that look like they jumped out of an old-time detective film. The brown lenses are a rare feature that sets these sunnies apart from the rest. Opening Ceremony has this item stocked for $345 USD.
George Keburia's "Scarlet Red" Acetate Frames
George Keburia's "Scarlet Red" sunnies make a statement with no words needed. Its slim form is pointed in both directions to create a steep cat-eye effect that'll amp up any look. This pair is currently sold out so consider this an official heads up. Stay tuned for more info on its restock.
Gucci's Rimless Gradient Frames
Gucci's rimless frames are a throwback to the '90s. This iteration is made true to the times with retro gradient lenses that fade from a neutral blue to clear. Grab a pair from Bloomingdales now for $230 USD.
---
Share this article