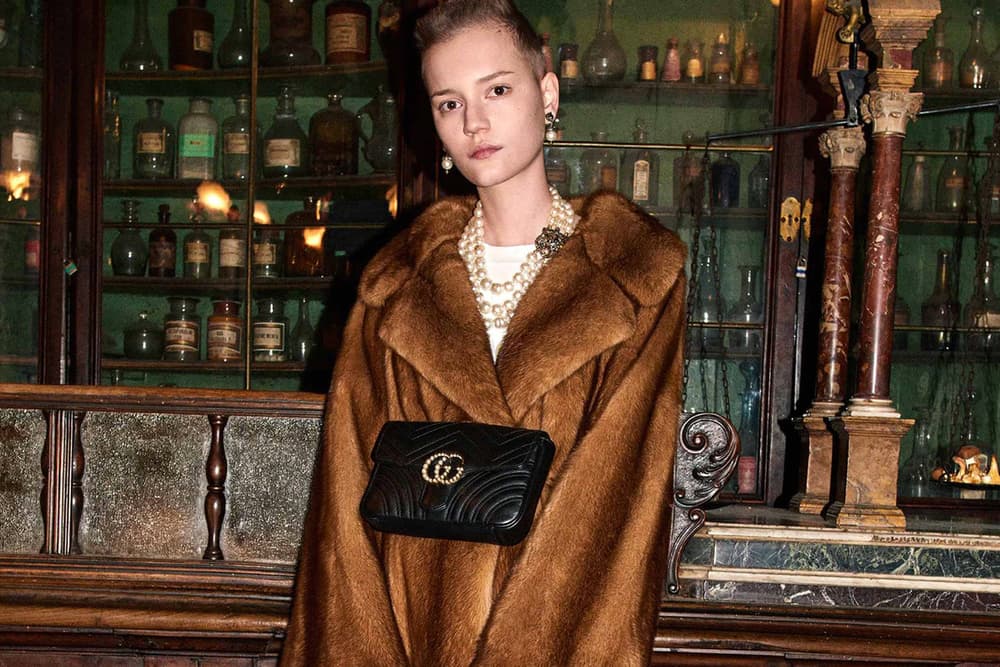 Fashion
Anti-Fur Protestors Aren't the Problem – Fashion's Inability to Take Responsibility Is
A closer look at the price of luxury.
Anti-Fur Protestors Aren't the Problem – Fashion's Inability to Take Responsibility Is
A closer look at the price of luxury.
What does luxury mean to you?
It's a question that has lingered on since Gucci announced it would go fur-free last month.
Fur has long existed as a symbol of status and social standing dating back to the 18th century, as have exotic skins from ostriches, alligators, and crocodiles. Just look at how prized are possessions such as a Birkin bag or a designer mink coat even today. Never mind the countless videos of alligators, minks, foxes, being caged, gassed, strangled, bludgeoned, and anally electrocuted that circulate the web. Death is a status symbol in its own right.
Naturally, several animal right activists and anti-fur protestors have gathered to battle the cause albeit with constant resistance from fashion's biggest brands, and insiders who consistently mock their efforts. Editors and magazines aren't too far in pandering to the brands either and are quick to label the protestors as an unnecessary "disturbance." No attention is paid by these very magazines to the mass animal genocide caused for an "authentic" sable fur coat or Himlayan crocodile bag, of course.
Still with the fur-free stance gaining momentum within luxury, will we see a shift from the archaic attitudes towards animal abuse?
"Gucci going fur-free is a huge step in showing how luxury brands can take the lead and listen to the evolving tastes of their customers. When designers who are setting the trends start moving away from animal derived materials, we will see the industry start to shift," says designer John Bartlett, who turned his eponymous New York-based label completely cruelty-free after researching the inherent cruelty of animal agriculture and the viable options that are animal-free.
As Gucci joins the handful of luxury brands such as Stella McCartney, Calvin Klein, Vivienne Westwood, and Ralph Lauren who have long sworn off the material, Bartlett maybe right in assuming the ripple effect the move might have on the rest of industry. But let's for a moment think back to Naomi Campbell's "I'd rather go naked than wear fur" PETA campaign in 1994 – what has changed since?
Over 75 million animals continue to be slaughtered every year to satisfy the demands of the fur industry and major labels shamelessly use the material insinuating that being pro-fur is not radical but simply complying with the majority of the industry.
The fur industry is also notorious for its reputation to offer financial incentives to students at fashion institutes to use animal skins in their collections in a desperate attempt to keep it viable. To discourage the trend, young designers such as Molly Godard, Faustine Steinmetz, and Hannah Weiland penned an open letter last year to students at London's Central Saint Martins advising them to not take the "bribes or incentives."
Yet, several top designers, editors, bloggers prefer to share a collective outrage over animal rights activists protesting at fashion events instead of the cruelties and abuse that mar fashion. Their shared disgust most recently came to light at London Fashion Week, where several anti-fur protestors gathered to protest the Burberry show. Numerous show-goers accused the activists for being "disruptive" and complained of being "heckled."
Similar sentiments were echoed earlier this July, when activists interrupted designer Michael Kors during a talk in New York. Several people including media outlets accused the pro-animal campaigners for "yelling" and "crashing" the event while applauding Kors for maintaining his "calm." Ironically, Mark Oaten, global chief executive officer of the International Fur Federation, blamed the group for contributing to "too much violence" in a statement to WWD, "Their bullying aggressive and disturbing tactics have no place in a world where there is already too much violence — and certainly not in the fashion world."
Oaten, like many others seemed to have missed the mark in criticizing the activists for the same thing the industry is responsible for, only in ways that are much worse.
In 2014, sales of fur were worth £9 billion GBP, a rise of more than 70-percent in a decade. Moreover, PETA investigations have routinely revealed shocking use of dog and cat fur sourced from Asian markets that are falsely labeled. The leather industry is no less cruel. In India, another PETA-led investigation found that workers break cows' tails and rub chilies into their eyes in order to force them to get up and walk after they collapse from exhaustion on the way to the abattoir. The investigation further sheds light to dogs in China that were bludgeoned and killed so that their skin could be turned into leather gloves, belts, jacket collar trim, cat toys, and other small items to be sold around the world.
The fashion industry is now also the second-largest polluter on the planet. It takes 20 times more energy to produce an animal-fur coat than one made from synthetic fur, and the chemicals used to prevent animals' skin from rotting after it's turned into coats or trim – such as arsenic, formaldehyde, and cyanide-based coal-tar derivatives – are highly toxic and carcinogenic, says Jason Baker, Vice President of International Campaigns at PETA. There also remains a largely unacknowledged economic cost attached to the destruction of ecosystem perpetuated by the mass slaughter of animals for fashion and meat. With animals being endangered, a lot of food production is disrupted, as huge amounts of landfills that can be used for crops are lost to extensive slaughter and factory farms.
It's important to understand that animal use in fashion can never be "ethical." "Animals are not ours to use. Any time they're used by a business for profit, corners are cut and they suffer as a result. Fashion that isn't vegan can never be ethical; because whichever body parts the clothes or accessories contain belonged to the animals they were taken from, not to us. No animals volunteer to give up their skin, wool, fur, or life for a pom-pom, a bag, or a pair of boots,"adds Baker.
So don't be fooled by labels such as "high welfare" fur farms that claim "humane" killing of the animals used for fashion. No federal humane slaughter law protects animals on factory farms. As Baker points out, "Fashion houses and brands that continue to use animal skins are undoubtedly feeling the pressure to respond to consumers' demands for compassionate clothing, and consequently, they try to hide cruelty behind misleading labels such as 'origin assured' and 'responsibly sourced.'"
Designers and brands that continue to claim ignorance are only motivated by fear and hence continue to mock the efforts of both cruelty-free labels and animal rights activists. "Anyone who mocks another does it out of fear, they feel threatened. Is it fair? No. Have I seen some crazy stuff I didn't agree with? Yes, but as with everything, people connect with different things," says Elizabeth Olsen, founder of conscious vegan label, Olsenhaus.
The methods employed by anti-fur protestors and animal rights activists are often aggressive and that needs to change. But more crucial is a shift from conversation around the "crazy activist narrative" to pointing out the disturbing animal cruelty and genocide caused by fashion. You may or may not agree that animals are sentient beings. Given the rampant use of leather and meat in our everyday lives, it's most likely you don't. But mocking those fighting for their rights, in however flawed ways, should not be considered a "nuisance." If anything, being a part of a cause so fiercely opposed by powerful businesses such as food and fashion requires courage and compassion.
You can sign PETA's fur free pledge here to encourage the anti-fur movement and spread awareness about animal cruelty in fashion.