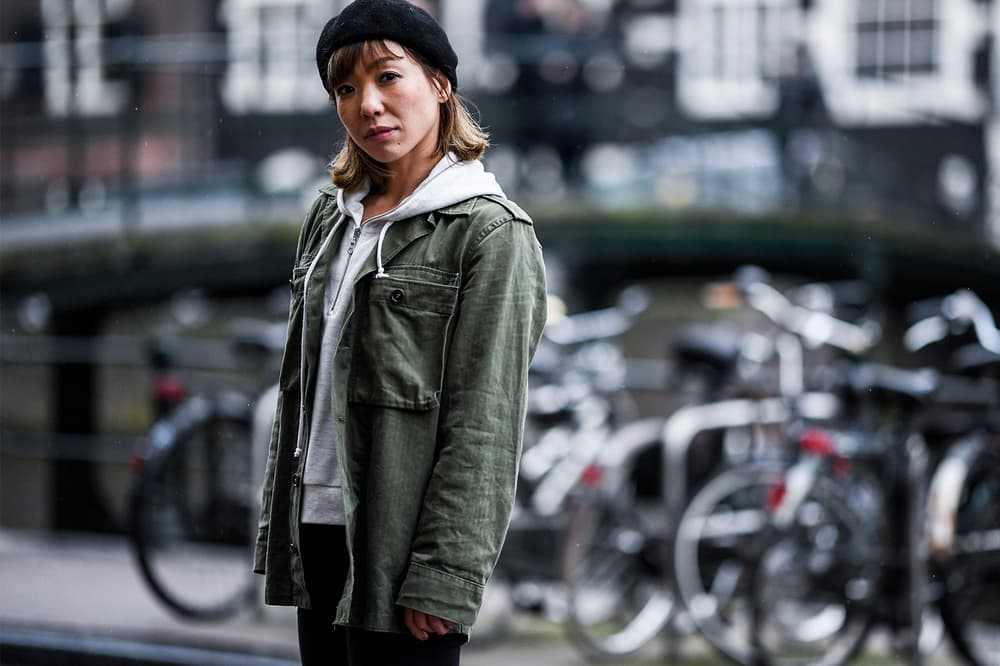 Culture
Get to Know Ayumi Fukushima, the B-Girl Making History
Meet the first female to compete at the Red Bull BC ONE world finals.
Get to Know Ayumi Fukushima, the B-Girl Making History
Meet the first female to compete at the Red Bull BC ONE world finals.
You might be familiar with breaking, or breakdancing, as it's commonly known. If you're like us, the extent of your knowledge may come from the Step Up movies (no shade, it's the ultimate early '00s film franchise). One thing that's been consistent ever since the dance form's origins in the '70s is that it's a very heavily male dominated sphere. Sure, in the films there's always one fiery, "tomboy" character who proves she can hit those power moves just as well as the guys, but the truth is that IRL, B-Girls really are few and far between in the circuit, especially at a professional level.
One woman who's breaking all over that glass ceiling and making history as she does it is Ayumi Fukushima. The Kyoto-born B-Girl, alongside her sister Narumi, has been in the industry for over a decade and both are regarded as some of the best breakers in the world – regardless of gender. As if managing a gruelling training regime and competing all over the world isn't enough, Ayumi also finds time to work as a kindergarten teacher in her hometown and frankly, we're impressed.
We caught up with the woman behind the double-life on the eve of the Red Bull BC One World Final in Amsterdam to find out more about how she discovered breaking and how it feels to be making history as the first ever woman to compete at this level – read on for more.
1 of 2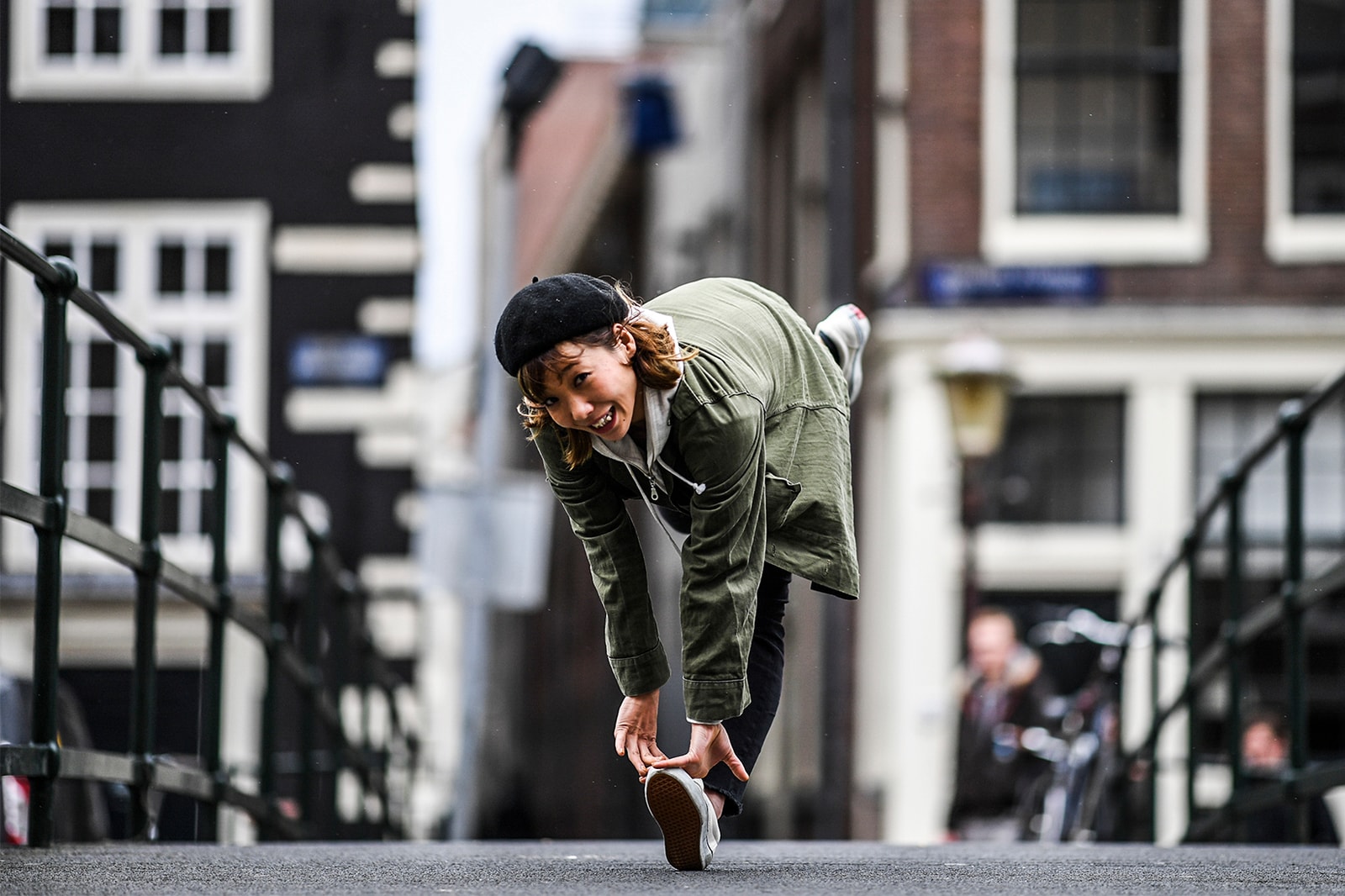 2 of 2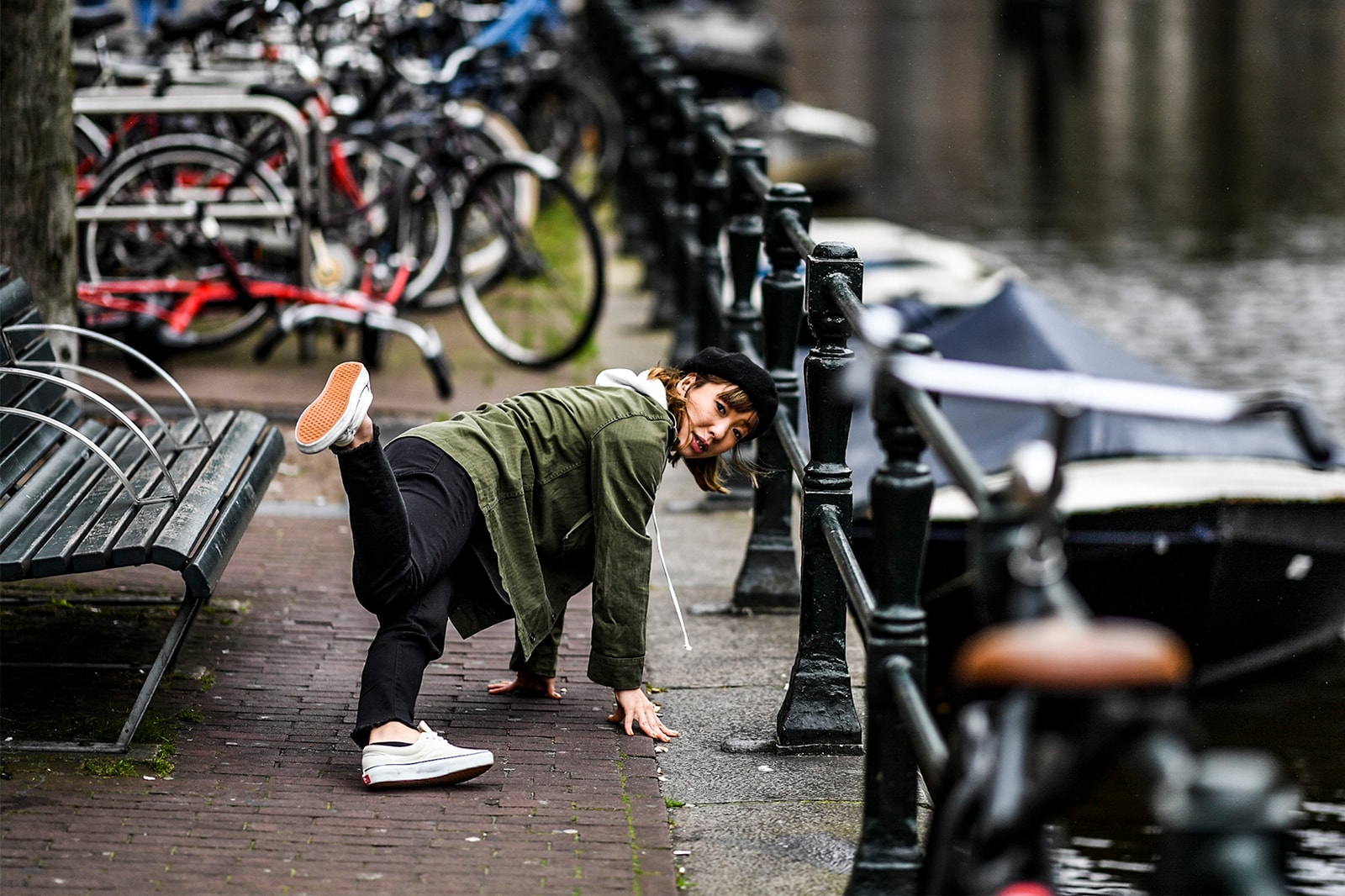 How did you first discover breaking?
I first started breaking around 2003/04 because of my older sister – she started breaking 3 or 4 years before I did. I lived in Canada for 5 years whilst I was studying and in my first year I found it difficult to make friends there because I was too shy to speak to people. After that first year, I went back to Japan for the summer vacation and thought to myself "maybe I can try out new things" and one day I went to watch my sister's event and I thought "maybe I can try this" and that's how I got into it.
Both you and your sister are acclaimed breakers – does it ever get competitive between you or are you quite supportive of each other?
We're actually part of the same crew – Body Carnival. For the first few years we were separated, because I was in Canada and she stayed in Japan, but when I went back to Japan we always practised together. She supports me a lot and pushes me and I hope that I do the same for her too.
"Breaking changed a lot of things in my life and it opened my mind too."
So much of breaking is skill and practise but there's also a lot of attitude involved. Since you're a shy person did you find it hard to develop that level of confidence?
It's so funny because it's kind of like a natural thing. When I started breaking, I felt like I had more confidence in myself. For me, breaking changed a lot of things in my life and it opened my mind too.
Do you feel like your still shy outside of breaking or has it given you more confidence in all facets of life?
I'm still a shy person and I can get easily confused in front of people but I'm still hoping this will get better and I will learn to show more self-confidence – even in dancing, too.
1 of 2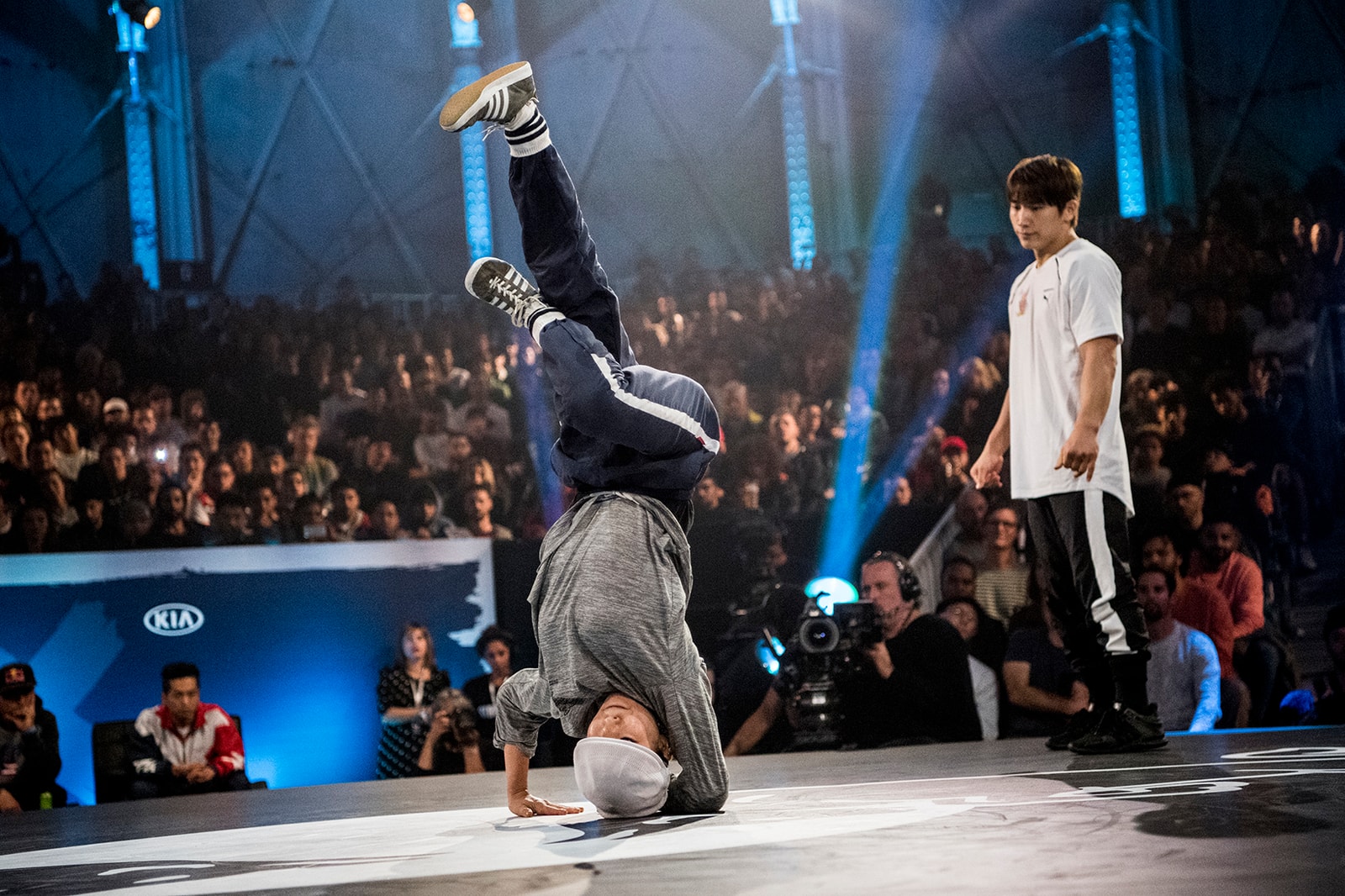 2 of 2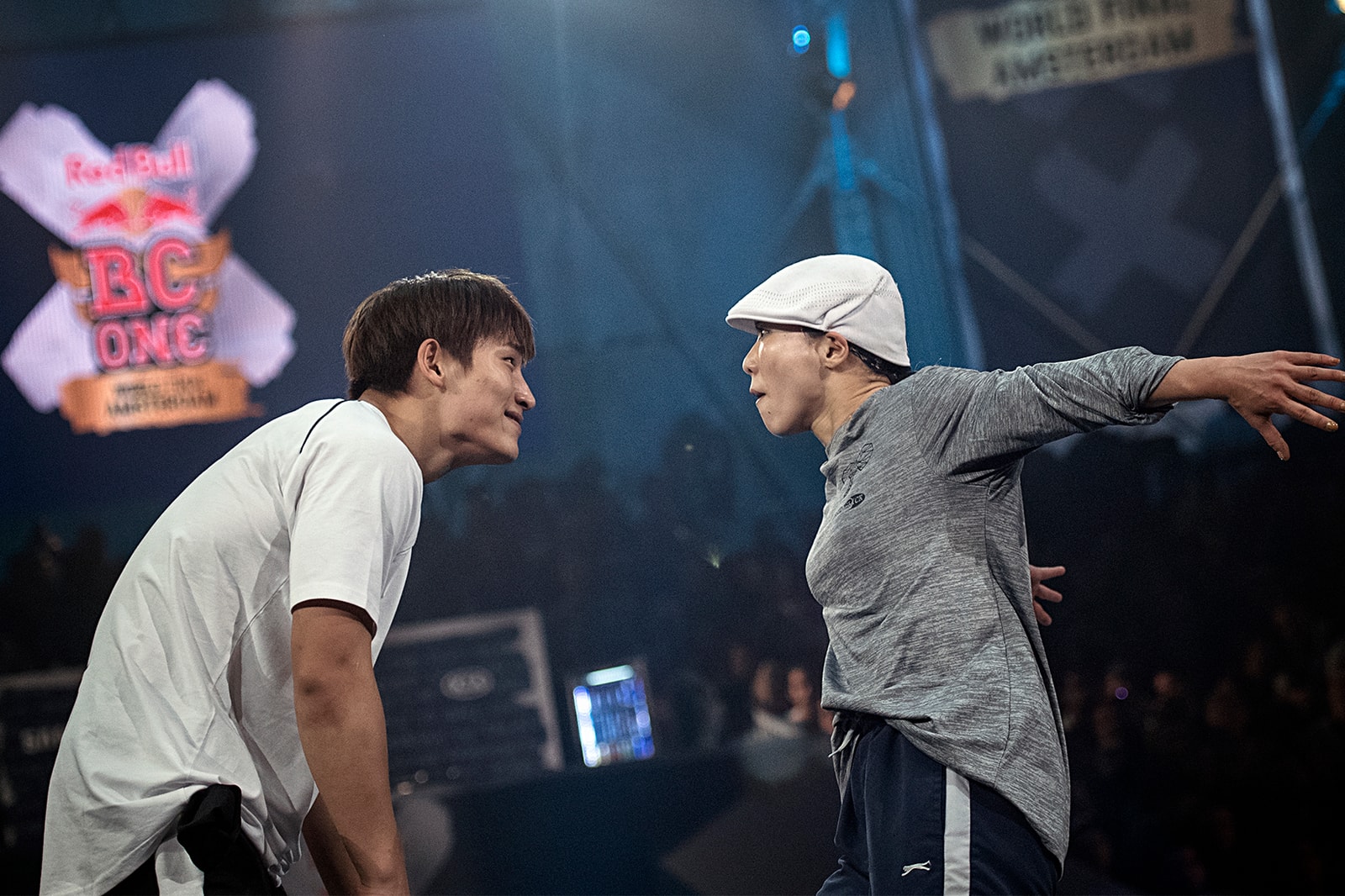 Alongside being a renowned breaker, you're a kindergarten teacher. How do you find the time to balance both worlds?
I'm a part-time teacher, but for me it's quite a natural thing to do both. When I first started breaking, I had a job and was also studying so I've always had something on during the day and then I practise at night. Sometimes it's really hard and it does make me tired but it's a good balance for me to do both things. After my job I'm like, "Ok! Let's go practise!" I love the feeling, so I can easily do both things.
Is there anything that the kids you teach have taught you that have helped you be a better dancer or person?
The kids are always interested in many things and they get so inspired by everything around them so when I see them, that inspires me a lot too. As their teacher I need to have confidence, because they're looking up to me, so that pushes me to be more confident. In a way, both lives are kind of a similar thing.
"It was my dream to be able to compete at this level. I feel like I've been dreaming about it all this time."
I heard you're also helping to train young breakers for the 2018 Youth Olympics?
It's about the younger generation, they start from about 8 years old to around 15 years old and they're already so good! There are kids from all over the world.
You're one of the best breakers out there, and not just "for a girl." Is there a lot of pressure for you to be "as good as the boys" and prove yourself?
I don't think about the separation between boys and girls. I know it's really hard sometimes but it makes me more motivated. For example, in the BC One World Final, I'm up against some really high-level B-Boys and it's a real challenge and that motivates me.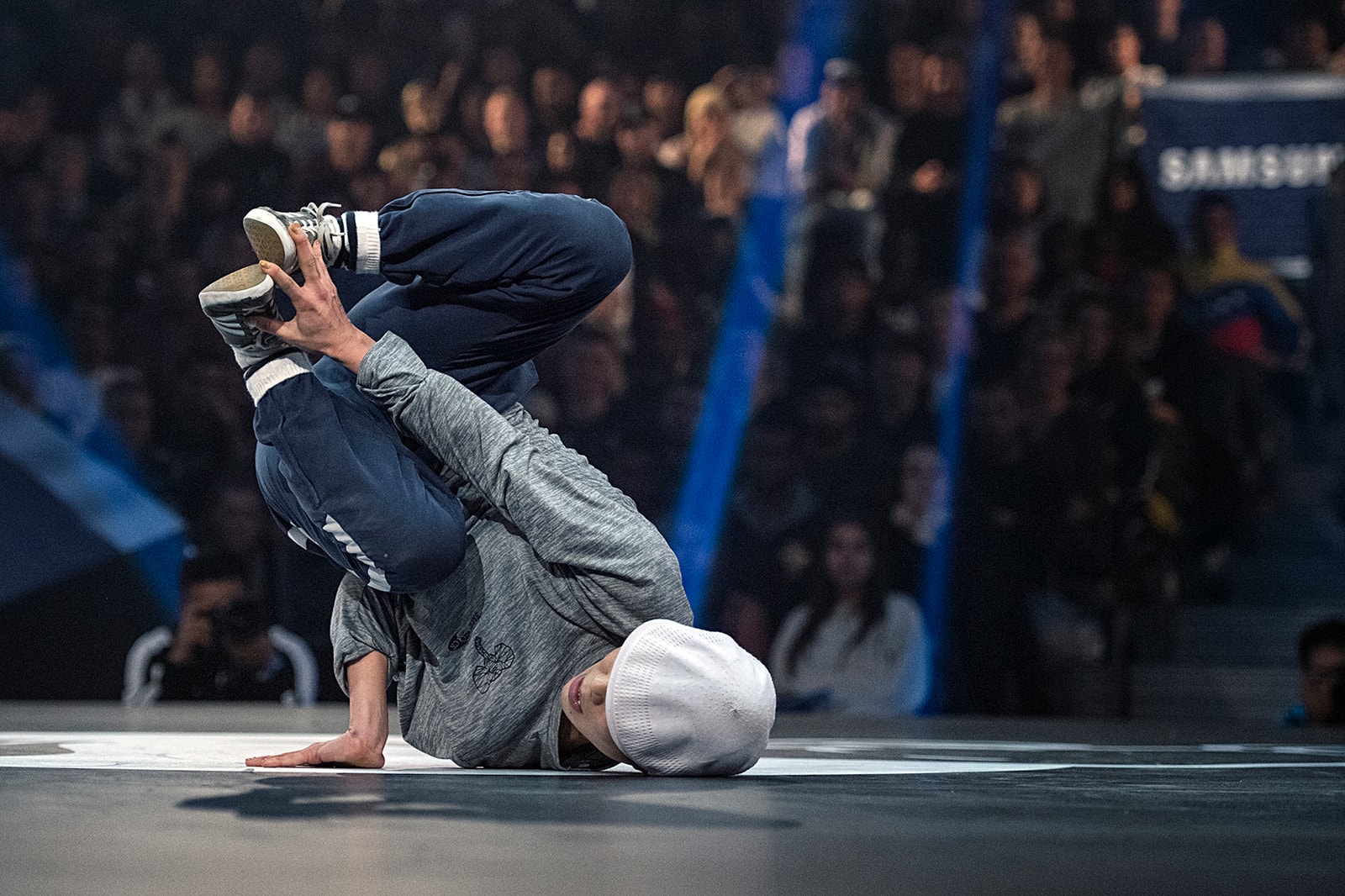 You've been doing this for a while now, have you seen more females start to get into breaking?
Yes! I get the chance to travel for international events and I see that there are more girls getting into the scene, so I'm really happy about that.
Obviously this is a huge deal with 2017 marking the first year a female finalist has competed at the BC One World Final. How does it feel for you, having worked so hard and now being in this position?
It's amazing. It was my dream to be able to compete at this level. I feel like I've been dreaming about it all this time. I'm so happy!
Now, the question we've been desperate to know the answer to – what are your favourite sneakers for breaking in?
adidas Gazelle's. I have so many pairs, I only dance in this sneaker. It's good for my style too. It's light and makes it easy to do anything.
What's next for you after this contest?
I'm going to LA with my crew. That's my next stop. I love it there so I'm happy to be going back. When I have my crew with me, they always support me and have my back. It feels like I'm with family.
Have you got any advice for any women that may have been inspired by you to get into breaking?
Getting into dance is really hard. I had a very hard time for the first month when I started but after 2-3 months, for sure, you're going to have a good time. I hope they don't give up, it's so much fun – enjoy it.
Share this article