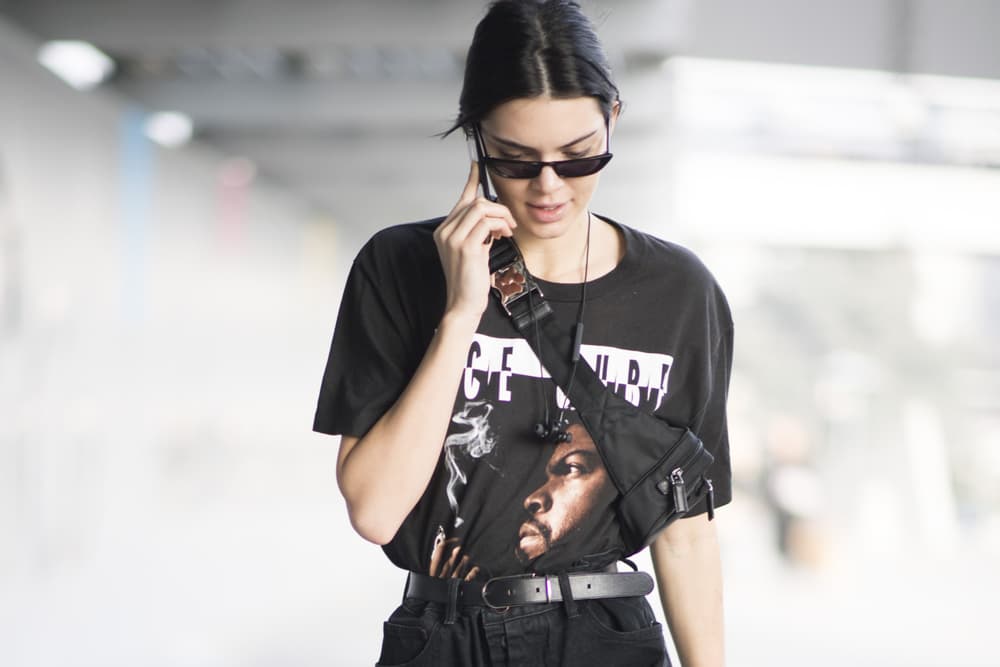 Fashion
HYPEBAE Editors' Style Guide: How to Wear Vintage
See how our editors mix and match new and old.
HYPEBAE Editors' Style Guide: How to Wear Vintage
See how our editors mix and match new and old.
Vintage has had a huge comeback this year, with everything from second-hand bags and retro shades, to classic band T-shirts becoming staple pieces for fashion lovers and industry insiders alike. In this week's "Editors' Style Guide," we're tackling the trend head on to show you how we mix and match modern and vintage pieces to achieve all the best outfits.
Peep our picks below, and check out previous installments of the series here.
1 of 9
Vintage is my everything. I can't stress enough how much I love finding the perfect, worn out pieces in a thrift store or vintage shop. I've always had a thing for vintage denim, especially old-school Levi's silhouettes like the 501's and the retro denim jackets.
I wear vintage jeans on the daily, and it takes a while to find the perfect pair but these washed grey ones have the perfect fit ($118 USD at Aritzia). The grey tone goes perfectly with this cropped Alexander Wang denim jacket ($395 USD), which is modern yet manages to keep the vintage aesthetic. I pair the double denim look with another second-hand item: A band T-shirt. Whenever I'm in New York, I always visit Metropolis Vintage, which is where I've picked up my favorite Iron Maiden shirt. I dress up the look by tucking the pants into a pair of sporty, yet luxury socks from Vetements ($95 USD) combined with Alexander Wang's Kori ankle boots ($495 USD) for a bit of an edge. Because the outfit is a bit muted, I like adding an accent color to brighten things up. Red is always my go-to, with Supreme's cross-body bag and George Keburia's retro shades I'm ready to go.
1 of 8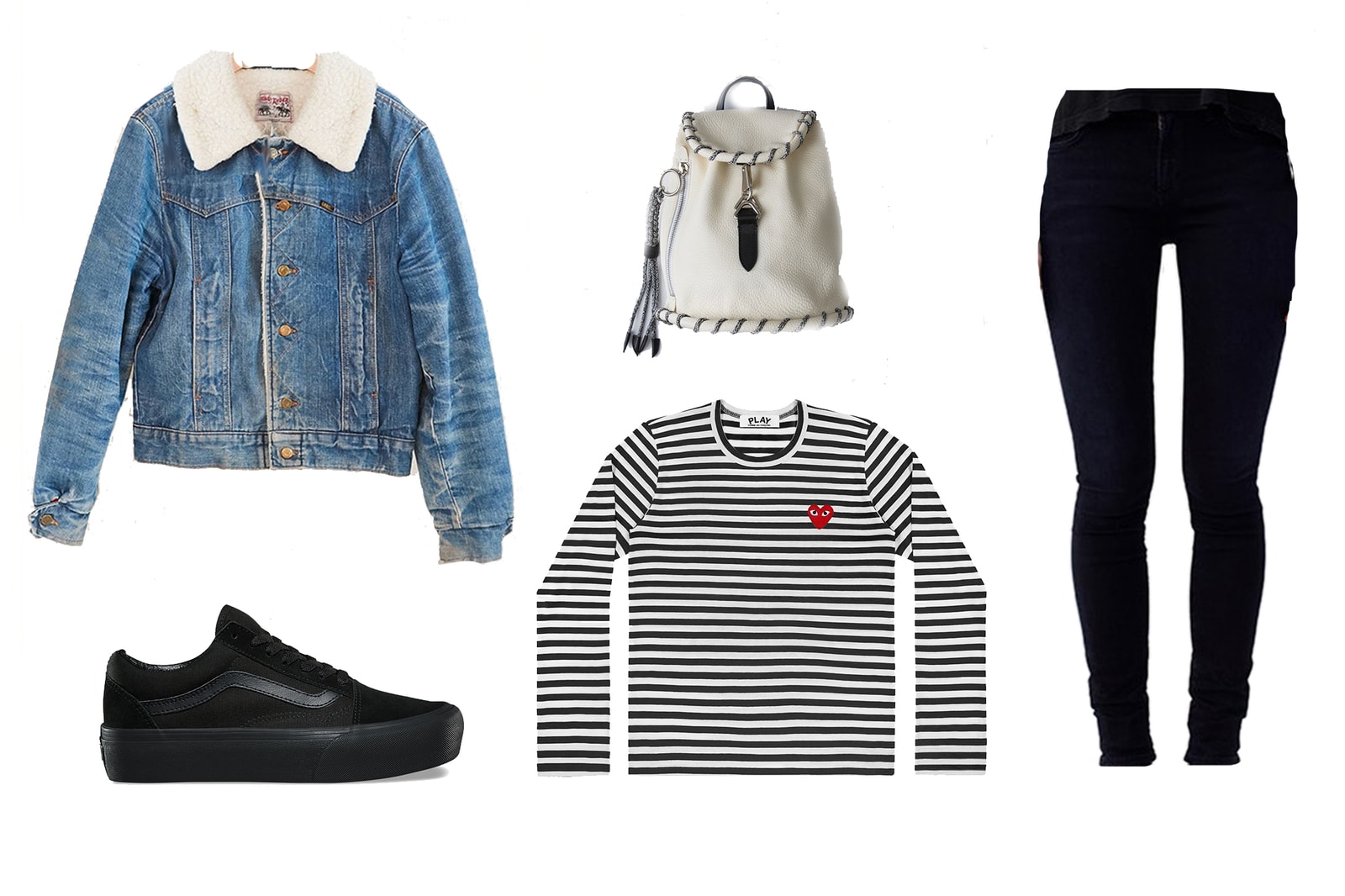 Thanks to Alexa Chung, I've learned to appreciate the beauty of vintage pieces since I was maybe 16. From granny sweaters to Levi's denim cut-offs, I've done my fair share of thrifting and it's honestly one of the most fun things to do. Just last weekend, I was able to score a vintage Lee Storm Rider for only $50 CAD at Vancouver's Eastside Flea Market. And oh, what a steal that is. The shearling jean jacket, which apparently was manufactured in the late '80s/early '90s, is in such good condition it almost looks brand new.
Now that I've found my dream winter outerwear (which you can buy here for approximately $55 USD), let's get the rest of the outfit sorted. Keeping things casual, I've opted for the classic COMME Des GARÇONS PLAY striped tee ($155 USD) in black and white. Since the jacket is pretty oversized, I've decided to slim down the bottom portion of the look with AGOLDE's Sophie Hi Rise Skinny jeans ($138 USD) and Vans' all-black Old Skool Platform ($65 USD). These red Hysteria socks ($22 USD) add a nice pop of color, while OAK + FORT's gold-tone earrings ($24 USD) draw attention to your face. What really ties everything together, though, is the Acne Studios Rope Jungle backpack ($1,550 USD). Equal parts chic and functional, the white leather backpack makes for the perfect statement bag that'll for sure cause wardrobe envy.
1 of 8
As a lover of early 2000s pop-punk, plaid and black has been a staple in my wardrobe since forever – my formative years were spent scouring local thrift shops and eBay for beat-up boots and mens flannel shirts. Now I'm all grown up, my style hasn't changed too much but my bank balance has and I can team those vintage finds with some more upscale items.
I like to let the key pieces do the talking and these vintage COMME des GARÇONS plaid pants ($478 USD) are sure to get you noticed. Roll them up above the ankle and pair with some chunky boots – these Molly Patent Platform Dr Martens ($160 USD) are ideal for the tough-but-cute look. When it comes to dressing your top half, it's easy to keep it simple but still stand out and this chain-strap crop top by Alexander Wang ($385 USD) is the perfect example – layer it up with this on-trend puffer jacket by MISBHV ($641 USD). Accessories are where the best vintage items can be found and this timeless red beret from Urban Outfitters' renewal range ($19 USD) is a real winner. Round off the look with some cute socks, like these red cable knit ones by COMME des GARÇONS ($32 USD) and this Jean Paul Gaultier vintage chain and safety pin belt ($195 USD) for a fit that will look as much at home in a mosh pit as it would on a runway.
Image Credit

Instagram/@gigihadid
---
Share this article