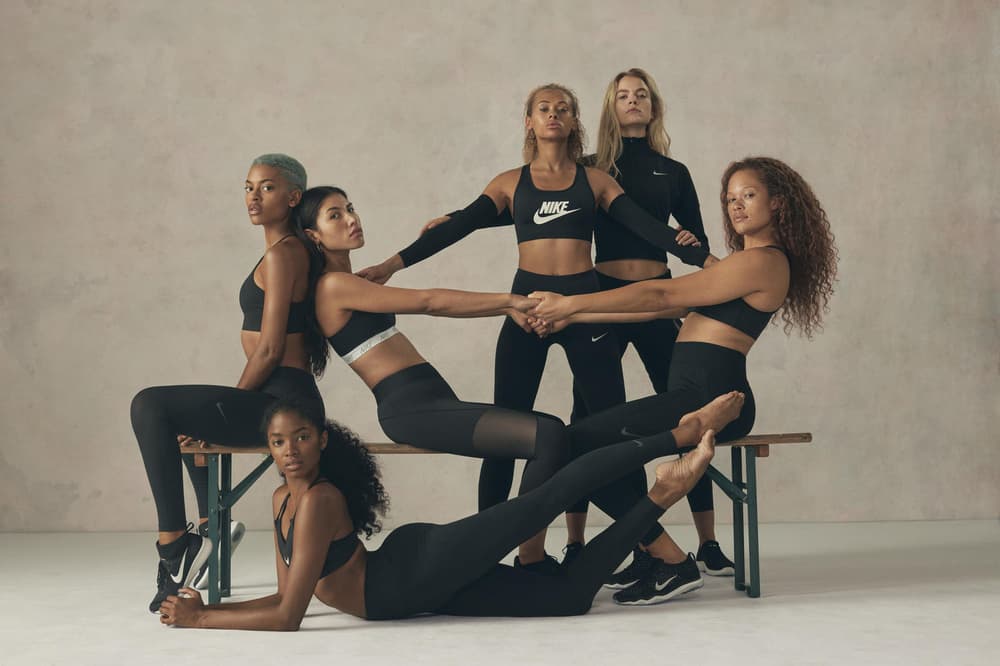 Fashion
Nike Gives Us the Lowdown on New Pants Studio Collection
Read our exclusive interview with the Senior Design Director for Nike Women's Training.
Nike Gives Us the Lowdown on New Pants Studio Collection
Read our exclusive interview with the Senior Design Director for Nike Women's Training.
Nike is about to unveil an exciting new development in its women's range. The Nike Pants Studio will introduce a wide variety of performance apparel that cater to all kinds of athletic pursuits.
The range isn't just aesthetic. Performance has been placed at the heart of the collection, with ultra-breathable fabrics and supportive compression pockets offering wearers the cutting edge of sportswear technology. This tech is designed to assist in a multitude of physical pursuits, from yoga to boxing to dance. We sat down with the woman behind the project to find out what went into this collection. Read on for more.
1 of 4
2 of 4
3 of 4
4 of 4
Who are you and how long have you been at Nike?
I'm Jamie Lee, Senior Design Director Nike Women's Training for Nike and have been with Nike for over 12 years. I've been working in design mainly in womens doing sportswear and performance.
In that time, how have you seen women's performance wear evolve?
It's definitely grown, I think we've seen that women are really open to wearing their workout clothes outside. Women have busy lives, it makes it easy for them to use their workout gear in their daily life also outside of the gym. We've seen that style was introduced into performance to make yourself look good. I think it's become more versatile in her wardrobe so that she can wear performance gear outside the gym.
Talking a little bit more specifically about the Nike Pants Studio, what were your priorities from a design perspective when you began looking to launch the Nike Pants Studio collection?
We were looking at offering her choice, helping her to decide which pant was great for her, depending on her preference. I think we know that there's a lot of choice, so many different types of activities and workouts, and we wanted to help her to clear out that noise and give athletes more choice. The Nike Pant Studio is a collection of tights designed for specific activities and uses.
1 of 2
2 of 2
Was there a specific hole in the market that you were trying to fill when you came out with the Nike Pants Studio?
I think for us it was more about creating destination for athletes – where to go to, when she needs a tight. Whether it's for a run, spin class, yoga etc. We wanted to make it easy for her and felt like this was an opportunity to enhance her workout with the right apparel and by bringing it all into one place, which is hopefully helping her to find the best tight.
How do you approach performance wear design? At what point do you 'introduce' the fashion element?
At Nike, we're always thinking about the body in motion and movement. There are six core moves that we look at and we try to design to enhance her body and that gives her confidence, because we know that if she looks good, she feels good and she'll have that extra motivation to work even harder and go even further during her workout. We look at the function of the tights, the material, and we think about creating a product that is flattering and going to enhance her performance.
When you are designing, how do you balance the 'performance' and 'lifestyle' requirements of these different design?
We think about the functionality. We know that she is most likely going to wear her outfit throughout the day, so the lifestyle element comes when we think about the material. But it also plays a role when you think about everyday design functionality elements like giving her more storage with pockets and finding solutions that support her throughout the day. From an aesthetic point, we're thinking about the design lines and using materials – like meshes, different finishes or shine – to give the tight a bit more texture.
1 of 3
2 of 3
3 of 3
How are women's perceptions of sport and performance wear changing? Do you think there's been a shift at least in your 12 years at Nike?
Yeah, I think there's definitely been a shift with sports and performances, like this kind of blur when we talk about sportswear innovation – these pieces that look good even beyond just wearing them for typical activities and workouts.
Are there any tech innovations in the Nike Pants Studio styles that you're really excited about or that you feel are new and different?
The innovation of the tights is the material that we chose – high performing fabric. We looked at how to minimize and clean up some of the finishing, so it's not distracting her during her workout. The design itself is what enhances the styles: the benefits of certain details and features of the tights.
For the FLY tight for example, we looked specifically at a spin class workout and the body on the bike, the position and the movement. We wanted to provide ventilation and a cooling system that supports her during the high cardio heat class. And in addition to the cooling system, the waistband is providing more comfort while she is in that class. Those insights we got back from the athletes and we have integrated into each tight of our Nike Pant Studio make it even more innovative.
How do you see the Pants Studio evolving in the future? What's next?
It's definitely going to evolve and we're really excited to launch the Nike Pant Studio this week. The collection has room to grow especially as we look at sport-specific activities as there's a lot of tights we can introduce – not just tights, but looser fitting pants or a knit that provides extra stretch. From a styling point of view, we want to create a specific choice and distinction for her; we look into evolving the styling, materials and performance. At Nike we always say: "there is no finish line."
Check out the range of styles above, head over to Nike's webstore to shop them now.
Share this article