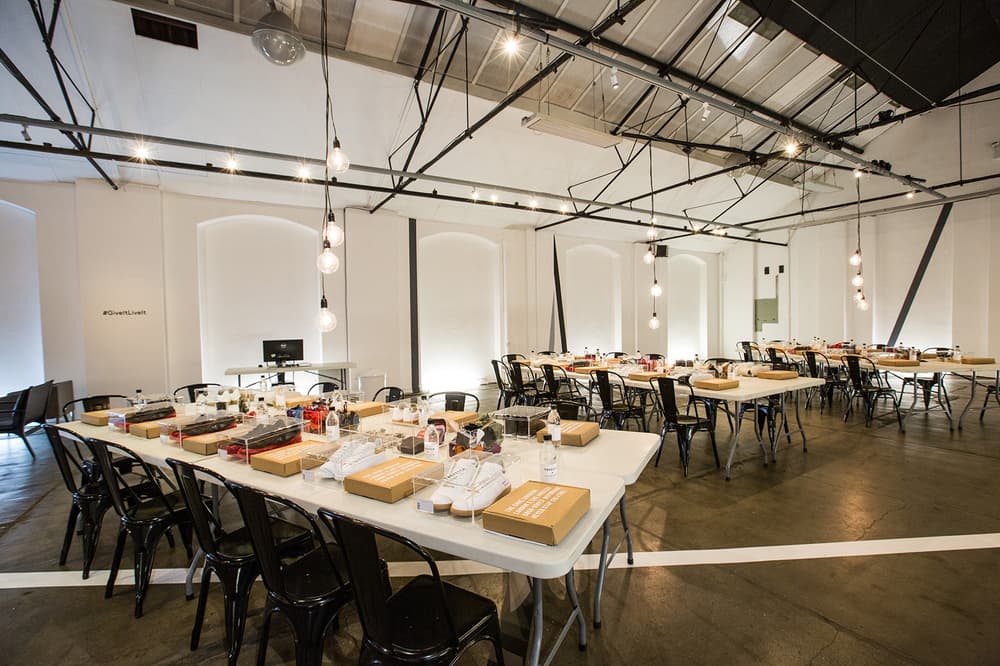 Footwear
Here's What We Learned About Luxury Sneaker Customization From an Expert
A workshop with The Shoe Surgeon himself.
Here's What We Learned About Luxury Sneaker Customization From an Expert
A workshop with The Shoe Surgeon himself.
Sneaker customization isn't exactly a new thing, but it has for sure become more prevalent in recent years – likely as a result of the rise of social media. With people like Ava Nirui and accounts like FRE Customs sharing their work and products all over Instagram, and platforms like NIKEiD and Vans Customs, it is easier than ever to get inspired and to put your own stamp on your kicks.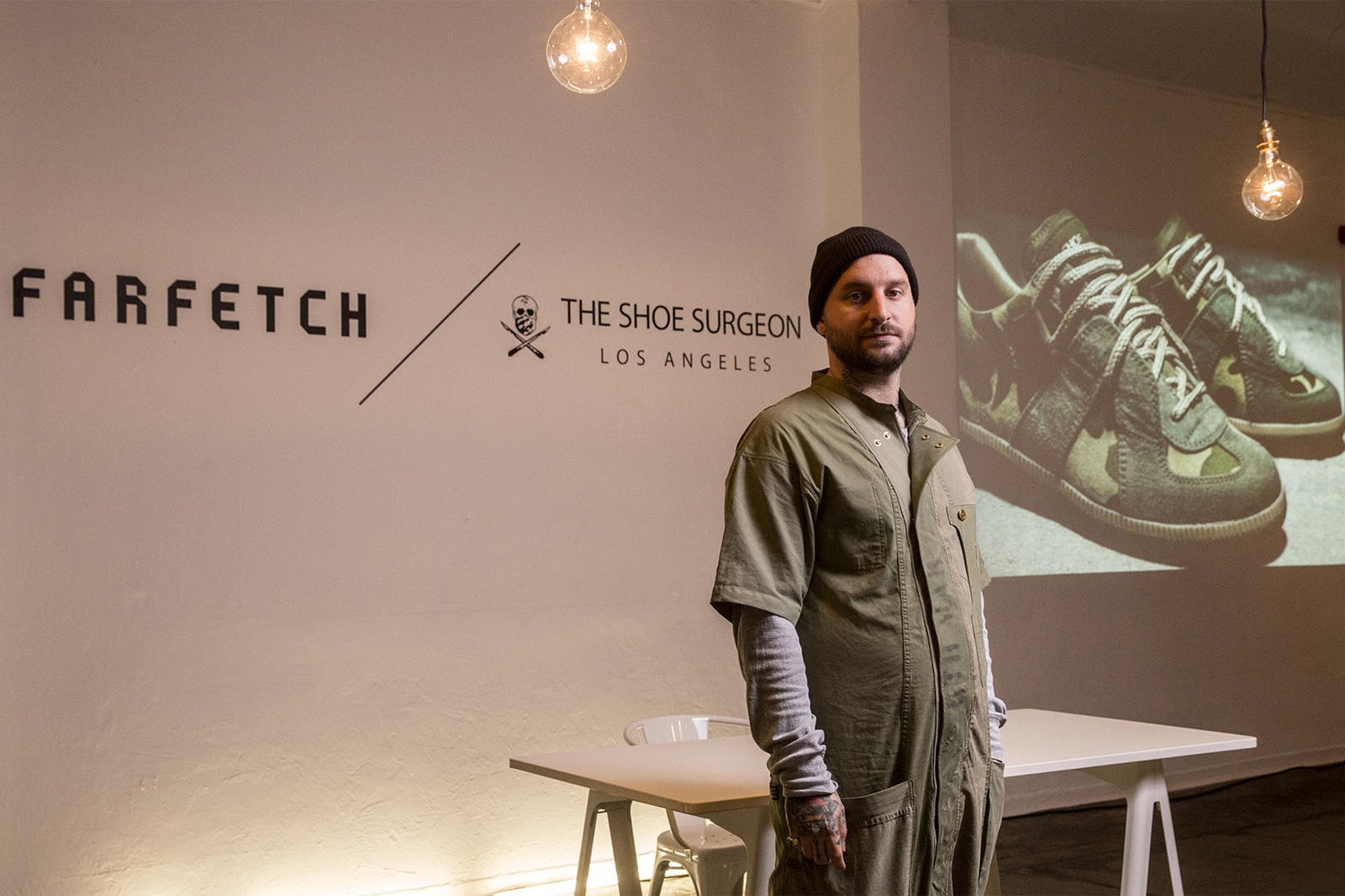 One of the biggest names in sneaker customization is Dominic Chambrone, or as he may be better known, The Shoe Surgeon. Although a lot of Chambrone's work is more akin to taking apart and reconstructing sneakers rather than merely adding to an existing silhouette, The Shoe Surgeon is undoubtedly one of the most well-known and respected names in the industry. With that in mind, when it comes to picking up on tips on how to add a personal touch to your kicks, who better to learn from than Chambrone himself? In a workshop hosted by The Shoe Surgeon team and Farfetch, I learned first-hand, how the best ways to inject your kicks with some individuality.
1 of 2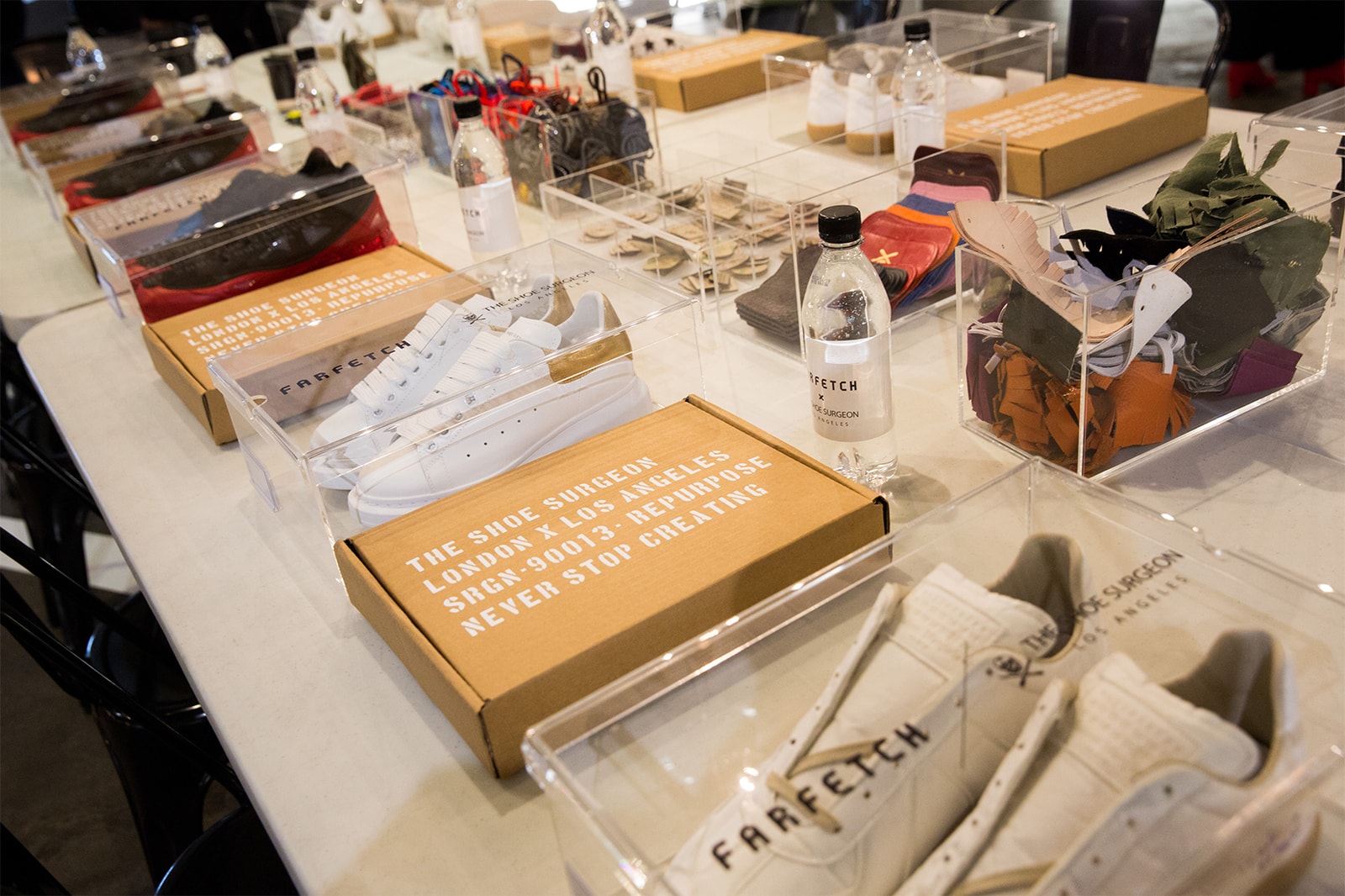 2 of 2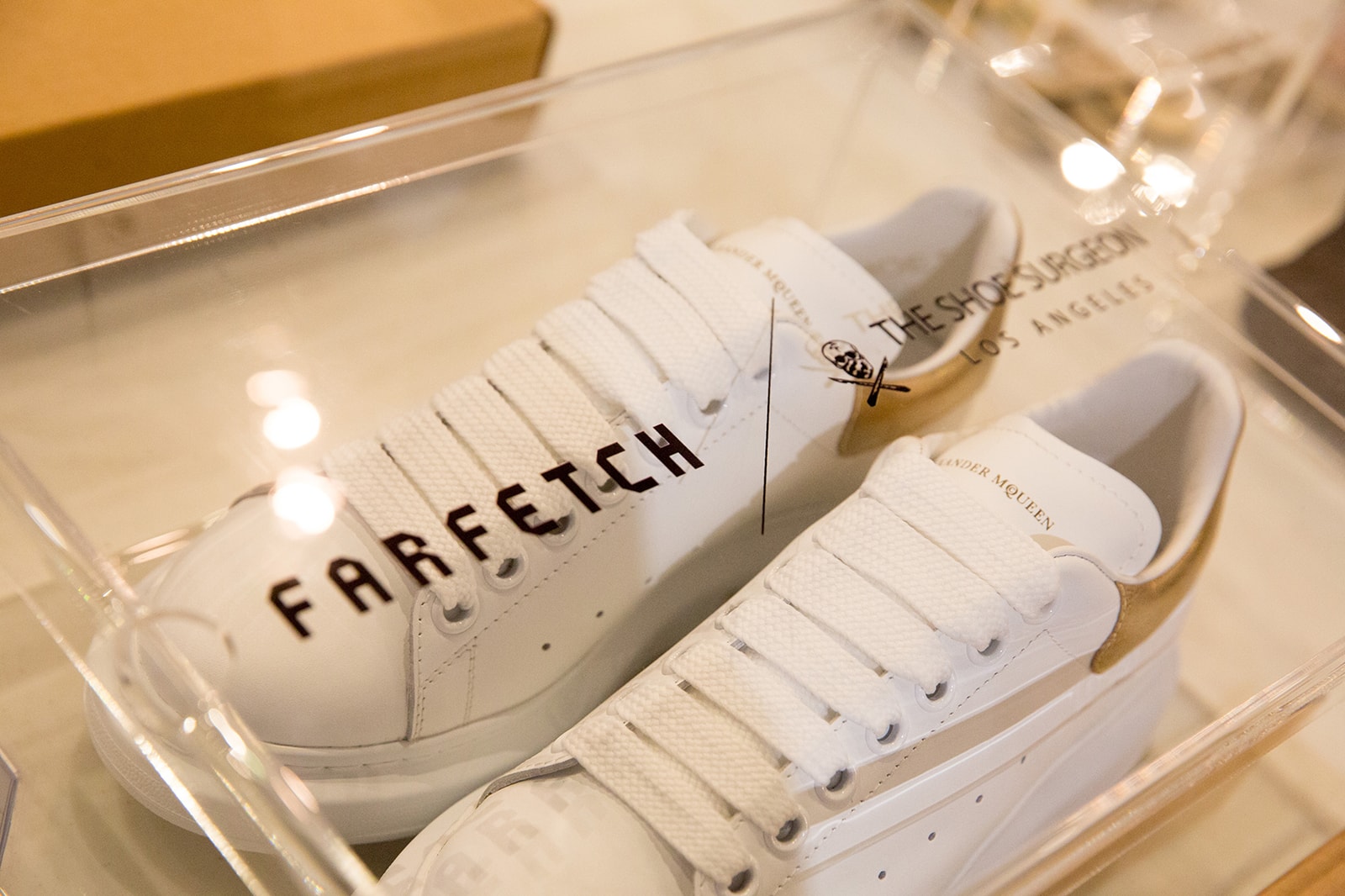 I selected a pair of white Alexander McQueen Oversized Sneakers with a gold heel accent to work on – the predominantly white silhouette made for a great blank canvas that could be interpreted in any way the imagination saw fit. The main reason I was immediately drawn to this pair was for its understated elegance. I didn't want to take it to the extremes when it came to customization – I wanted to retain the minimal feel but add on some key details.
1 of 4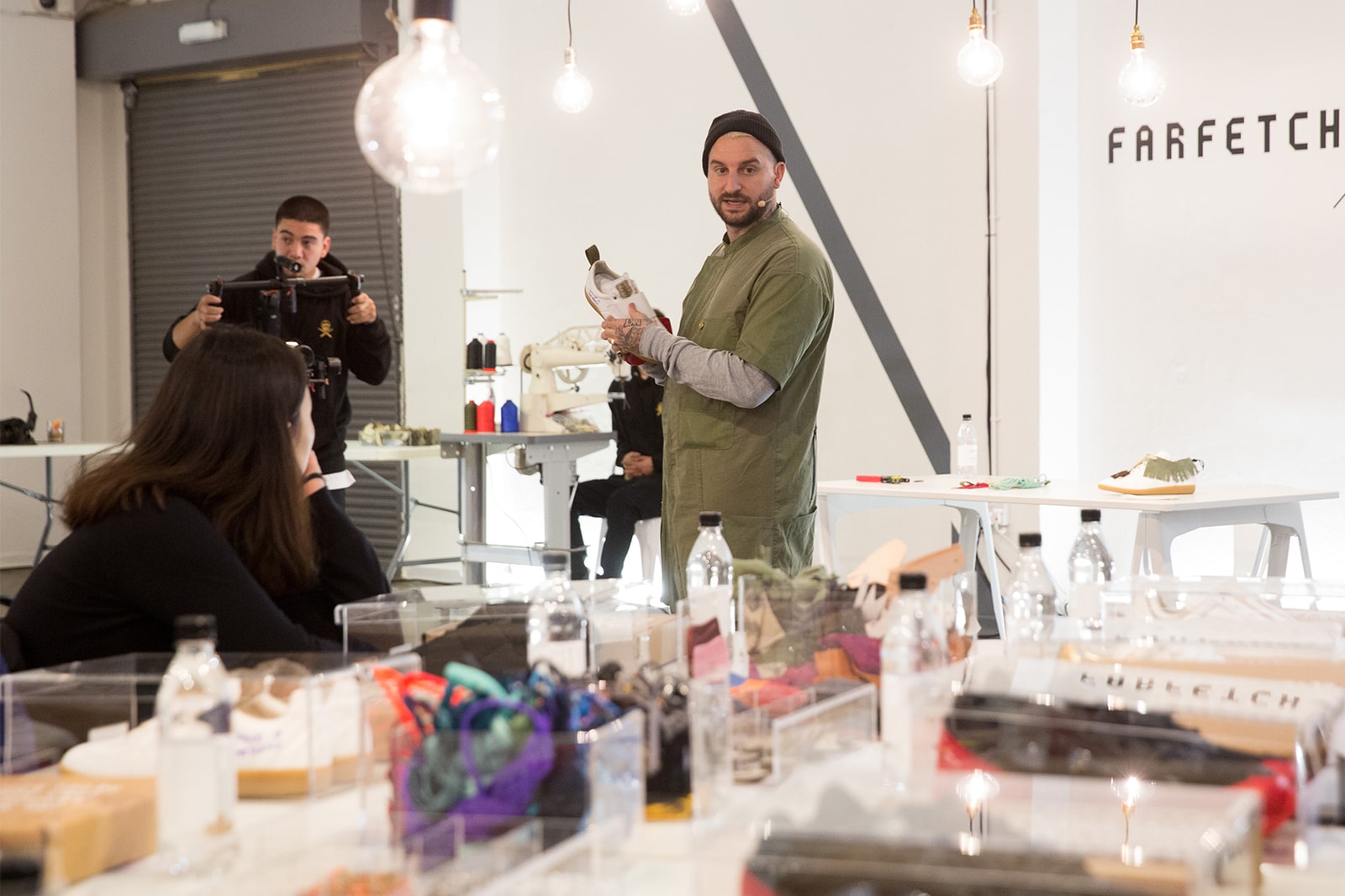 2 of 4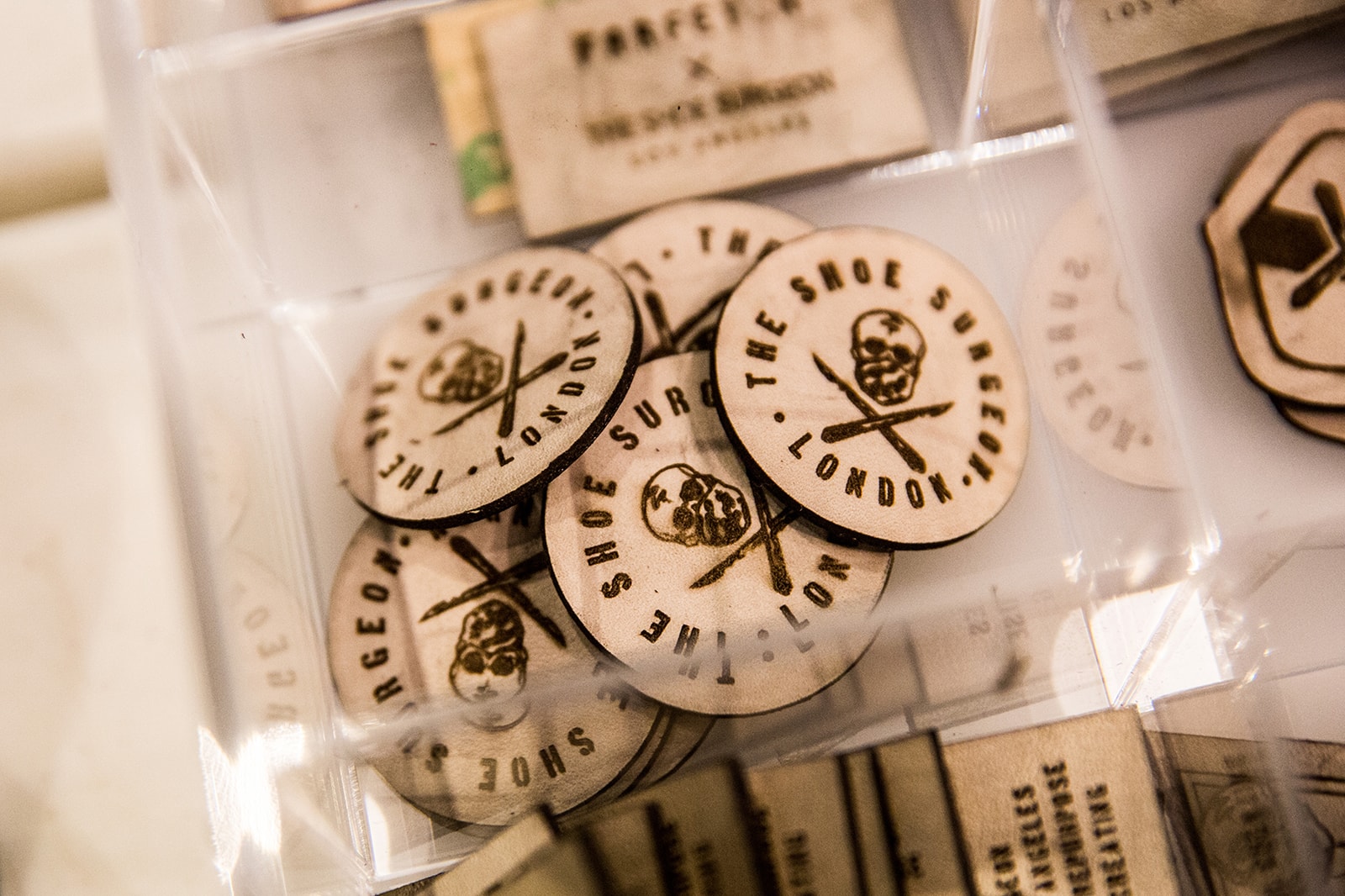 3 of 4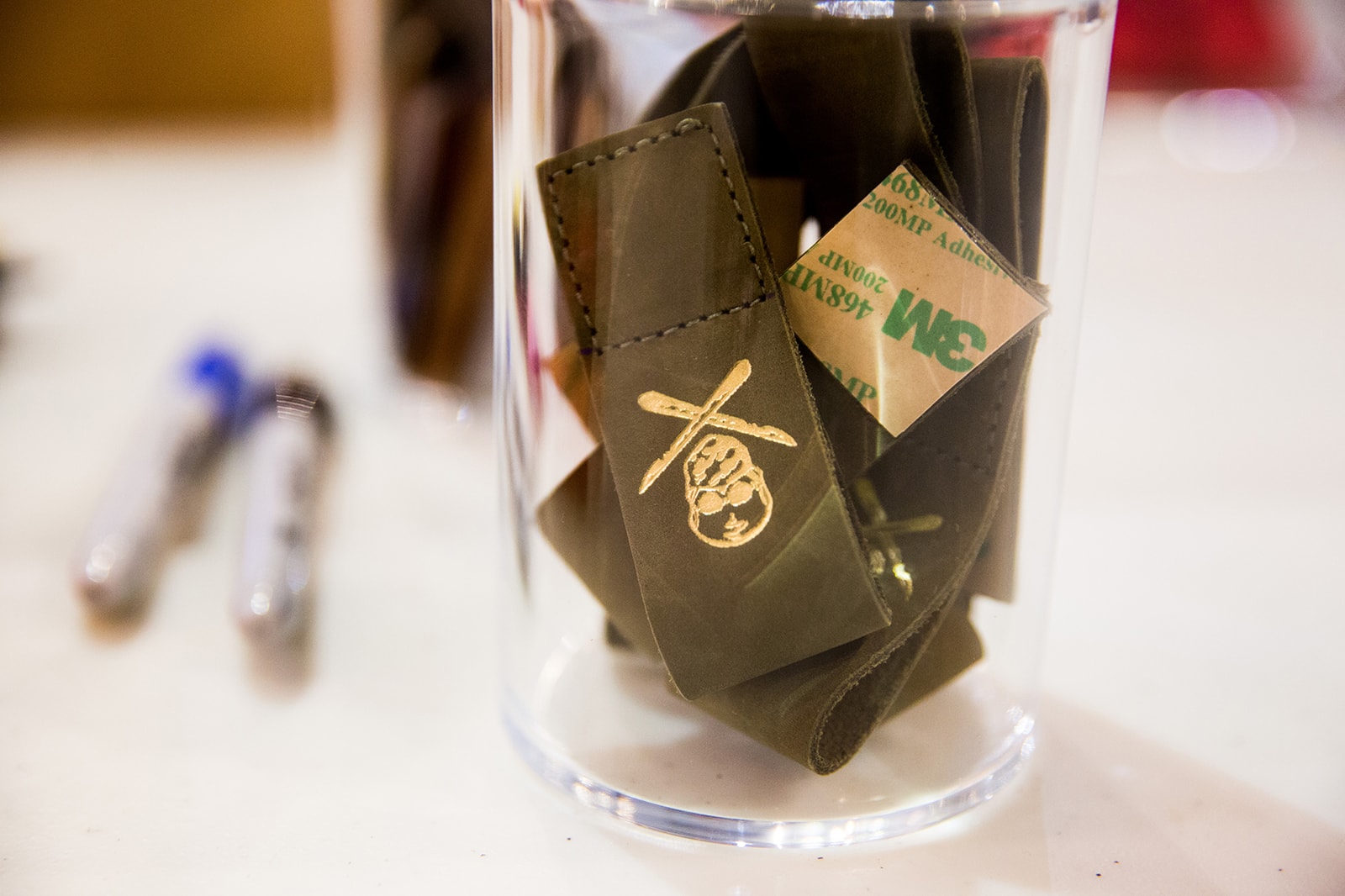 4 of 4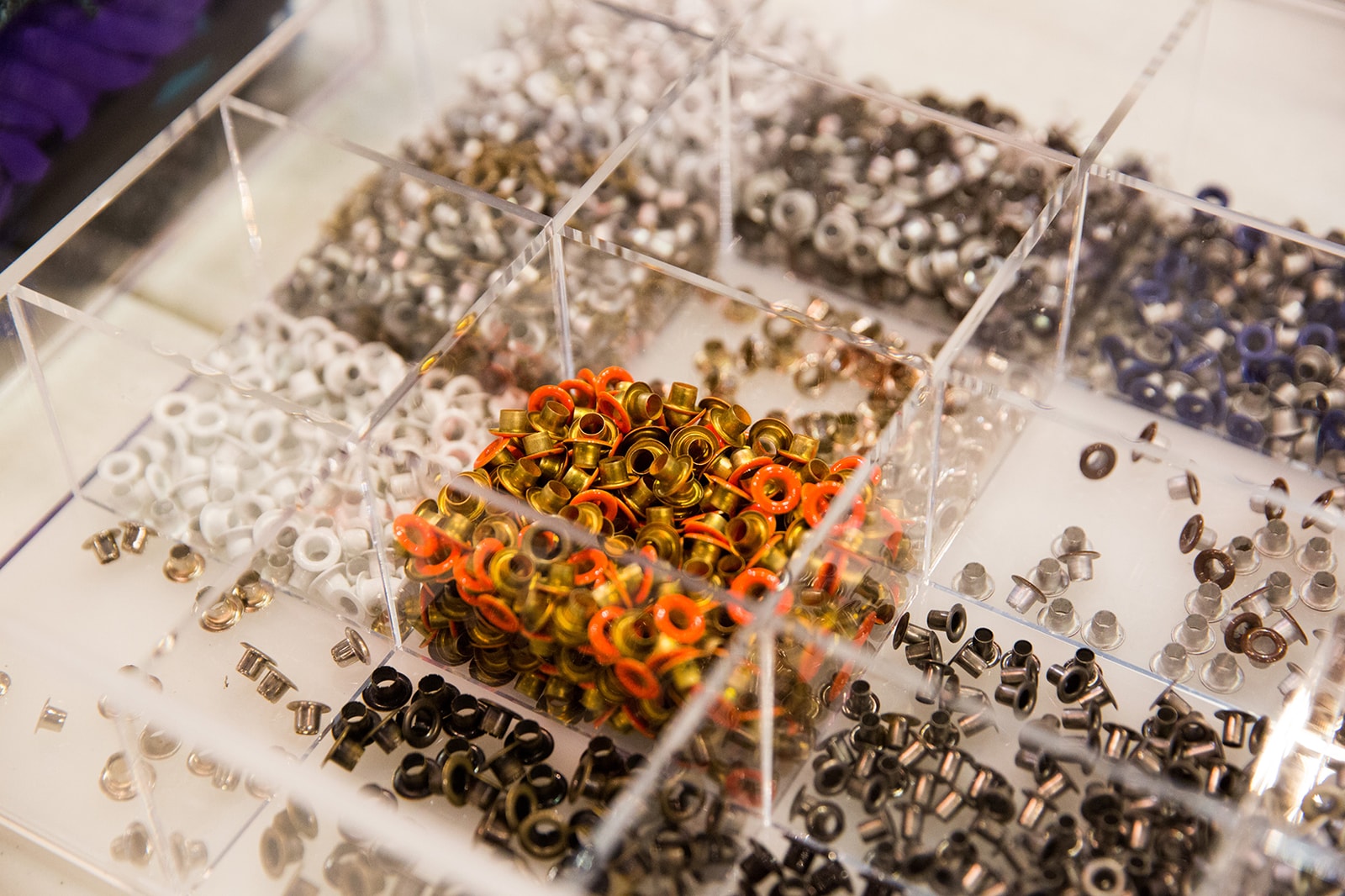 A lot of the salvaged fabrics and accessories available were utility themed – think pieces of deadstock fabric, vintage laces and metal eyelets, as well as Shoe Surgeon branded patches, and tabs. With the hit of metallic gold on the shoe, I thought it would be nice to mix it up with some khaki, keeping the look ultimately wearable. I spied some camo laces lurking at the bottom of a box, and whilst rummaging, also came across some golden ones I couldn't put down – it was so hard deciding between them that I opted to use both and double-laced the sneaker, which took me longer than I'd like to admit.
1 of 4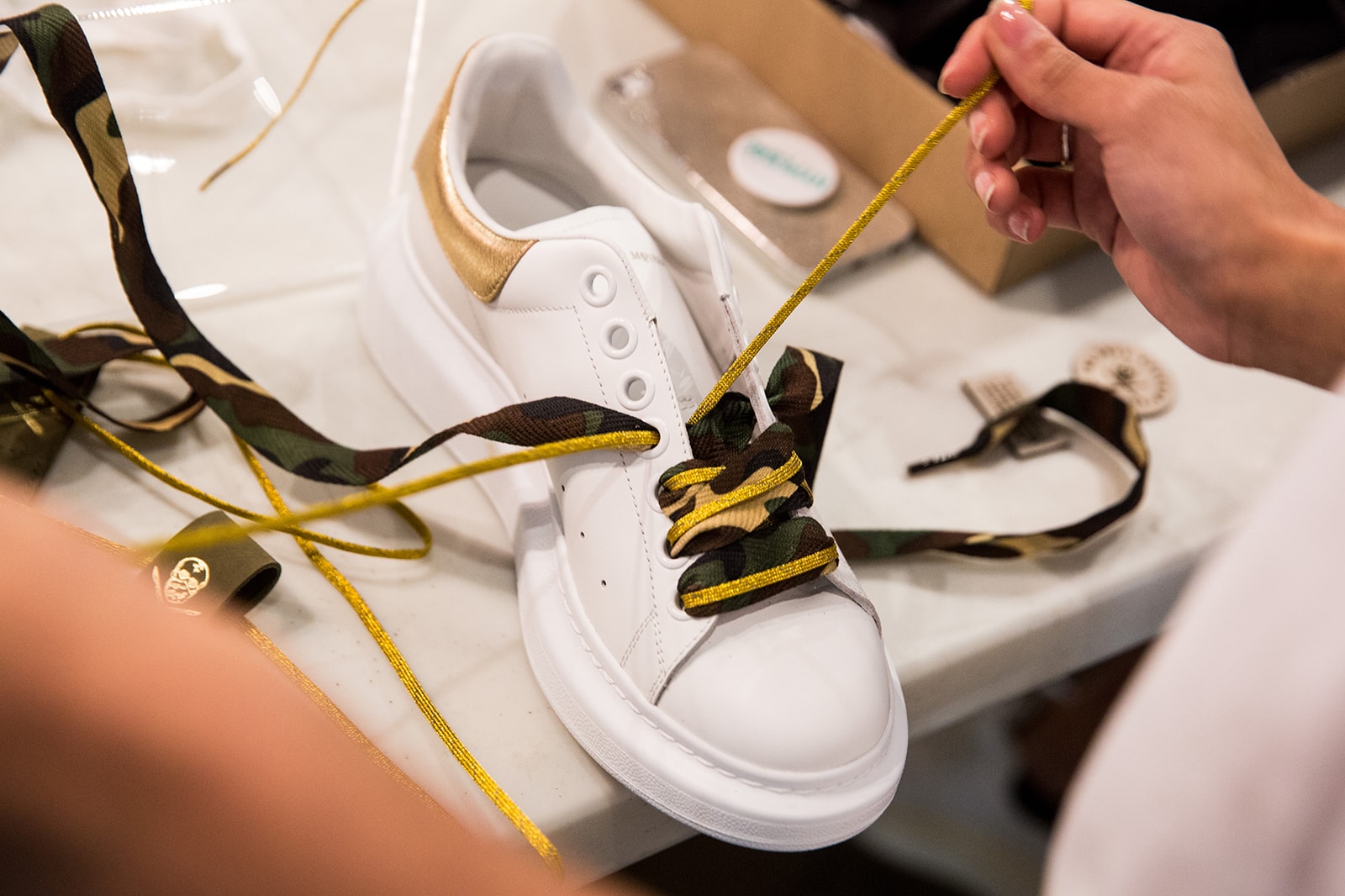 2 of 4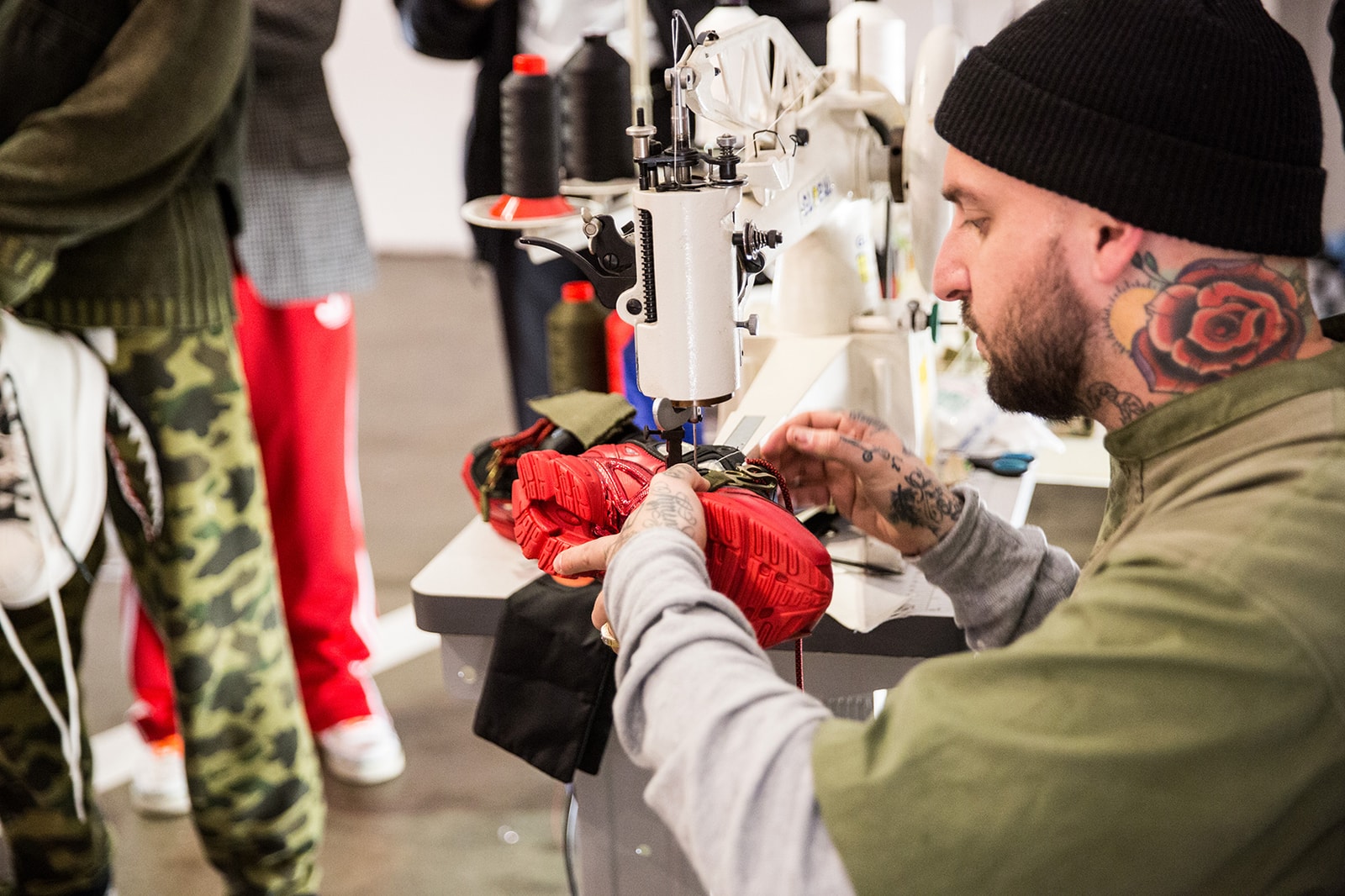 3 of 4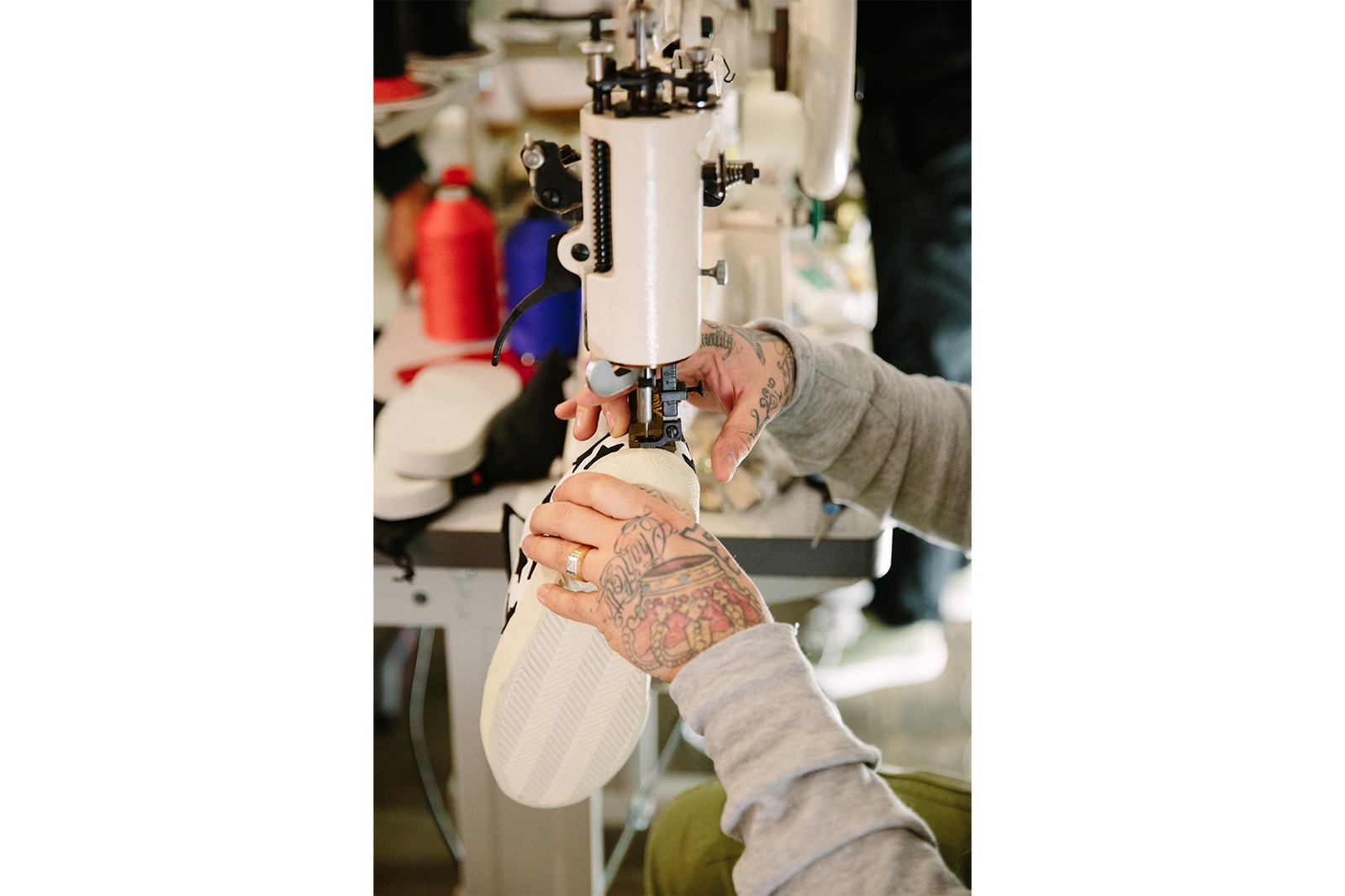 4 of 4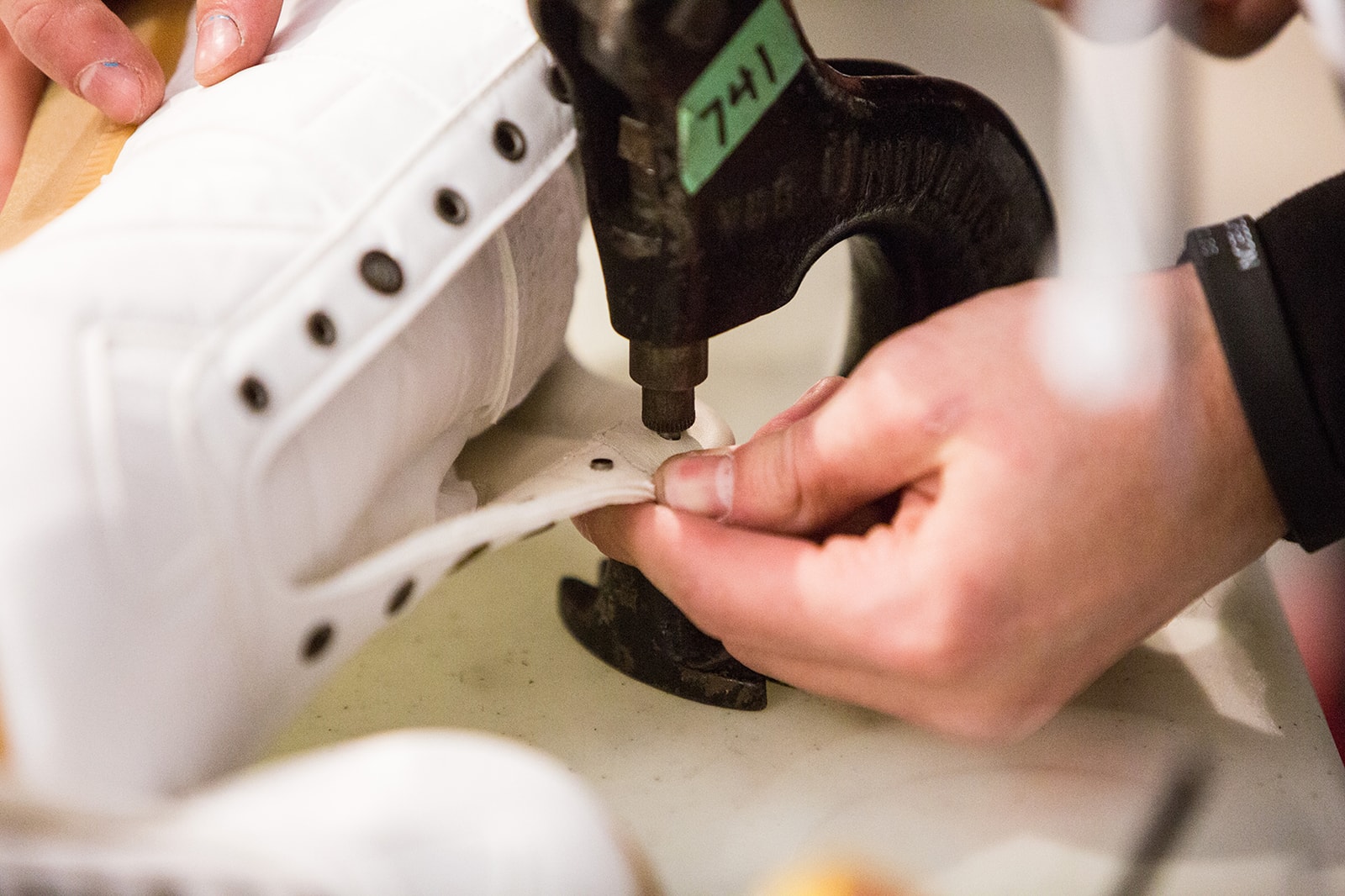 In keeping with the khaki theme I'd now committed to, I added an olive heel tab to both shoes, sitting right atop the metallic gold McQueen-branded heel. Rounding off the look (because I opted to quit whilst I was ahead), I popped on a military-style "Shoe Surgeon" patch to the lateral side of each foot. It was incredibly interesting to browse the room and take a peek at other people's creations – some went all out, cutting up and re-working their sneakers whereas others added more subtle elements to their kicks. The Shoe Surgeon team were on hand to share their expertise and help operate some of the heavy, industrial machinery they'd brought along and remind us there's no right or wrong when it comes to custom sneakers – as long as you have fun and make something that's true to you.
1 of 2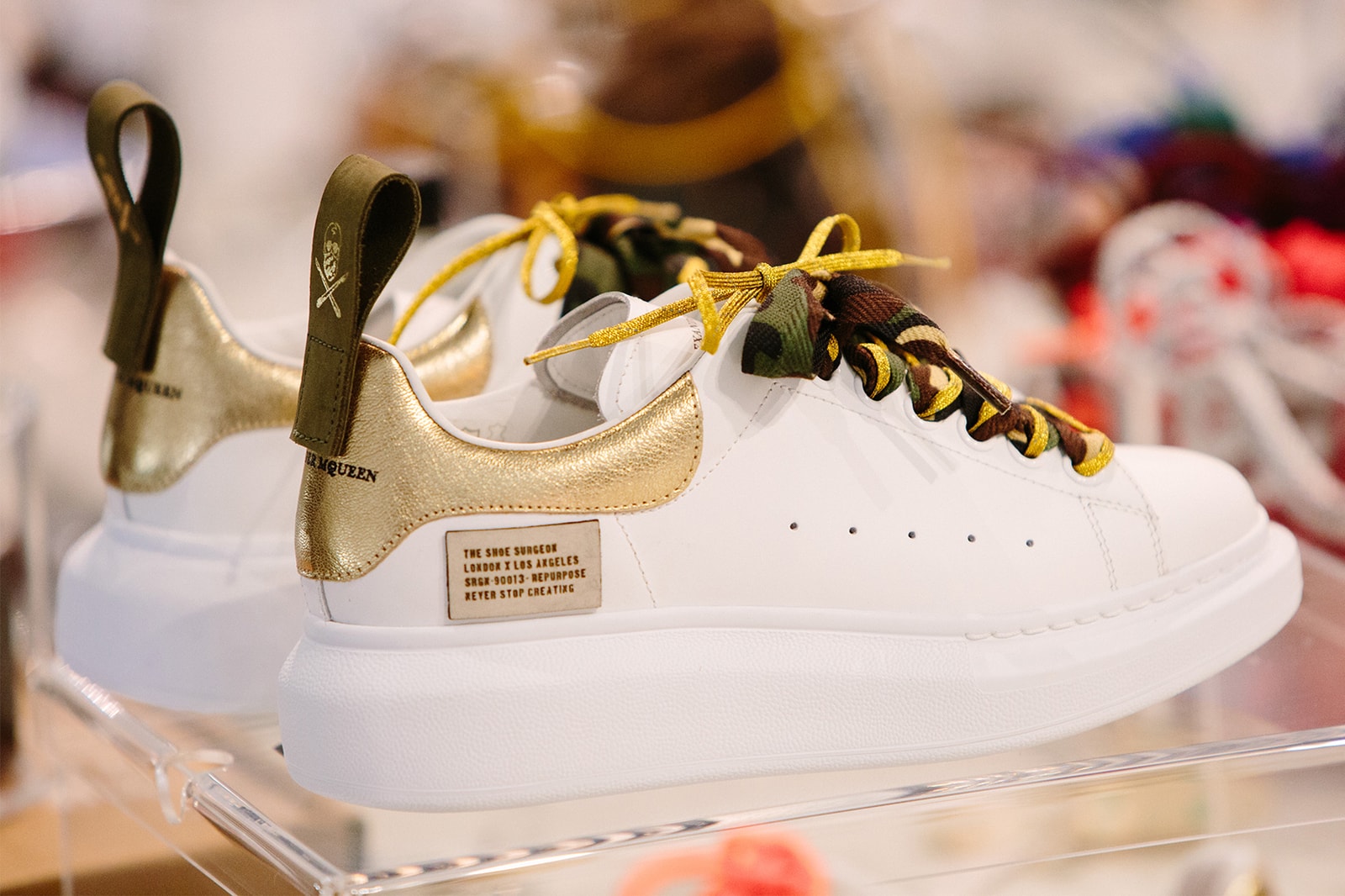 2 of 2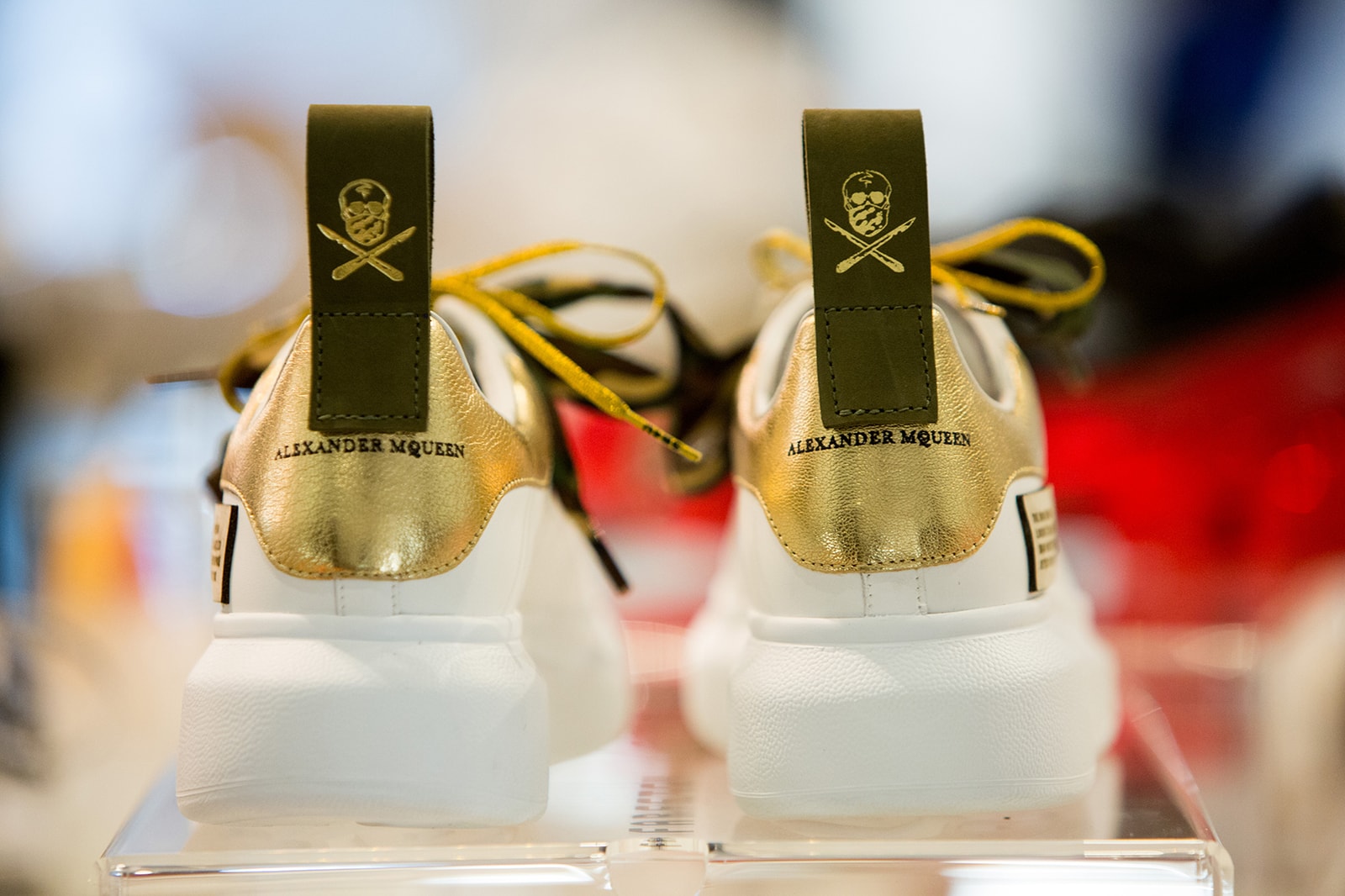 Prior to this the extent of my customization experience was scrawling checkerboard patterns on the sidewall of Vans Old Skools with a sharpie. This time, I wanted to create a bespoke pair of sneakers that would fit my personal style and fit seamlessly into my rotation. Taking part in this workshop, I was reminded that repurposing doesn't always have to be the total sneaker rebuild you sometimes see on Instagram. Sure, it's fun to take apart a shoe and build it back up from scratch with interesting fabrics and hardware you've sourced and have something completely one-of-a-kind, but it's also fun (and easy!) to add a distinctive touch by doing something as simple as swapping out laces or attaching elements of something new.
If you've caught the customization bug, get inspired by checking out the custom Vans Old Skools and floral YEEZY BOOST 360 V2.